National Football League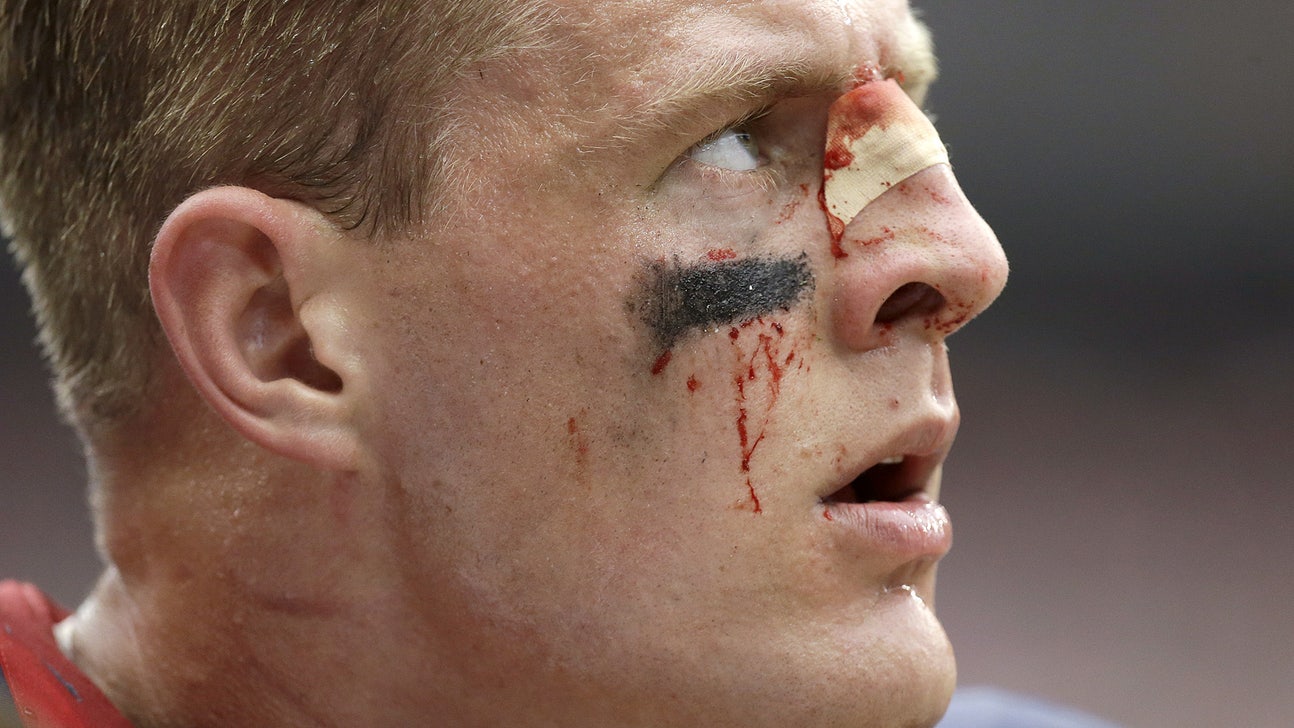 National Football League
Pereira breaks down NFL Week 4 calls
Published
Sep. 29, 2013 10:46 p.m. ET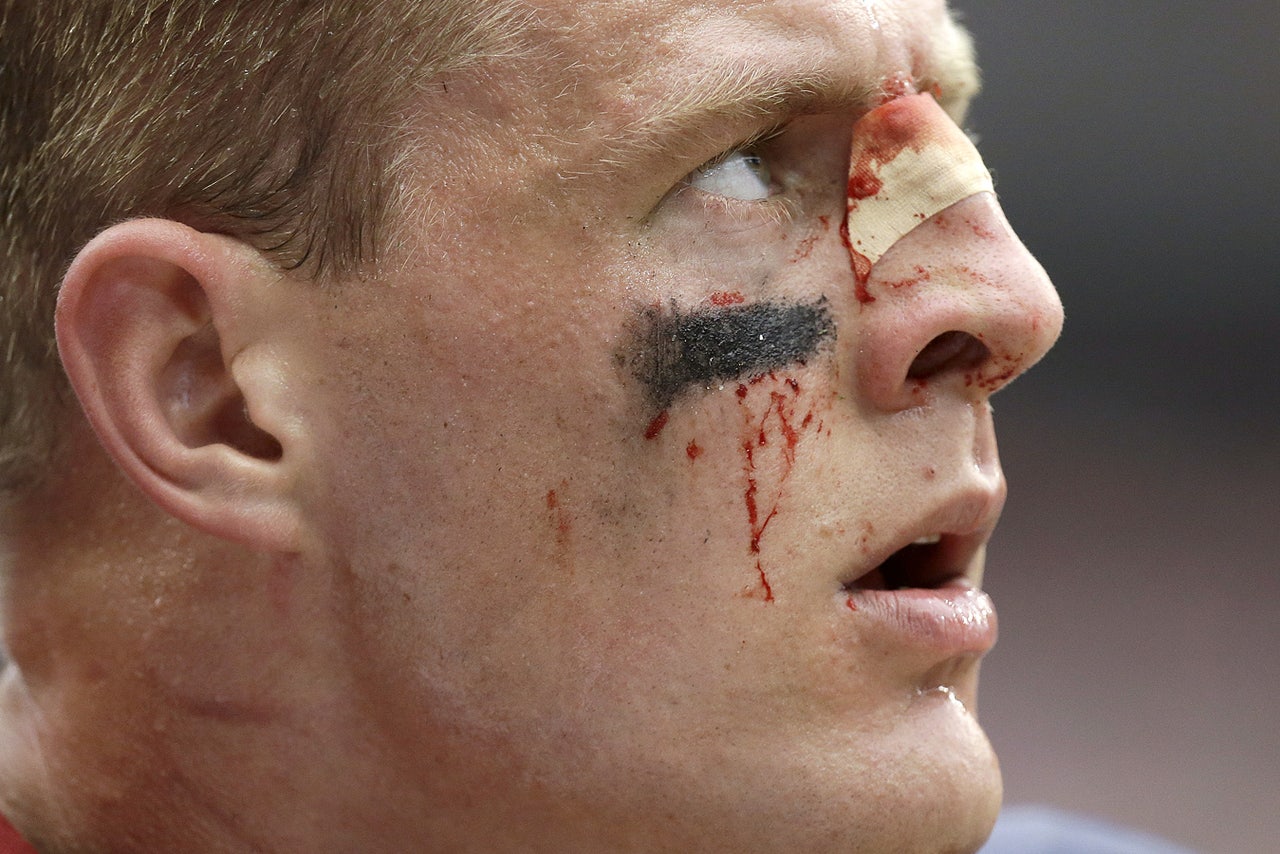 J.J. Watt was seeing red Sunday -- and a lot of it.
We were seeing it, too, as the blood was running down his face as Houston's reigning Defensive Player of the Year was in a battle with Seattle for much of the afternoon in the Texans' 23-20 loss in overtime to the Seahawks.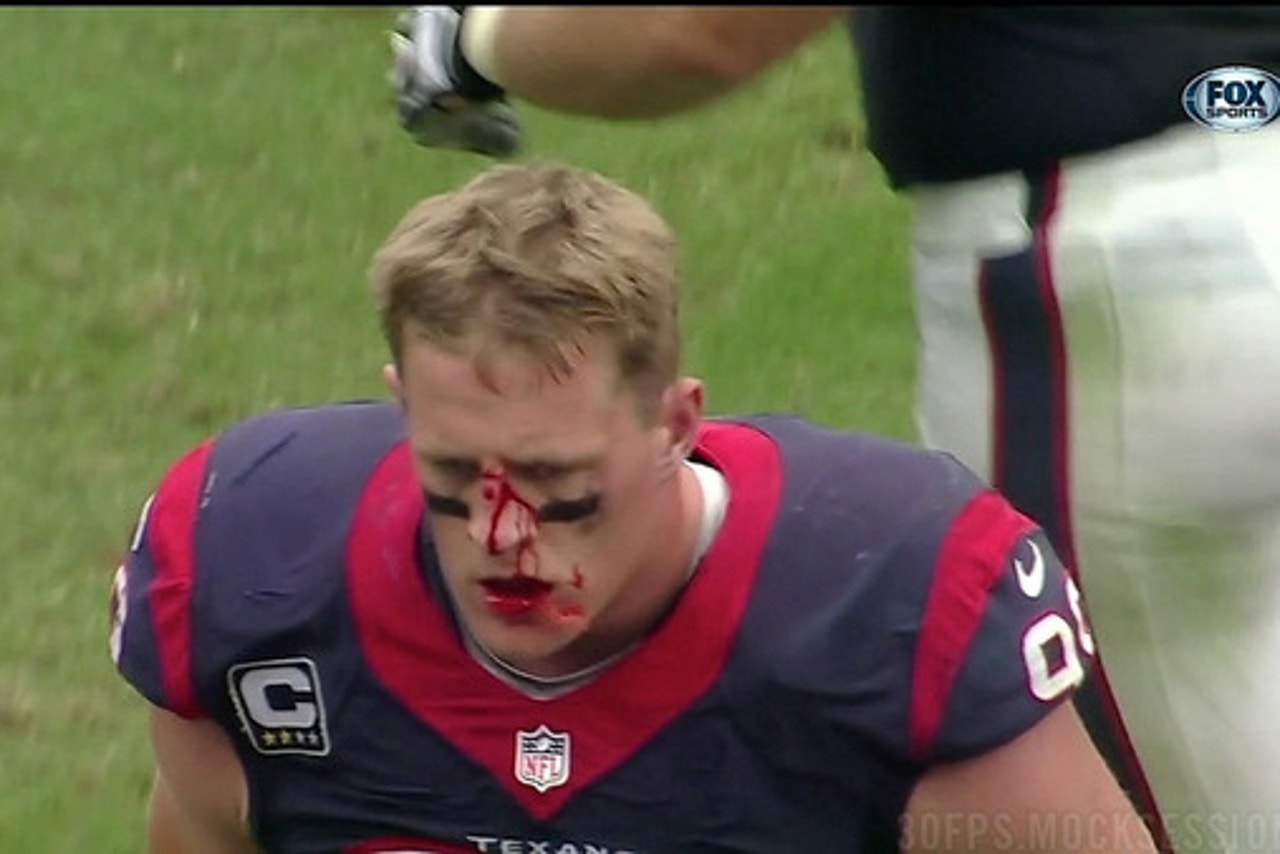 Football's a tough game, but it got me to thinking, the NFL might be the one sport that has no blood rule in place.
In the NCAA rule book, Article 5, Section A states: "Whenever a participant (player or game official) is bleeding, has blood saturated on the uniform, or has blood on exposed skin, the player or game official shall go to the team area and be given appropriate medical treatment. He may not return to the game without approval of medical personnel."
There are similar type rules in the NBA and the NHL. I couldn't find anything in Major League Baseball, but it's not nearly as physical as the other sports.
I certainly understand why the other sports have it, but I don't ever recall any discussion about this at the NFL Competition Committee meetings.
I think the time may be right for the NFL to talk about it. In today's society, with as many blood diseases that have been found, it's legitimately relevant for the NFL to discuss it.
And in the end, Houston coach Gary Kubiak was probably seeing a different kind of red after the Texans blew a 20-3 halftime lead and lost in overtime.
This one hurts
What a tough loss for the Titans on Sunday afternoon, and I'm not talking about the game.
Tennessee quarterback Jake Locker got carted off with an apparent hip injury after taking a hit from the Jets' Muhammad Wilkerson with no penalty called on the play.
However, I think think there was a foul and it should have been called.
Here was the situation: Tennessee had the ball and the 24-6 lead with 11:19 left in the third quarter, first-and-10 at their own 38-yard line. Locker dropped back to pass and his attempt was incomplete. I felt Wilkerson hit Locker late on the play.
In the NFL rule book regarding roughing the passer it states as follows: Once a pass has been released buy a passer, a rushing defender may make direct contact with the passer only up through the rusher's first step after such release (prior to second step hitting the ground), thereafter the rusher must be making an attempt to avoid contact and must not continue to "drive through" or otherwise forcibly contact the passer, incidental or inadvertent contact by a player who is easing up or being blocked into the passer will not be considered significant.
My issue is that Wilkerson is never trying to make a legitimate tackle. He's loading up and trying to hurt Locker, which he does. There were no hands up to try and knock down the pass. It was merely an attempt to punish. The rule book validates my feeling that this should have been called a foul. And I would imagine, that discipline will be taken against Wilkerson.
A wrap and an attempted tackle will buy you a pass, even if it happens on the second step. An attempt to punish, shouldn't.
Smarten up, EJ
Buffalo quarterback E.J. Manuel got a painful lesson Sunday at the end of the Bills-Ravens game.
The good news for Manuel, is his team squeezed out a 23-20 win over the defending Super Bowl champions.
But I'm sure his coach, Doug Marrone, will certainly teach him about taking a knee in a victory formation.
Here was the situation: The Bills had the ball with less than a minute to play and while trying to secure the win, Manuel dropped back before taking a knee immediately. On third-and-16 at the Buffalo 30-yard line, Manuel dropped back and was trying to take a knee when Baltimore's Terrell Suggs slammed him to the ground and his helmet came off. Suggs was called for unnecessary roughness on the play.
While Manuel needs to know as a rookie, that he needs to take an immediate knee, Suggs needs to know he can't slam the quarterback when he obviously was trying to take a knee.
All good in Detroit
Got a lot of tweets on a play that happened early in the Chicago-Detroit game and I wanted to clear up something.
Lions receiver Calvin Johnson took a hit to the head and many complained it should have been a foul.
Let me explain why it wasn't.
Here was the situation: Detroit had the ball, second-and-10 from the Chicago 44-yard line with 6:10 left in the first quarter. Chicago led 3-0. Detroit quarterback Matthew Stafford completed a 14-yard pass to Johnson and was brought down by Lance Briggs and Major Wright.
Wright clearly hit Johnson in the head with his shoulder and forearm, but Johnson had already completed the catch, had become a runner and was not defenseless. And since Wright was not the new crown of the helmet rule, so this was not a foul.
---
---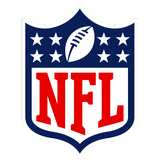 Get more from National Football League
Follow your favorites to get information about games, news and more
---