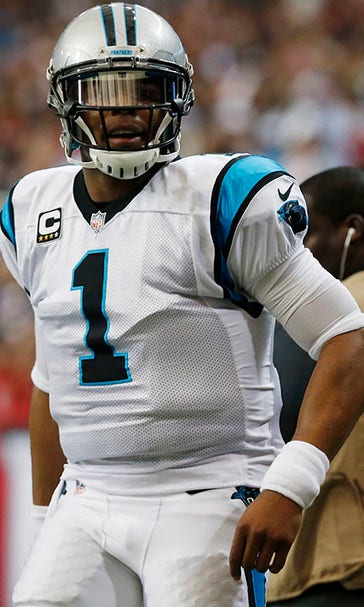 Panthers to play starters with home-field advantage on line
December 28, 2015

CHARLOTTE, N.C. (AP) Panthers coach Ron Rivera has no choice but to play his starters Sunday against the Tampa Bay Buccaneers with home-field advantage in the NFC playoffs still up for grabs.
''I wish I had that problem'' of deciding whether to rest players, Rivera said Monday.
That option went out the window when Carolina (14-1) was upset 20-13 by the Atlanta Falcons on Sunday, ending the Panthers bid for an unbeaten season and preventing them from wrapping up the No. 1 seed. The Arizona Cardinals (14-2) can still claim home-field advantage in the NFC if Carolina loses and they beat the Seattle Seahawks on Sunday.
Rivera has been through this once before.
He was a member of the 1985 Chicago Bears which started the season 13-0 before a loss to the Miami Dolphins. Several members of that Bears team responded by getting off the plane and making the ''Super Bowl shuffle'' video. The Bears would not lose again, going on to win the Super Bowl.
''Our arrogance showed,'' Rivera said of '85 Bears.
Rivera isn't expecting a video - or arrogance - from his team.
But he does hope the loss ''sticks in the craw'' of players moving forward.
''Hopefully it is something that motivates us and drives us (knowing) that we have a lot to prove,'' Rivera said. ''Our goal is to win the Super Bowl. That's the vision. That's the destination. But we still have to take the journey. This is a bump in that journey.''
Prior to Sunday, the Panthers hadn't lost a regular season game in 392 days.
So losing wasn't something they were accustomed to handling, not recently anyway. Some Atlanta players, including linebacker O'Brien Schofield, called the Panthers sore losers after the game and others mocked quarterback Cam Newton by doing the ''dab'' dance.
This week will be a character test for MVP candidate Newton and the rest of the team as it prepares for Tampa Bay (6-9).
''You find out what you are made of,'' Rivera said. ''It's really how you handle the adversity. We talk about the character in the locker room all of the time. ... Well, how do we handle this and how we grow from it, those are all important things. We will be tested. This is a very interesting week.''
Carolina players were off Monday and not available for interviews.
But Newton made it clear after Sunday's loss it is time for the team to refocus and regain its swagger after a surprising loss.
''There are no magic words that need to be said,'' Newton said Sunday. ''We don't wave a magic wand or anything like that. We got our (butt) kicked today and to a degree we deserved it. Offensively, defensively, and special teams, I'm talking with a mirror in front of my face. ... We are 14-1 right now. We put ourselves in the situation where we can use this as fuel.''
Rivera said the most difficult part of the loss was returning to the stadium Sunday night to see fans gathered to welcome the team home.
"I felt like we disappointed them, I really did,'' Rivera said.
Carolina's backfield may not be fully stocked as they head into Week 17.
Fozzy Whittaker suffered a high ankle sprain against the Falcons and will be evaluated on a week-to-week basis, Rivera said. With starter Jonathan Stewart having missed the last two weeks with a foot injury and being a ''maybe'' for Sunday, it is possible rookies Cameron Artis-Payne and Brandon Wegher will see the bulk of carries.
Rivera said given the importance of this week's game he may be tempted to play Stewart if he's close to 100 percent, rather than rest him for the playoffs as originally planned.
NOTES: Rivera said safety Kurt Coleman, who has seven interceptions this season, will have x-rays following an ankle injury on Sunday. If Coleman can't play, Tre Boston would fill in.
---
AP NFL website: www.pro32.ap.org and www.twitter.com/AP-NFL
---
---