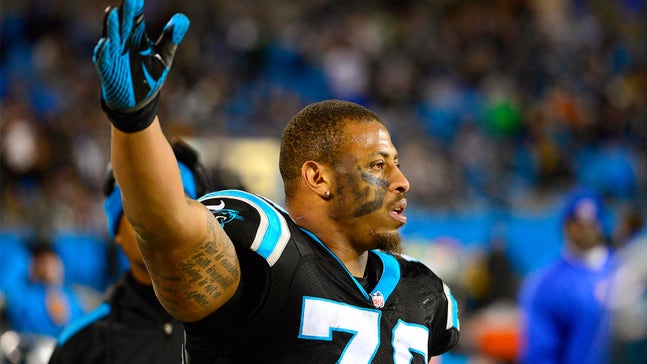 Panthers DE Hardy released on $17,000 bond after assault charge
Published
May. 14, 2014 10:57 a.m. ET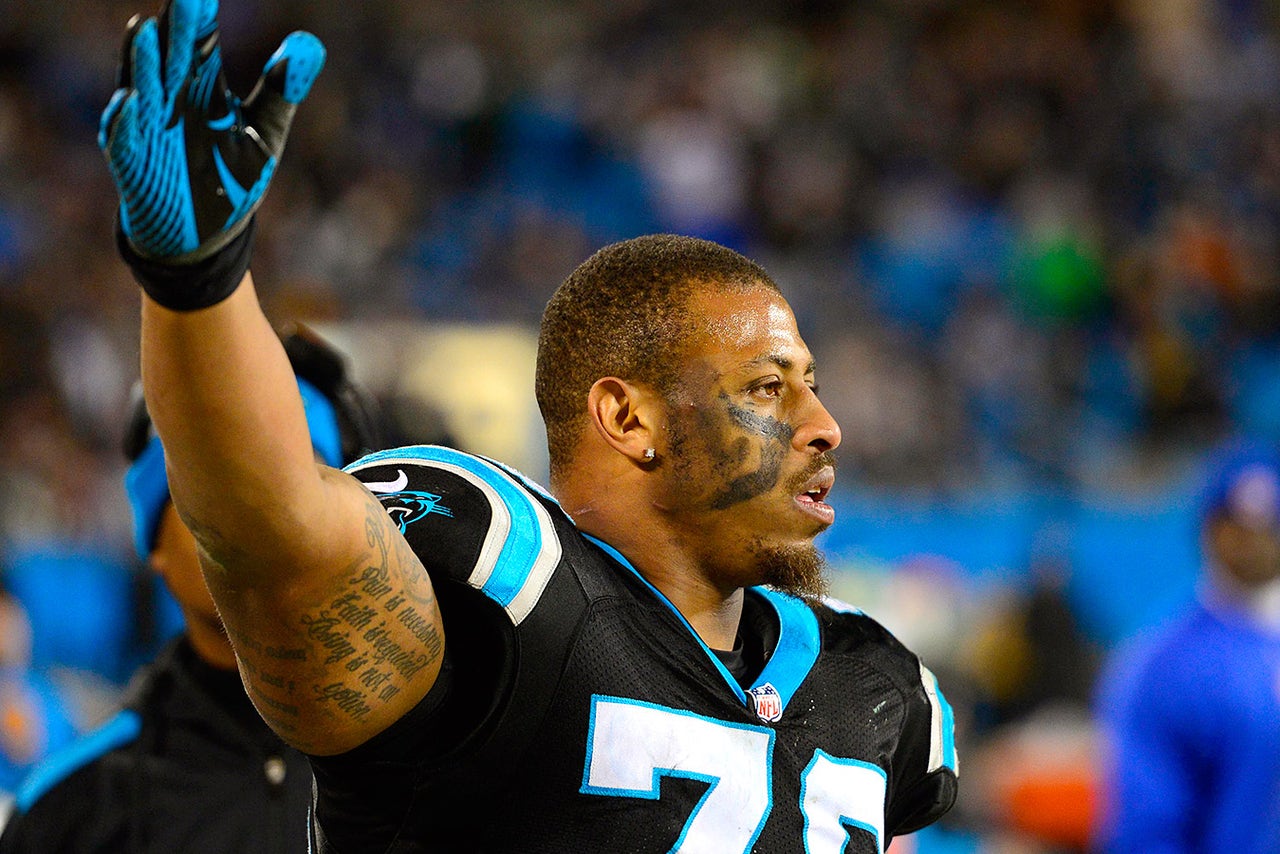 Panthers Pro Bowl defensive end Greg Hardy was released from jail on $17,000 bond Wednesday, one day after being arrested on charges of assault on a female and communicating threats.
Hardy left jail wearing sweatpants and a black tank top. He did not speak to reporters.
Charlotte Mecklenburg County Judge Rebecca Thorne Tin called Hardy a potential threat and ordered him not to have any contact with the accuser and to attend three Alcoholic Anonymous meetings per week.
In the arrest warrant, the 24-year-old accuser alleges Hardy threw her on a pile of guns and threatened to kill her.
She filed a protective restraining order against Hardy on Wednesday, saying he attacked her in his apartment and "picked me up and threw me into the tile tub area in the bathroom" and that she "has bruises from head to toe."
She also says in the filing that the 6-foot-4, 290-pound Hardy pulled her by the hair and "was screaming he was going to kill me, break my arms and other threats." She says Hardy choked her with both hands around her throat before picking her up and throwing her onto a couch "covered with assault rifles and/or shotguns" and "bragged that the guns were loaded."
"He threatened to shoot me if I went to the media or reported his assault to anyone," she says.
She says Hardy has approximately 25 to 30 firearms in his downtown Charlotte apartment, including an AK-47. She says she eventually got out of the apartment, where she ran into Charlotte Mecklenburg police.
Hardy's attorney, Chris Fialko, refuted those allegations Wednesday.
He argued in court -- and later outside the courtroom -- that Hardy and Sammy Curtis, his administrative assistant, were attacked by the accuser, and that it was Hardy who made the 911 call to police at 4:18 a.m. Tuesday.
The accuser's attorney, Stephen Goodwin, said his client was held down by Curtis and prevented from calling police.
Goodwin called Fialko's claim that Hardy was the one attacked by the accuser false.
"The physical evidence doesn't even come close to matching that," Goodwin said.
There were conflicting reports from 911 calls obtained by The Associated Press on Wednesday night from the Charlotte Mecklenburg Police Department.
On a call made by Hardy, the NFL player can be heard saying, "My assistant is trying to restrain her and she's trying to break free and hit me with her heel. I'm literally running around the table right now."
Hardy also mentions in the call that he thinks the accuser is "on coke or something. I don't know. She's been drinking. I don't know what she's on, man."
In another call by someone at the player's condominium, an unidentified woman tells the operator that the woman had been beaten for more than 30 minutes.
"He's beating her (butt) in there. Some girl's getting her (butt) beat upstairs and I heard it. And I seen it. He's beating her (butt) right now."
Goodwin said Hardy and the accuser, who the lawyer said works as a waitress in Charlotte, were in a relationship and previously lived together. They were not living together at the time of the incident, which occurred at an "after hours" party.
Goodwin said he doesn't know what sparked the fight, but Tin stated in the courtroom that both parties were drinking alcohol.
Judge Tin said the court was "very concerned" about the bruises on the accuser's neck and back.
Hardy spent Tuesday night in jail and appeared in court Wednesday wearing an orange jump suit.
The incident began early Tuesday morning. Police said patrol officers responded to a domestic violence assault call at 4:18 a.m.
Hardy tied a franchise record with 15 sacks last season for the league's second-ranked defense. He had 11 sacks in 2012. That production convinced the salary-cap strapped Panthers to make Hardy their franchise player at $13.116 million for one season. Hardy signed the team's offer sheet in March.
The Panthers said in a statement Tuesday they were "very disappointed" to learn of the allegations and planned to investigate.
Hardy's NFL agent, Drew Rosenhaus, was in the courtroom but declined comment. Hardy's next court date is June 27.
The Panthers organization is particularly sensitive to domestic violence issues.
In 2001, Panthers wide receiver Rae Carruth was found guilty of conspiring to murder his girlfriend, Cherica Adams, who was carrying his child. Carruth was sentenced to 18 to 24 years in prison.
Hardy's court appearance occurred on the same day the Panthers hosted a breakfast at their stadium for "Men For Change," a group that serves victims of domestic violence. 
---
---