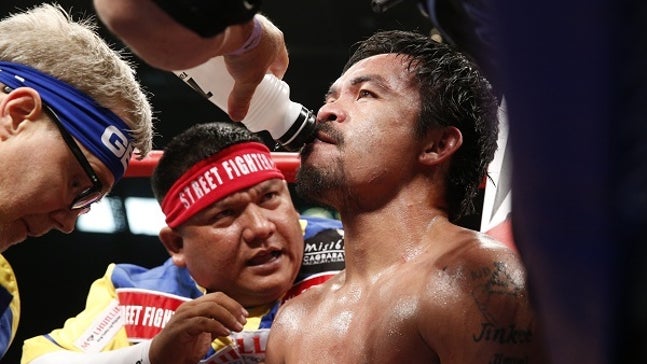 Pacquiao: I was blocked from getting shoulder injection
Published
May. 5, 2015 12:37 a.m. ET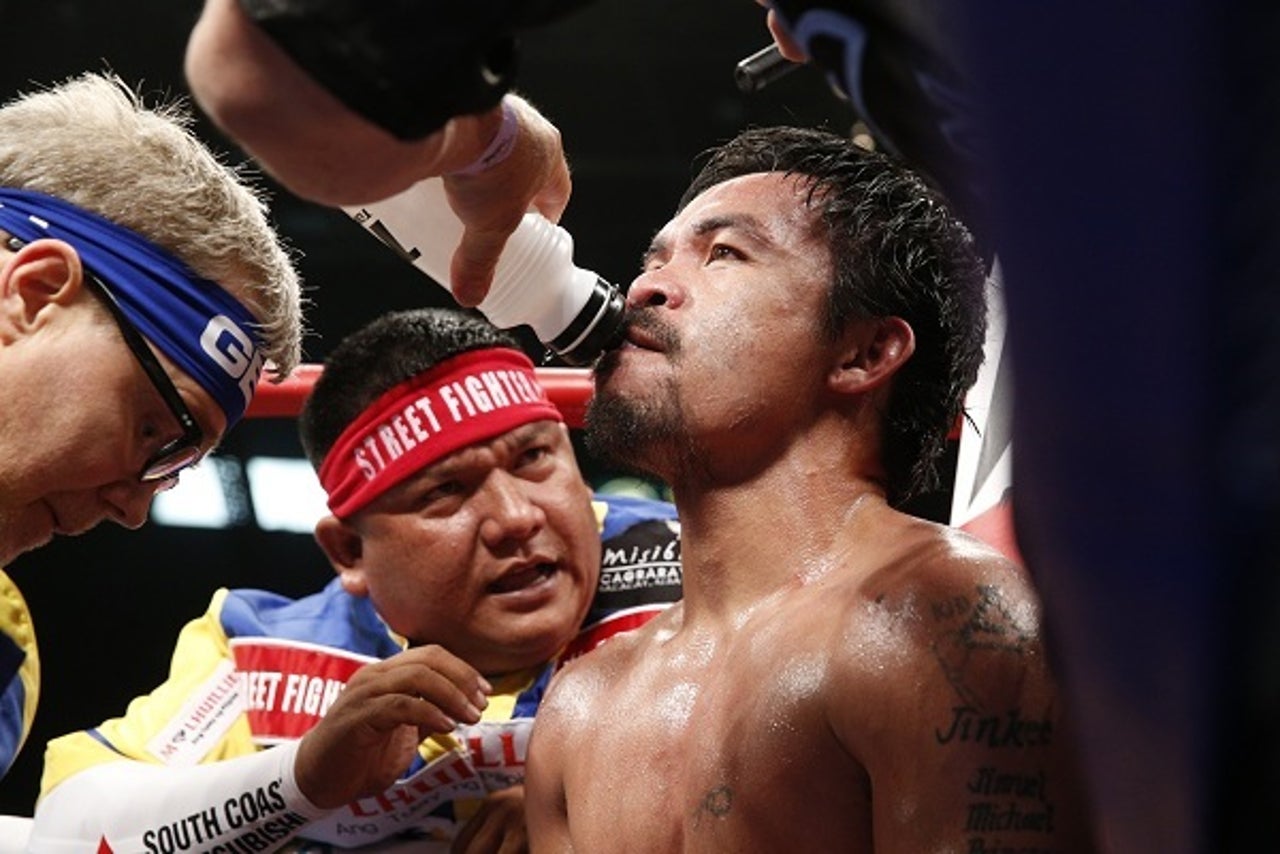 By Larry Brown
Two days after losing to Floyd Mayweather Jr. by unanimous decision in Las Vegas, Manny Pacquiao and his team are still harping on the shoulder injury excuse.
On Monday, Pacquiao's promoter Top Rank sent out a statement explaining what happened with Pac-Man's shoulder injury. They say they informed USADA about Pacquiao's injury and checked to make sure any and all medications he would be taking would be approved substances. They say that on fight night, the Nevada Commission blocked Pacquiao from receiving a Toradol (common painkiller) injection.
From Top Rank's statement:
Manny's advisors notified the UNITED STATES ANTI-DOPING AGENCY ("USADA") of the shoulder injury and the treatments being proposed by the doctors during training and on fight night. USADA spoke to Manny's doctors twice, investigated, and confirmed in writing that the proposed treatments, if used, were completely allowed. The medication approved for fight night was a non-steroidal anti-inflammatory (Toradol).

Manny continued to train and his shoulder improved, though not 100%. This is boxing, injuries happen, and Manny is a warrior. Again, in consultation with his doctors, promoter and advisors, Manny decided to proceed with the fight anticipating that he could receive his pre-fight treatment. That specific treatment had been approved by USADA in writing at least 5 days before the fight.

On his pre-fight medical form filled out earlier in the week, Manny's advisors listed the medications that Manny used in training and the medications that might be used on fight night. A few hours before he was expected to step in the ring, when Manny's doctors began the process, the Nevada Commission stopped the treatment because it said it was unaware of Manny's shoulder injury.

This was disappointing to Team Pacquiao since they had disclosed the injury and treatment to USADA, USADA approved the treatments, and Manny had listed the medication on his pre-fight medical form.
This is nothing but excuses from the Pacquiao camp. They even said in their statement that Pac-Man started to heal during his training camp. Do you think Mayweather was 100 percent for the fight? Everyone who trains for combat sports enters fights with some sort of an injury. Just like when David Haye made an excuse after his loss to Wladimir Klitschko, nobody wants to hear it. Pacquiao got dominated by Floyd, and the shoulder had nothing to do with it.
Also keep this in mind: After this issue with the Nevada State Athletic Commission, Pacquiao is unlikely to fight there in the future. Since 2010 he has fought twice in Macau and Texas, and this might be enough to persuade him to fight there in the future.
More from Larry Brown Sports:
---
---