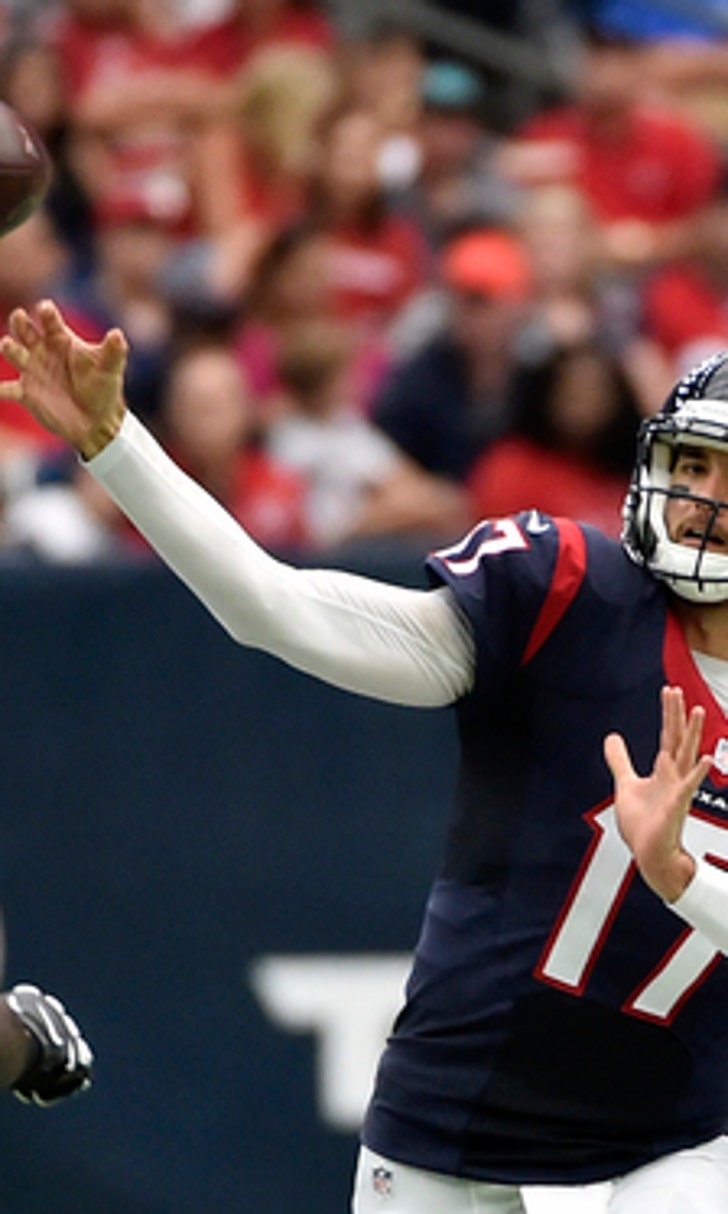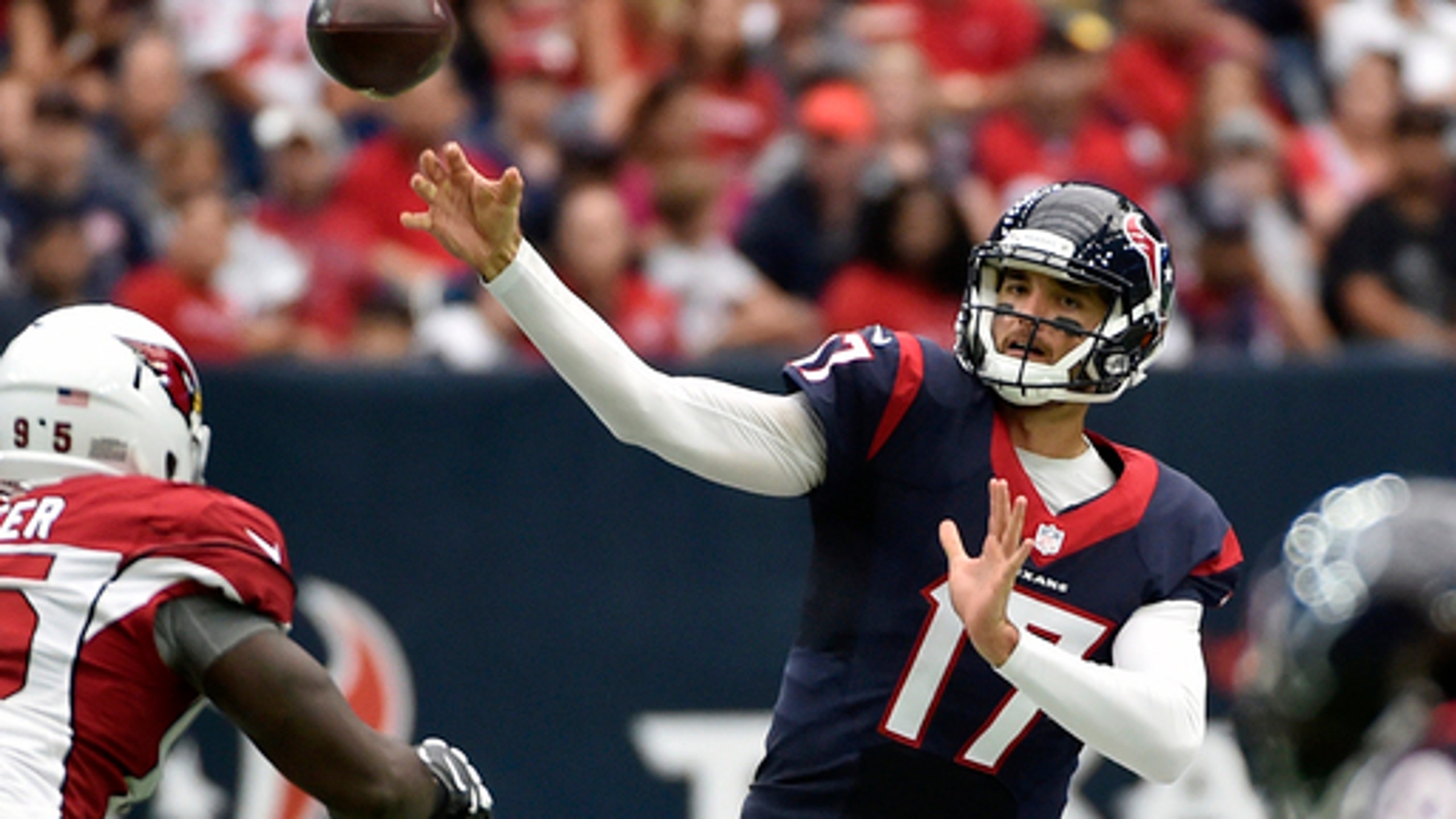 NFL 2016: Osweiler comfortable and ready to lead Texans
BY foxsports • September 5, 2016
HOUSTON (AP) Brock Osweiler is comfortable in Houston and ready to show the Texans they were right to invest $72 million in him.
The quarterback, who started just seven games in his four-year career before the Texans lured him away from Denver with that huge contract, has looked good in preseason. On Sunday, he'll get his first test when the Texans host the Chicago Bears.
''My confidence continues to grow every single day,'' he said. ''It definitely grows every single time I step on the game field because you can't really replace anything with game reps, so the more I'm able to (practice) this offense, the more comfortable I become with it.''
Coach Bill O'Brien is beginning his third year in Houston after building a reputation as a quarterback guru with New England and in his time at Penn State. Last season, he was forced to use four quarterbacks because of injuries and inconsistent play.
Despite the revolving door at quarterback, Houston's 9-7 record was good enough to win a weak AFC South and reach the playoffs for the first time since 2012. But Brian Hoyer threw four interceptions in a 30-0 wild-card loss to Kansas City and sent Houston looking for an upgrade at the position.
O'Brien believes he found it in the 25-year-old Osweiler, who started the last seven regular-season games for the Broncos last year before being benched for the playoffs in favor of Peyton Manning. The coach loves the work ethic of his new quarterback and raved about the 12-hour days he has routinely put in so he could master the offense.
''He's come in here and done exactly what we've asked him to do,'' O'Brien said. ''He's worked extremely hard ... in order to understand our offense basically like a coach does, you have to put in a lot of time. He has certainly done that.''
Some things to know about the 2016 Texans:
WILL WATT BE READY?: The status of J.J. Watt is uncertain after he missed the entire preseason following surgery to repair a herniated disc in his back in July. O'Brien said that Watt is feeling better and has a ''decent'' chance to play in the opener, and the Texans activated him from the physically unable to perform list on Saturday. Since he's been on the physically unable to perform list, Watt hasn't talked to the media in more than a month. But when last year's Defensive Player of the Year discussed his surgery at the beginning of camp, he seemed determined to be ready for the Bears.
''I've never missed a game in my five years,'' Watt said then. ''In 2012, I missed all of training camp and didn't have a problem there. I don't see this being a problem. I don't plan on missing my first game now, but I can't promise it. I'm going to do everything I can.''
OFFENSIVE LINE SHAKEUP: The offensive line took a hit when second-round pick Nick Martin, who was expected to start at center, had season-ending ankle surgery. Greg Mancz, a second-year player who appeared in three games last season, took over on a line that could also be without veteran left tackle Duane Brown (quadriceps surgery in January) when the season begins. Brown was also activated from the physically unable to perform list on Saturday, but could still miss the opener. Despite the injuries, O'Brien is confident in the unit.
''I really like that group of guys,'' O'Brien said. ''I think they practice hard. They take it very seriously. Football is very important to them, so I know they'll work hard to get better.''
HELP FOR HOPKINS: Top receiver DeAndre Hopkins was third in the NFL with 1,521 yards receiving despite dealing with near-constant double teams. The Texans looked to take some pressure off Hopkins by choosing Will Fuller in the first round of this year's draft and adding former star Ohio State quarterback-turned-receiver Braxton Miller in the third round. O'Brien has been impressed with their development throughout camp and said the pair will both get plenty of playing time in the opener.
Hopkins has been hard on the pair and loves how they've responded.
''We demand the best out of all the rookies,'' Hopkins said. ''Especially, in that receiving group, I demand the best out of you.''
CLOWNEY'S GOAL: The Texans are looking for a breakout season from outside linebacker Jadeveon Clowney after he failed to make an impact in his first two NFL seasons. Clowney, who was the first overall pick in the 2014 draft, has been plagued by injuries since he was drafted. He got plenty of work this preseason and impressed coaches with his development. He knows the key to success this season is simple.
''Just want to stay on the field all season,'' he said. ''That's it.''
----
AP NFL website: www.pro32.ap.org and www.twitter.com/AP-NFL
---
---