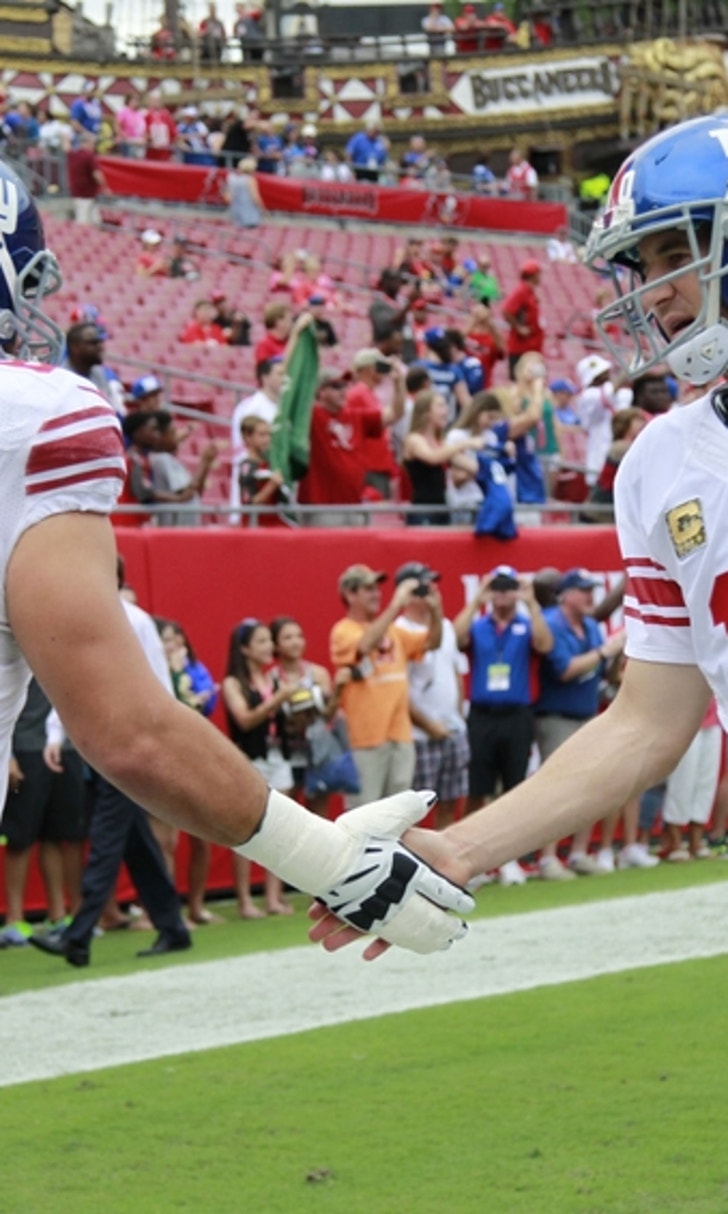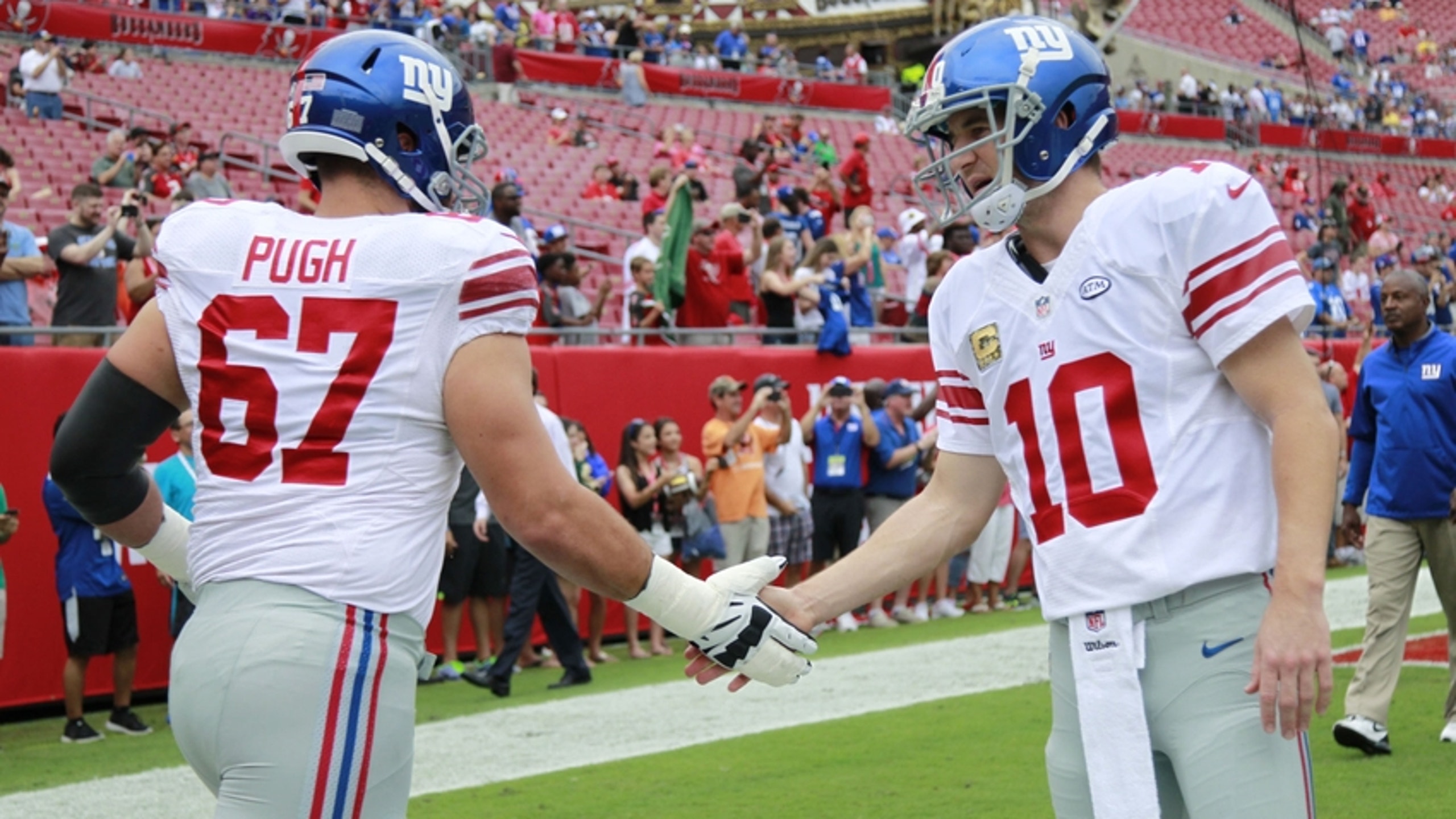 New York Giants: Players Who Need To Step Up Against Detroit Lions
BY Fansided and Maxwell Ogden/FanSided via GMEN HQ • December 17, 2016
The New York Giants will host the Detroit Lions in a game with significant postseason ramifications. Who needs to step up for the Giants?
---
Nov 8, 2015; Tampa, FL, USA; New York Giants quarterback Eli Manning (10) greets New York Giants offensive guard Justin Pugh (67) prior to the game against the Tampa Bay Buccaneers at Raymond James Stadium. Mandatory Credit: Kim Klement-USA TODAY Sports
The New York Giants are approaching what's shaping up to be the most influential game of the 2016 NFL regular season. 9-4 is a solid place to be with three games remaining on the schedule, but a postseason berth has yet to be secured.
If the Giants are going to move one game closer to making a long-awaited return to the playoffs, key players will need to step up against the Detroit Lions in Week 15.
Since winning the Super Bowl in 2011, the Giants have missed the playoffs in four consecutive seasons. New York's nine wins in 2016 already match its highest win total since 2011, when the Giants went 9-7 in 2012.
Since that winning season in 2012, New York has gone 7-9, 7-9, and 6-10 in three disappointing and grueling campaigns.
After four seasons of disappointment, the Giants are finally closing in on an elusive postseason appearance. It hasn't been perfect, but the results have been strong enough for New York to have a postseason appearance within reach.
The question is: who are the players who need to step up for the New York Giants against the Detroit Lions in the pursuit of a 10th win?
Aug 12, 2016; East Rutherford, NJ, USA;New York Giants offensive guard Justin Pugh (67) blocks Miami Dolphins defensive tackle Deandre Coleman (62) in the first half at MetLife Stadium. Mandatory Credit: William Hauser-USA TODAY Sports
5. Justin Pugh
To say the New York Giants have been missing starting guard Justin Pugh would be a severe understatement. Easily the best offensive lineman on the Giants' roster, Pugh has missed the past five games with a knee injury.
Thankfully for quarterback Eli Manning, the running game, and the Giants' postseason aspirations, Pugh has been cleared to play.
The return of Pugh should help stabilize what's been a mostly unreliable offensive line in his absence. Manning has been under constant pressure and an already underwhelming rushing attack has been unable to find holes to attack and break through.
Adding Pugh, who's as competitive and hungry to win as any player in the NFL, should help the entire offense improve.
Pugh is the No. 4 ranked guard on Pro Football Focus, trailing just Marshal Yanda, Kelechi Osemele, and Zack Martin. John Jerry has done a solid job and Marshall Newhouse has been respectable in creating running lanes, but Pugh is the star of New York's interior.
The Detroit Lions don't have an especially dominant defensive line, but Pugh's performance will go a long way towards setting the tone for the Giants as a whole.
Dec 11, 2016; East Rutherford, NJ, USA; New York Giants running back Rashad Jennings (23) runs the ball against the Dallas Cowboys during the third quarter at MetLife Stadium. Mandatory Credit: Brad Penner-USA TODAY Sports
4. The Running Game
Whether or not Shane Vereen is available against the Detroit Lions, the New York Giants will need to establish the run. Eli Manning and the passing attack need to improve, but the running backs should be alleviating some measure of pressure.
With star guard Justin Pugh back on the field, the Giants' running backs must be able to find the lanes he creates.
Detroit is No. 12 in the NFL in rushing yards allowed per game, but it's No. 21 in rushing yards allowed per attempt. Thus, the former appears to be more heavily influenced by a lack of rushing attempts than a dominance against the run.
New York shouldn't force the issue, but it'd behoove the Giants to explore the possibility of winning this game by running the ball.
Rashad Jennings and Paul Perkins are capable of running between the tackles and gaining positive yardage, but the proper balance needs to be found. Giants fans have been calling for Perkins to take over the No. 1 duties, and there could be some credence to that request.
Regardless of whom the Giants deem to be the No. 1 running back as the game progresses, the ball must advance on the ground.
Nov 27, 2016; Cleveland, OH, USA; New York Giants offensive tackle Ereck Flowers (74) during the third quarter between the Cleveland Browns and the New York Giants at FirstEnergy Stadium. The Giants won 27-13. Mandatory Credit: Scott R. Galvin-USA TODAY Sports
3. Ereck Flowers
Justin Pugh could have the greatest performance of his career, but it won't mean much if Ereck Flowers doesn't show up. Many have hypothesized why Flowers has struggled so severely in 2016, but the why is becoming irrelevant.
Selected at No. 9 overall in the 2015 NFL Draft, Flowers has a chance to silence his critics by helping the New York Giants secure win No. 10.
Ezekiel Ansah and Kerry Hyder are two high-quality pass-rushers who can apply pressure to Giants quarterback Eli Manning. Ansah isn't as much of a sack machine as he was in 2016, but he still knows how to disrupt a passing attack.
If Flowers continues to struggle to protect the quarterback, Ansah could add a couple of sacks to his resume on December 18.
Ansah may not have a sack in 2016, but he's been playing through an ankle injury that's limited his mobility. He's still the player who recorded 14.5 sacks in 2015, however, and he's still making his presence known as he approaches 100 percent.
If Flowers takes this matchup lightly, Ansah will light him up and make Manning and the Giants search for ice on a cold winter day.
Nov 20, 2016; East Rutherford, NJ, USA; New York Giants safety Landon Collins (21) celebrates with teammates after making a game-ending interception against the Chicago Bears during the fourth quarter at MetLife Stadium. Mandatory Credit: Brad Penner-USA TODAY Sports
2. The Secondary
The New York Giants have been able to rely upon the defensive backfield for legitimately elite play in 2016. Landon Collins is a Defensive Player of the Year favorite, Janoris Jenkins is playing at an All-Pro level, and the likes of Andrew Adams and Dominique Rodgers-Cromartie have been superb.
Throw in unsung heroes such as rookie Eli Apple and veteran Leon Hall, and the Giants' secondary is one of the best in the NFL.
New York's secondary will need to be as strong as possible during Week 15. Matthew Stafford may have a severe injury on his throwing hand, but in Stafford's world, that's just another banged up day at the office.
Giants wide receiver Tavarres King urged New York's secondary to be wary of his former college teammate. Per Zach Braziller of The New York Post:
"He's not going to let a finger stop him from going out and competing and trying to win for his team," King said. "He's a guy that you want to go into battle with. … He's just got that competitive edge to him."
Injured or otherwise, Stafford is a stud.
Stafford and the Detroit Lions are an overachieving 9-4 through 13 games. In case you're wondering just how valuable he's been to Detroit's success, the 28-year-old has made eight fourth quarter comebacks in 2016—an NFL record.
Stafford is playing like Eli Manning in 2011 as far as clutch execution is concerned, which is why the Giants' secondary must be ready for anything.
Dec 11, 2016; East Rutherford, NJ, USA; New York Giants quarterback Eli Manning (10) looks to pass against the Dallas Cowboys during the second quarter at MetLife Stadium. Mandatory Credit: Brad Penner-USA TODAY Sports
1. Eli Manning
There's no way around what's transpired over the past two weeks and no reason to avoid what's transpired. In two consecutive games—and one could argue that it's been three—Eli Manning has underwhelmed under center.
No matter where you want to shift the blame, the harsh reality is that Manning needs to play better if the New York Giants are going to live up to their potential.
Manning has been playing without star offensive guard Justin Pugh, which has inevitably damaged the quality of the Giants' pass protection. The regression of Ereck Flowers has also hurt, but the reality for the Giants is quite simple.
New York may be 9-4 after 13 games, but if it loses the next three games, there's a strong probability that it won't make the playoffs.
The defense has been exceptional, but the Giants' offense has been mediocre. Manning has an abundance of options at wide receiver, including Odell Beckham Jr., Victor Cruz, and Sterling Shepard, but he hasn't been spreading the wealth.
If the Giants are going to secure win No. 10 and position themselves for a postseason appearance, then Manning will need to play better.
It's time for the franchise player to re-establish himself as one of the league's elite.
More from GMEN HQ
This article originally appeared on
---
---