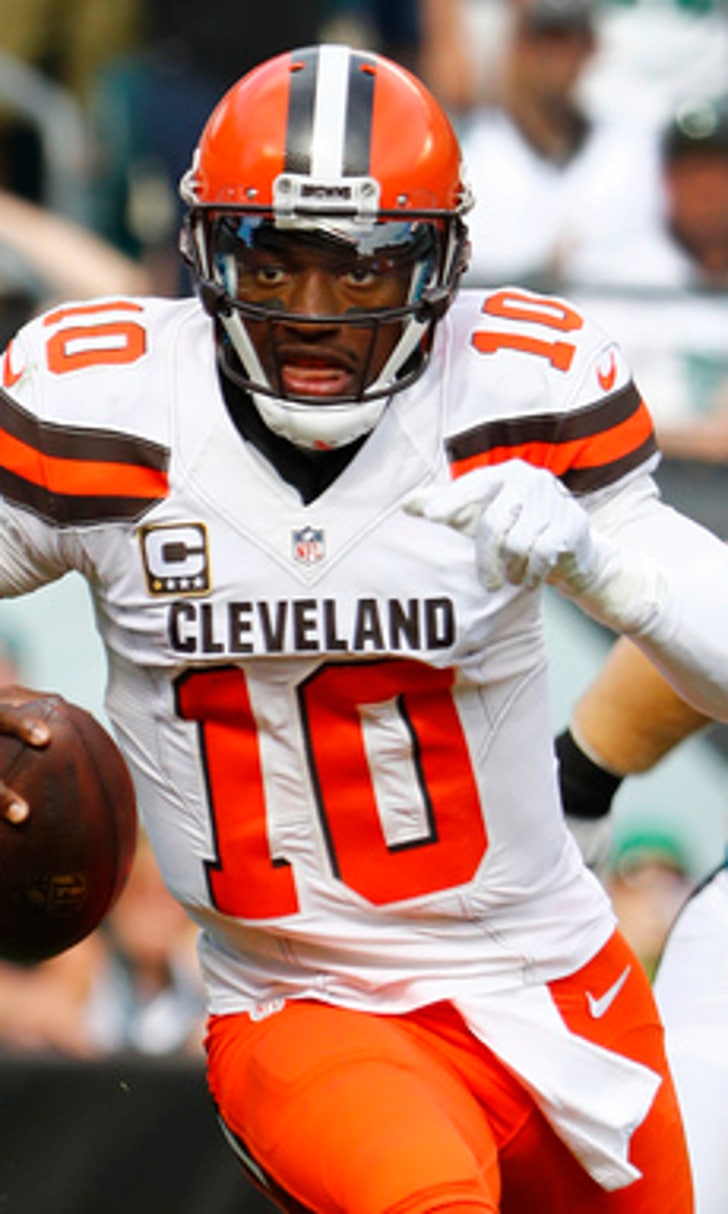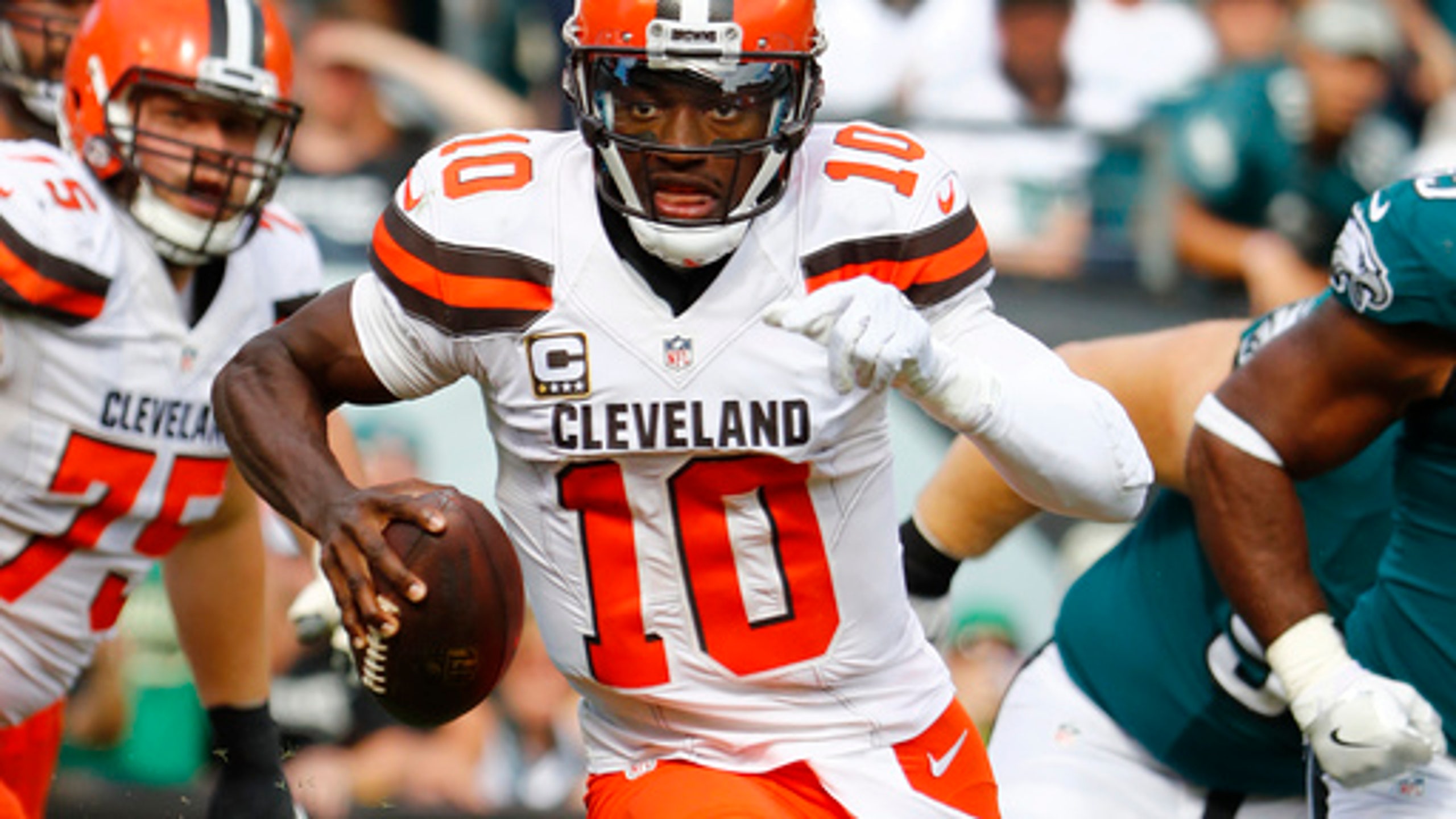 'Like a little kid' RG3 returns to practice with Browns
BY foxsports • November 23, 2016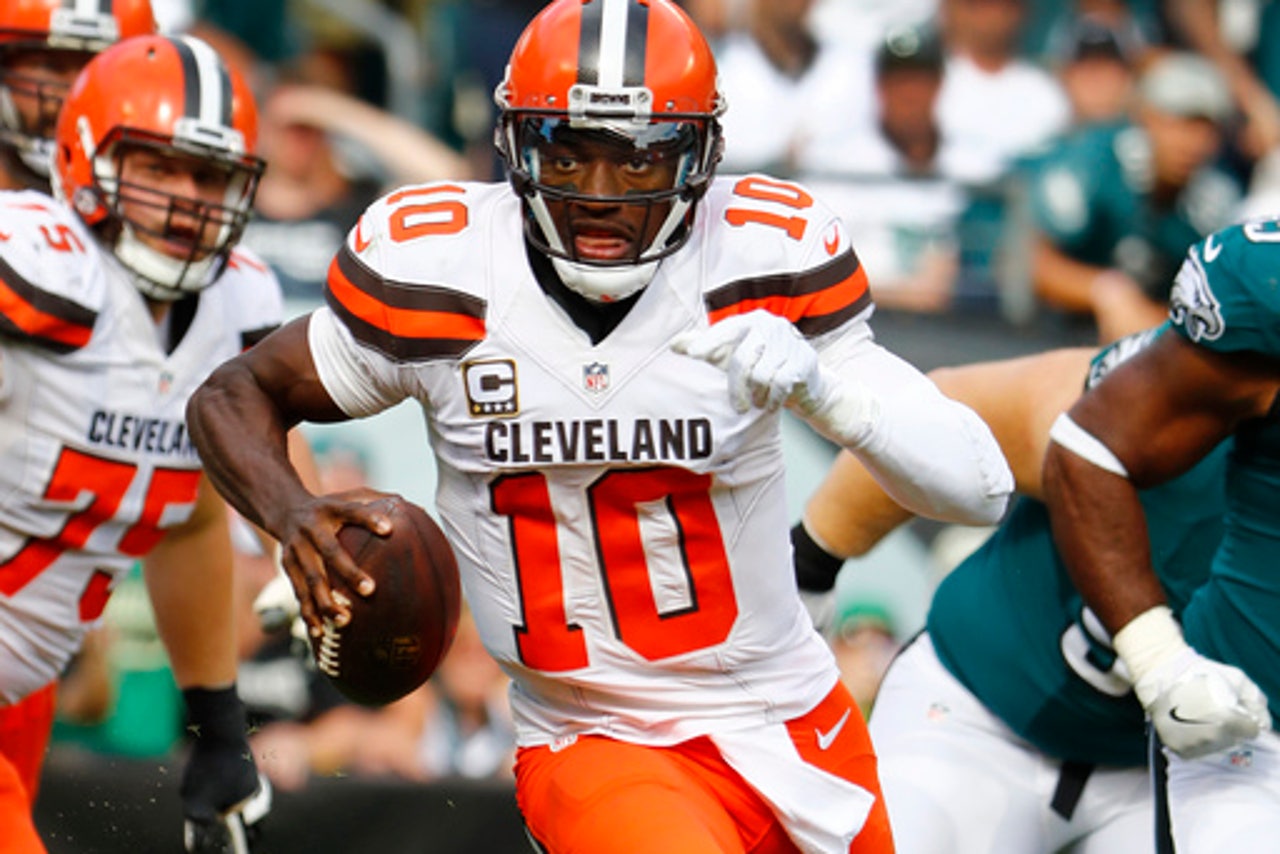 BEREA, Ohio (AP) Robert Griffin's day of thanks came a little early.
For the first time since breaking a bone in his left shoulder in Cleveland's season opener, Griffin practiced on Wednesday, a significant step for the quarterback whose career has been undermined by injuries and whose future remains unclear.
Griffin arrived at the team's facility not knowing if he had been formally designated for return by the team. Once he received news he was going to practice, RG3 could hardly contain himself.
''I put my shoulder pads on and went out and ran around like a little kid,'' he said.
On the field, an energized Griffin slapped hands with teammates during drills, and at one point ran and jumped on offensive coach Pep Hamilton's back.
His wait was over, and Griffin celebrated.
Griffin's return is a much-needed dose of positive news for the winless Browns (0-11) , whose season took the first of many downward turns when he got hurt late in the fourth quarter of his Cleveland debut.
His injury changed the direction of Cleveland's season. It not only sidelined him for 10 weeks, but his latest medical setback prevented the Browns - who signed him to a two-year, $15 million in March - from being able to assess the 26-year-old as their franchise quarterback, a position that has remained both baffling and vacant over the past 17 seasons.
While there's no guarantee Griffin will play again this season, he believes he can be Cleveland's starter for seasons to come.
''No doubt,'' he said. ''I have the confidence in that. I can't speak for coach or anyone else, but they've expressed that to me. I still feel I can be the guy for this team, for this organization, and I look forward to going out and proving it.''
First, he has to prove he can take contact, and the way Browns quarterbacks have been getting pummeled lately, that test could include being run over by a truck.
Griffin is scheduled to undergo another medical test to determine if the bone in his shoulder has healed completely. If he's cleared, there's a strong chance he'll play in one of Cleveland's final four games after the Dec. 4 bye.
Until then, Griffin can continue practicing as the Browns have 21 days to decide whether to activate him or keep him on injured reserve. Griffin made it clear he wants to play.
He's only made one start in 30 months, and questions about his durability followed Griffin from Washington to Cleveland. Griffin, though, maintains he's far from finished.
''I'm 26 years old, man, I'm not 45,'' he said. ''I've got a lot of years of football left and I'm real grateful. It's Thanksgiving, time to give thanks, and I'm thankful for the ability to have so much experience in the league, good and bad to this point at 26 years old, being in multiple offensive systems. It's all a learning process. I'm still young, I'm still a kid and I look forward to having a long career. I know it's going to take a lot of hard work and I'm willing to do it.
''I'm not afraid of hard work.''
Griffin impressed Cleveland's coaches and his teammates with his willingness to help while he was sidelined. He stayed engaged in meetings, doing all he could to help the Browns snap a losing streak now at 14 over two seasons.
''He wants it badly, to be out there with his teammates,'' coach Hue Jackson said. ''He wants to do the work and be a part of it and help us get to where we want to go. I have a great respect for that. He has been part of the grind the whole time. It is a good showing by him to show that he wants to be out there. Obviously, he could have kind of fallen off totally, but he didn't. That is a plus for him.''
The Browns have two first-round draft picks next year and may use one on a quarterback. Griffin might be able to alter those plans, but it's not his motivation.
''I can go out and play or not play and they can make that decision,'' he said. ''I want to be here. I want to play. I want to help this team win. Whatever they do next year, that's up to them and I can't focus on that because I can't control that.''
NOTES: QB Josh McCown will start Sunday against the Giants, returning to the lineup after rookie Cody Kessler sustained his second concussion last week. Jackson said Kevin Hogan will back up McCown, who took a devastating hit from Steelers defensive tackle Stephon Tuitt after replacing Kessler. ''Josh thought he was Barry Sanders for a second there,'' Griffin joked. ... Browns LT Joe Thomas was given Wednesday off to rest his knee.
---
For more NFL coverage: http://www.pro32.ap.org and http://www.twitter.com/AP-NFL
---
---