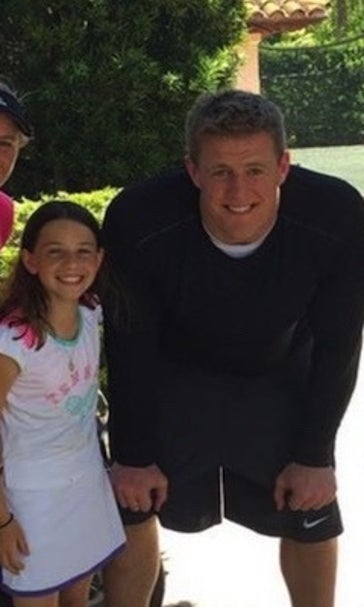 JJ Watt, Caroline Wozniacki spotted together at Fisher Island
April 13, 2015

By Steve DelVecchio
Either Caroline Wozniacki and JJ Watt just happened to bump into each other again over the weekend, or something is going on between the two.
Last week, Twitter erupted with rumors that Watt and Wozniacki are dating after they were spotted sitting together at the NCAA men's basketball national championship. We wondered if the two just happened to be seated next to each other for the game, but we doubt they ran into each other by chance over the weekend.
The photo you see above was taken at Fisher Island, which is off the coast of Florida, on Saturday by Instagram user @mialu10. Now that we have seen Watt and Wozniacki together in two separate parts of the country, it will be hard for the dating rumors to not heat up.
There were rumors several months ago that Wozniacki was dating a different NFL player, but nothing seemed to come of it. Woz broke up Rory McIlroy last year and was accused of zinging him with this tweet after the Masters.
Watt and Woz could very well be a couple.
More from Larry Brown Sports:
---
---