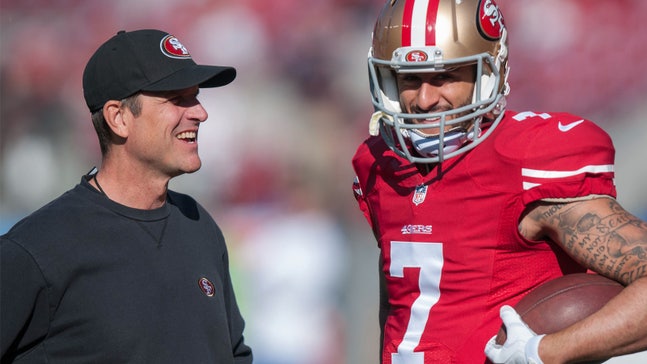 Jim Harbaugh defends Colin Kaepernick: 'He's as tough as they come'
Published
Mar. 22, 2016 2:52 p.m. EDT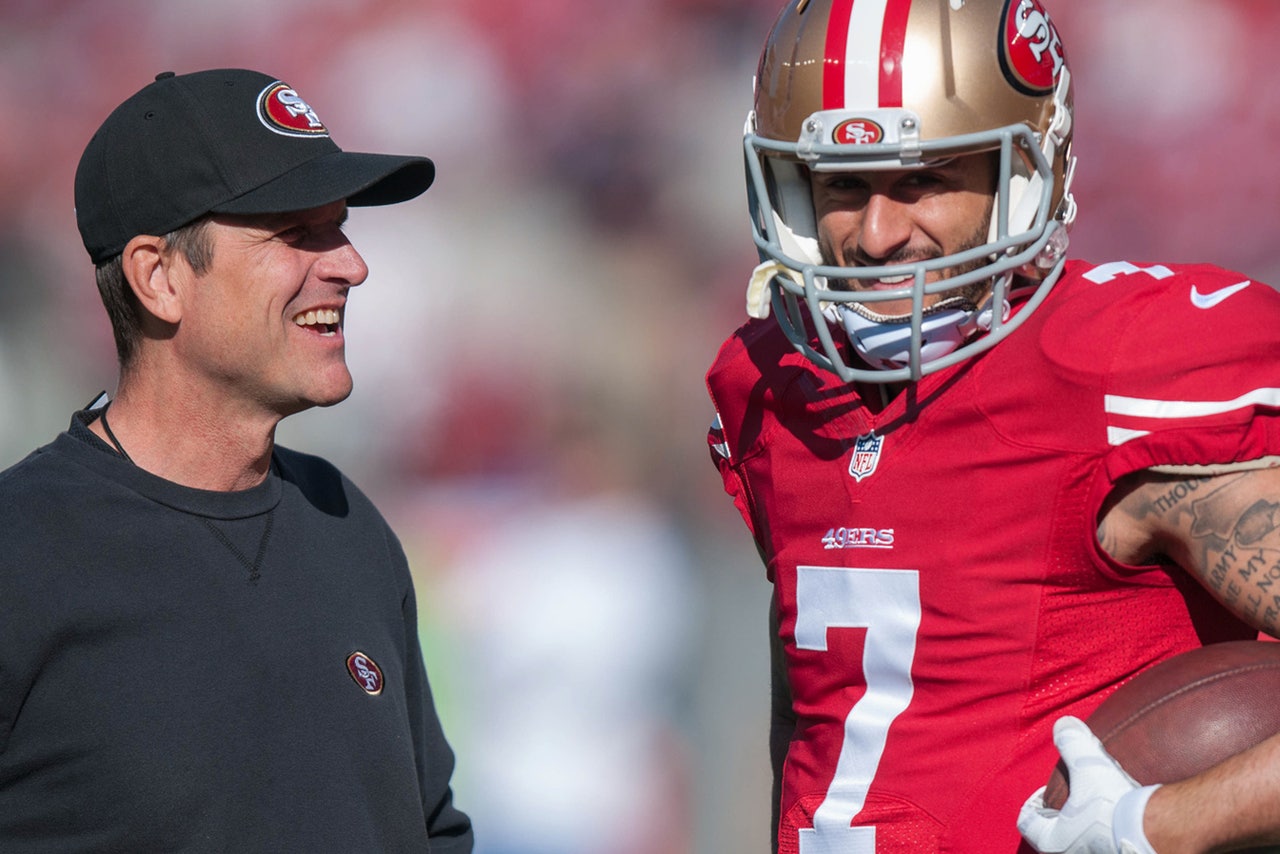 Michigan head coach Jim Harbaugh said he is willing to endorse San Francisco 49ers quarterback Colin Kaepernick if any NFL teams come calling, according to a report from The Sacramento Bee.
Harbaugh coached the 49ers from 2011-2014 and was the man in charge when the 49ers took Kaepernick in the second round of the 2011 NFL Draft. Midway through the 2012 NFL season, Harbaugh picked Kaepernick over Alex Smith as San Francisco's starting quarterback, and the choice paid off as Kaepernick led the team to the Super Bowl that year, which the 49ers lost to the Ravens.
Harbaugh and the 49ers mutually agreed to part ways after the 2014 season, but the good feelings between Kaepernick and his former coach remain, as Harbaugh said he would love to put in a good word for the quarterback with any interested NFL coach.
Via The Sacramento Bee:
"Anybody that talks to me is going to get a great recommendation that's going to knock their socks off," Harbaugh told The Sacramento Bee in a phone interview.

"He's as tough as they come. Mentally tough and confident as he should be."
The coach clarified that no teams have called him yet, but Kaepernick is a popular name on the NFL trade rumors circuit. The 28-year-old is coming off the worst season of his five-year NFL career, as he lost his starting job with the 49ers to Blaine Gabbert in Week 9. Kaepernick was ruled out for the year on Nov. 21 due to left shoulder surgery, but his age and his overall performance throughout his career suggest he still has plenty of quality football left in him.
---
---