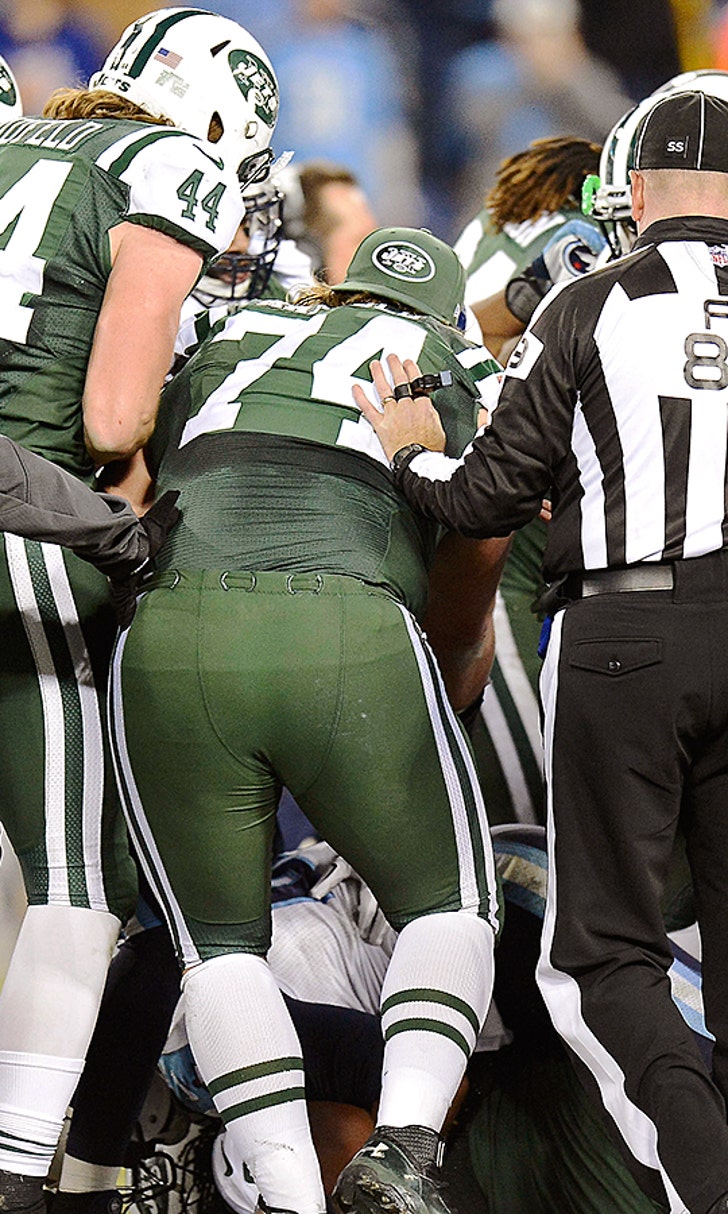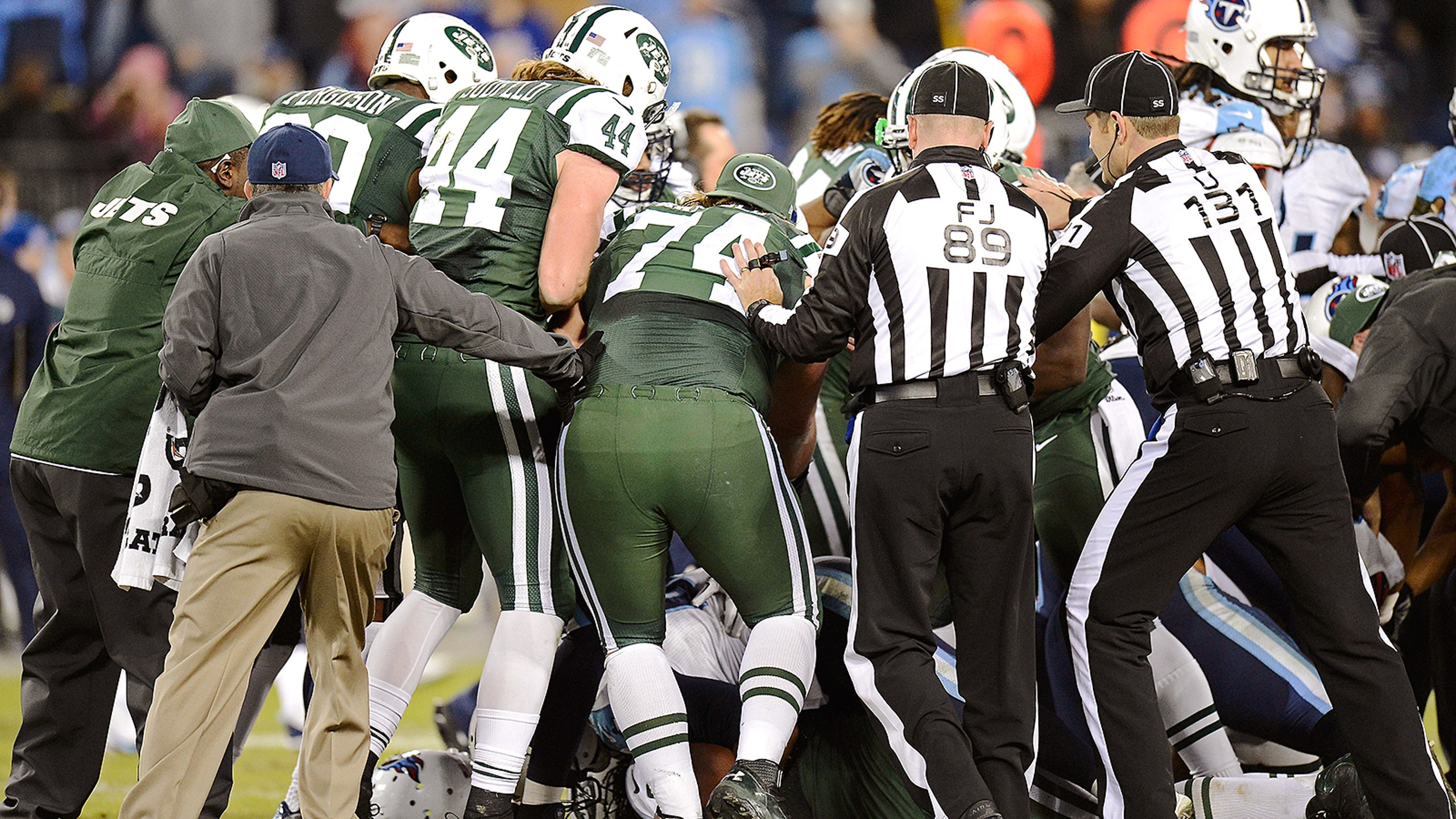 Jets beat Titans in ugly battle -- make that brawl -- of losing teams
BY foxsports • December 14, 2014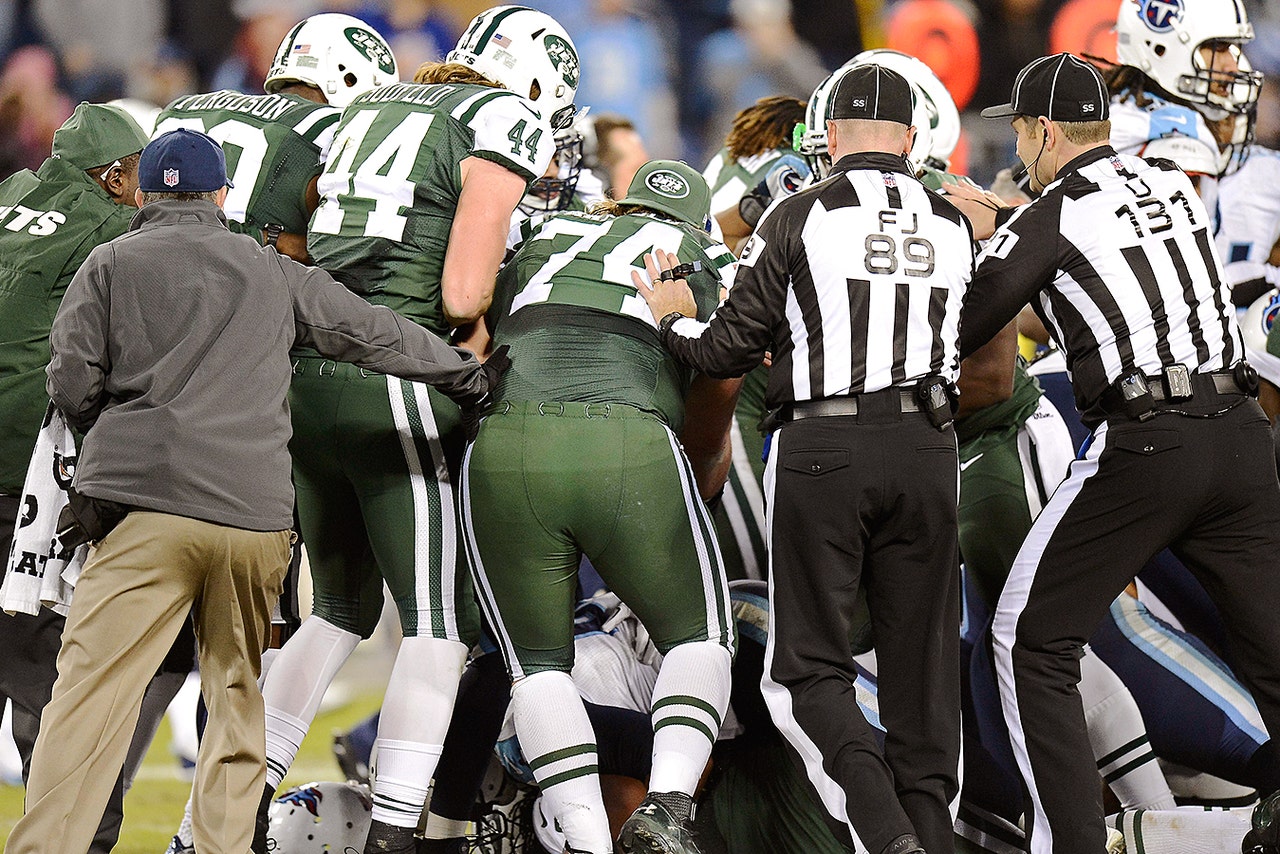 NASHVILLE, Tenn. -- Rex Ryan's tenuous future with the New York Jets isn't stopping the coach from trying to win as much as he can on his way out the door.
No matter how much fans want a top draft pick.
Chris Ivory scored on a 1-yard touchdown run with 3:09 left, and the Jets beat the Tennessee Titans 16-11 on Sunday in a game marked by a brawl between teams playing only for pride with the loser hoping for better draft position.
"A real fan, a Jet fan, wants to win," Ryan said. "It doesn't matter what pick you get or whatever. If Peyton Manning's out there, I can understand it, but I don't think Peyton Manning's out there. You know what? We're fighting every game, and we're going to fight next week, too, against New England. Jet fans want to win, are you kidding me? We've only got two of them."
Now, actually three as the Jets (3-11) also won their first road game this season and snapped a three-game skid in the first NFL game to end with a 16-11 score.
"I'm proud of that fact," a smiling Ryan said.
Geno Smith threw for 179 yards and a TD. He also was apparently hit by Titans defensive tackle Jurrell Casey, starting a brawl in the third quarter. Casey was flagged, but not ejected.
The Titans (2-12) now have lost eight straight and 11 of 12 in their worst skid since 1994 when home was in Houston. They got the ball twice late, and reached the Jets 9 after three laterals on the final play came up short. Ryan said he thought the play should have been whistled dead on the third, which he said went forward.
"A lot of times when you run that play, you don't even get within striking distance," Titans quarterback Charlie Whitehurst said. "We had a chance with a lateral play to make something happen, and we got pretty close."
The Jets trailed 11-10 when Chris Johnson, playing against the team that cut him in April, ran 37 yards out of the wildcat to the Titans 4. Ivory capped the drive running wide left for the TD. The Jets went for the 2-point conversion, but Jeremy Kerley couldn't hold onto Smith's pass keeping it a 16-11 lead.
The Titans got to the Jets 22 with 2 minutes left before turning it over on downs with a sack by Quinton Coples and three incompletions.
They got it back with 21 seconds and were near midfield for the final play. Whitehurst, playing with Jake Locker out with an injured left shoulder, threw to Dexter McCluster, who lateraled to Nate Washington. The receiver threw back to Whitehurst, who lateraled to Delanie Walker -- who was tackled by Dawan Landry to seal the Jets' win.
This game nearly got out of hand in the third quarter as referee John Parry was reviewing an 81-yard pass to Eric Decker.
After Casey appeared to hit Smith, the teams started pushing and shoving with Casey also hitting Jets right tackle Breno Giacomini twice. Casey's helmet knocked off in the melee before officials broke it up. The review turned Decker's TD to a 48-yard completion, and Casey stayed in the game despite being flagged for a personal foul.
Titans coach Ken Whisenhunt said he thought a couple of Jets came off the bench in the melee. Ryan thought his quarterback took a punch in the face.
"But apparently, he didn't get hit," Ryan said.
Smith finished the drive with a 9-yard TD pass to John Conner on fourth-and-1.
"Obviously, it escalated into something we don't need it to, but the referees did a good job in getting guys back on the sidelines and the game continued on," Smith said.
Ryan Succop kicked three field goals for Tennessee, the last a 51-yarder with 2:02 left in the third quarter for an 11-10 lead.
Locker was starting with rookie Zach Mettenberger out with his own sprained shoulder. He was hurt when hit by Coples late in the first half, sending him straight to the locker room holding his arm against his body. Coples also helped knock Locker out of the game the last time these teams met last season.
NOTES: Johnson, the Titans' third all-time leading rusher, finished with 55 yards on 10 carries. ... The Jets came in last in the NFL in red zone offense, scoring 37.8 percent scored TDs on two trips. ... Walker finished with 93 yards and set the Titans' yards receiving record in a season for a tight end with 793 yards, passing Frank Wycheck, who had 768 in 1998.
---
---