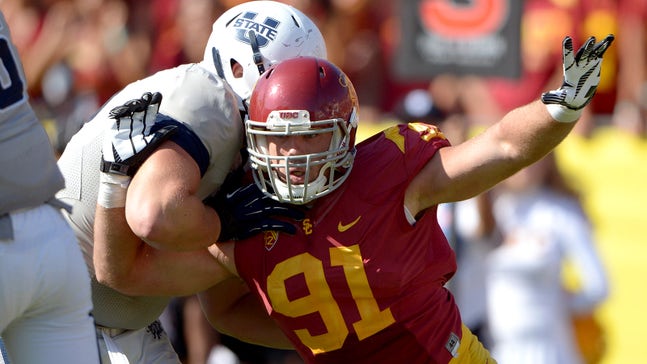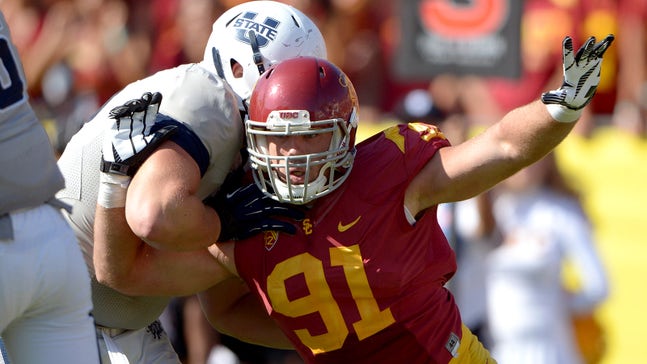 Is former USC DE Morgan Breslin the NFL Combine's biggest snub?
Published
Feb. 12, 2014 9:03 p.m. ET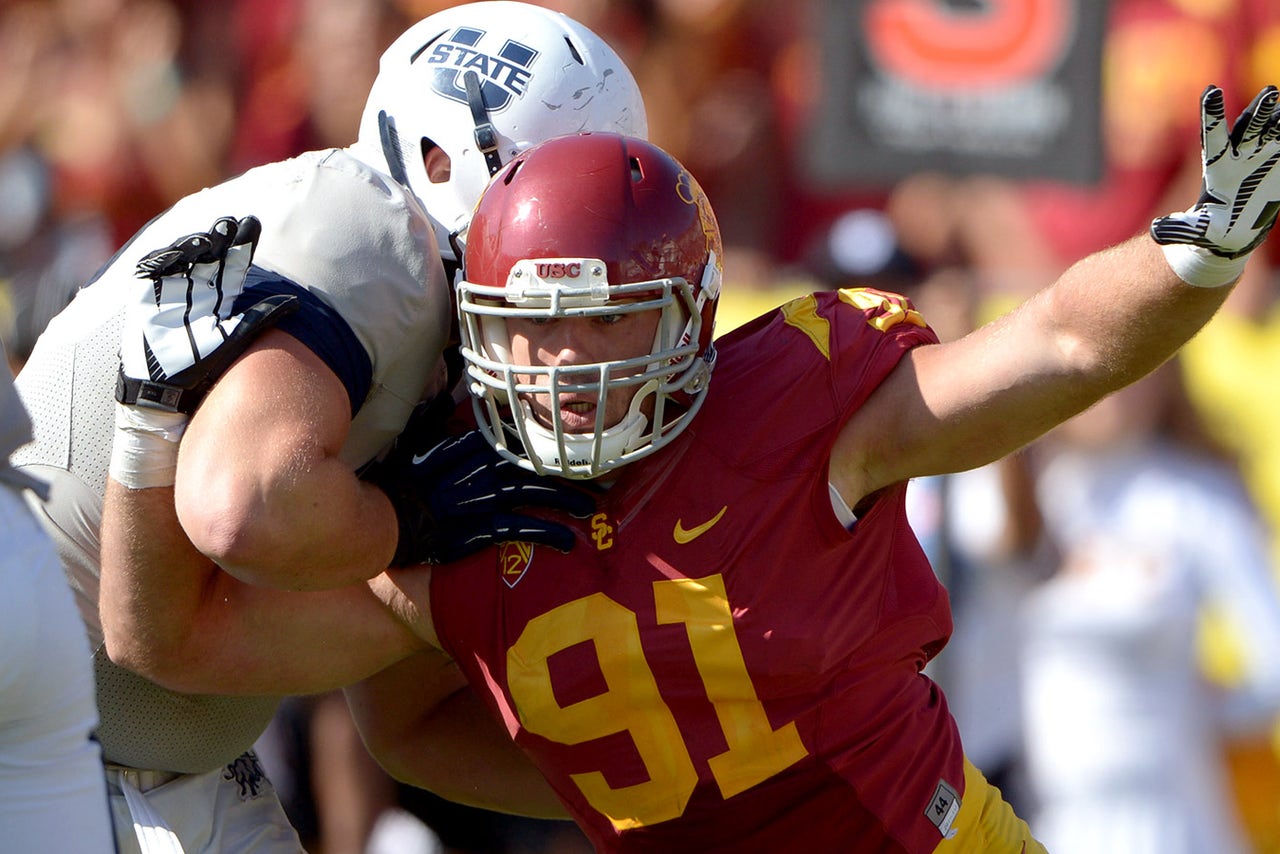 The NFL Scouting Combine annually selects more than 300 players to work out in front of every team's front office, coaching staff and scouting department. Every year players who arguably deserve to make the trip to Indianapolis are left off the invitation list. But no other player might be a bigger snub this year than USC defensive end Morgan Breslin.
Breslin, who played two seasons at USC after transferring from Diablo Valley (CA) College, finished third in the nation in sacks (13.0) during his redshirt junior year in 2012. The 6-foot-2, 245-pound defensive end finished just behind former Georgia linebacker Jarvis Jones (14.5) and former UCLA linebacker Anthony Barr (13.5).
Breslin was limited to just five games this past season due to a painful injury, but was still very productive, totaling 4.5 sacks and 8 tackles for loss.
"I was in pain the whole season for every single game," Breslin told FOXSports.com in a telephone interview. "We were treating it like a groin injury and I kept playing through it and kept playing through it. Eventually I ended up having a sports hernia because of it. I tried to play through it but the pain was pretty much unbearable. I consider myself a pretty tough dude and I just got to the point where I wasn't helping the team."
Doctors operated on Breslin to repair his sports hernia in November. Since then, he has made a full recovery.
"Morgan is one of the toughest guys I've ever known," former USC interim head coach Ed Orgeron said via telephone. "He didn't complain about anything. I don't know how long he was playing with it, but there was no way that Morgan was going to let down his teammates. He's such a team player."
While he missed the remainder of the Trojans' season, Breslin says that he's now feeling "100 percent." He's also extremely disappointed that he won't be attending the annual combine.
"I always had a huge chip on my shoulder, but now I have even more to prove," Breslin said. "I'm really looking forward to my pro day. I honestly thought I should've got an invite to the combine. I was pretty pissed about that."
Breslin's statistics back up his argument, too.
No other USC pass rusher in the last decade has accumulated more tackles for loss (19.5), sacks (13) and stuffs (32.5) in one season than Breslin during his redshirt junior year. That time span features a decorated list of first-round draft picks including Brian Cushing, Clay Matthews, Lawrence Jackson and Nick Perry.
"The thing I really like about Morgan is I noticed him working on the little things," Orgeron said. "You see him work on his stance before practice.  If you would teach him something, you would see him working on the exact details you taught him. He paid attention to details. Once he learned something, you never had to teach it to him again. He didn't make a mistake. He did a great job of moving from the 4-3 to dropping as a linebacker. He was excellent in his coverage.
"I can tell you this: Morgan has an uncanny ability to rush the passer. Great motor. Great tenacity. And he understands leverage and the angles of the blocker better than anybody I've ever coached."
His production over a per-game level also tops the list of other high-profile prospects in this year's draft class like South Carolina's Jadeveon Clowney, Barr and Buffalo's Khalil Mack. In Breslin's 18 career games he sacked the quarterback 17.5 times, averaging .97 sacks per game.
While Breslin was projected to be a high-end pick after being named to the All-Pac 12 team after the 2012 season, he opted to stay in school and finish what he started.
"I never considered coming out because I really wanted my degree," said Breslin, who majored in sociology. "I knew that having a USC degree that nobody could ever take that away from me."
---
---