New England Patriots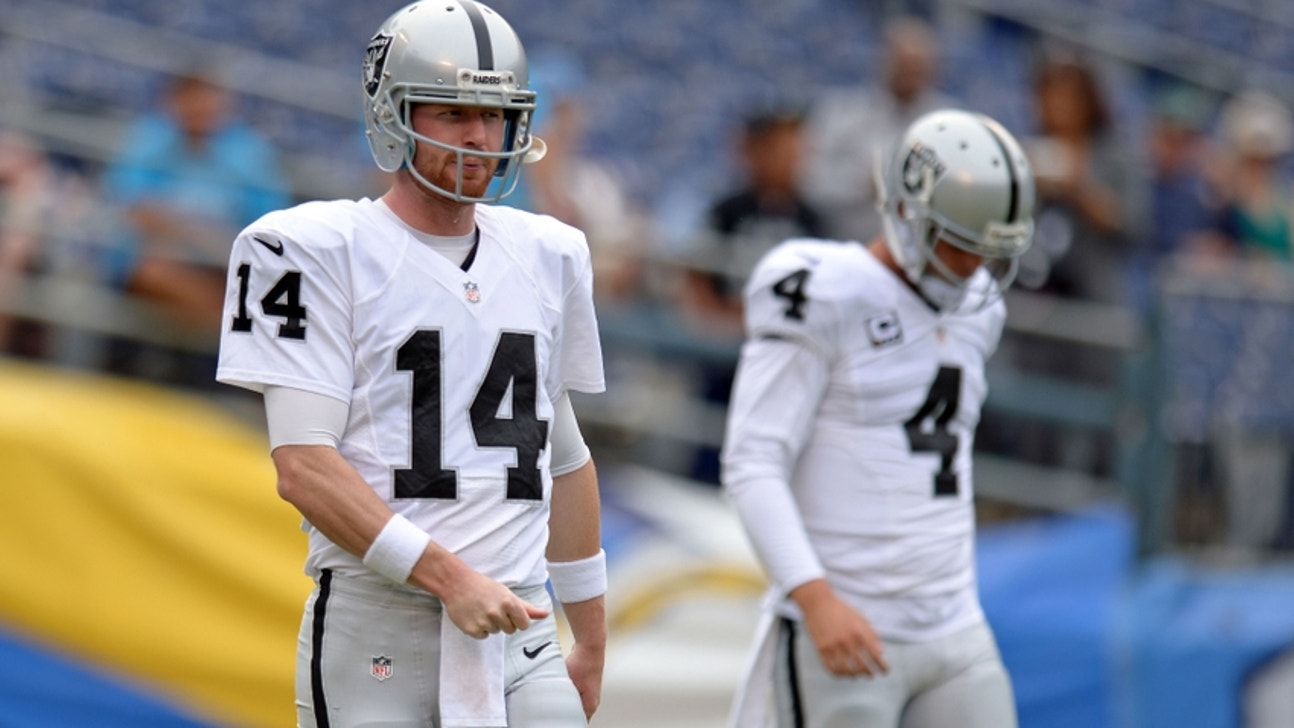 New England Patriots
In Matt McGloin I Trust: Super Bowl or Bust
Updated
Mar. 4, 2020 12:31 p.m. ET

Fansided, Maliik Obee/FanSided via Just Blog Baby
Matt McGloin may just be a backup quarterback, but with this supporting cast, he is capable of bringing the Oakland Raiders to the Super Bowl.
It seemed like a dream, and Oakland Raiders fans were just waiting to be pinched or violently shaken back to reality. 13 seasons of abysmal play being an afterthought, with Oakland climbing to 11-3. On Christmas Eve in front of a home crowd, the Raiders were making light-work of the Indianapolis Colts, well on their way to win No. 12. Suddenly, the ear-splitting cheers were abruptly silenced as quarterback Derek Carr went down. The air was sucked out of the Oakland Coliseum, and it only got worse with Carr being carted away with an apparent leg injury. Thrust into the spotlight was backup Matt McGloin, who despite rust, led the team to its 12th win.
While many have given up hope on Oakland's Super Bowl chances, you shouldn't. It's happened before, and McGloin is talented enough to join the list of backups that went all the way.
Injuries are an unfortunate part of the game, and nobody wants to think about players, better yet stars, going down. But it happens, and sometimes those injuries are so detrimental that it kills momentum entirely.
There are heroic displays of playing through pain, like Eagles receiver Terrell Owens playing through a fractured fibula and sprained ankle in Super Bowl XXXIX. On the NFL's biggest stage, Owens pulled in 9 receptions for 122 yards. There have been others, after all, football is nothing but a controlled environment for testosterone and pride.
As Carr underwent surgery Tuesday, his broken fibula will likely sideline him for at least six weeks. That's about the time of the Super Bowl LI, which will take place on February 5. But from NFL insiders to casual fans, many have already written off Oakland without their Pro Bowl quarterback.
Nevertheless, there have been teams put in this situation before. In fact, seven backups have led their teams to Super Bowl victories. Of that seven, two are in the Hall of Fame — Terry Bradshaw and Roger Staubach — and two more are on their way, in Kurt Warner and Tom Brady. There's even a former Raider in the mix in Jim Plunkett, who took the reigns from Dan Pastorini in 1980, leading the Raiders to a championship.
McGloin has played sparingly for Oakland, especially due to the emergence of Carr since he was drafted in 2014. In fact, McGloin has only played in five games since Carr came into the picture. In those instances, McGloin was usually thrust in the game barring a Carr injury, for few snaps.
But he's used to it, being forced to harp on opportunities, going undrafted after a decorated career at Penn State. Before that, he wasn't even recruited, becoming a walk-on and working his way up.
In 2013, McGloin took over for the injured Terrelle Pryor as a rookie. Sure, 8 touchdowns and 8 interceptions in seven games is nothing to fret about. But considering the lack of talent around him on both sides of the ball, Oakland learned a lot about the resilience of the buoyant redhead.
The 2013 Raiders were BAD, arguably worse than their 4-12 record entailed. Fullback Marcel Reece was the only player selected to the Pro Bowl, along with Raiderette Kelly — the team's star cheerleader. Even defensive-minded head coach Dennis Allen couldn't help the No. 28 ranked D.
The offensive line was ranked 29th, according to Pro Football Focus. While Oakland ranked No. 12 in rushing, running backs Rashad Jennings and Darren McFadden struggled with injury and consistency.
Fast forward to today, and McGloin is entering Week 17 and the playoffs with a plethora of weapons on both sides of the ball.
The backfield is currently ranked No. 5 in rushing — a three-headed monster consisting of Latavius Murray, Jalen Richard and DeAndre Washington. Averaging 124.3 yards per game, Oakland's backfield is dangerous on the ground and through the air.
As far as receiving core, McGloin's two favorite targets, receiver Andre Holmes and tight end Mychal Rivera, remain. Add Pro Bowlers Michael Crabtree and Amari Cooper, as well as slot Seth Roberts, and you have plenty of weapons. In addition to Rivera, tight end Clive Walford has nabbed 3 touchdowns on the season.
On the defensive end, All-Pro Khalil Mack and Pro Bowlers Bruce Irvin and Reggie Nelson lead the pack. Oakland's defense balances its coverage flaws out by forcing turnovers. In fact, the team's 29 takeaways are second in the league.
No matter how McGloin plays, the turnover-creating defense keeps Oakland in any game. Since Carr's pinky injury in Week 12, the defense continues to lead the way, securing wins with stifling pressure.
And then there's Special Teams, from kicker Sebastian Janikowski to punter Marquette King. While the aging Janikowski remains a threat to score from nearly anywhere, King has forced teams into bad positions with his foot. As far as returns, Richard has proven that anything that's not fair caught could potentially mean a score.
There's something magical about this team, and it's been apparent all season. Through injuries, transitions and substitutions, Oakland continues to win. Week 17 will be a test, as Oakland heads to Denver to face the Broncos. Denver is ranked No. 6 defensively overall, which is a positive and negative.
On the bad side, McGloin will surely have kinks to work out, as he looks to build chemistry and shake off rust. On the plus side, Oakland already securing a playoff spot gives McGloin a little breathing room. While a win would give Oakland a necessary playoff bye, a loss would affect Oakland's opponent. Unless, the Chiefs are defeated by the Chargers, giving Oakland the division. Nevertheless, a bye would be essential to McGloin getting more time with the first team.
There's even a possibility of moving to the No.1 seed and home-field advantage. If the Raiders win and the Patriots lose, Oakland climbs atop the AFC.
Week 17 determines playoff seeding and matchups, so it's too early to tell. But realistically speaking, anything can happen, giving Oakland a fighting chance against the AFC's best.
Sure, the Raiders will need its offense to step up, from receivers, to lineman to backs. But it will be on the defense to camouflage their flaws and play their game that has led to 12 wins.
All Oakland needs is for McGloin to channel his inner Jeff Hostetler. Yes, that Hostetler — the quarterback that led the New York Giants to a Super Bowl XXV victory. Both McGloin and Hostetler were backups that took over for injured starters, in a game that ended with the team's overall being 11-3. Hostetler was a game manager, combining quick, accurate passes with mobile ability. McGloin possesses those same traits, along with the ability to gunsling and a chip on his shoulder.
In the New England Patriots and Pittsburgh Steelers, Oakland faces it's stiffest competition. The Patriots lead the AFC at 13-2, winning six straight. But they can be beaten, showcased by their Week 10 31-24 loss to the Seattle Seahawks.  Oakland would have to do it's best to contain Tom Brady, staying away from a potential shootout. Even though Oakland will go without Carr, McGloin possesses the pieces around him to run up the score if need be. Extra incentive for Oakland would be redemption for the infamous "Tuck Rule" game in 2001.
Pittsburgh features a remarkable offense, led by quarterback Ben Roethlisberger. Le'Veon Bell and Antonio Brown would surely cause headaches for Oakland. But it's nothing new, as Oakland has faced several offensive threats this season and still came out with the win. Fortunately, Pittsburgh's unproven defense opens the door for Oakland to stay in the game in any situation.
As the case with Hostetler and fellow backup Super Bowl winner Trent Dilfer, defense will be the main focus. Fortunately for McGloin, he is blessed with more offensive talent than the aforementioned quarterbacks. There may be a chance that Oakland faces the Chiefs for the third time this season. In both prior matchups, the Raiders were defeated.
Yet, the Week 14 matchup was a winnable game that slipped out of Oakland's grasp. Derek Carr's worst performance of the season came in the worst time possible. If McGloin can manage to put up respectable numbers and the defense can repeat it's play, Oakland possesses a great chance of winning.
It won't be easy, shoot, it wouldn't be easy with Carr, but the Raiders can get to the Super Bowl. To get to this point, Oakland overcame the toughest schedule in the league, according to opponent win percentage. The playoffs are a different beast, but the Raiders feature multiple playoff and Super Bowl vets that can weather the storm.
History shows that it is very much possible and it's been done before, multiple times. So don't hang up your Carr jersey and give up just yet, because Matt McGloin may be ready to take Oakland all the way.
McGloin has been fighting all his life for a fair shot, for recognition. This is his best chance to get it, even as adversity and doubt are cast upon him. But this time, he will have plenty of help.
More from Just Blog Baby
This article originally appeared on
---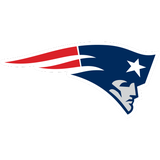 Get more from New England Patriots
Follow your favorites to get information about games, news and more
---