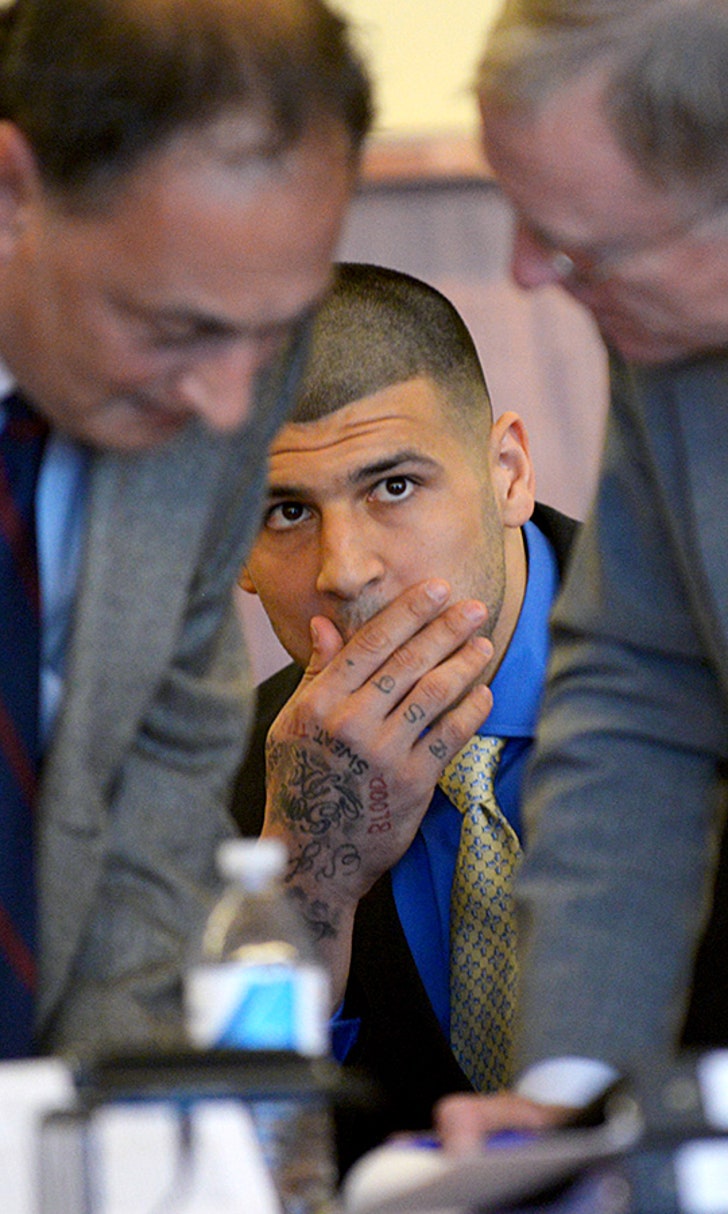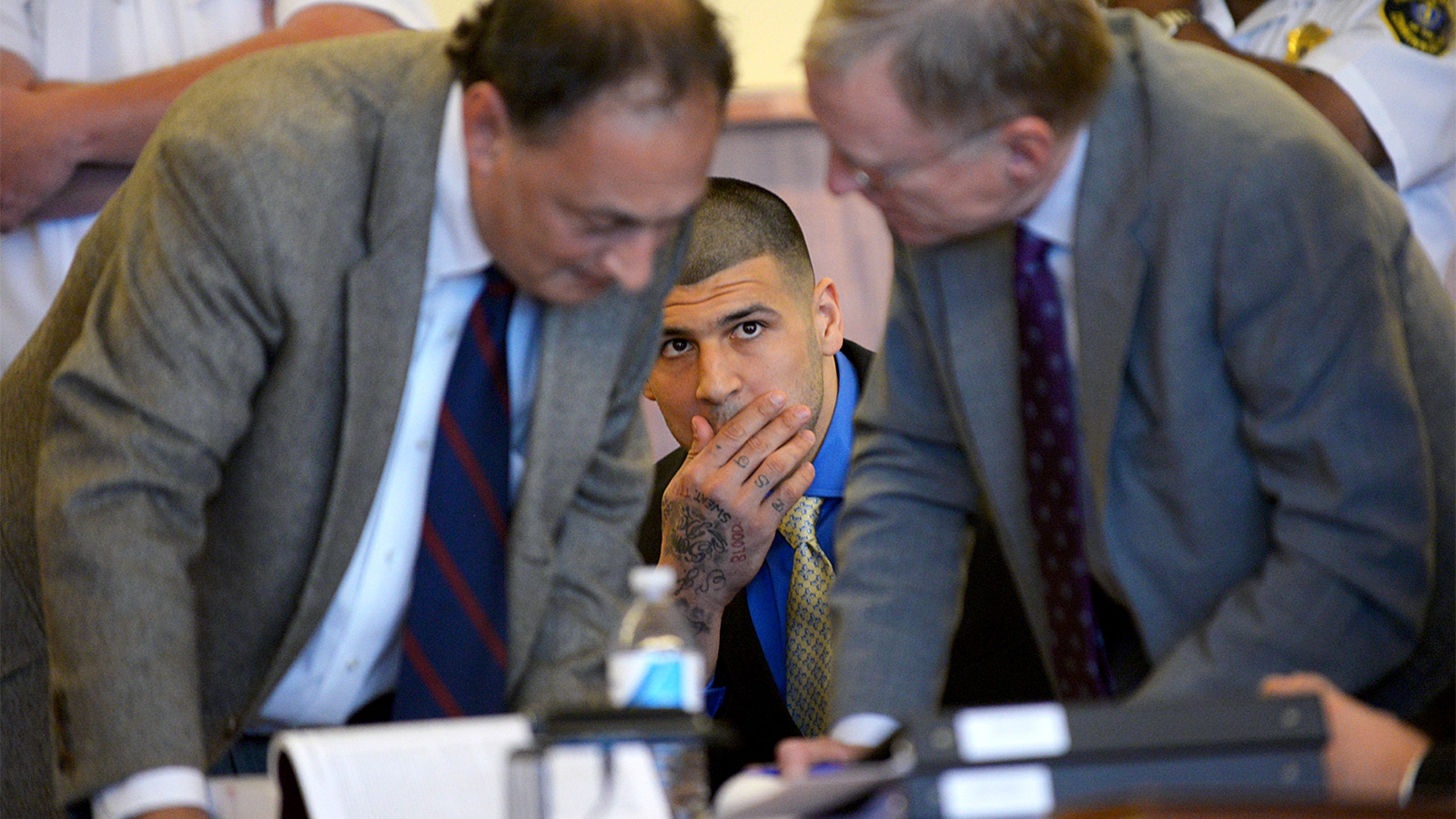 Hernandez's lawyers will have to do double duty with two trials
BY foxsports • August 14, 2014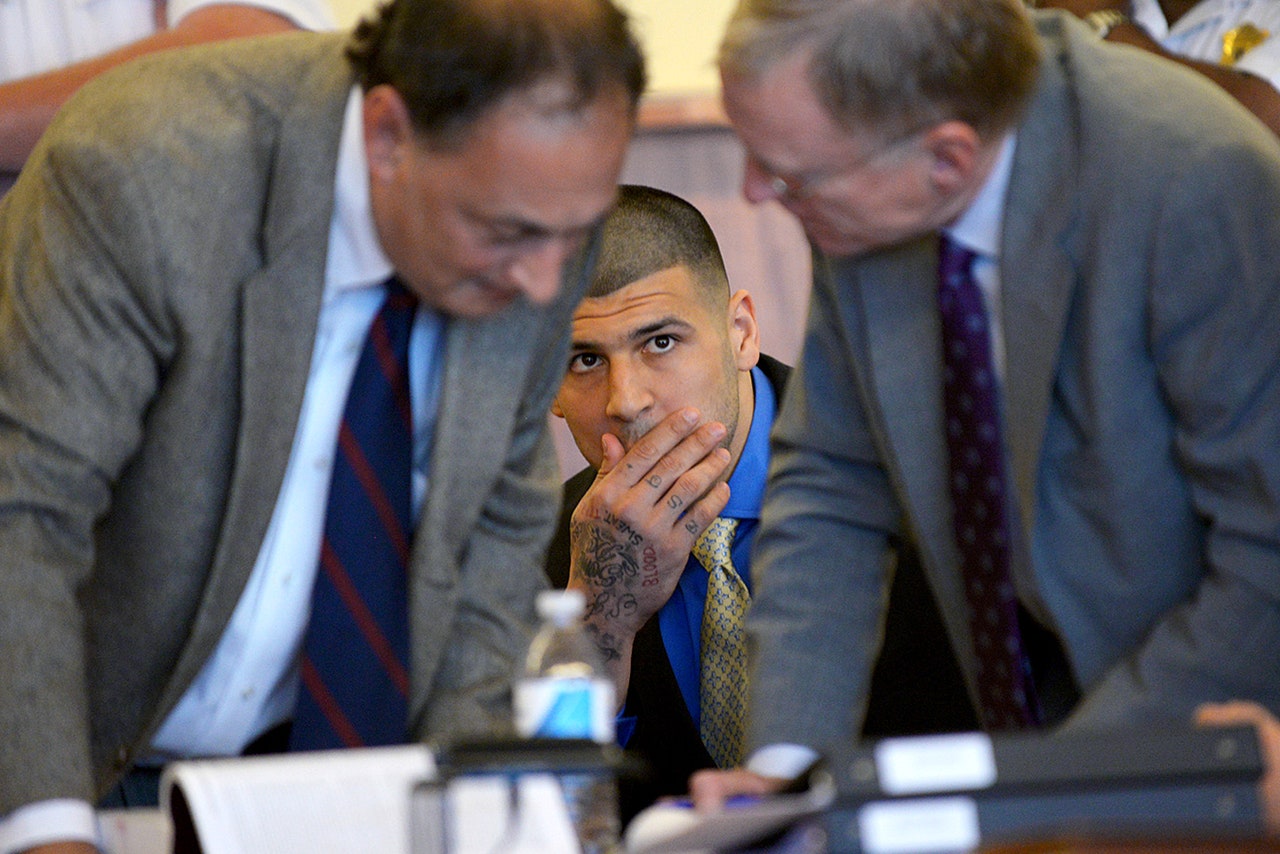 Aaron Hernandez's lawyers are preparing for trial in one of the murder cases facing the former New England Patriots star – and were told Thursday they have to simultaneously begin working on his defense in the other.
That was the upshot of a brief hearing that was dominated by a discussion among the judge and attorneys held out of the earshot of everyone else in the courtroom.
Hernandez was not at the hearing regarding the July 16, 2012, murders of Daniel de Abreu, 29, and Safiro Furtado, 28. His attorneys filed papers earlier in the day waiving his right to be present.
Suffolk County Superior Court Judge Jeffrey A. Locke scheduled the next hearing in the case for Oct. 21 – and he told Hernandez's lawyers he wants them to disclose that day whether they plan to file motions seeking to suppress evidence in the case.
That evidence, to date, includes 323 separate items and more than 11,000 pages of documents, First Assistant District Attorney Patrick Haggan, who is leading the prosecution in the Boston case, said in court.
Hernandez faces multiple murder and assault charges in the killings of de Abreu and Furtado and the wounding of a third man at a South Boston intersection.
According to prosecutors, Hernandez was angered that de Abreu bumped him on a nightclub dance floor, causing the football star to spill his drink, and then failed to apologize. Hernandez allegedly seethed for nearly two hours, then followed de Abreu and his friends after they left the club and opened fire at a stoplight.
For nearly a year, the investigation was stalled. Then Hernandez was implicated in a second murder, and a tipster told police the two cases were related.
A grand jury indicted Hernandez in the South Boston killings in May. The case has been tentatively set for trial next May, although indications are that Hernandez's lawyers will attempt to have it pushed back.
Hernandez is separately charged with the June 17, 2013, murder of Odin Lloyd, a semipro football player.
That case is scheduled to go to trial in January in Fall River, about 50 miles from Boston.
Prosecutors have alleged that Hernandez, angered at Lloyd after an incident at a nightclub in Boston, summoned two friends from his hometown of Bristol, Conn., to his mansion in North Attleboro late the night of June 16, 2013. At the same time, according to court documents, Hernandez allegedly contacted Lloyd and arranged to pick him up at his home in the Dorchester section of Boston for a night out.
Hernandez, joined by Carlos Ortiz, 28, and Ernest Wallace Jr., 42, allegedly drove to Boston, picked up Lloyd, and then returned to North Attleboro, pulling into a secluded field in an industrial park that was surrounded by trees and piles of gravel and asphalt.
There, Lloyd was gunned down with multiple shots from a .45-caliber handgun.
Ortiz and Wallace have also been charged with murder in Lloyd's death.
Prosecutors have asserted in court that Hernandez orchestrated the killings, but they have not divulged their theory of the crime – including their belief about who fired the fatal shots – and they don't have to until they present their case at trial.
---
---