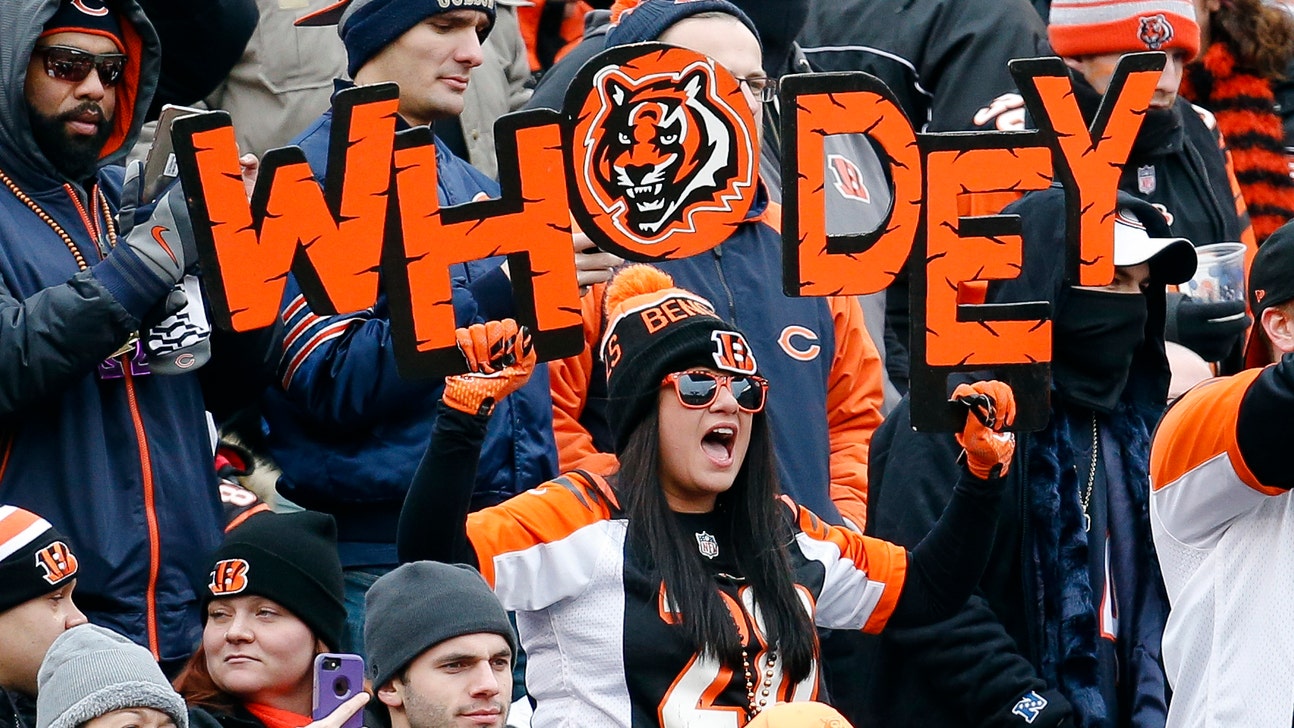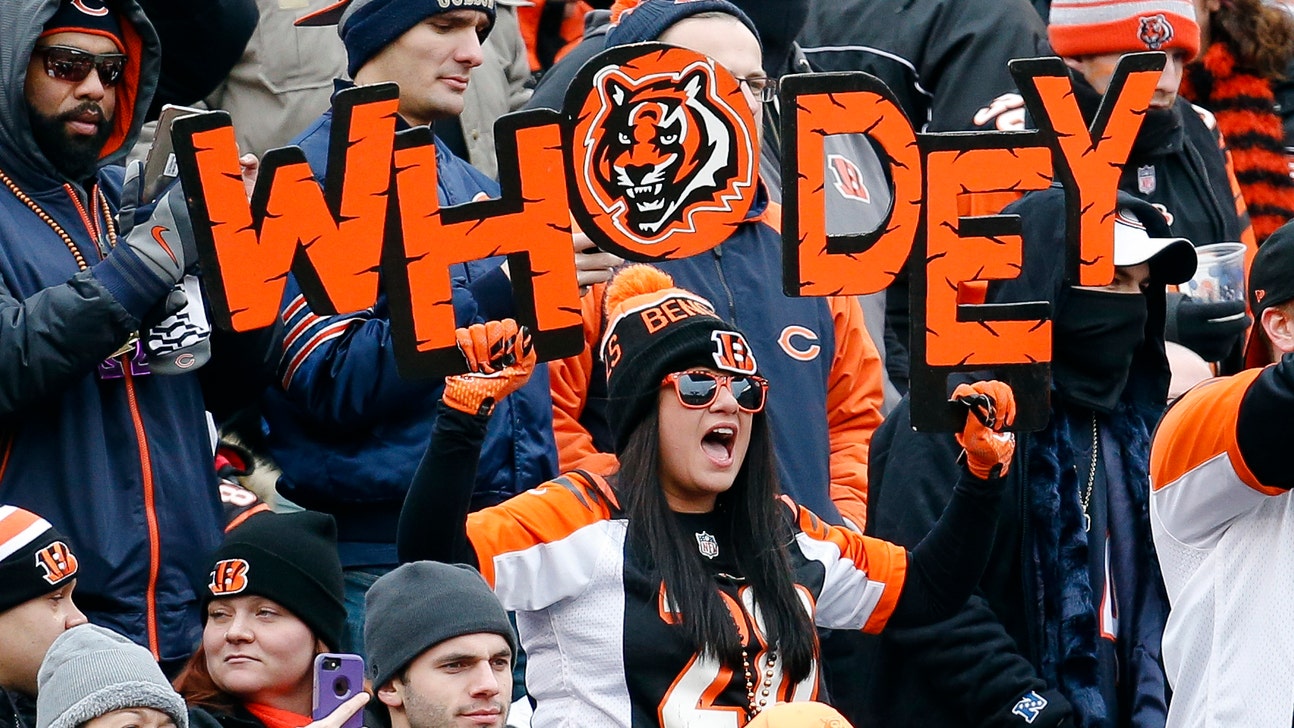 Here comes Who Dey vs. Who Dat. Say what?
Updated
Mar. 4, 2020 11:02 p.m. ET
Here comes Who Dey vs. Who Dat.
Say what?
The Who Dat folks from New Orleans go head-on with the Who Dey fans in Cincinnati on Sunday. And don't ask which group first came up with its catchy phrase and odd rendering of the English language.
"Who Dey? I don't understand. I'm baffled," says Saints running back Mark Ingram. "It's like, did they copy us? Or not? I don't know. Who Dat! Who Dat! Who Dat! ..."
What anyone might ask is whether the Saints (7-1), coming off three huge victories, including handing the Rams their first loss, are ripe for a letdown. Drew Brees and company face Philadelphia next week.
"They're going to be hungry coming off the bye week," Ingram says of the Bengals. "They have playoff aspirations. They have aspirations of winning their division. So every game is important to them just like it is to us. So we're going up there in foreign territory, hostile territory, and we've got to go make it happen. We're a good team. We respect them but we're always worried about this building, this team, what we need to do to put ourselves in position to have success."
It might be difficult for New Orleans to find a way to lose this one, though. In the past three games, the Bengals (5-3) have given up 481 yards to Pittsburgh, then 551 to Kansas City and 576 to Tampa Bay.
Granted, those are three of the NFL's top attacks. The Saints are up there, too, so if Cincinnati gives up 500 yards Sunday, it will become the first team to allow 500 in three consecutive games.
"We're underachieving right now," defensive end Carlos Dunlap admits. "We're playing well enough to win some games, which is why we're 5-3. If we work on the negatives, we can be that elite defense and that elite team."
Right now, the eliteness is in the Big Easy
"They go as Brees goes," Dunlap adds. "We've got to find a way to slow down that future Hall of Famer."
The weekend began Thursday night with Pittsburgh's 52-21 home victory over Carolina. Ben Roethlisberger threw for 328 yards and five touchdowns to help the Steelers (6-2-1) win their fifth straight. The Panthers (6-3) had won three in a row.
Off this week are Minnesota (5-3-1), Denver (3-6), Baltimore (4-5) and Houston (6-3).
Dallas (3-5) at Philadelphia (4-4)
For the Cowboys to stay real in the NFC East, they need a quick reversal of fortune. With four of those five losses coming on the road, a visit to the Linc isn't all that enticing.
These teams meet on "Sunday Night Football" for the 10th consecutive season and 12th time overall. Dallas must find a passing game somewhere, and spring Ezekiel Elliott for some big plays, but the blocking unit has declined significantly.
The defending Super Bowl champion Eagles are 17-5 at home under coach Doug Pederson. Carson Wentz has thrown at least one TD with no more than one interception in 21 straight games, tied with Matt Ryan for the longest streak in NFL history. He has a new target in Golden Tate. The wideout was obtained from Detroit, for which he had eight catches for 132 yards and two TDs vs. the Cowboys on Sept. 30.
Seattle (4-4) at Los Angeles Rams (8-1)
Coming off their first defeat, the Rams will remember they struggled to win 33-31 at Seattle last month. A victory would give LA a 4½-game edge in the NFC West and pretty much shut it down.
Both teams boast potent ground games, with the big star being LA's Todd Gurley. The Rams are No. 1 in the NFL with Gurley at 868 yards rushing; he also has 12 TD runs; he has scored in 12 consecutive games, the longest regular-season streak in team history.
The Seahawks are tops in rushing since Week 3 with 159.8 yards per game after concentrating more on the ground game following an 0-2 start.
Arizona (2-6) at Kansas City (8-1)
The Cardinals are 0-4-1 at Kansas City, and this isn't exactly the best time to be visiting. Arizona has the NFL's worst offense and ranks 31st in pass defense. All the Chiefs do, with Patrick Mahomes, Kareem Hunt, Travis Kelce and Tyreek Hill, is score, score and score some more.
But Cardinals star receiver Larry Fitzgerald could make some history. Fitzgerald needs 33 yards receiving to pass Terrell Owens (15,934) for second in NFL history. Fitz needs 14 receptions to pass Jerry Rice (San Francisco, 1,281) for the NFL record for receptions with one team.
Detroit (3-5) at Chicago (5-3)
A very lopsided series recently in favor of Detroit, which has won nine of 10. Indeed, Chicago hasn't won an NFC North game in its past 10 attempts.
But the Lions allowed 10 sacks — yes, 10 — to Minnesota last week, and Chicago has an even better defense than the Vikings.
The Bears also are decently balanced and rank fifth in scoring. Still, their calling card is on D, and they scored twice that way against Buffalo: Eddie Jackson's 65-yard fumble recovery and Leonard Floyd's 19-yard interception return.
Washington (5-3) at Tampa Bay (3-5)
The Redskins were routed at home by Atlanta last weekend and lost three key players, including both starting guards. Adrian Peterson has three consecutive 100-yard rushing games against Tampa Bay, including last year with the Cardinals. Can he find room to roam behind a makeshift offensive line?
Tampa sure can pass and sure can score, but it often falls so far behind that it can't catch up. The Bucs have been outscored 103-27 in the first half of Ryan Fitzpatrick's past three starts, all losses.
Still, Fitzpatrick has three games with four or more TD passes, the most in the NFC this season, and has been much better than erstwhile starter Jameis Winston.
New England (7-2) at Tennessee (4-4)
Here we go again: New England is on a roll as Tom Brady makes everyone around him better.
The Patriots have won six straight (seven in a row overall against Tennessee). Brady will play in his 300th game, including postseason, and will join Brett Favre (326) as the only NFL quarterbacks to appear in 300 games. Brady needs three TD passes to tie Peyton Manning (579) for the most in NFL history, also including playoffs.
Tennessee comes off a solid victory at Dallas and coach Mike Vrabel had his biggest playing days in New England, where he won three titles.
"We've just gotten ourselves to the surface where there's a little bit of air, a little bit of water," Vrabel says. "You're kind of taking a little bit of both in and you can't survive there for long. But you can survive there for a few minutes. And so we got to make the next decision to see if we can get our heads completely above water."
Atlanta (4-4) at Cleveland (2-6-1)
Injuries seemed to ruin the Falcons' season, yet here they are at .500 and with six games upcoming against teams currently owning losing records. Matt Ryan is having an outstanding year, even while overshadowed in the NFC South by Brees and Cam Newton.
With 13 yards receiving Sunday, Julio Jones will reach 10,000 in his career and become the fastest player to reach that milestone (104 games).
The Browns have dropped four straight, and are 0-1 under interim coach Gregg Williams. But their .786 winning percentage (11-3) against the Falcons is the team's highest against any opponent.
Los Angeles Chargers (6-2) at Oakland (1-7)
Another guy not getting enough recognition for a superb passing season is Philip Rivers while Patrick Mahomes grabs the AFC West headlines. Playing the woeful Raiders shouldn't hurt Rivers' resume: He has completed 75 of 100 passes for 994 yards, six TDs and no INTs in his past three outings vs. Oakland for a 126.0 rating.
Plus, the Chargers have won five straight for their best record at the season's midpoint since 2006.
Meanwhile, the Raiders are such a mess that they have been outscored 55-3 over the past five quarters and are allowing a 113.9 passer rating, on pace for the worst in franchise history.
Miami (5-4) at Green Bay (3-4-1)
Somehow, the Dolphins are a wild-card contender despite being outgained by 704 yards and outscored by 38 points. Much of that can be attributed to the past three road games, in which they were outscored 107-47.
On the bright side, Miami ranks first with 15 interceptions, including four last week against the Jets.
Aaron Rodgers, of course, doesn't throw picks. Rodgers has thrown 15 touchdowns to one interception, leading the league with a 0.3 percent interception percentage. And RB Aaron Jones leads the NFL at 6.03 yards per carry.
Jacksonville (3-5) at Indianapolis (3-5)
Two 3-5 marks that look much different. Jacksonville has dropped four in a row and is among the most disappointing clubs in football. Indy is giving a decent accounting of itself despite a lack of talent.
There's plenty of skill at quarterback, however. Andrew Luck, who missed 2017 with a shoulder injury, is back in fine form and has not been sacked in his past 154 pass attempts dating to the second offensive play against New England on Oct. 4. It's the longest stretch of his pro career.
Colts K Adam Vinatieri will be honored for breaking the NFL's career scoring record two weeks ago at Oakland. Vinatieri needs one win to tie George Blanda (209) for most regular-season wins in league history.
Buffalo (2-6) at New York Jets (3-6)
With all that record scoring throughout the league, this could be an 8-5 snoozer.
Sam Darnold has regressed behind center for the Jets and now has a foot injury. But let's be fair: Darnold has very little help, especially with versatile RB Bilal Powell on IR. Last year's starter, veteran QB Josh McCown, steps in.
As for Buffalo, well, maybe getting rid of Tyrod Taylor wasn't such a wise move.
New York Giants (1-7) at San Francisco (2-7), Monday night
This isn't likely to be as much of a sleep-inducer as Bills-Jets. At least a national TV audience gets to watch Saquon Barkley, the most dynamic rookie to hit New York since Odell Beckham Jr. — and without all the baggage.
San Francisco has its own intriguing story after rookie QB Nick Mullens tore up Bay Area rival Oakland last week. Mullens joined Hall of Famers Jim Kelly and Fran Tarkenton as the only players with at least 250 yards passing, three TDs and no INTs in his career debut.
---
---