National Football League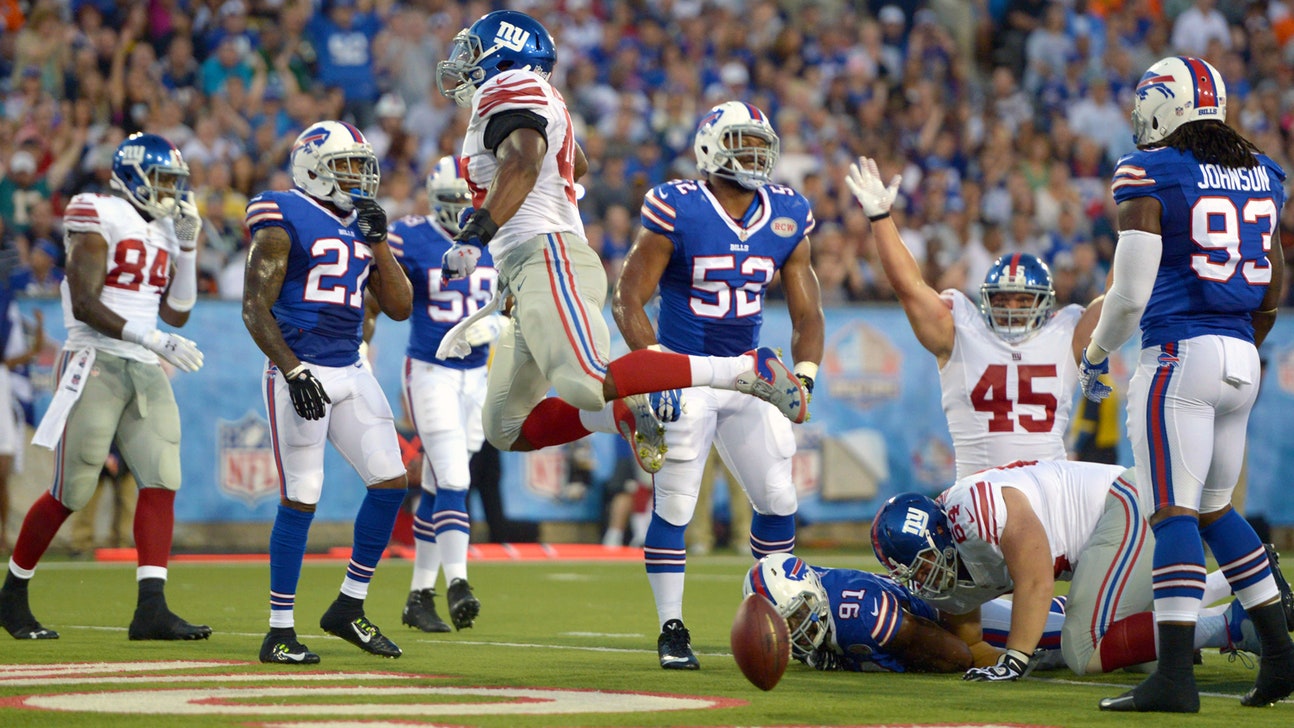 National Football League
Giants' rookie steals show, leads NY to win in Hall of Fame Game
Published
Aug. 3, 2014 11:06 p.m. ET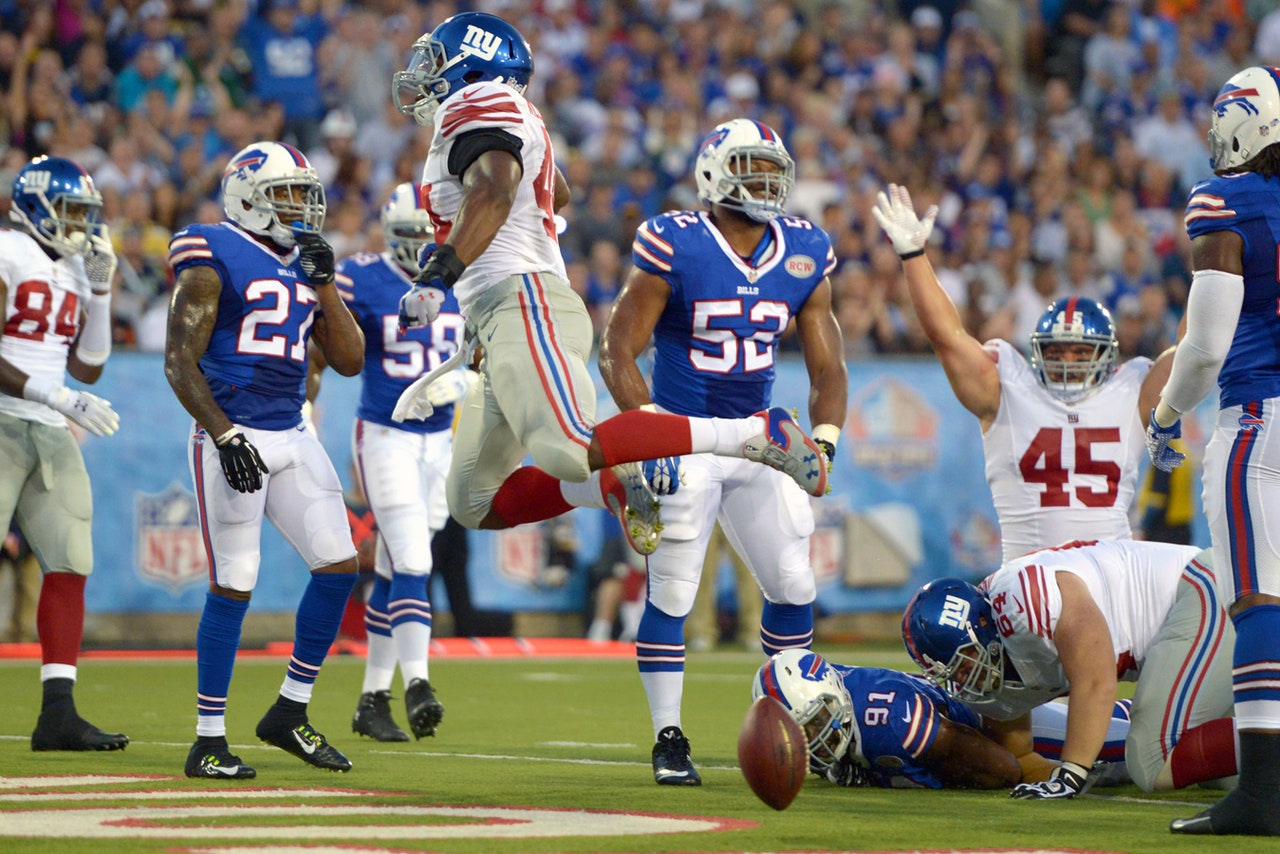 Andre Williams ran up some big numbers at Boston College. The fourth-round draft pick is showing glimpses that can do it for the New York Giants, too.
Williams had seven carries for 48 yards and scored on a 3-yard run in a 17-13 victory over the Buffalo Bills on Sunday night in the preseason-opening Hall of Fame Game.
"It gives me confidence. I feel like I'm supposed to be here," said Williams, who led the nation with 2,177 yards rushing last season. "I'm part of the team now."
And a more important part with David Wilson sidelined after sustaining his second neck injury in less than a year.
Filling the No. 2 spot behind newly acquired starter Rashad Jennings, the Heisman Trophy finalist helped provide the Giants' re-tooled backfield a 1-2 punch.
"I though he played well, and that was encouraging," coach Tom Coughlin said. "David Wilson's injury not-withstanding, it's very important to us no matter what, because you need a natural rotation."
Williams' score, which came after a 21-yard scamper off left tackle, put the Giants up 7-3 late in the first quarter.
Rookie receiver Corey Washington scored the go-ahead touchdown on a 73-yard pass up the right sideline from backup Ryan Nassib with 13:18 remaining. Washington reached back to catch the partly under-thrown pass, then stepped around flat-footed defender Kamaal McIlwain.
Nassib, competing for the backup spot, went 7 of 12 for 139 yards.
Starter Eli Manning played three series, and finished 6 of 7 for 43 yards, but lost a fumble.
For Buffalo, starting quarterback EJ Manuel had several lapses during two series. He completed just 2 of 7 attempts for 19 yards, and nearly had a pass intercepted by linebacker Jacquian Williams inside the New York 10. Manuel never looked off his intended target Sammy Watkins and was fortunate to have Williams bat the ball down.
"I would have liked to throw a touchdown pass or to score a touchdown while I was in, but it's our first game," said Manuel, the second-year player who has been inconsistent through the first two weeks of training camp. "We got our feet wet, and we're looking forward to moving on to playing Carolina."
Coach Doug Marrone didn't sound as positive regarding the play of any of his quarterbacks.
"Obviously, the performances were not good for a win," Marrone said. "We've got to get better, all of them."
Bills backup Jeff Tuel hit Robert Woods for a 2-yard touchdown pass on fourth-and-goal to put Buffalo ahead 10-7 early in the second quarter. Tuel finished 12 of 17 for 74 yards and an interception.
Watkins, the Bills' first-round pick, was held without a catch after being targeted three times. Two passes from Manuel directed Watkins' way were tipped. Manuel also was late in finding Watkins flying up the left sideline, and overthrew him by a few yards.
It was a disappointing debut for Watkins, who had made numerous highlight-reel catches during the first two weeks of training camp.
Dan Carpenter made two field goals, including a 51-yarder. New York's Brandon McManus hit a 47-yard field goal
The Bills are coming off a 6-10 season in which they extended their playoff drought to 14 seasons -- the NFL's longest active streak.
The Giants (7-9) had a busy offseason attempting to restock a team that has missed the playoffs in four of the past five seasons.
The NFL unveiled a few new wrinkles that will run through the first two weeks of the preseason.
New York's Josh Brown hit two and Carpenter hit his extra-point attempt, all of which were snapped from the 15-yard line rather than the 2.
NOTES: Giants TE Daniel Fells left because of a sprained knee. ... Coaches and players on the sidelines also had the opportunity to view pictures of plays on tablets and in color -- an improvement over the black-and-white still photos that were printed off on paper. Marrone said his tablet initially didn't work. The problem was fixed and he used the technology in the second half. ... The game was played a day after the seven-member 2014 class was inducted into the Pro Football Hall of Fame. The group included former Giants defensive end Michael Strahan and former Bills receiver Andre Reed.
---
---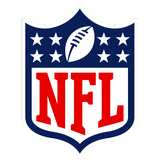 Get more from National Football League
Follow your favorites to get information about games, news and more
---