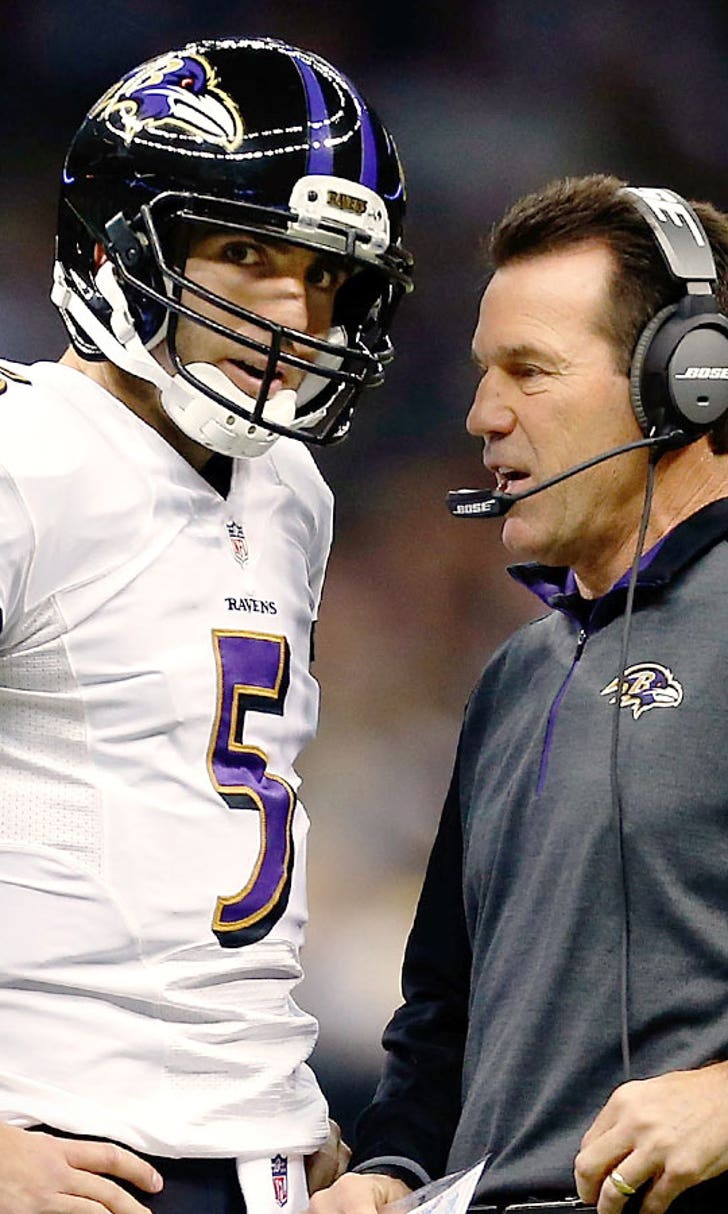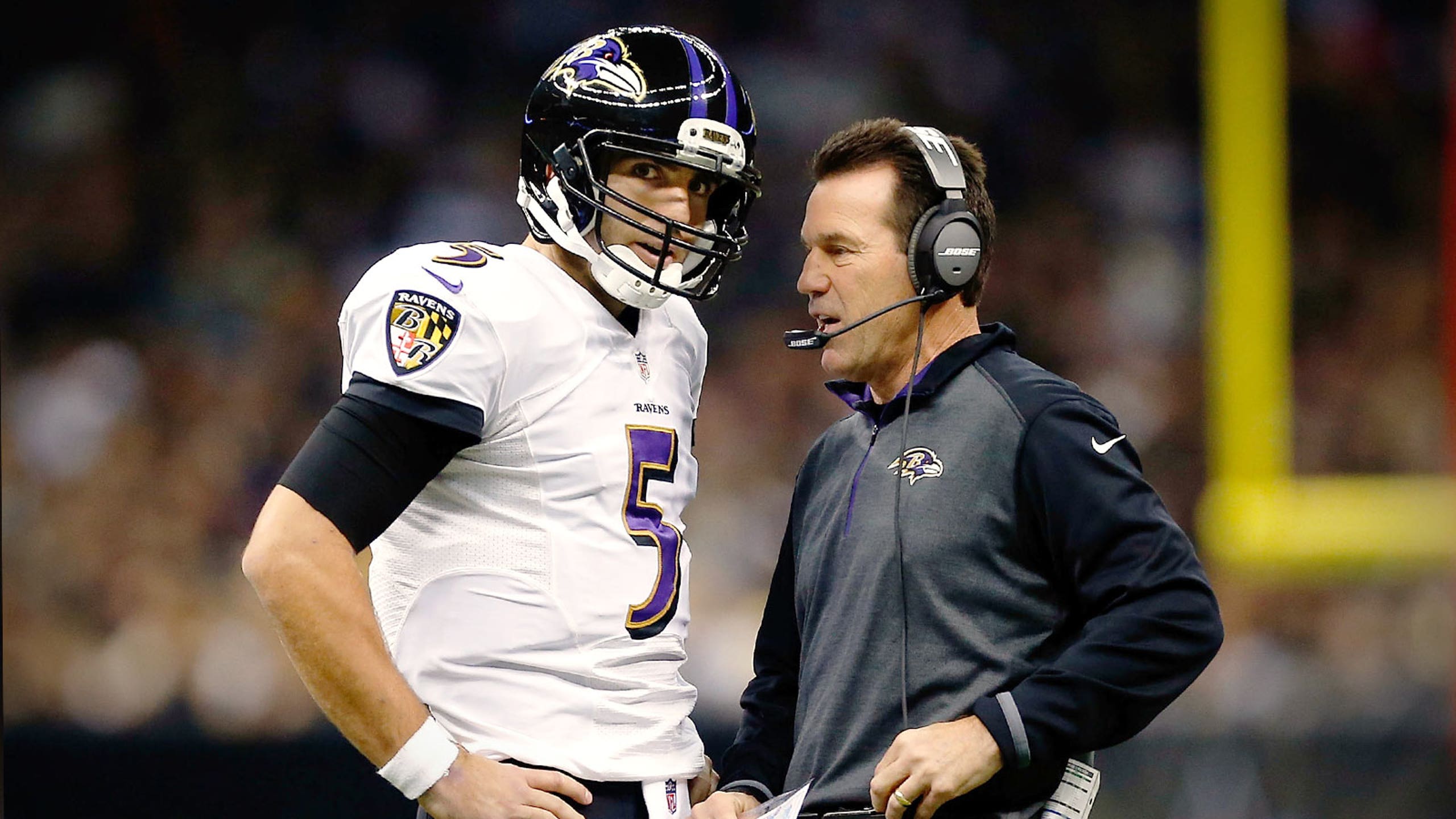 Front Office Insider: Ravens' Joe Flacco still on the rise as age 30 approaches
BY Ross Jones • December 17, 2014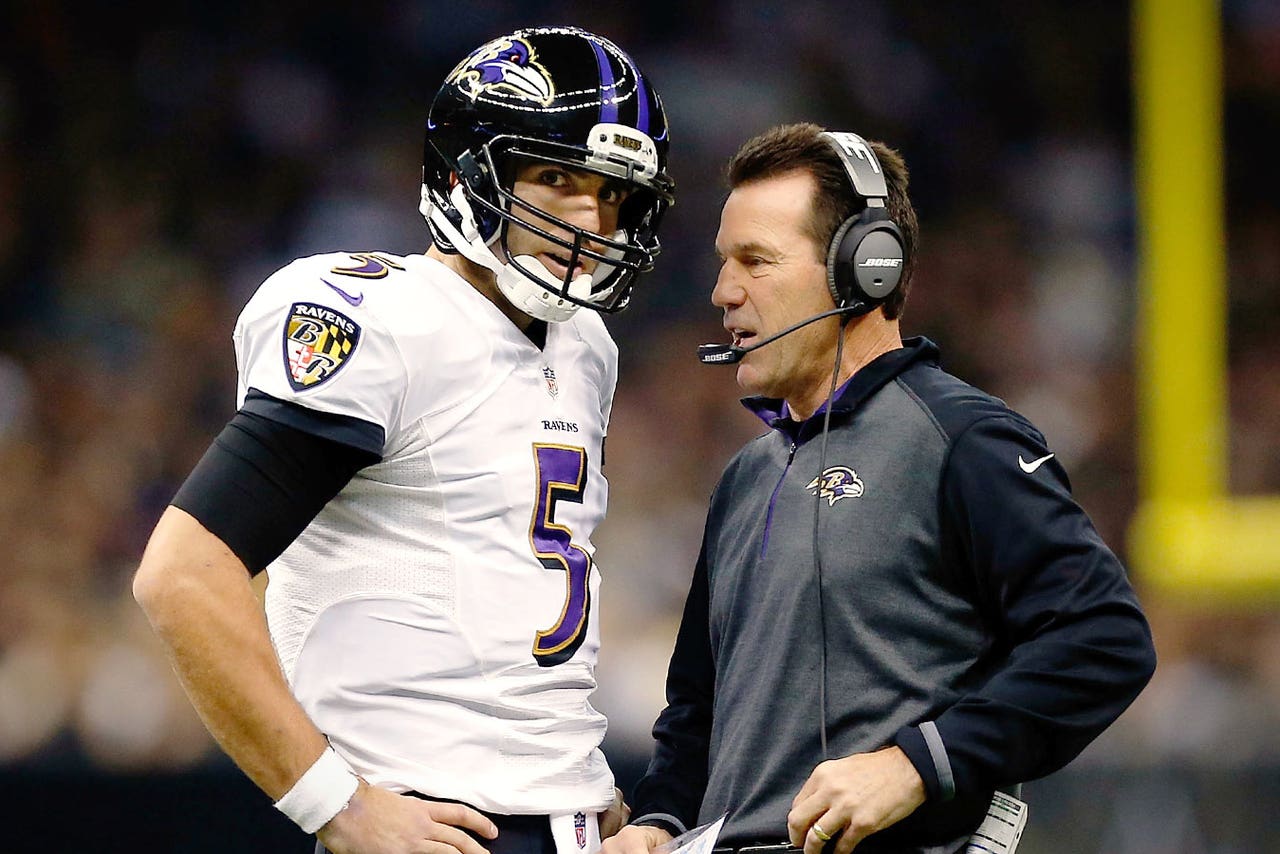 Lost in the shuffle of Brady-Manning-Luck-Rodgers QB argument, sits Baltimore Ravens quarterback Joe Flacco.
Though Flacco's numbers (3,479 passing yards, 23 TDs and 9 interceptions) won't wow you, the seventh-year pro is on pace to have a career season with just two games remaining. What's more, Flacco, who will turn 30 in January, has the Ravens positioned to make their sixth postseason run in seven years.
Much of Flacco's success this season can be attributed to the time he has put in the classroom with quarterbacks coach Rick Dennison and offensive coordinator Gary Kubiak.
"The biggest difference I see in Flacco is his improved pocket awareness," an AFC personnel director told FOXSports.com. "Also Kubiak is a very good teacher, and I think he has him focused on the details if you look at his reads and footwork."
Kubiak's simplified concepts have also allowed Flacco to make instinctive decisions, which has led to a career-high 64.2 percent completion rate in 2014.
As the Ravens prepare to play the Houston Texans, Kubiak's former team, in Week 16, the offense is bolstered by great overall depth at each position group. With a formidable offensive line, a 1,000-yard rusher and a diversified collection of pass catchers, Baltimore can win in multiple ways.
"They do a lot of repetitive things in multiple formations like the drive concept," the personnel director said. "It gives the quarterback low-risk, easy throws to make and allows the receivers to run after the catch."
The job Kubiak has done pulling it all together could earn him consideration for a head coach opening. Preaching efficiency and balance, the Ravens are poised to finish in the top 10 in just about every major offensive category -- a far cry from the doldrums they were sitting in a season ago.
Furthermore, the Ravens also lead the league with 21 running plays of 20 or more yards.
With two winnable games -- Texans and Browns -- remaining on the schedule, a postseason run could be just what Kubiak needs to complete his image makeover.
MURRAY'S WORKLOAD CATCHING UP TO HIM?
The news that DeMarco Murray underwent surgery to repair a broken bone in his hand on Monday caught some by surprise. Though Murray won't practice this week, he will be a game-time decision against the Indianapolis Colts.
Murray, however, hasn't had a fumble in 187 touches, dating back to the second quarter in Week 8 against the Washington Redskins. That is the most carries Murray has ever had without a fumble.
For someone who leads the league in touches (405), it was a small miracle Murray didn't get sidelined sooner. How the broken bone in his hand affects his ball security remains to be seen.
OFFENSIVE ROOKIE OF THE YEAR AWARD CRYSTALLIZES
With two weeks remaining, some regular-season awards are coming into focus.
After New York Giants wide receiver Odell Beckham Jr.'s 12-catch, 143-yard, three-touchdown performance last Sunday, some believe he has become the front-runner for the award. But another former LSU Tiger is right on his heels.
"ODB has gotten so much pub I could see him getting it, but Jeremy [Hill] could take it over down the stretch," an NFC scout told FOXSports.com this week. "He's killing it for a winning team."
Hill, a Bengals second-round pick, leads all rookie running backs in yards (877), touchdowns (eight) and carries of 20 or more yards (six).
It should be a fun race between two former teammates down the stretch.
IT'S THAT TIME OF YEAR AGAIN
Former Tulane cornerback Lorenzo Doss became the first player from his school to forgo his eligibility in more than a decade when he announced on Twitter this week that he plans to enter the 2015 NFL Draft.
Doss, a 5-foot-11, 190-pound cornerback, had a productive three-year stay that included 15 interceptions and 20 passes defensed.
Two scouts told FOXSports.com they are intrigued with Doss' coverage ability and ball skills and one believes that Doss has "top-100 upside."
After a year in which a record 107 underclassmen declared for the draft, expect more of the same despite the league streamlining a grading system to measure the prospects' draft potential.
---
---