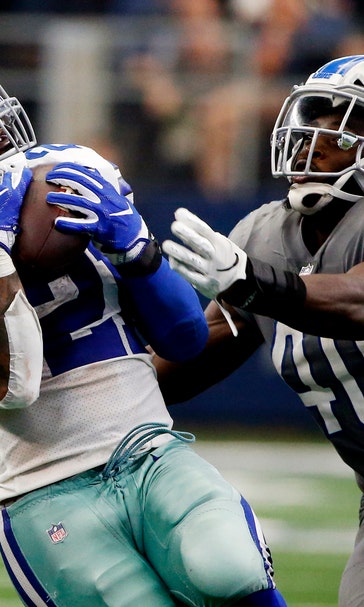 Elliott's workload, key catch help Cowboys top Lions 26-24
October 1, 2018
ARLINGTON, Texas (AP) — Ezekiel Elliott limped off the field a couple of times during the game before combining with Dak Prescott on the decisive play for the Dallas Cowboys.
The star running back had 25 carries and four catches on his way to a career-high 240 yards from scrimmage in a 26-24 win over Detroit on Sunday.
That's what Elliott expected from the start of the season, rather than the 16-carry average he had through three games for a struggling offense. And he could tell the difference early.
"I'm beat up," the 2016 NFL rushing leader said. "In the first quarter, I knew what kind of game it was going to be."
After plenty of physical runs among 152 yards on the ground, Elliott's finesse finished off the Lions (1-3). His 34-yard over-the-shoulder catch from Prescott on a rare go route from a running back set up Brett Maher's 38-yard field goal on the final play.
Now, about that limping for the player most likely to be the league's leading rusher with 426 yards a quarter of the way through the season.
"A little bit of ankle, a little bit of knee," said Elliott, who had 88 yards receiving, with another highlight on a 38-yard touchdown on a screen in the first half. "Nothing big."
Elliott's rushing and receiving totals were 7 yards shy of his career high in both categories. When he had 95 yards in catches against Pittsburgh as a rookie two years ago, 83 came on a dazzling dash up the sideline on a screen.
While Elliott isn't likely to lead the team in receiving often, the formula was exactly what the Cowboys (2-2) had in mind with the offseason plan to replace tight end Jason Witten, who retired, and Dez Bryant, who was released in a cost-cutting move.
"He's dynamic, he's explosive," Lions coach Matt Patricia said. "He's obviously one of the better players on the team, center-point of the team. We've got to do a better job of taking him away. Couldn't get it done."
Things to consider after Elliott joined Hall of Famer Emmitt Smith and Herschel Walker as the only Dallas running backs with at least 150 yards rushing and 50 yards receiving in the same game:
HOMETOWN TO HOME FIELD
Matthew Stafford had another homecoming spoiled, his third straight loss at the home of the Cowboys despite a strong showing with 307 yards passing, two touchdowns and 131.5 rating. Now the Detroit quarterback takes the Lions home to face NFC North preseason favorite Green Bay on Sunday. "I've got to get out to a faster start, maybe snatch the lead a little bit earlier in the game and go from there," he said.
MULTI-SACK SHOWDOWN
Dallas defensive end DeMarcus Lawrence tied his career high with three sacks and has 5½ for the season. Houston's J.J. Watt had two sacks — his 23rd game with at least two — in a 37-34 overtime win at Indianapolis, the first victory of the season for the Texans. They will watch each other for the first time in the regular season Sunday. "I am basically trying to show the world that I am no one trick pony," said Lawrence, who tied for second in the NFL with 14½ sacks last year.
PRODUCTIVE TRIO
Detroit receivers Golden Tate, Kenny Golladay and Marvin Jones had nearly 200 more yards receiving than the entire Dallas passing game coming in and kept up the strong production. Tate had 132 yards and two touchdowns on eight catches, Golladay 74 yards on four grabs and Jones 56 yards on three catches. "I like where our offense is right now as far as getting the ball to a lot of people," Tate said. "We've just got to continue to do that and figure out a way to win."
SIGNS OF PROGRESS
The Cowboys had 414 yards in the best game of the season for a struggling offense. It was just the second time in 14 games going back to last season for Dallas to reach 400 yards. Prescott had 255 yards passing, his first 200-yard game this year and just the third in 12 games dating to 2017. "We have a great offense with a lot of potential," Prescott said. "This was a good step for us to take as a whole and as a unit execution wise for us to grow from."
---
---