Draft Diary: Stanford LB Trent Murphy tracks path to NFL
BY foxsports • February 18, 2014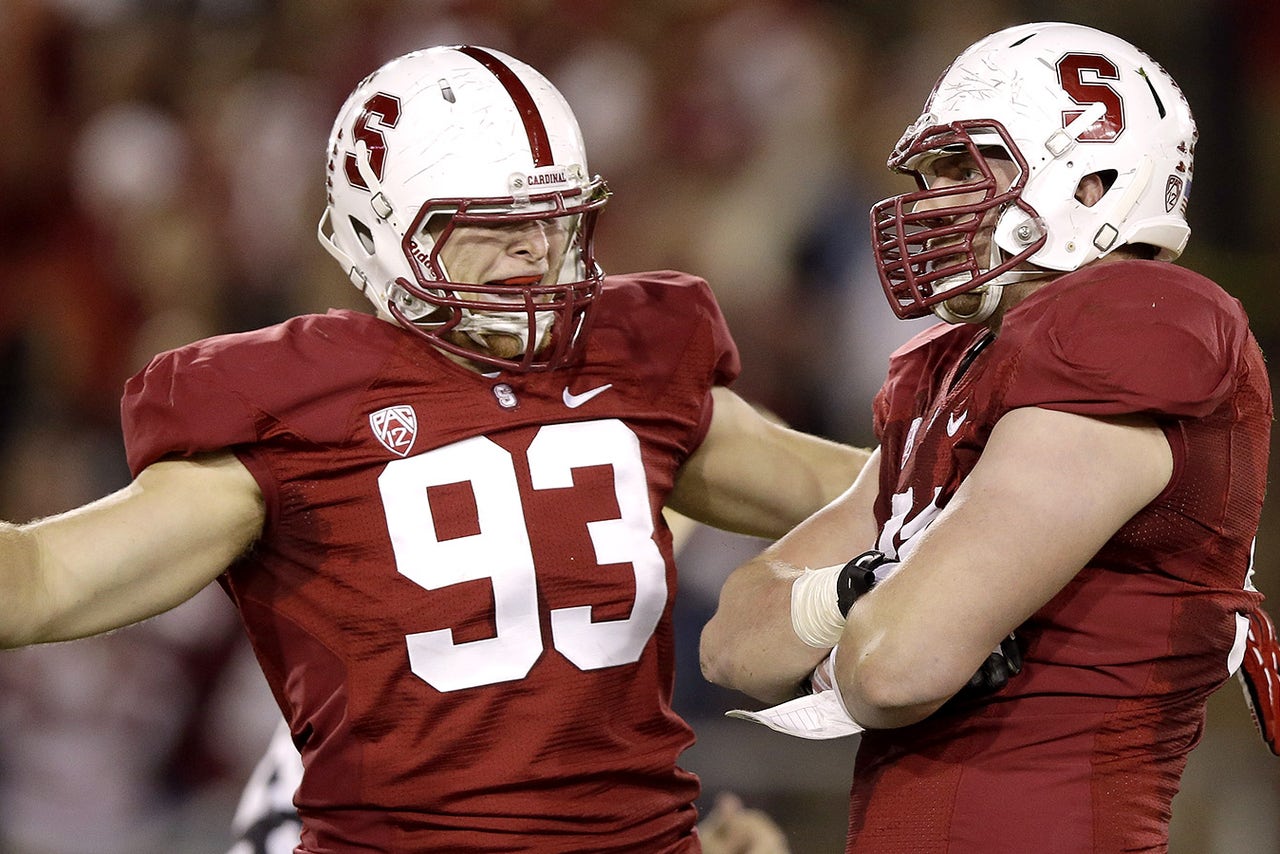 Trent Murphy, who played at Stanford, is projected as one of the top linebackers in the 2014 NFL Draft. Murphy will take you through the process of training for the NFL Combine, his pro day in Palo Alto, Calif. and the anticipation for draft day.
The last six weeks have been a whirlwind. It began at the Rose Bowl on New Year's Day when we played Michigan State. Four days later I flew to Bradenton, Fla., to begin training for the NFL Combine at IMG Academy. It has been non-stop ever since. I came here with the purpose to optimize my time between my last college game and the NFL Combine.
The facility is top class. The people I'm training with are even better. It wasn't until this past Saturday that the guys and I had a chance to relax and go to the beach -- after an extensive workout, of course.
We woke up at 7 a.m. and got some breakfast. I had half egg whites and half normal eggs with some avocado on top. I also had some oatmeal with flaxseed and a powerful Greek yogurt. I'm trying to eat really lean, so I'm on a pretty strict diet and eating fiber and carbs at the right time. I want to have a high-protein, low-fat diet. Every three hours I'm trying to eat protein because that's how you optimize protein synthesis, which is something I learned out here.
After breakfast, I went to the training room and got stretched out by a physical therapist. I warmed up with a Trigger Point, which is a soft tissue kit. I got properly warmed up and rolled out and did everything I needed to do to be ready for my movement exercises. It's important to do this to prevent my body from getting tight so I won't pull anything.
We made our way to the turf and did a lot of different running forms including lateral skips, forward skips and running backwards. Finally, it was time for the upper body workout. It was one of our last hard workouts as a group so we decided to call it "Tank Top Saturday." Everyone wore a tank top to lift and we hit it pretty hard one last time before we head into Combine week.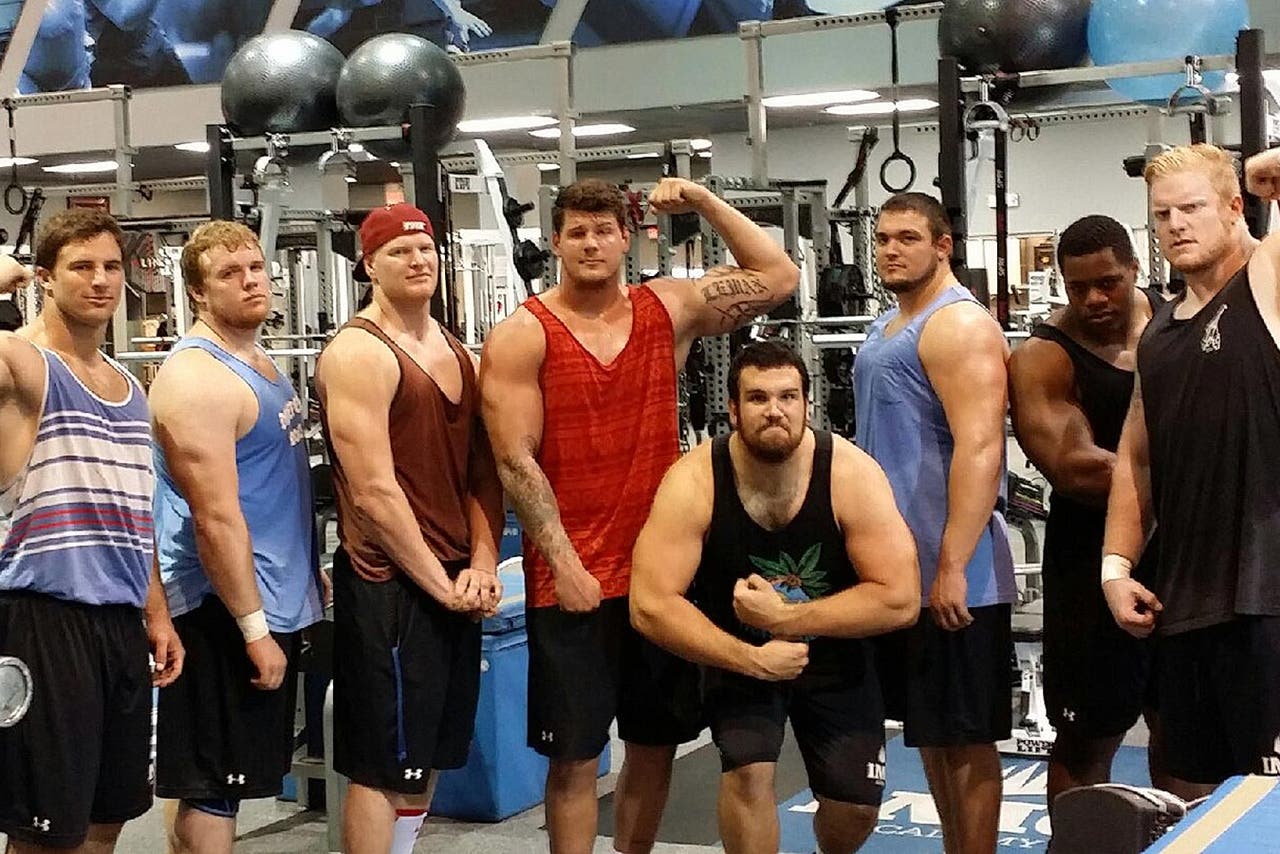 Trent Murphy poses for the camera with other NFL Draft hopefuls at IMG Academy.

We threw 135 pounds on the bar plus the resistance bands and went to work. I did 10 sets of three reps then the fun began. We all did our own personal workouts and destroyed our arms. That's when we decided to take some pictures flexing in the tanks. It's a funny picture, but it has been great to bond with these guys during this unique time in my life.
We finally got to hit up the beach and we went to Anna Maria, which is about 10 miles or so from our facility. Before coming to Florida, I had been here only once for the Orange Bowl. That trip was strictly business, so it was nice to finally see some of the sights. When we got to the beach it ended up being a bit cold and windy, but we enjoyed it anyway. We all were running around and throwing the football. There's nothing funnier than watching a bunch of 300-pound behemoths show off their quarterback skills. I was the only defensive player here, so I was playing safety and linebacker covering the offensive linemen. It was fun. It was nice to feel the sand, get out of our training facility and see something new.
We went back and showered up to get ready for dinner. We called it the last supper because people are starting to head out to Indy. It was really the last time this group will be together. We went to a steak house and I ordered up the top sirloin steak with a shrimp skewer, some asparagus on the side and a house salad.  
IMG Academy has been great. There's an area called Champions Walk, which is basically like apartments attached to the facility. Everything we do is in house and we have golf karts as transportation to get around the facility. We really don't get out much so yesterday was a lot of fun.
I'm really excited for the Combine. It's the interview of a lifetime and I'm anticipating it to be a long week. They keep you up late and wake you up early.  A lot of guys will be fatigued because they're sleep deprived or malnourished. My approach is I want to break up the process as much as I can. I'm going to try to dominate every interview or whatever I'm doing. If I can focus on each task being separate from the other, it will make the week that much easier.
I can only control two things going in, and that's my attitude and my effort. My effort will be high. My attitude will be as positive as I can. I won't be thinking about the anxiety or the pressure. I'm sure that the butterflies in my stomach will come but that's natural. Literally my life has been built up for this moment. I know my family and friends will want to know what's going on and what I'm thinking so it could be a little overwhelming, but I'll just focus on what I can control. When it's all said and done I'm hoping the week is a success.
I've spent some time reflecting on my time at Stanford and all I can say is that I'm extremely fortunate. I graduated with an undergrad in Science, Technology and Society. I minored in political science because I had a little extra time. My major focused on entrepreneurship and business management. I had an internship with a sports startup last summer called Sqor. I'm pretty interested in entrepreneurship and the Silicon Valley area that I went to school in may have had something to do with that. In fact, I have a few entrepreneurship ideas that I'd like to pursue one day.
Playing for the Cardinal was an honor and we were successful by getting to play in a bowl game every single year. We won a lot of games and earned the right to call ourselves Pac-12 champions twice. I had a great group of teammates and a very supportive coaching staff. To end my senior season leading the nation in sacks was a really cool accomplishment.
I'm looking forward to beginning this next chapter in my football career.
---
---