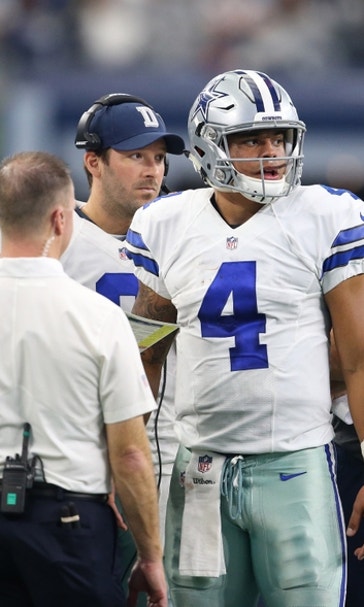 Dallas Cowboys final game meaningful for quarterbacks
December 29, 2016

Fansided, Brad Austin/FanSided via The Landry Hat
Nov 20, 2016; Arlington, TX, USA; Dallas Cowboys quarterback Dak Prescott (4) during a timeout in the fourth quarter with Tony Romo (9) against the Baltimore Ravens at AT&T Stadium. Mandatory Credit: Matthew Emmons-USA TODAY Sports
The Dallas Cowboys face a meaningless game, though one veteran QB will take this opportunity serious as management evaluates his future.
Aside from injuries, the outcome of the Dallas Cowboys' final regular season game in Philadelphia will have no impact on playoff performance.
Some say a win would sustain momentum, while a loss could shake their mojo.
The Cowboys soundly defeated the playoff contending Lions last Monday in their final motivated charge with guns blazing.
A loss while playing it safe (resting starters) against the 6-9 Eagles won't dampen team confidence one ounce.
Setting the single-season franchise wins record (14) would be nice, yet it certainly won't help defeat their first playoff opponent.
When the playoffs start, records hit reset. Win or go home applies equally to all.
Regular season accomplishments fall by the way side, and past failures are forgiven.
While the Cowboys finale won't affect the playoffs, it does hold future implications.
One veteran QB will take this battle seriously as management evaluates his play.
Jan 4, 2015; Arlington, TX, USA; Dallas Cowboys head coach Jason Garrett hugs Tony Romo (9) after defeating the Detroit Lions 24-20 in the NFC Wild Card Playoff Game at AT&T Stadium. Mandatory Credit: Matthew Emmons-USA TODAY Sports
ROMO'S SWAN SONG IN DALLAS
Discussing the Cowboys' future at back-up QB must begin with Tony Romo.
Just to clarify, Dallas will not risk his playoff health against the Eagles.
Despite mixed emotions, it's a near certainty Romo will play elsewhere in 2017.
Regardless of trade, release, or retiring, $19.6 million in already paid bonus money will flood the Cowboys' 2017 salary cap.
However, Romo's $14 mil base (and future base salaries) will leave the books.
The salary cap cost of keeping him another season was set to total $24.7 mil.
Romo's exit will ultimately save the Cowboys $5.1 mil in 2017 ($24.7 – $19.6).
Tony will always be appreciated in Dallas, but cap maximization is crucial to winning.
While he'll leave with all our best wishes, business is business and life moves on.
Nov 20, 2016; Arlington, TX, USA; Dallas Cowboys quarterback Dak Prescott (4) and quarterback Tony Romo (9) warmup before the game against the Baltimore Ravens at AT&T Stadium. Mandatory Credit: Tim Heitman-USA TODAY Sports
WHO HAS DAK'S BACK IN 2017?
Dak Prescott's youth and big-bodied durability should allow Dallas to carry only one back-up passer going forward.
The $5.1 million saved from Romo's exit will be enough to secure a quality back-up and apply the remainder to other positions.
For example, Mark Sanchez signed for $2 million this season. With a raise to $2.5 mil next year, Dallas would still have $2.6 mil in reserve.
There is a problem. Without Romo, Prescott will be the only QB under contract.
Both Kellen Moore and Sanchez become free agents at season's end.
Romo won't play Sunday, which sets up Sanchez to receive at least a half.
In an ironic twist, Sanchez's audition will come against the last team he played for.
In March the Eagles slapped him in the face in a trade to Denver for a 7th round pick.
The Broncos rubbed salt in the wound by cutting him before the season began.
On Sunday Sanchez has the rare opportunity to impress his current boss by beating the team who tossed him away for draft peanuts.
Oct 16, 2016; Green Bay, WI, USA; Dallas Cowboys quarterback Mark Sanchez (3) during warmups prior to the game against the Green Bay Packers at Lambeau Field. Dallas won 30-16. Mandatory Credit: Jeff Hanisch-USA TODAY Sports
IN BACK-UP LAND, SANCHEZ IS WORTHY
Before the moaning and groaning begins, let's have a little back-up perspective.
Sanchez is a seasoned veteran with 72 starts, winning 37 (51.4%).
The grading measure of a quality back-up is someone who can at least tread water (50-50 split) in reasonably short stints of relief.
Let's say Dallas started 4-2 and Dak strained a quad needing four weeks recovery.
The back-up would earn his paycheck simply by handing the team back at 6-4.
In terms of ability Sanchez ranks anywhere from 10-15 among 2016 back-up QB's.
Playoff bound and quarterback deprived, the Texans (Tom Savage) and Raiders (Matt McGloin) only wish he was on their roster.
Even dreadful Matt Cassel subbed for the Titans last week ending playoff hopes.
On Sunday Sanchez will have a chance to prove his worth and get a jump on the Cowboys' soon to be vacant, primary back-up spot.
More from The Landry Hat
This article originally appeared on
---
---