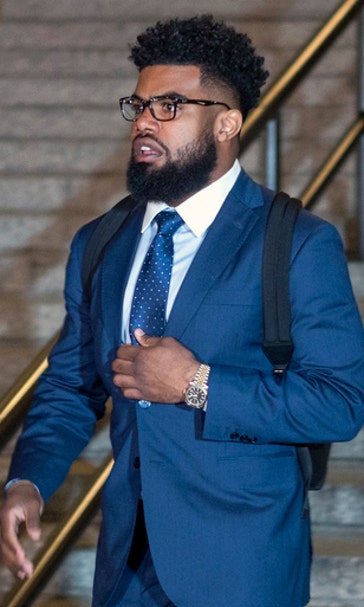 Cowboys look to Morris, maybe others with Elliott suspended
November 1, 2017

FRISCO, Texas (AP) Alfred Morris bristled when asked what has changed for him now that Dallas Cowboys running back Ezekiel Elliott is serving a six-game suspension over domestic violence allegations with fading hopes for a third reprieve in court.
Presumably the top candidate to replace last year's NFL rushing leader, Morris sternly reminded the swarm of a dozen-plus reporters that little had changed from his work week when he was Elliott's backup.
''I mean, other than all these cameras in my face,'' Morris said.
The usually affable Morris was more pointed than angry, and admittedly a little wound up since he stumbled over his words a couple of times and finally interrupted an answer to say he was just talking too fast.
After all, Morris is looking at his first start in almost two years when Kansas City (6-2) visits Dallas (4-3) on Sunday. It's been even longer since he was the featured back in Washington.
Speaking of which, it will be quarterback Dak Prescott's first meaningful start without Elliott since the dynamic rookies led the Cowboys to the best record in the NFC last season.
''This team was built on the run game before me or Zeke even got here,'' Prescott said. ''We've got those running backs. Darren McFadden had a great year before Zeke even got here and we know what Alfred Morris can do. I don't think it changes. It is how this team is built.''
Prescott said he exchanged text messages with Elliott after a federal judge in New York on Monday night turned down the NFL players' union request for an injunction that would have let him play while the case was in the courts.
Elliott's attorneys are seeking an emergency stay from a federal appeals court, but there's no indication when the court will rule or schedule a hearing. Without another injunction, Elliott will be out until the final three games of the season, starting Dec. 17 at Oakland.
Prescott said Elliott ''obviously feels bad with the ruling coming down'' but wouldn't share his take on Elliott's frame of mind.
''I know he is looking forward. He is moving forward,'' Prescott said . ''He is going to do the best he can to have his body and his mind ready to go when he returns.''
Meantime, the Cowboys have said repeatedly through the twists and turns of the Elliott case that they are comfortable with their options.
Four years before the Prescott-Elliott pairing, Morris and Robert Griffin III shared standout rookie years with the Redskins. Morris followed that 1,613-yard season with 1,275 yards rushing in 2013 before fading from the lead role following a coaching change.
After the Cowboys let 2014 rushing leader DeMarco Murray go in free agency, McFadden led them with 1,089 yards even though he started just 10 games in 2015.
McFadden was Elliott's backup when he was healthy last season, but has been inactive all seven games this season in favor of Morris, who had 70 of his 105 yards this season rushing on one carry in a loss to the Los Angeles Rams.
Dallas also has been pleased with seldom-used Rod Smith, the older brother of linebacker Jaylon Smith and a special teams contributor who also has found an occasional role on third down.
''I've played a lot of football in this league, Alfred has played a lot of football in this league and Rod's done a heck of a job,'' McFadden said. ''We're just going to go out there and make a play a different way.''
Morris signed with Dallas as a free agent last year, a little less than two months before the Cowboys drafted Elliott with the fourth overall pick. By the end of last season, he was inactive, something he never imagined happening in his career.
So the uncertainty surrounding Elliott's status wasn't much different for him.
''It's just like, `OK, you stay here and be ready. Whenever Zeke needs you, you be ready,''' Morris said. ''That's just my role and I have to accept that. Am I a starter? I'm definitely a starter. I would never sit here and say I'm not a starter.''
For now, Morris is the starter.
NOTES: WR Dez Bryant was added to the injury report Wednesday, listed as limited with a knee injury. ... DE DeMarcus Lawrence, the NFL leader with 10+ sacks, was another add, listed as limited with a calf injury.
---
More AP NFL: http://www.pro32.ap.org and http://www.twitter.com/AP-NFL
---
---