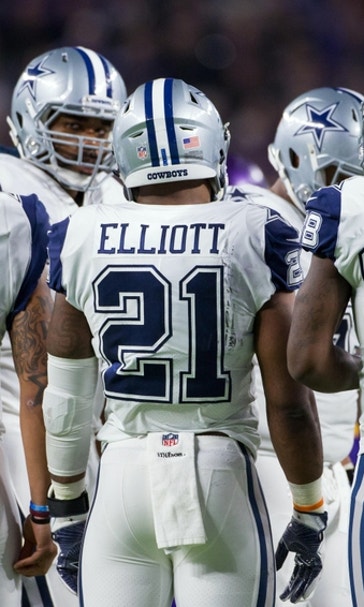 Cowboys Dak Prescott: "We Want To Be The New Triplets"
December 28, 2016

Fansided, Steven Mullenax/FanSided via The Landry Hat
Dallas Cowboys rookie quarterback Dak Prescott admits rookie running back Ezekiel Elliott and himself want to be pat of the new Triplets in Dallas, but it's going to take time.
In the early 1990's, the Dallas Cowboys won three Super Bowl championships in four years with three young offensive stars at the helm of America's Team. Quarterback Troy Aikman, running back Emmitt Smith and wide receiver Michael Irvin were nicknamed the Triplets. And following the end of their careers, each landed in the NFL Hall of Fame.
So if you are rookie quarterback Dak Prescott and first-year running back Ezekiel Elliott, it is unlikely you will be able to find better role models to shape your fresh careers after than Aikman, Smith and Irvin. And this dynamic duo is doing just that. Not only in their words, but in their actions.
Prescott and Elliott are likely the greatest rookie tandem ever to step foot on a NFL field. Both players have already secured a place in the Pro Bowl. They have lead the Cowboys to an impressive 13-2 record after the team suffered an embarrassing 4-12 season in 2015. Finally, both Prescott and Elliott are considered strong contenders for the NFL MVP and the league's Offensive Rookie of the Year awards.
Prescott was a fourth round selection out of Mississippi State and thrust into the starting role under center for Dallas when veteran quarterback Tony Romo suffered a back injury in the preseason. The 23-year old has completed 68.1% of his passes this season, thrown for 3,630 yards, 23 touchdowns and only four interceptions. Prescott has also rushed for six scores.
Elliott was the fourth overall pick in the 2016 NFL Draft and has somehow exceed his lofty expectations. The 21-year old out of Ohio State currently leads the league in rushing with 1,631 yards on the ground this season. That's nearly 400 more yards than his closest competitor in that category. Zeke also has 16 total touchdowns on the season.
Combined with All-Pro wide receiver Dez Bryant, these two talented rookies know they have the makings to become the new Triplets in Dallas.
"We want to be great. We want to be the new Triplets," Prescott told ESPN according to the Dallas Morning News' Jon Machota. "We want to be the Cowboys of the 1990's, winning Super Bowls and doing all that. But I think we just gotta stay focused, take it one game at a time, one year at a time. That's a long time away when we're talking the end of our careers."
Playing for the Dallas Cowboys brings with it fame, money and glory. It is also loaded with unrealistic expectations. The new Triplets will be expected to bring a Lombardi Trophy or two back to Dallas soon. Anything less will be viewed as a disappointment. Right or not, it's boom or bust as a members of America's Team every season.
More from The Landry Hat
This article originally appeared on
---
---