Arizona Cardinals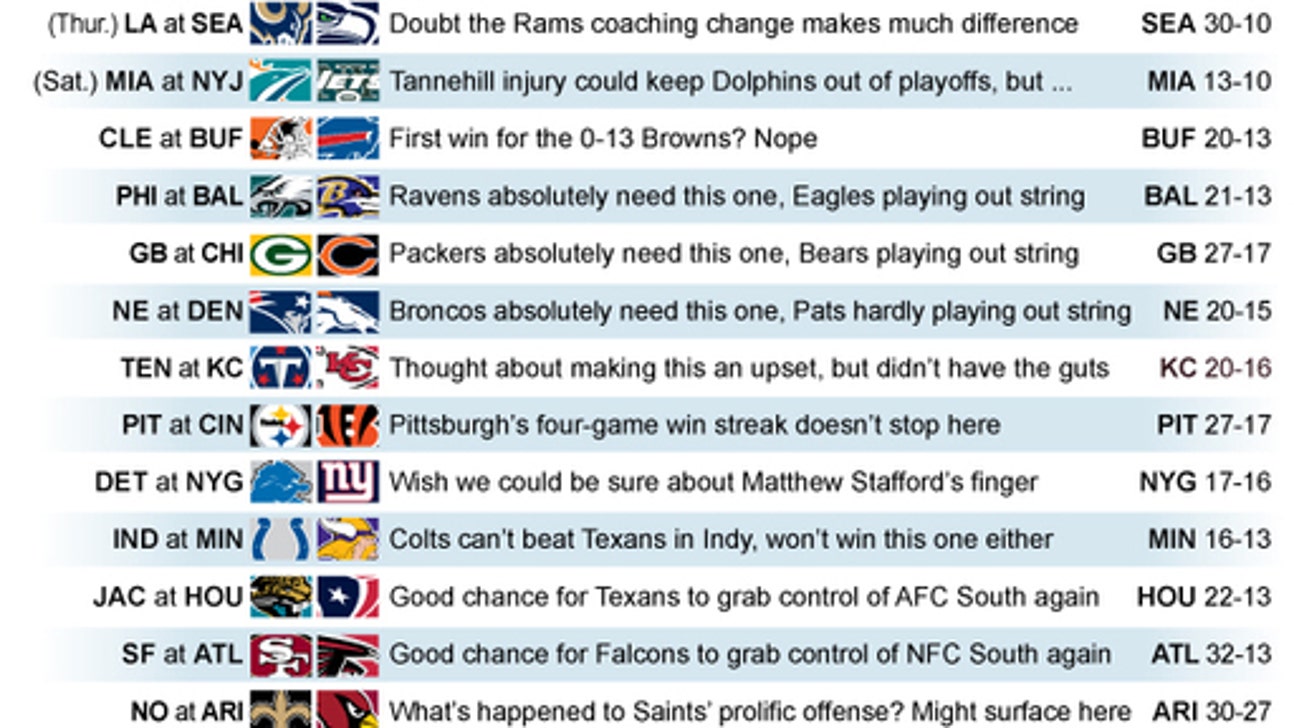 Arizona Cardinals
Coming off ugly loss, Seahawks still have chance to clinch
Updated
Mar. 4, 2020 4:34 p.m. ET

Despite that ugly loss at Green Bay last weekend, the Seattle Seahawks are in strong position to secure the NFC West crown Thursday night.
It's hard to picture the Rams, who just fired coach Jeff Fisher following an equally distasteful loss to Atlanta, getting in Seattle's way.
If the host Seahawks win or tie Thursday night and Arizona loses or ties Sunday, the race is done.
The short turnaround is a mixed blessing to Seahawks star cornerback Richard Sherman. He vehemently dislikes Thursday night games, saying they are a danger to player safety. But getting to forget the blowout at the hands of the Packers comes easier with another game on tap so quickly.
''It's no different than any other loss, honestly,'' Sherman says. ''It doesn't hurt any less if you lose by 20 or by two. They hurt just as bad, it's a loss. It felt the same as any other loss.''
The Rams not only lost 42-14 to the Falcons, which tied Fisher with Dan Reeves for most regular-season coaching losses, but they saw Fisher lose his job the next day. How will they react?
''It was tough,'' running back Todd Gurley says. ''It was tough on a lot of guys. Coach Fisher, he did a great job. He brought everybody in. We loved him as a coach. We know a lot of other people didn't.
''But, at the end of the day, we knew what he did for us. He brought us in. He's the one who drafted me when nobody else believed in me. It definitely hit us hard, for sure.''
Seattle (No. 7 in AP Pro32) is a 15-point favorite over the reeling Rams. Doubt the coaching change makes much difference, especially against an angry bunch of Seahawks.
SEAHAWKS, 30-10
KNOCKOUT LEAGUE TIP: If anybody is still going in such a pool, we didn't help last week with the Colts. Perhaps the TEXANS will be more successful.
No. 8 Pittsburgh (minus 3) at No. 21 Cincinnati
Bengals advertising tickets available. Terrible Towel-wavers grab them.
BEST BET: STEELERS, 27-17
No. 23 Carolina (plus 4) at No. 13 Washington, Monday night
Just a feeling the Panthers will fight until season's end.
UPSET SPECIAL: PANTHERS, 27-24
No. 17 Tennessee (plus 6) at No. 3 Kansas City
Thought about this for Upset Special, didn't have the guts.
CHIEFS, 20-16
No. 4 Oakland (pick-em) at No. 25 San Diego
Thought about this for Best Bet, but uncertain about Derek Carr's finger.
RAIDERS, 22-17
No. 5 Detroit (plus 5) at No. 6 New York Giants
Wish we could be sure about Matthew Stafford's finger.
GIANTS, 17-16
No. 12 Tampa Bay (plus 9) at No. 2 Dallas
Like Titans, Bucs impressing with late run. But Cowboys rebound ...
COWBOYS, 23-20
No. 15 Miami (minus 2) at No. 27 New York Jets, Saturday night
Tannehill injury could keep Dolphins out of playoffs. Jets won't do it.
DOLPHINS, 13-10
No. 26 Philadelphia (plus 6) at No. 14 Baltimore
Ravens absolutely need this one, Eagles playing out string.
RAVENS, 21-13
No. 12 Green Bay (minus 4 1-2) at No. 28 Chicago
Packers absolutely need this one, Bears playing out string.
PACKERS, 27-17
No. 1 New England (minus 3) at No. 10 Denver
Broncos absolutely need this one, Patriots hardly playing out string.
PATRIOTS, 20-15
No. 19 Indianapolis (plus 4 1-2) at No. 16 Minnesota
Colts can't beat Texans in Indy, won't win this one either.
VIKINGS, 16-13
No. 30 Jacksonville (plus 6) at No. 18 Houston
Good chance for Texans to grab control of AFC South again.
TEXANS, 22-13
No. 31 San Francisco (plus 14) at No. 9 Atlanta
Good chance for Falcons to grab control of NFC South again.
FALCONS, 32-13
No. 24 New Orleans (plus 3 1-2) at No. 22 Arizona
What's happened to the Saints' prolific offense? Might surface here.
CARDINALS, 30-27
No. 32 Cleveland (plus 10 1-2) at No. 20 Buffalo
First win for Browns? Nope, but at least they will cover.
BILLS, 20-13
---
Last Week: Against spread (9-6-1). Straight up: (11-5)
Season Totals: Against spread (99-98-8). Straight up: (123-83-2)
Best Bet: 8-6 against spread, 9-5 straight up.
Upset special: 5-8-1 against spread, 5-9 straight up
---
For more NFL coverage: http://www.pro32.ap.org and http://www.twitter.com/AP-NFL
---
---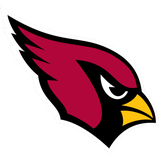 Get more from Arizona Cardinals
Follow your favorites to get information about games, news and more
---