Colts to retire Peyton Manning's No. 18, honor him with statue
Published
Mar. 18, 2016 12:30 p.m. ET

Peyton Manning officially said farewell during a news conference to announce his retirement from the Denver Broncos and the NFL last week. But he got a chance to say goodbye to the Indianapolis Colts and their fans Friday.
Colts owner Jim Irsay announced at the start of a press conference for Manning that the organization will construct a statue of the five-time NFL MVP outside of Lucas Oil Stadium. In addition, an emotional Irsay said Manning's first NFL team will retire his No. 18 jersey.
Manning reminisced about travelling to the Colts' facility right after being drafted, his first TD pass (on his first pass) to Marvin Harrison in a preseason game in 1998, and the time his center Jeff Saturday had a case of Montezuma's revenge in Mexico and he asked to work out of the shotgun more often than usual.
Manning mentioned the famous "playoffs?!?" rant by then-head coach Jim Mora, adding 'The reason he has said that is because I threw four interceptions in that game against the 49ers."
Manning closed by saying, "I wanted to say how humbled I am and how much fun I had playing here. Thank you."
Manning, 39, was drafted first overall by the Colts in 1998 and spent the first 14 seasons of his 18-season NFL career with them. After a neck injury that required surgery caused him to miss 2011, he was released the next offseason -- a move that included a very emotional press conference with Irsay. Manning then signed with the Broncos, with whom he retired a Super Bowl champion.
Manning took the Colts to two Super Bowls, winning the big game in the 2006 season but falling short in the 2009 season. He won four MVP awards during his time in Indy.
Manning, who retired with numerous NFL passing records, remains the Colts' all-time leader in pass attempts (7,210), completions (4,682), passing yards (5,428) and TD passes (399).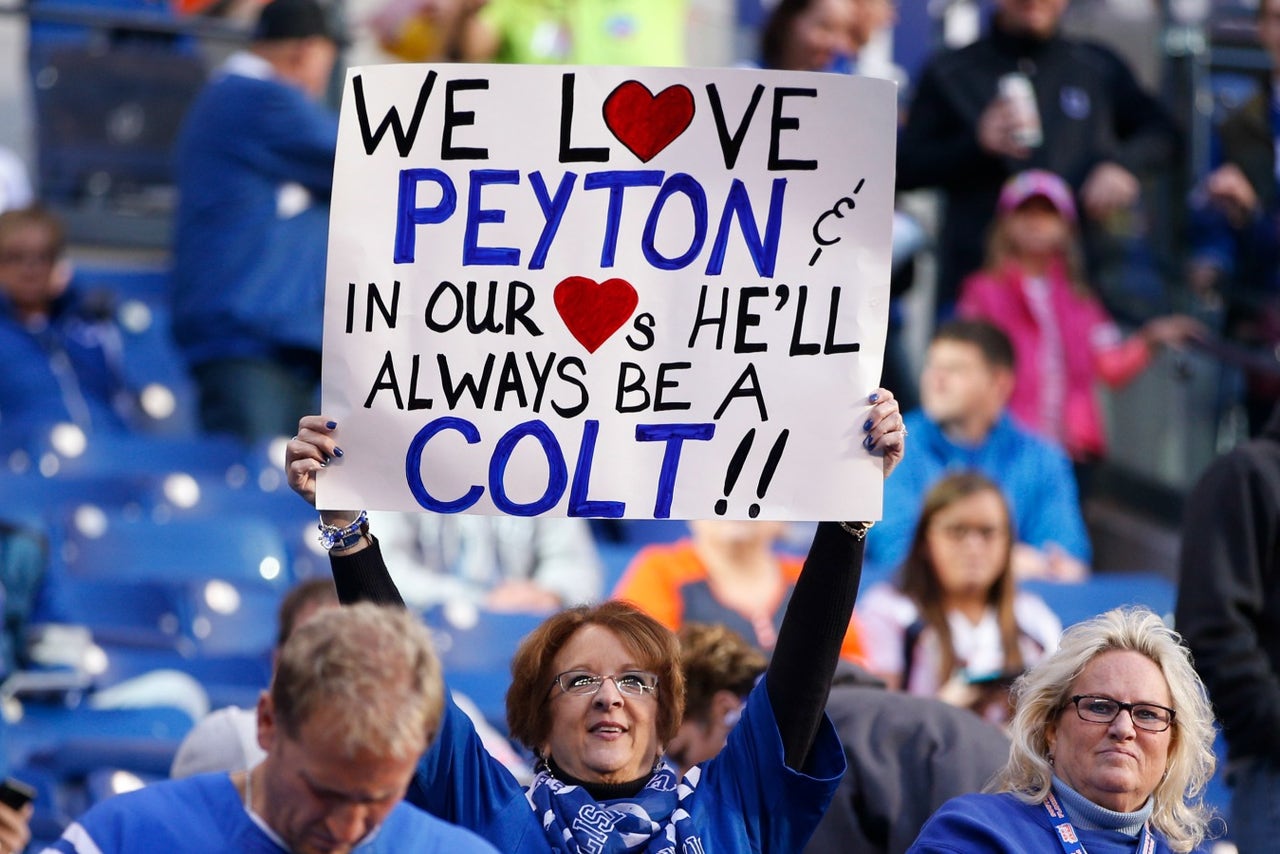 ---
---