College Football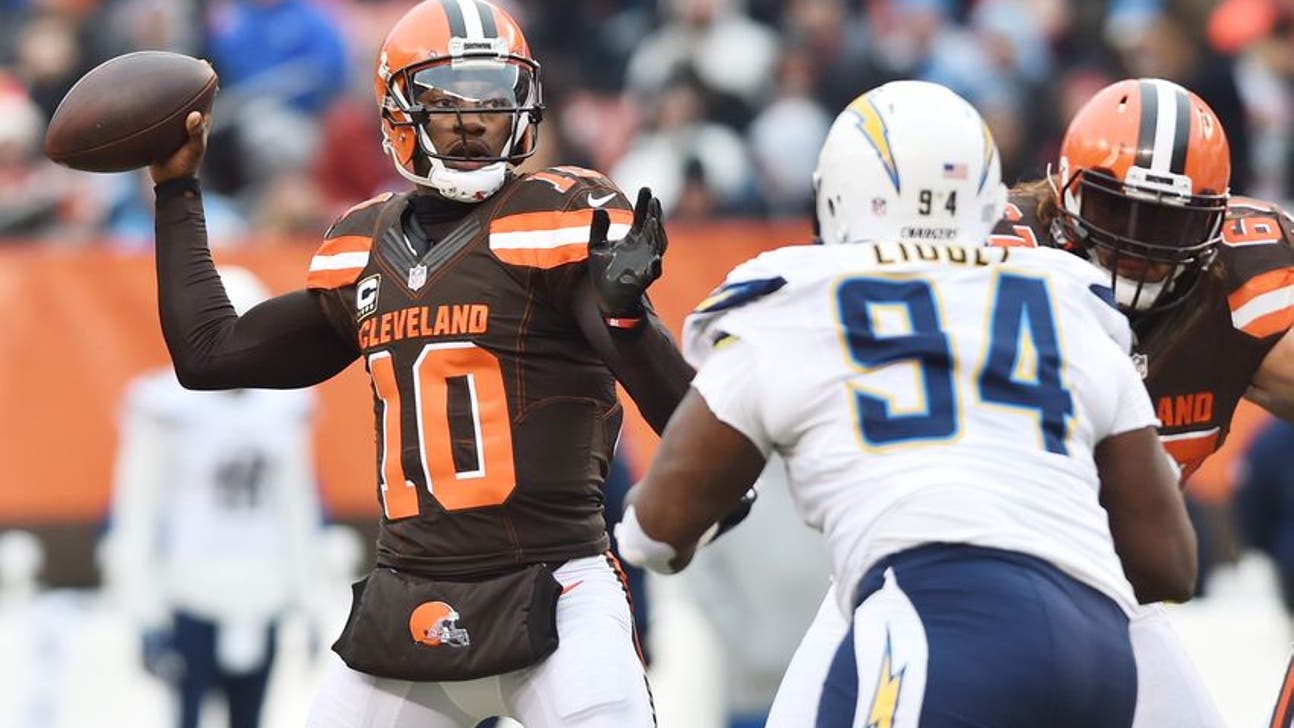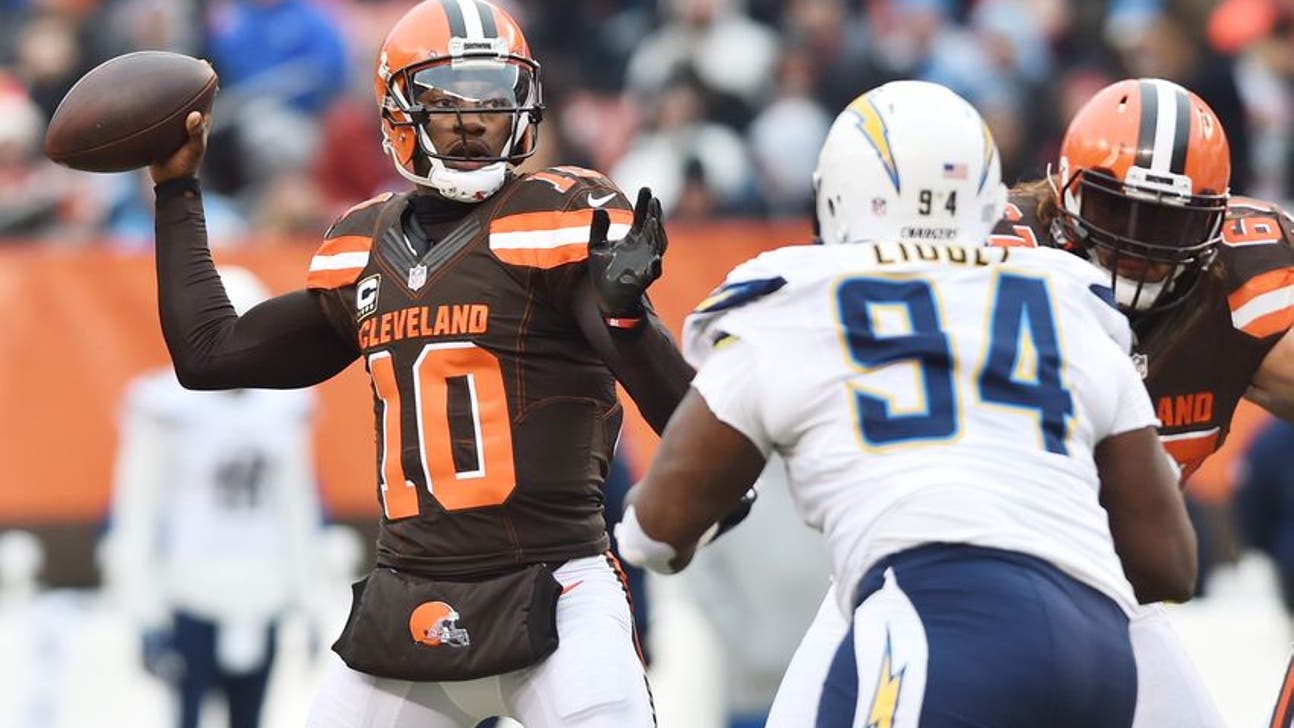 College Football
Cleveland Browns Can Move On from Robert Griffin III
Updated
Mar. 4, 2020 6:36 p.m. ET

Fansided, Zac Wassink/FanSided via NFL Spin Zone
There is now no question Robert Griffin III isn't the answer at quarterback for the Cleveland Browns.
A true Christmas (Eve) miracle occurred at FirstEnergy Stadium on Saturday afternoon. It wasn't just miraculous because the worst Cleveland Browns roster ever assembled in the history of a once proud franchise actually managed to fall into a victory against the San Diego Chargers. That alone, of course, was reason enough for passionate Browns fans to begin Christmas celebrations early.
However, it wasn't even the best thing to happen for the franchise on Dec. 24.
Above that, the San Francisco 49ers rallied from behind to defeat the Los Angeles Rams later on Christmas Eve. San Francisco's completed that comeback when quarterback Colin Kaepernick converted a two-point try to put the 49ers up, 22-21, in the final minute of play. Such a bold decision kept the 49ers ahead of the Browns in the overall NFL standings, meaning Cleveland sits atop the draft order heading into the final week of the regular season despite their first win.
Most importantly for the Browns, though, quarterback Robert Griffin III suffered a concussion in the team's win over San Diego. Nobody, no fan or observer or member of a front office, should ever feel joy when an athlete experiences any physical setback, let alone when that player is downed by something as serious as a concussion. That's not what this is about. Instead, it's about Cleveland moving forward.
Griffin's latest woes are no reason for anybody to plan for a parade. But that concussion does, beyond a shadow of a doubt, answer a question hovering over the Browns at the start of the final week of 2016. The Browns now know they can move on from Griffin in early 2017.
For starters, Griffin is no better a quarterback than he was during the final days of his on-field tenure with the Washington Redskins. The artist formerly known as RG3 remains a tremendous athlete who has a cannon for an arm and who is elusive and can make plays with his feet. Griffin's inaccuracies are obvious to anybody who watches him, and his decision-making skills remain questionable, at best.
One also cannot ignore Griffin's well-documented injury history, a problem that's plagued him his entire career. Griffin suffered a serious shoulder injury late in the Browns' season-opener versus the Philadelphia Eagles. That issue kept him sidelined until a Dec. 11 contest against the Cincinnati Bengals. The concussion that turned him into a spectator on Christmas Eve may be the final blow that ends his campaign, and it should be the last nail in the coffin of what was a failed experiment.
More from NFL Spin Zone
The Browns taking a flier on Griffin this past March made sense. Cleveland needed to find a starting QB for a roster destined to lose just about every game it played. Moreover, new head coach Hue Jackson wanted to see if Griffin had any magic remaining from a dynamic rookie season that is now nothing but a distant memory.
Jackson, his staff and everybody else learned that magic faded long ago. Griffin showed no improvement from the 2014 campaign with Washington when his coaching staff gave him what proved to be his last opportunity with that organization. He's the same player, the same liability at the position and, in reality, the same guy. The possibility exists that a team on the cusp of contending for a playoff spot could use his services as a backup or maybe a game-manager. However, the Browns aren't in such a position.
Cleveland starting Griffin for even a series in 2017 would, more likely than not, simply be a waste of everybody's time.
The football cliche teaches that the most important ability in the game is availability. No team, not the Browns or any other club in the league, can depend on Griffin to survive an entire season. Griffin played in four of 15 games in 2016, and he's appeared in 26 games since the start of the 2013 campaign. Griffin is a walking and breathing "Operation" board game, having suffered noteworthy injuries to his knee, ankle and shoulder over the years. You can add multiple concussions to the list following last Saturday's game.
Per Spotrac, the dead-money value on Griffin's contract shrinks from $6.75 million to a paltry $1.75 million. The Browns absolutely can afford to shoulder the burden of Griffin's $9.25 million cap hit for the final year of his current contract. But that's not an argument to bring him back and play him ahead of Cody Kessler, a free agent acquisition to be named later, or a rookie chosen in April's draft.
Jackson went 0-2 with his quarterback selections this year. Jackson wanted Griffin following a workout in which RG3 impressed while throwing against air, while the coach also selected Kessler over Dak Prescott, among others. Unless the Browns elect to move on from Jackson in January, all should forget about those miscues as if they never occurred in the first place. Jackson and his coaches will be given a mulligan and a chance to work with a rookie beginning next training camp.
Griffin, meanwhile, should go down as merely the latest quarterback who lost more than he won as a member of the Browns. Signing Griffin was worth a shot, but it didn't work out. Let's all move on.
---
---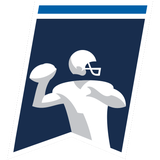 Get more from College Football
Follow your favorites to get information about games, news and more
---