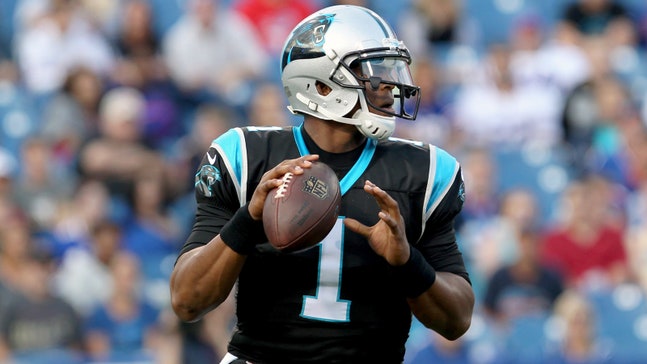 Cam Newton thanks Ron Rivera for extra series in preseason opener
Published
Aug. 16, 2015 8:59 p.m. EDT

When Cam Newton and the Carolina Panthers offense had wrapped up their second series of the preseason opener, it was supposed to be their last of the night. As David Newton of ESPN reports, though, head coach Ron Rivera chose to give the offensive unit one more series, which ended up making all the difference in the world.
When the second series wound down, Newton was sitting 1-of-6 passing for 15 yards. Fortunately, his next series was an impressive one, as he went 4-of-4 for 83 yards and a two-yard touchdown to Kelvin Benjamin.
Newton was thankful, to say the least, that he and the rest of the offense got a chance to work through the issues.
"Thank coach,'' Newton told ESPN. "Thank you for giving me another chance. It's kind of irregular to see the ones stay out on the field, especially in the first [preseason] game."
"But it had to happen, especially with the things we were doing offensively. ... We've got to make sure moving forward we get those wrinkles ironed out before the third series of the game.''
Newton is probably as happy as the fans are, because it wasn't a pretty start. The offense finally began to click though, and it looked much more like the unit that many expected to see heading into 2015.
(h/t ESPN)
---
---