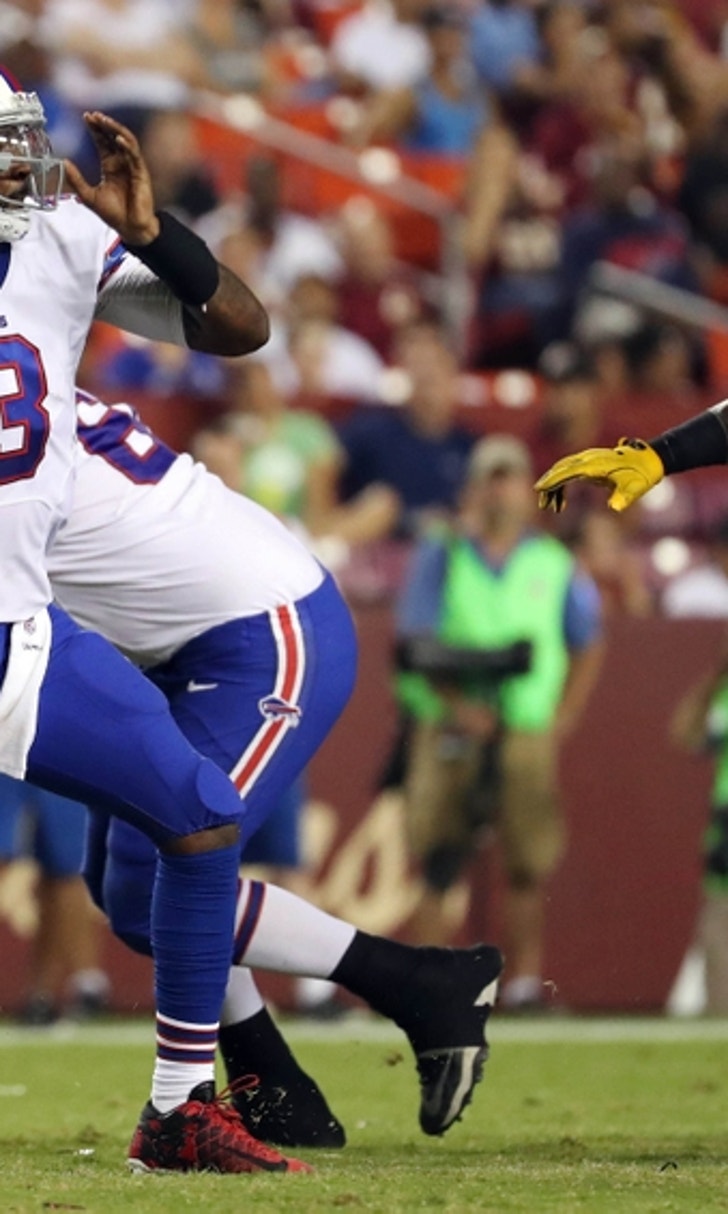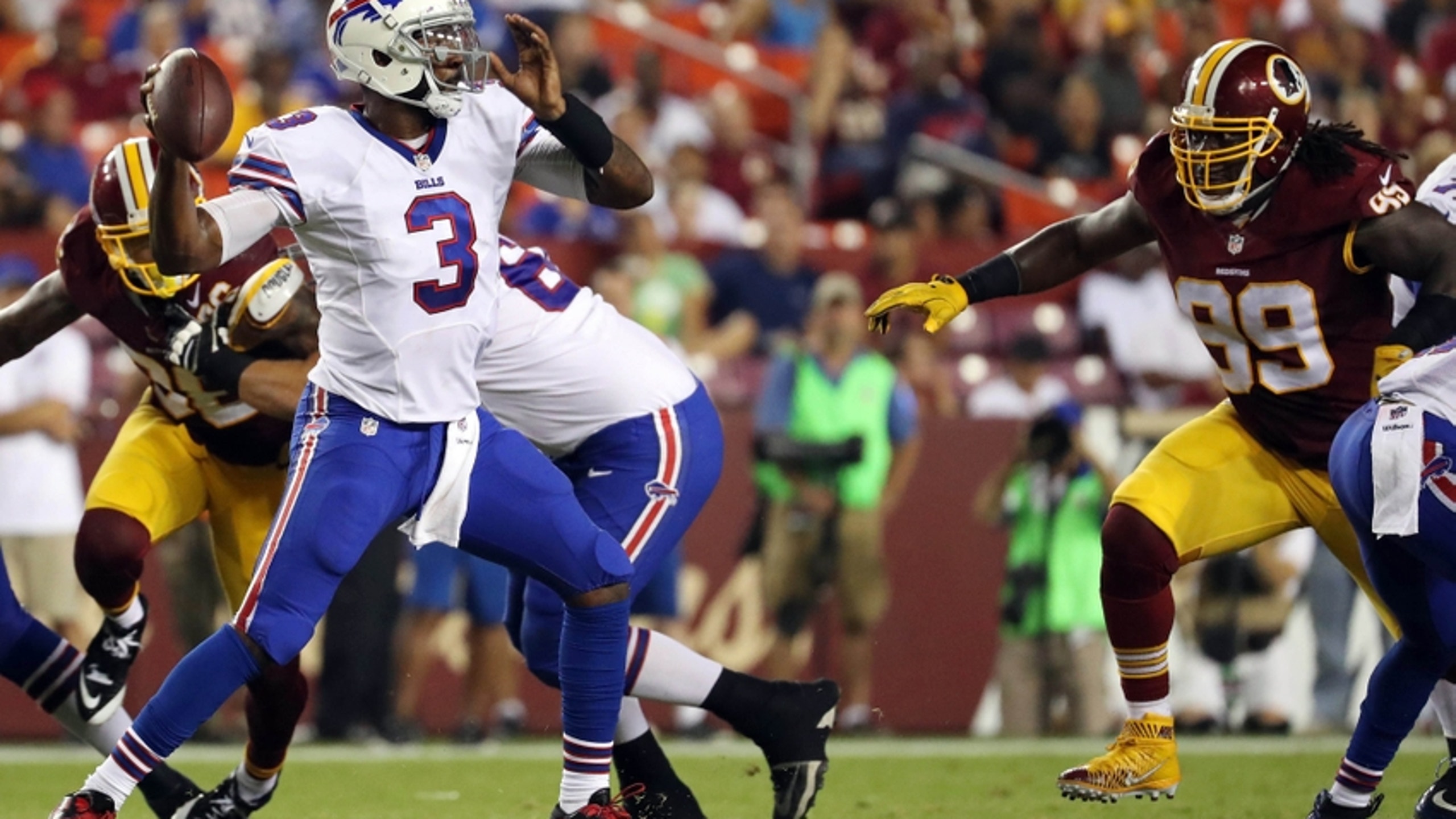 Buffalo Bills Won't Defeat Cleveland With E.J. Manuel
BY Fansided and Ryan Brennan/FanSided via BuffaLowDown • December 14, 2016
Dec 11, 2016; Orchard Park, NY, USA; Buffalo Bills quarterback Tyrod Taylor (5) throws a pass during the second half against the Pittsburgh Steelers at New Era Field. Steelers beat the Bills 27-20. Mandatory Credit: Kevin Hoffman-USA TODAY Sports
For those of you who think the Buffalo Bills should switch quarterbacks with three weeks left, it's time to wake up.
When the Buffalo Bills' Week 14 matchup vs. the Pittsburgh Steelers ended in a 20-27 defeat, fans did exactly as expected. They demanded an immediate break-up from Tyrod Taylor, either E.J. Manuel or Cardale Jones starting and were already waiting for Fall 2017 to get here.
First off, let's take a deep breath. There's three games left and these could very well be the last three games this team has to figure out an identity before they get to work in the offseason.
The truth is, people don't realize how important it is for a team to have some sort of identity heading into the offseason — in all three areas of the game. How do you expect a team to draft players and sign free agents if they don't even know what they need or what they're looking for.
That's exactly why Tyrod Taylor NEEDS to start these last three games of the season. They are not only his last chance to prove he belongs in this city, but they are the last three games this organization has to make a decision on the quarterback.
Before the Buffalo Bills pay him $27.5 million next season, they need to know he's going to be worth it. Vice versa, if they are going to dump him, they need to know they aren't making a mistake that they'll regret.
During a press conference on Monday, Rex Ryan assured everyone who the starting QB for the Bills will be on Sunday vs. the Cleveland Browns. After he shot down rumors that he would be fired this week, he also shot down rumors that the team was going to put someone else behind center.
#Bills coach Rex Ryan says Tyrod Taylor will be their QB this week. So no changes at all for Buffalo.

— Ian Rapoport (@RapSheet) December 12, 2016
Many fans were calling for rookie Cardale Jones to jump in and start. Some were even calling for E.J. Manuel — lol. Out of the two players, the only logical replacement would be Manuel — lol — due to the low amount of reps Jones has had with the team. With Manuel's experience — lol — he would be the better option for the Buffalo Bills.
Cardale Jones even said it himself:
"I'm not active, so that would be the most logical thing to do because he's the next guy up."
Even asked if he would be ready if called upon, his answer wasn't really too uplifting:
"That's a good question," Jones said, "because being comfortable within our offense, I still gotta get comfortable with the starters. I imagine myself getting a lot of extra work with guys like Sammy and guys like Robert [Woods] and our receivers, learning our center, how they snap the ball under center, things like that. It'd still be pretty difficult to get ready in a week; definitely with the guys you need time."
Sammy Watkins also weighed in on the situation:
"Right now I'm rolling with Ty," said Sammy. "That's our guy. At the end of the day, there can be speculation, people talking crazy. That position is one of the hardest positions. I can sit here and say, well it's this coverage or that coverage, but really he's got bullets flying. So we can't sit there and point fingers at anybody."
As of right now, Rex Ryan is rolling with Tyrod Taylor as the Bills' starting quarterback and isn't looking back. Rumors have swirled that Doug Whaley's choice would be Manuel, which is causing some differences to be made inside the Bills' organization. That's a lot of where the rumors started to buzz over Rex being fired.
Those rumors have been shut down. The rumors that E.J. will start on Sunday have been shut down. Looks like the Bills are going to ride the rest of the season out and evaluate the state of the team at the end of the season.
That decision will either prove to be a good decision or come back to haunt the Buffalo Bills.
Who do you want to see play on Sunday, realistically? Leave your comments below!
More from BuffaLowDown
This article originally appeared on
---
---