New England Patriots
New England Patriots
Brady leads late FG drive to keep Patriots undefeated
Published
Nov. 16, 2015 3:30 a.m. ET

EAST RUTHERFORD, N.J. (AP) This is one of those years the New England Patriots are finding ways to win.
The defending Super Bowl champions can blow teams out with their well-oiled offense, beat them with a surprisingly good defense or make plays on special teams.
Turns out, Tom Brady and company can win when they're not that crisp, too.
The Patriots (9-0) did that Sunday, driving 44 yards without any timeouts to set up a game-winning 54-yard field goal by Stephen Gostkowski with 1 second remaining in a 27-26 win over the New York Giants.
''We can't expect every week to just come out and have things go our way and roll out,'' Patriots receiver Matthew Slater said. ''I think this is a character-building win for us against a very, very good football team. And I think that we learned a lot about the character and the make-up of this football team and it's going to take us a long way.''
For the Giants (5-5), this was another brutal lesson in failing to finish. This is the fourth time this season Tom Coughlin's team has had a win within its grasp and let it slip away - just like they did with Dallas, Atlanta and New Orleans.
This one might have been the toughest because the Giants had a couple of chances to put the game away after blowing a 10-point second-half lead.
Odell Beckham Jr. allowed Malcolm Butler to knock a touchdown pass out of his hands with 2:06, thinking he had completed a catch that would have given New York a 29-24 lead.
Rookie cornerback Landon Collins dropped an interception on the first play of the Patriots' game-winning drive and then New York allowed Brady to convert a fourth-and-10 to keep the drive alive.
''If you don't win, they're all miserable,'' Coughlin said. ''I don't look at it in degrees, I just look at it in terms of the frustration that goes along with it because of what could've been. It's not that far away from being a win. Just finish the thing off. There were no timeouts. They were operating with no timeouts and only went to the sideline maybe once.''
The win left the Patriots with a four-game lead over the Bills and Jets in the AFC East. The Giants, who have a bye coming up, lead the NFC East by a half game over Philadelphia and Washington.
''We had a chance to win, you've just got to come up with it,'' Giants cornerback Dominque Rodgers-Cromartie said. ''That being said, you take that into the (bye) knowing that you went toe to toe with the defending champs and you can play with anybody.''
BIG FOOTS: Gostkowski has led the NFL in scoring the last three seasons and went into this weekend on top again. The Patriots knew his range at MetLife Stadium, where there was virtually no wind, would be from beyond 50 yards.
He now is 21 for 21 on field goals this season, four of them from at least 50 yards.
''You're one kick away from being Public Enemy No. 1,'' he said. ''You're always one kick away from trending on Twitter as the No. 1 loser in America.''
His Giants counterpart, Josh Brown, also is on quite a tear. He's made a franchise-record 27 straight dating back to last season, including 23 in 2015. His four field goals Sunday came from 37, 38, 53 and 29 yards.
ODELL'S NO CATCH: One of the biggest plays of the game came when Beckham's 5-yard touchdown reception was overturned after video review.
The Giants trailed 24-23 when Beckham had the ball stripped out of his hands by Super Bowl hero Malcolm Butler. The Giants wound up with Brown's fourth field goal - leaving the Patriots plenty of room and 1:47 on the clock to march downfield for the victory.
Beckham admitted he didn't fully know the rule about completing the reception.
''I mean I caught it. I trust in my hands,'' he said. ''I go up and catch it. You come down with two feet and you can't try to do anything too early. You've got to complete the whole process. It didn't go the way we wanted it to.''
Butler was confident the TD would be reversed.
MANNING: GOOD AND BAD: Eli Manning completed 24 of 44 for 361 yards and two touchdowns and no interceptions.
However, Manning and the offense did nothing after recovering a Brady fumble at the Patriots 31 leading 23-17 early in the fourth quarter. Rob Ninkovich sacked Manning for a 13-yard sack on first down and New York went three an out. A field goal might have been the difference.
BIG PLAYS: Brady and Manning each had monster plays, and so did Pats returner Danny Amendola. Amendola's 82-yard punt return set up LeGarrette Blount's 1-yard TD run in the third quarter.
Manning found Beckham between Butler and Devin McCourty on an 87-yard catch and run for a touchdown on the Giants second play from scrimmage. Beckham embellished his celebration with a salute to the crowd; the Giants honored the military before the game.
Brady hooked up with tight end Rob Gronkowski on a 76-yard catch and run in the fourth quarter. New York safeties Brandon Meriweather and Craig Dahl collided on the play.
They were the longest catches for both Beckham and Rob Gronkowski.
INJURIES: Patriots receiver Julian Edelman left the game in the second quarter with a foot injury. The Giants lost center Weston Richburg with an ankle injury in the second half. He said it was not broken. Backup linebacker Mark Herzlich also left with a calf injury.
NOTES: New England is home next weekend to face the Bills. ... The Patriots are the fifth team and first since the 1983-98 49ers (16) with at least 15 consecutive winning seasons. ... Beckham's TD was the longest against any Bill Belichick-coached team in 360 games. ... The Patriots have scored in an NFL record 35 consecutive quarters
---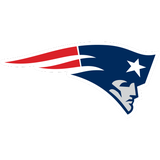 Get more from New England Patriots
Follow your favorites to get information about games, news and more
---