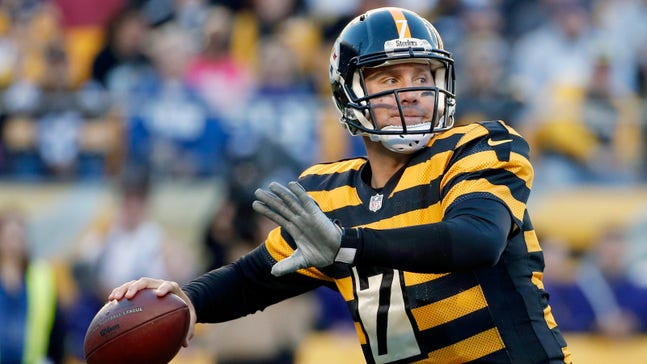 Big Ben's epic day (6 TD passes) helps Steelers outlast Colts
Published
Oct. 26, 2014 8:10 p.m. EDT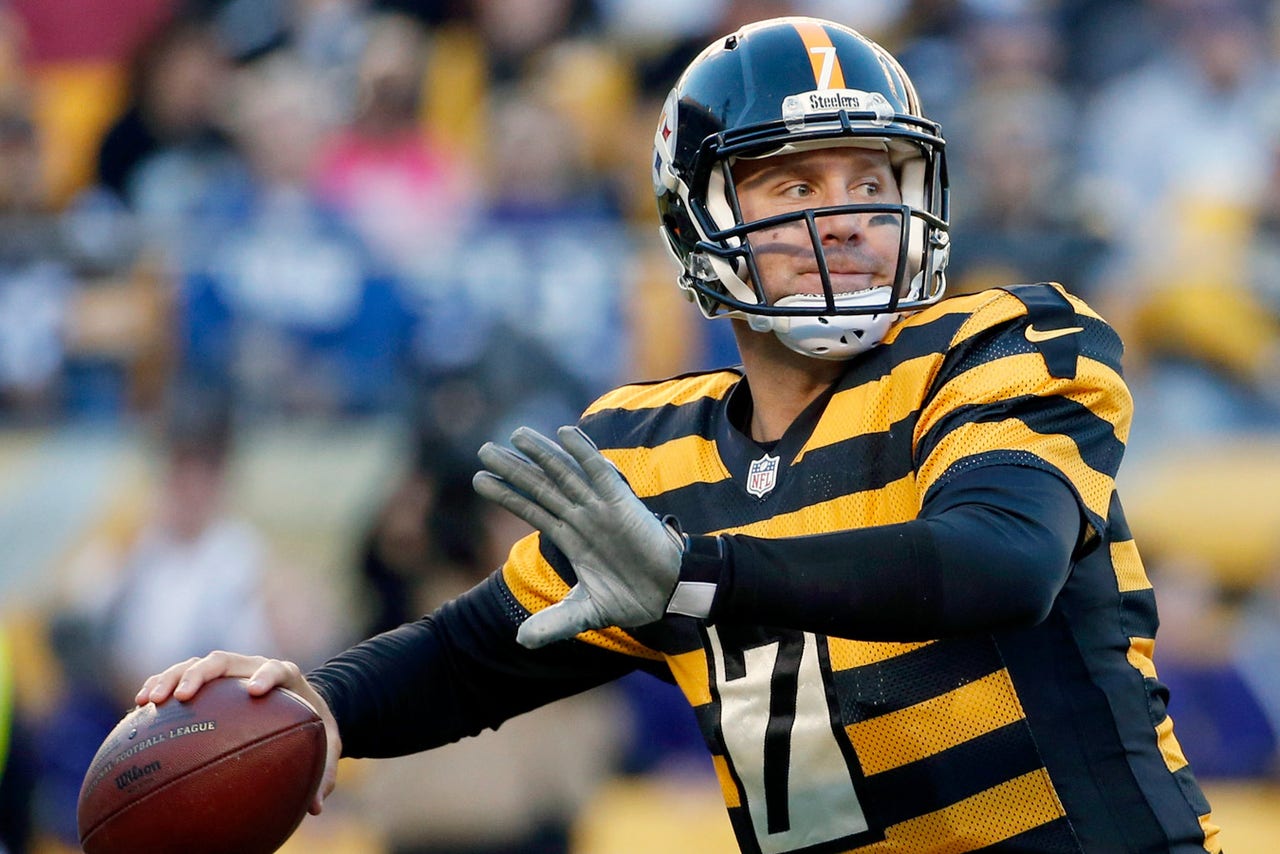 Ben Roethlisberger spent a week politely answering questions about Andrew Luck, saying all the right things to anyone who asked about how impressed he was with the rising Indianapolis Colts star.
Then Pittsburgh Steelers quarterback delivered a virtuoso performance not even the precocious Luck could match.
Hot at the start and typically cool at the end, Roethlisberger masterfully guided the Steelers to a 51-34 victory Sunday that provided Pittsburgh with the jolt of legitimacy it's been searching for all season.
Roethlisberger set franchise records with 522 yards passing and six touchdowns while picking up his 100th victory in his 150th start.
And though he insists he wasn't keeping track, there's little chance Roethlisberger will forget one of the most prolific days in NFL history.
"We just felt like they couldn't stop us because we were just clicking," Roethlisberger said. "It was one of those nights that players talk about when things feel like they're going right."
The fact it went right against Luck -- who has more than a little bit of Roethlisberger's swashbuckling in him -- was purely incidental.
Probably, though Steelers coach Mike Tomlin intentionally mentioned how great Luck was to his quarterback more than once.
"He won't admit it but I'm sure (it bothered him)," Tomlin said. "You don't ascend to the position that he is professionally without that competitive fire burning."
It scorched the Colts (5-3), ending Indianapolis' five-game winning streak in record-setting fashion.
Roethlisberger's yardage total was the fourth highest in NFL history. He became the first player to go over 500 yards passing twice as the Steelers (5-3) won consecutive games for the first time this season.
Antonio Brown caught 10 passes for 133 yards and two scores. Heath Miller caught seven passes for 112 yards and the clinching TD with 5:14 remaining.
Luck passed for 400 yards and three touchdowns, but also threw two interceptions. He handed the Steelers a safety when he was called for intentional grounding in the end zone midway through the fourth quarter that handed momentum to the Steelers.
"Just a bonehead play by me," Luck said.
The 907 combined yards passing were the second most ever, trailing only the 971 yards Detroit and Green Bay put up on Jan. 1, 2012.
The Colts gave up 639 yards and never led, though Luck kept repeatedly threatening to pull off a miracle akin to the 28-point rally he engineered against Kansas City in last year's wild-card playoff game.
Indianapolis trailed 35-10 in the second quarter, but had the ball and 95 yards to go down 42-34 midway through the fourth quarter.
Luck, however, tripped over center Jonotthan Harrison and fell on his backside at the goal line. He flung the ball to the left, but there wasn't a player in white anywhere close.
Officials awarded the Steelers a safety when they flagged Luck for intentional grounding to extend Pittsburgh's lead to 44-34.
"I'm not sure what happened on the trip," Luck said. "I should have stayed on my feet."
The Steelers didn't sit on the lead, driving deep into Indianapolis territory yet again. Facing fourth-and-1 at the 11, Roethlisberger faked a handoff and moved to his right, where he found Miller in the back of the end zone for his sixth and final touchdown pass.
"I'm not kicking the field goal right there and go up by 13 and have these guys put two late touchdowns on the board," Tomlin said. "We were not taking our foot off the gas."
Roethlisberger joined Tom Brady, Roger Staubach and Terry Bradshaw as the only quarterbacks in the Super Bowl era to win at least 100 games in their first 150 starts.
It's heady territory to be sure, though Roethlisberger was more concerned about his team finding some consistency after spending the better part of two months alternating wins and losses.
The Steelers wore striped gaudy yellow-and-black striped jerseys borrowed from the 1934 team. The uniforms were the only thing old school on a day Pittsburgh played at warp speed.
Consider this: Pittsburgh's leading passer in 1934 was Warren Heller, who passed for 511 yards and two touchdowns in 12 games. Roethlisberger better those totals in 60 nearly flawless minutes.
"Ben is Ben," Brown said. "He never surprises me. It's a great day at the office."
The Colts came in fresh off a shutout over Cincinnati; the Bengals managed all of 135 yards and converted just one third down. The Steelers had that by the end of the first quarter as they took a 35-20 halftime lead.
The Steelers briefly flirted with tying the biggest home collapse in NFL history before righting themselves -- and their season -- behind their dynamic leader.
NOTES: Roethlisberger is 18-1 at home in October during his career. ... Miller joined John Stallworth and Hines Ward as the only players in team history with 500 receptions. ... Indianapolis CB Vontae Davis (knee) and linebacker Erik Walden (hip flexor) left and did not return. ... Luck's sixth straight game of at least 300 yards passing broke the club record he shared with Peyton Manning.
---
---