Dallas Cowboys
Dallas Cowboys
BC-Sports Showcase Digest,ADVISORY
Published
Jun. 15, 2018 5:04 p.m. ET
A look ahead to top enterprise and feature stories planned globally by AP Sports. New digests will go out each Thursday and Monday and will be repeated on other weekdays. Please note that story plans may change depending on news and other issues.
For access to AP Newsroom and other technical issues, contact AP Customer Support at apcustomersupport(at)ap.org or 877-836-9477. For reruns, call the Service Desk 800-838-4616 or your local AP bureau.
As with all our operations, we welcome and want your feedback. If you have thoughts or questions about the Sports Showcase Digest or the material listed, please reach out to Oskar Garcia, deputy sports editor for presentation and storytelling, at 215-446-6632 or at ogarcia(at)ap.org.
All times are Eastern.
---
SATURDAY, June 16
SOC--WORLD CUP-VIEWING PARTIES
SAN JOSE, Calif. - Start times before the sun rises and the lack of the U.S. team in the World Cup might seem to put a damper on excitement for the tournament. But the San Jose Earthquakes hope to make it a month-long party by showing every game on the video board at Avaya Stadium, even those starting as early as 3 a.m. local time. By Josh Dubow. UPCOMING: 800 words, photos by 3 a.m. Saturday.
FBN-PACKERS-PETTINE FAMILY
GREEN BAY, Wis. - Coaching runs deep in the family of new Green Bay Packers defensive coordinator Mike Pettine, the former Cleveland Browns head coach who has also had stints as an assistant with the Jets and Bills. But there's bigger influence in Pettine's life than his late father, an iconic Pennsylvania high school football coach who died last year. Father and son even coached against each other at the prep level. Pettine says almost everything he does now as a coach can be traced back to what he learned from his father. By Genaro C. Armas. UPCOMING: 800 words, photos by 12 p.m. Saturday.
SUNDAY, June 17
FBN--JETS-CLAIBORNE'S HEARTS
WHIPPANY, N.J. Morris Claiborne's head was spinning at times and his heart tugging at him for several weeks last summer. The New York Jets cornerback was trying to settle in with his new team, but his mind was on his newborn twins - one of whom was born extremely underweight. Claiborne's days were whirlwinds of hurrying to and from practice and meetings to the hospital, without letting on to his teammates and coaches of his family's struggles. Nearly a year later, the twins are healthy and Claiborne and his wife Jennifer Jones open their home to The Associated Press to talk about what will be a very special Father's Day on Sunday. By Dennis Waszak Jr. UPCOMING: 900 words, photos and video by 3 a.m. Sunday.
MONDAY, June 18
BKN--NBA DRAFT-THE INTERVIEW
CHICAGO - Most of the furniture was taken out of several rooms on the 15th and 16th floor of the hotel in downtown Chicago. There's a couple tables, a few chairs, and when the doors open to those suites draft hopefuls can make or break their futures in 20 minutes. This is where the interviews happen for the draft, where teams meet players and ask them about everything from their family histories to their thoughts on highway safety before investing millions of dollars. By Basketball Writer Tim Reynolds. UPCOMING: 800 words, photos by 4 a.m. Monday.
TUESDAY, June 19
BBO--THE FASTBALL PARADOX
NEW YORK -Gerrit Cole, Corey Kluber and Clayton Kershaw are among the many big league pitchers who recently hit upon a most puzzling baseball paradox- in an era when pitchers are throwing harder than ever, they're finding success by throwing fastballs less. Why is the hardest-throwing generation of pitchers leaning so much on curveballs and changeups? Most aces cite the offensive emphasis on hitting flyballs, but Indians righty Trevor Bauer thinks the uptick in offspeed is more than a passing trend. By Jake Seiner. UPCOMING: 1000 words, photos by 3 a.m. Tuesday.
WEDNESDAY, June 20
FBN--COWBOYS-LIFE AFTER DEZ
FRISCO, Texas - The Dallas Cowboys don't have a big name at receiver, or anyone with a history of big production, following the release of Dez Bryant in a cost-cutting move. Cole Beasley and company are quick to mention the low expectations for the group, and newcomer Allen Hurns sees a collection of veterans seeking bounce-back seasons. There are also two rookies in Michael Gallup and Cedric Wilson who figure to get a lot more chances than they would if Bryant were still around. By Pro Football Writer Schuyler Dixon. UPCOMING: 800 words, photos by 3 a.m. Wednesday.
---
WEDNESDAY, June 27
FBN--BACK TO SCHOOL
ALAMEDA, Calif. - When Bruce Irvin got a multimillion signing bonus after being a first-round draft pick in 2012, the idea of getting his college degree was the last thing on his mind. But after having a son, the former high school dropout made getting that degree a priority and was one of many NFL players this offseason who got to don a cap and gown instead of helmet. By Pro Football Writer Josh Dubow. UPCOMING: 900 words, photos by 3 a.m. Wednesday, June 27.
---
Again, if you have questions about the Sports Showcase Digest or the material listed, please reach out to Oskar Garcia at 215-446-6632 or ogarcia(at)ap.org.
Thanks,
AP Sports
---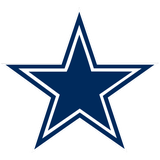 Get more from Dallas Cowboys
Follow your favorites to get information about games, news and more
---