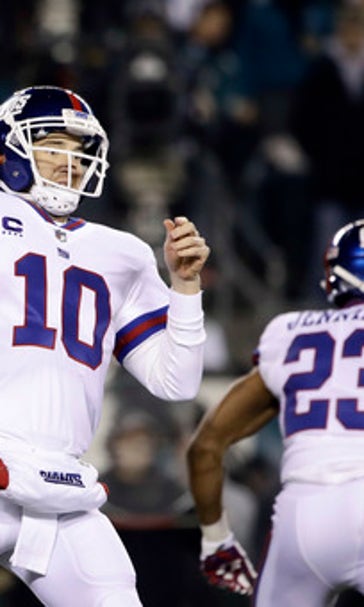 At least now Giants don't have to root for Cowboys
December 25, 2016

EAST RUTHERFORD, N.J. (AP) At least now the Giants don't have to root for the Cowboys.
After Tampa Bay lost to New Orleans on Saturday, New York advanced to the playoffs. Had the Bucs won, the Giants would have needed their archrival from Dallas to beat Detroit on Monday night to secure a postseason berth.
Instead, the Giants (10-5) are in the playoffs for the first time since 2011, when they won the Super Bowl. They must wait until after the season finales to find out where they will head on Jan. 7 or 8 for a wild-card game.
''There is a process in progressing to your ultimate objective,'' said coach Ben McAdoo, who replaced Tom Coughlin this year. ''This is the next step in the process. But each step requires focus on the task at hand, and our focus right now is on learning from Thursday night's (loss at Philadelphia) and moving on and getting better.
''It's all in front of us, and we are still working toward playing our best, most complete game.''
This will be the Giants' 32nd postseason appearance, tying them with Dallas for the most in NFL history. The Packers will also participate in their 32nd postseason should they qualify.
New York could face Green Bay, which it lost to on Oct. 9, or Detroit, which it beat on Dec. 18. It could also be at Atlanta or Seattle, neither of which it played this season.
The Giants need their offense to come alive. Eli Manning has been inconsistent, often rescued by the super pass-catching and tackle-avoiding skills of Odell Beckham Jr. The running attack has improved recently, but it was so weak for much of the schedule that it had nowhere else to go but up.
Offensive line is the weakest spot on the roster, forcing Manning to throw too many times before he has wanted.
But as in their 2007 and 2011 championship seasons, the Giants have developed a dynamic pass rush, even without star DE Jason Pierre-Paul. Their secondary, a question mark when the season began, has become a strength as safety Landon Collins blossomed into a Pro Bowler and cornerbacks Janoris Jenkins and Dominique Rodgers-Cromartie have performed well.
The Giants certainly won't fear the Cowboys, whose only two losses this season were against New York. But they haven't been much of a road team, going 3-4, with one victory a ''home game'' for the Rams in London. And barring a bevy of upsets, they won't be playing any postseason games at MetLife Stadium as the No. 5 seed in the NFC.
In wild-card matches, the Giants are 6-4. Two of those wins came in their most recent Super Bowl years.
As for McAdoo, he is the fourth coach in Giants history to lead the team to the playoffs in his first season, joining Allie Sherman (1961), Dan Reeves (1993) and Jim Fassel (1997).
---
For more NFL coverage: http://www.pro32.ap.org and http://www.twitter.com/AP-NFL
---
---