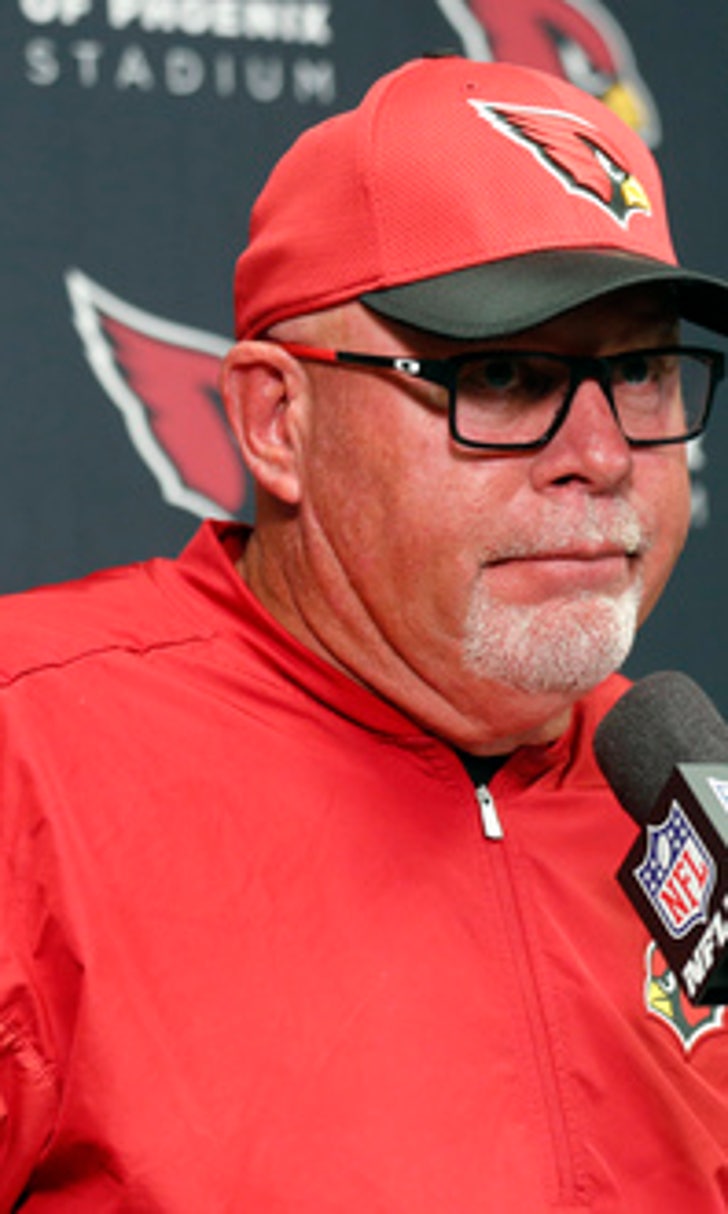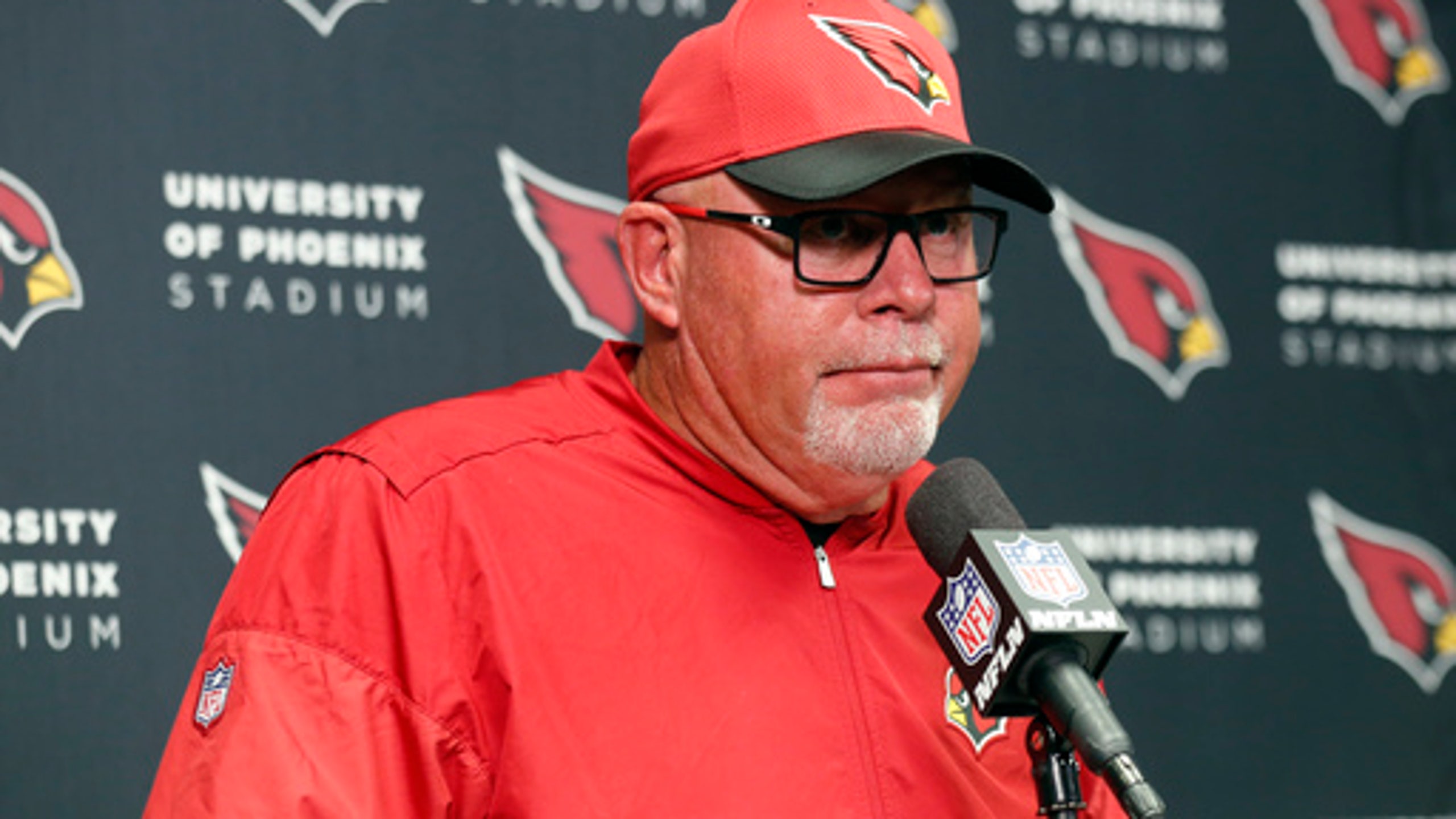 Arians back at practice, brushes off health concerns
BY foxsports • November 23, 2016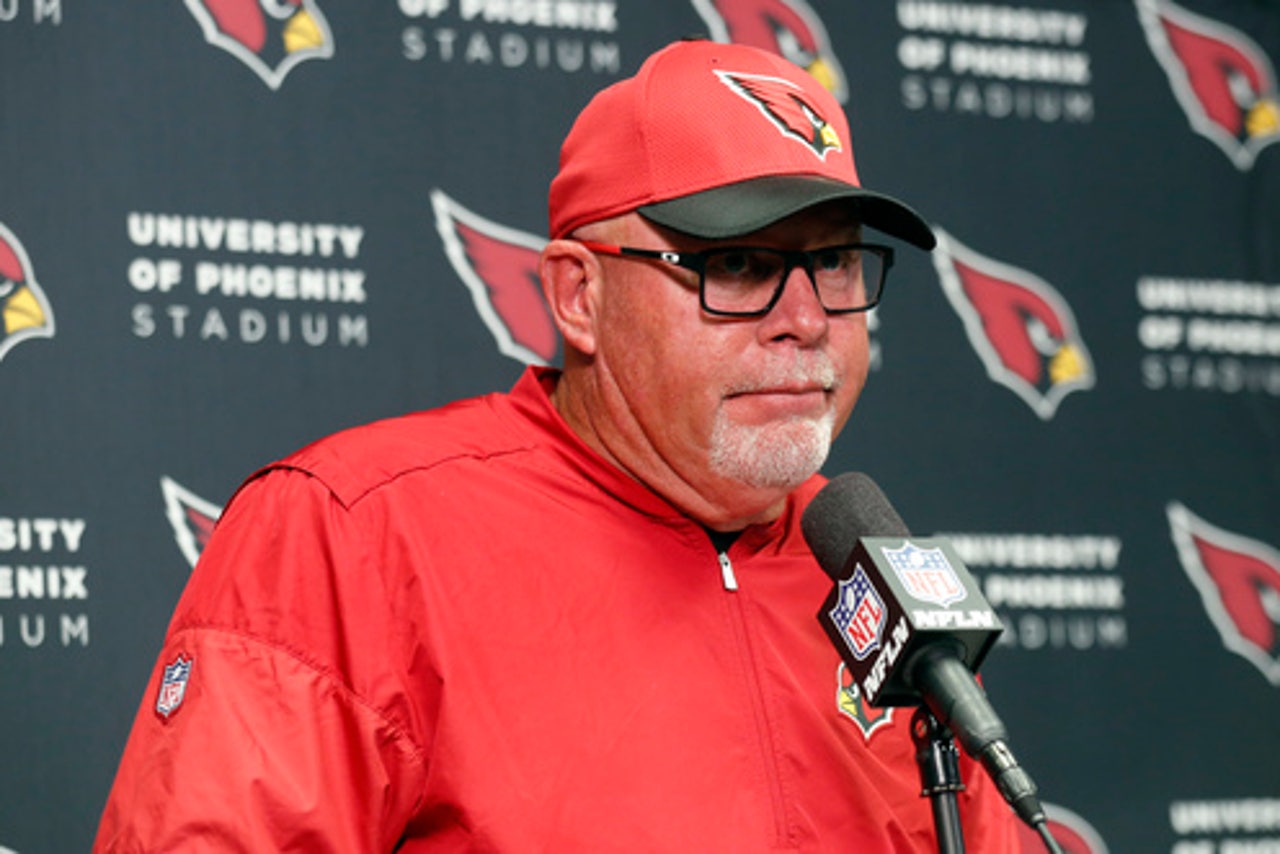 TEMPE, Ariz. (AP) Bruce Arians was back at work Wednesday, saying he has been given ''an absolute clean bill of health'' but otherwise declining to talk about this week's brief hospital stay.
''I'm full go brother,'' the Arizona Cardinals' coach said after practice. ''I'm fine.''
Arians said whatever happened that led to his hospitalization is ''between me and my wife.''
And doctors didn't tell Arians to dial down his emotions, which run quite high on the sideline.
''No,'' Arians said. ''The worst thing you can do is hold your emotions inside.''
Besides, he said, he couldn't tone down his style if he wanted to.
The Cardinals said Monday that Arians felt some discomfort after his return from Minneapolis on Sunday, leading his wife to take him to the hospital.
After a series of tests, he was released late Monday and was back at his desk on Tuesday.
Quarterback Carson Palmer said Arians ''looked great. ... Everything is back to normal.''
And Palmer said he had no concerns about Arians' long-term health.
''He's as tough as they come,'' Palmer said. ''He's as tough as any player in that locker room, and whatever happened, happened, and (he) got it checked out. He looks great, as you can see. It's business as usual for him and for us.''
The Cardinals activated safety Tyvon Branch from the injured list. Branch can practice this week, but can't play in a game until the Dec. 4 game against Washington.
Branch was chosen over running back Chris Johnson.
''It was the hardest decision,'' Arians said. ''I put it off as long as I could to make sure that we could do the right thing for the team.''
A team can remove only one player from injured reserve each season.
Branch got the nod because he can play on special teams, an area that the Cardinals have been woefully inadequate most of the season. Arians said five of the Cardinals' core special teams players are injured.
Arians was his usual blunt self, taking aim at one point at first-round draft pick Robert Nkemdiche.
The big defensive lineman has been inactive in six of the 10 games, although two earlier in the season were because of injuries. He was a healthy scratch the past two weeks.
Arians was asked what was keeping Nkemdiche off the field.
''Talent - not an issue,'' Arians said. ''Maturity is. It's just maturing.''
Last year's first-round pick, D.J. Humphries, was inactive all of last season, but now is the starting right tackle.
Arians was asked if Nkemdiche's situation was similar.
''No,'' Arians said. ''D.J. worked harder.''
The coach also had some thoughts on critics who blame Palmer for the team's 4-5-1 record.
''Well, they're wrong on that one,'' Arians said. ''Carson, he put a lot of trust in some guys that haven't come through for him.''
The coach didn't elaborate, although he did have some criticism for any wide receiver not named Larry Fitzgerald.
Arians called the wide receiver play, other than Fitzgerald's, ''very average.''
It is not something the coach expected.
''We thought that would be one of the strengths of our offense,'' Arians said.
The coach said safety Tyrann Mathieu would play Sunday at Atlanta after missing the past two games with a shoulder injury.
Mathieu wasn't quite that optimistic.
''I think I'm ready to go,'' he said, ''but we'll see how the week goes. If I continue to progress well and everything's OK, I'll be out there Sunday.''
---
For more NFL coverage: http://www.pro32.ap.org and http://www.twitter.com/AP-NFL
---
---