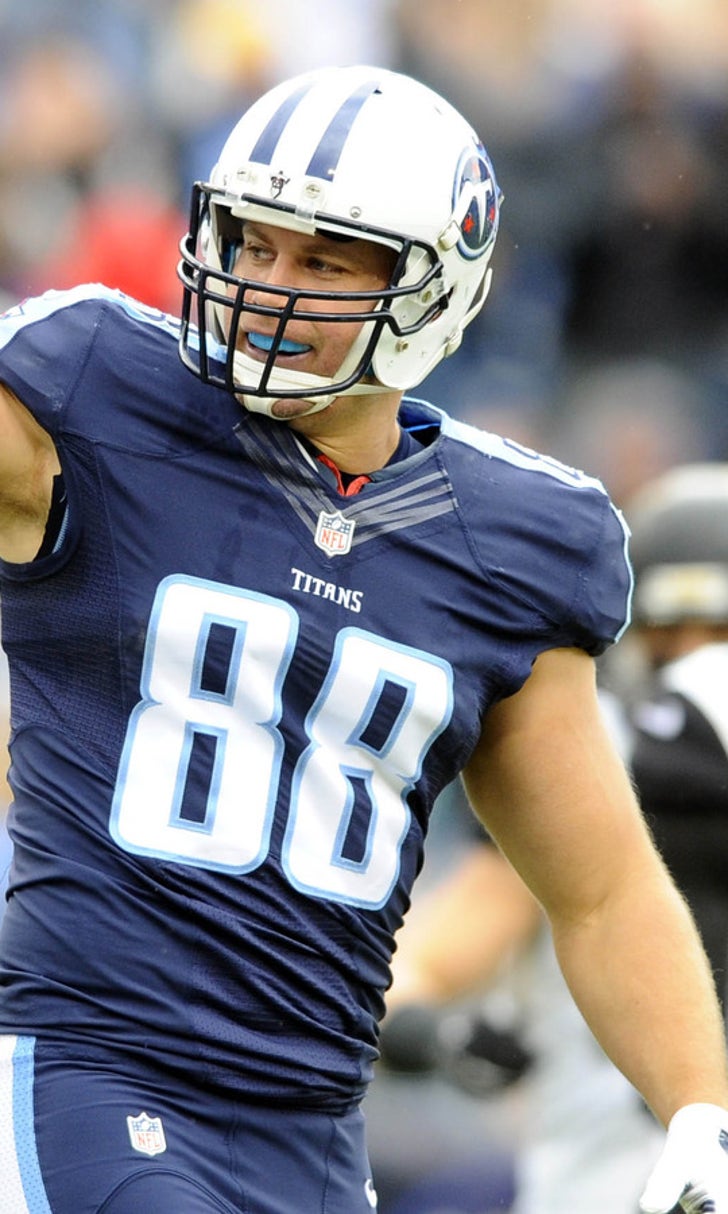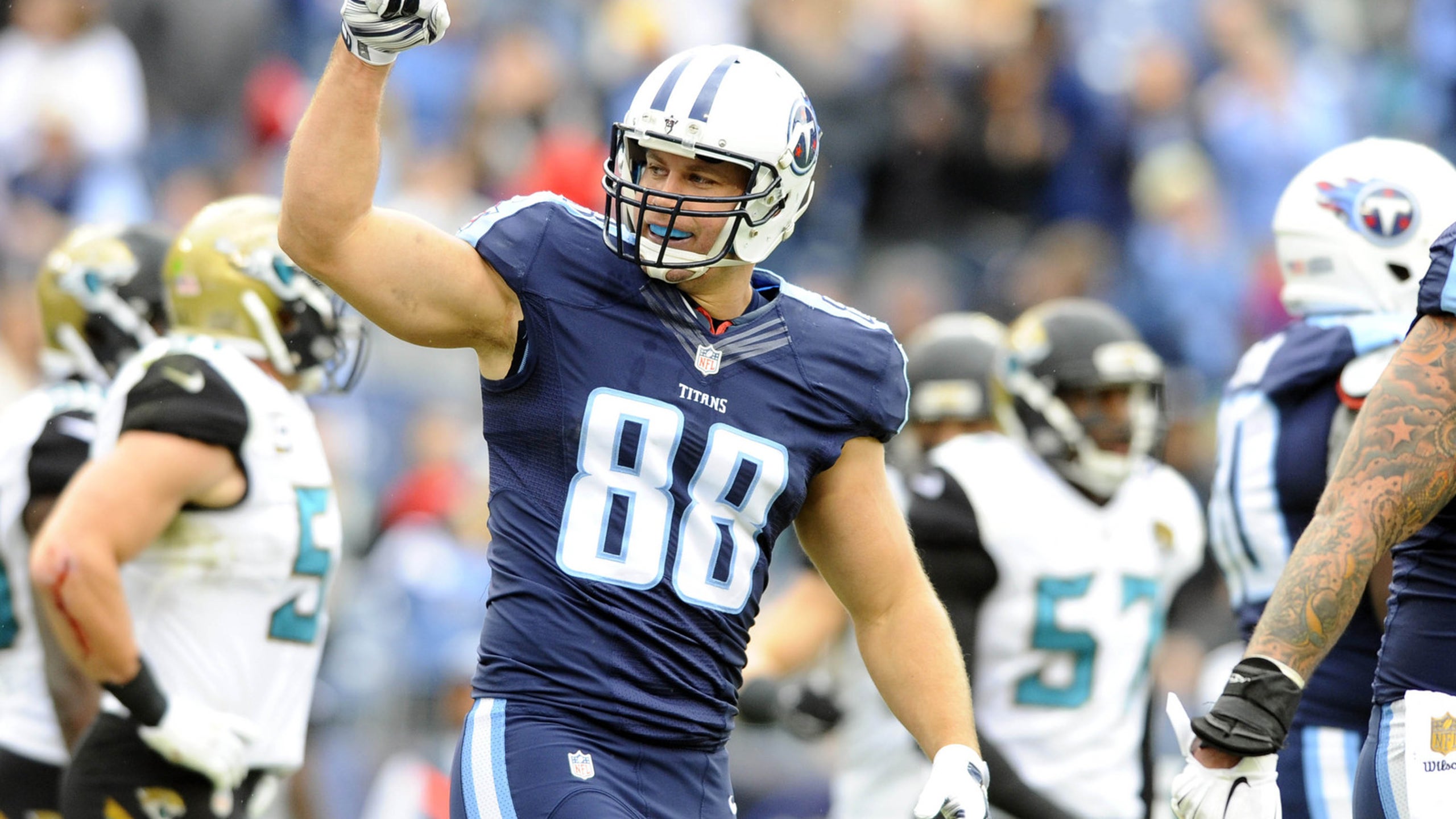 A look at the Tennessee Titans 2016 free agents
BY foxsports • January 12, 2016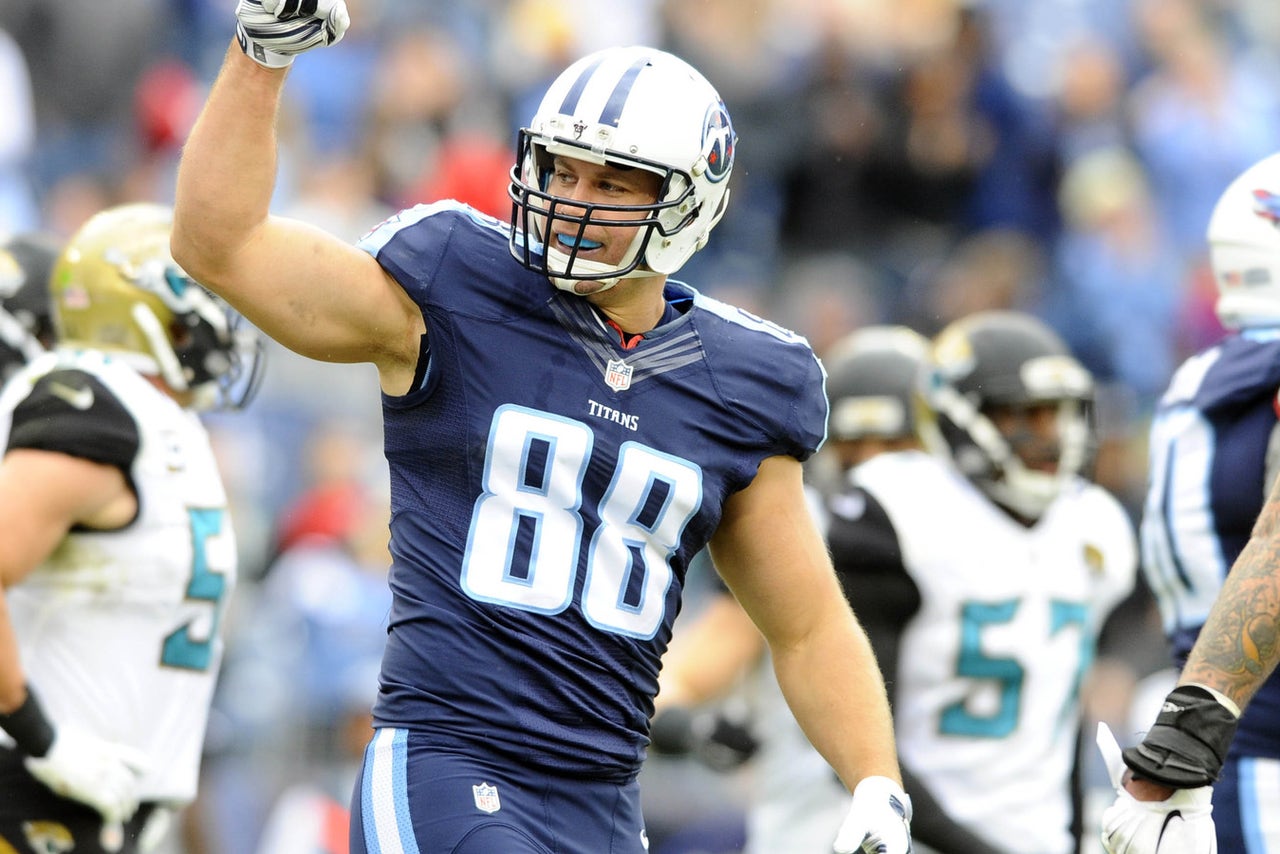 By David Arteaga
The Tennessee Titans are currently in a state of transition. The team doesn't have a general manager or a head coach, and is coming off a 3-13 season. There are certainly many areas of concern that the organization must address. Amongst these concerns is the 2016 free agency, which beings this upcoming March.
In about two months the following twelve Titans' players will be unrestricted free agents: NT Sammie Hill, NT Al Woods, TE Craig Stevens, CB Coty Sensabaugh, RT Byron Bell, ILB Zach Brown, DT Mike Martin, ILB Steven Johnson, TE Dorin Dickerson, RB Antonio Andrews, G Joe Looney, and CB Brandon Harris, per Spotrac.com.
Likely Resigned 
TE Craig Stevens
Craig Stevens is arguably the Titans most valuable free agent of 2016. Although Stevens does not post impressive receiving statistics – In 2015 he caught 12 passes for 121 yards and two touchdowns – he is one of the best blocking tight ends in the NFL. Considering that last season the Titans led the league in sacks allowed and ranked 25th in total rushing offense, it would be wise to resign the 6-foot-3-inch, 263-pound tight end.
CB Coty Sensabaugh
During his fourth year in Tennessee Coty Sensabaugh experienced a significant increase in playing time since starting corners Jason McCourty and Perrish Cox missed large chunks of 2015 due to injury. In fact, Sensabaugh played snaps in all 16 regular season games – a career best for the Syracuse graduate. Although Sensabaugh gave up some big plays to opposing receivers this season, expect the Titans to resign the four-year pro because of his durability and potential.
RB Antonio Andrews
Antonio Andrews spearheaded the Titans' run game in 2015. On 143 carries he rushed for 520 yards and scored three touchdowns. Andrews' performance faltered towards the end of the season, and David Cobb was named starting running back in week 17 versus the Indianapolis Colts, but do not expect this change to carry over into the 2016 season. The Titans should resign their leading rusher from 2015, especially if they intend to employ a running backs by committee approach next season.
ILB Zach Brown
A second round pick in 2012, Zach Brown was a Titans' starter most of his career until week 5 of this season when Wesley Woodyard replaced the UNC graduate. The demotion disappointed Brown, but he played well off the bench and finished the final two games of the regular season with 12 tackles and 1 pass deflection. Assuming the Titans continue to run a 3-4 scheme in 2016, expect the organization to resign Brown in order to provide depth and experience to the linebacker roster.
RT Byron Bell
This year Ken Wisenhunt and Mike Mularkey often directed rushes towards Bryon Bell, who at 6-feet-5-inches and 340-pounds is the Titans' largest offensive lineman. It would be wise of the organization to resign Bell because, as previously stated, Tennessee led the NFL in allowed sacks and ranked 25th in total rush offense during the 2015 regular season. To lose a physically-imposing, five-year veteran from the offensive line would make matters worse.
NT Sammie Hill or NT Al Woods
Sammie Hill missed the first six games of the 2015 regular season while recovering from a knee injury, and in his placed started Al Woods. Once Hill recovered, he and Woods split time on the defensive line. The nose tackles finished the season with near-equal productivity: Hill had 12 combined tackles in 10 games while Woods had 22 combined tackles in 13 games. In fact, Hill and Woods ranked equally as interior defenders this season (66.5/100 vs 67.8/100) according to Pro Football Focus Player Grades.
Don't be surprised if the Titans resign only one of these nose tackles in 2016. If Tennessee continues to employ a 3-4 scheme, there won't be a high demand for interior defenders next season. Moreover, the team has young and talented defensive linemen, like Angelo Blackson and DaQuan Jones, who could shift to nose tackle.
Likely not Resigned 
TE Dorin Dickerson
Dorin Dickerson is an unfamiliar name on the Titans' depth chart. He played for the University of Pittsburgh and was the Houston Texans' seventh-round selection in the 2010 draft. Since then Dickerson has played for various teams across the league and accumulated humble receiving statistics – 11 receptions for 151 yards and no touchdowns. Considering that the Titans have a deep and talented roster of tight ends (Delanie Walker, Craig Stevens, Anthony Fasano, Phillip Supernaw), it is unlikely that the organization resigns Dickerson for 2016.
G Joe Looney
The Titans signed Joe Looney in October of 2015 because of injuries to starting center Brian Schwenke and backup center Andy Gallik. Looney played in 88% of the Titans' offensive snaps after his arrival, per Pro Football Reference, but with Brian Schwenke returning to the starting lineup next season will Looney still be needed?
Unknown
CB Brandon Harris
The Titans claimed Brandon Harris off waivers prior to the start of the 2014 regular season. The University of Miami product played in 11 games in 2014 but missed all of 2015 due to an Achilles tendon injury. It's hard to say whether the Titans will resign Harris during free agency. He may not be needed if Jason McCourty and Perrish Cox return to full health next season. On the other hand, Harris has five years of experience and did not have an adequate opportunity to prove his worth in Tennessee.
ILB Steven Johnson
The Titans claimed Steven Johnson off waivers prior to the start of this season. Johnson was primarily a special teams player for the Titans but he also played snaps as inside linebacker off the bench. Like Harris, Johnson is an unknown for free agency. He tallied 7 tackles this season and adds experience to the Titans' secondary group of linebackers, but Johnson may not be worth resigning.
More from isportsweb.com:
---
---