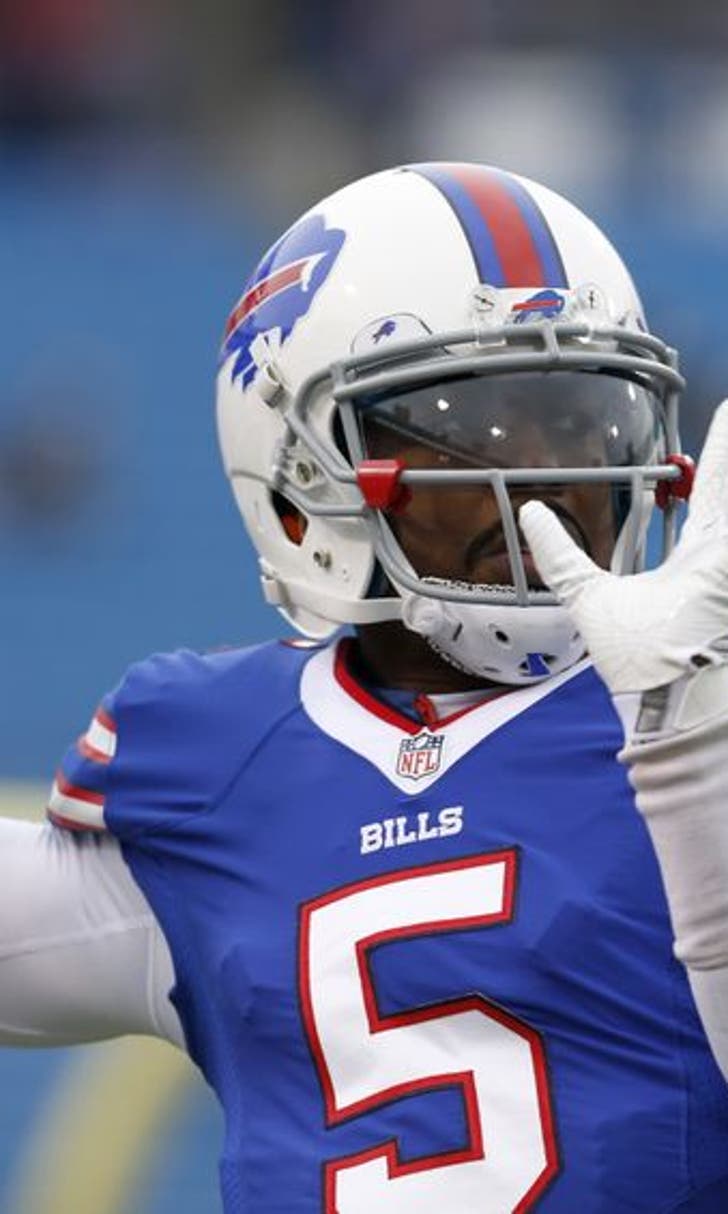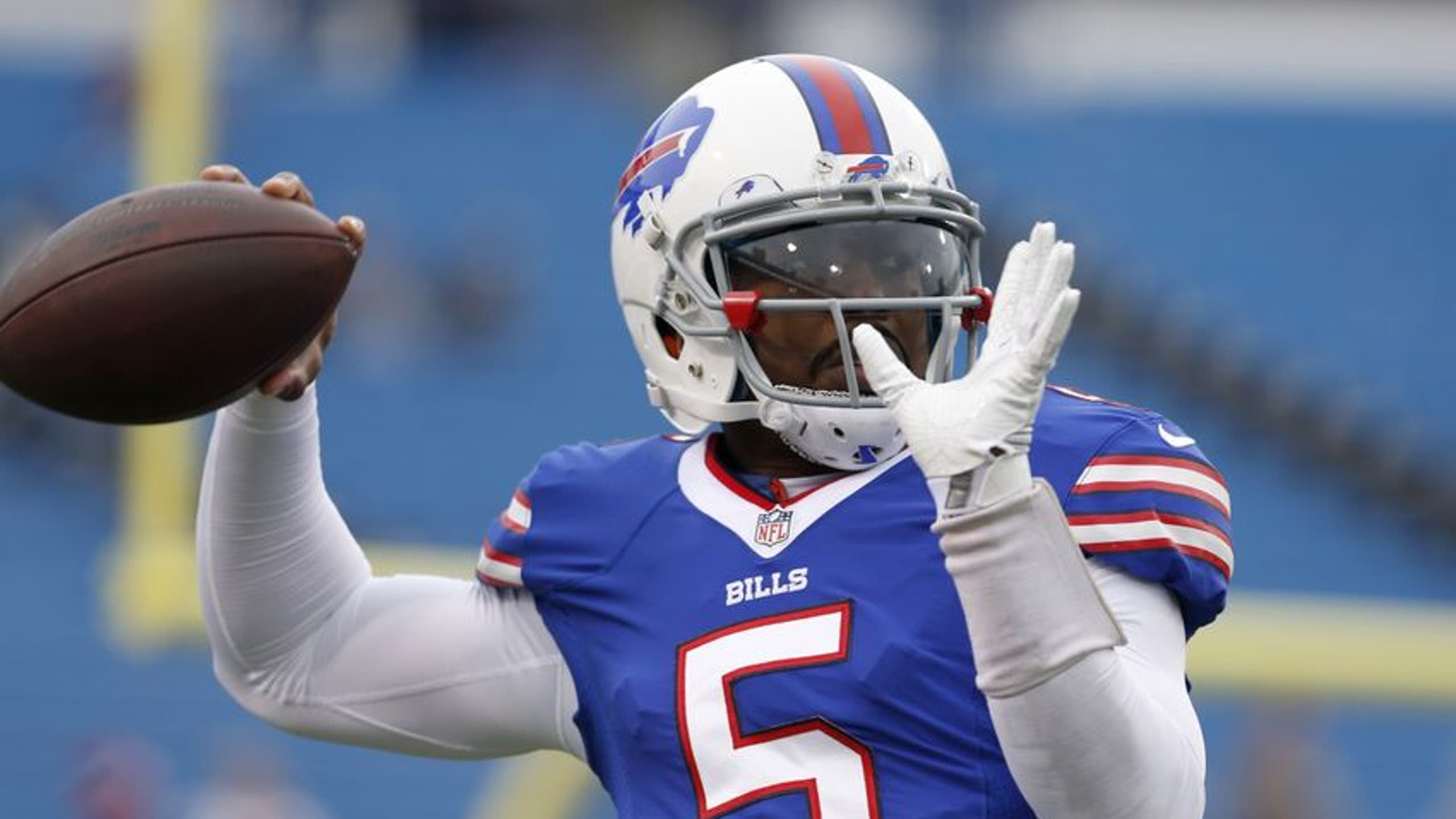 5 potential landing spots for Tyrod Taylor in 2017
BY Fansided and Brad Berreman/Fansided • December 29, 2016
Tyrod Taylor has likely played his last game for the Buffalo Bills, and here are five teams he could land with in 2017.
The firing of head coach Rex Ryan removed an advocate for Tyrod Taylor within the Buffalo Bills organization, and he has been benched in favor of E.J. Manuel for Week 17 against the New York Jets. There's a major financial aspect to the decision for Buffalo, with over $30 million guaranteed to Taylor if he were to suffer a significant injury on Sunday, and interim head coach Anthony Lynn openly acknowledged the business decision.
Taylor was listed as a full participant in Wednesday's practice, but then this surfaced on Thursday morning.
Initially, Taylor's absence from practice will reportedly be attributed to a hamstring issue. Vic Carucci of the Buffalo News further reported Taylor has been dealing with a "severe" groin issue for the past month. Later on Thursday, Lynn said he simply gave Taylor a "veteran's day off" on Thursday.
Injured or not right now, all signs point to Taylor parting ways with the Bills when the 2017 league year approaches. With that in mind, here are five potential landing spots for Taylor next season.
5. Los Angeles Rams
The Rams will have a new head coach, which could bring about a shift from a commitment to Jared Goff as the quarterback of the present and future. At the very least, someone far better than Case Keenum or Sean Mannion could be brought in to compete with Goff for the starting job next year
Based on pure upside, Taylor is an upgrade to the Rams' quarterback situation. If he's available, whoever is running the show has to have some interest.
Mandatory Credit: Ken Blaze-USA TODAY Sports
4. Cleveland Browns
Any mention of an available quarterback, particularly one of Taylor's level, has to tentatively include the Browns. They've had a revolving door under center again this year, due mostly to injury to be fair, but despite left tackle Joe Thomas' recent assertion Robert Griffin III is probably not the long-term answer in Cleveland.
Rookie Cody Kessler, when healthy, has had some good moments for the Browns this season. But he profiles as a career backup, with little upside and the likelihood a replacement will always be sought if he starts for any length of time.
Letting Griffin go and re-allocating that salary to Taylor if he's available should be on the Browns' radar early in the offseason. There's an easy comparison to be made between the two quarterbacks, with the 2012 version of Griffin in mind and the running threat Taylor is now (over 1,100 rushing yards over the last two seasons). And both guys carry durability concerns, though Griffin's injury history is far more concerning and severe.
Cleveland is not the most desirable location, but Taylor can find a starting opportunity there if dominoes fall a certain way. The saying that there's "only 32" of those jobs available clearly applies, for better or worse.
Mandatory Credit: Brad Penner-USA TODAY Sports
3. Chicago Bears
The Bears and quarterback Jay Cutler are heading for a parting of ways in the offseason, barring something completely unforeseen. Matt Barkley has had some good moments in his five starts so far this season, but he has not necessarily made a strong case to be Chicago's quarterback of the future.
There's a chance the Bears fire head coach John Fox after two seasons. But if he remains in place, relying on a rookie quarterback or Barkley over a full 16 games would not be ideal to maintaining  job security well into the 2017 season and surely beyond. A dip into free agency or the trade market would be likely, if only to add a more proven quarterback to the mix.
Taylor would, if nothing else, not be the polarizing personality Cutler has been. He also arguably has more to offer on the field, and if the Bears continue to lose a lot of games the offense would at least be a little more exciting with a running threat under center.
Mandatory Credit: Matt Kartozian-USA TODAY Sports
2. San Francisco 49ers
Colin Kaepernick has actually been ok since taking over as 49ers' starting quarterback, but he is unlikely to be back next season. A likely top-five overall pick next spring could be used on a quarterback, even with what looks like a thin draft class at the position, but further depth chart options should be on San Francisco's radar during the offseason.
Kaepernick was quickly deemed to be a great fit for Chip Kelly's offense, and that has mostly shown over his 10 starts this season. Taylor has a similar skill set, with mobility to burn, and while he's got some work to do in that area it's not hard to be a better, more consistent passer than Kaepernick or Blaine Gabbert.
Taylor of course has to become available for the 49ers to sign him, and if Kelly happens to be fired after the season things would change in terms of a possible fit. But a quarterback with a pulse is worthy of San Francisco's attention, no matter who is in place in positions of power.
Mandatory Credit: David Butler II-USA TODAY Sports
1. New York Jets
Taylor has made three starts against the Jets over the last two seasons with the Bills, so they've gotten a closer look at him than most other teams. Whether that drives any interest in him is an open question, but the Jets don't have a lot of great options under center looking toward 2017.
Ryan Fitzpatrick will surely not be back with the Jets next season, and Geno Smith is also likely to be gone as a free agent. That would leave 2015 fourth-round pick Bryce Petty and 2016 second-round pick Christian Hackenberg on the quarterback depth chart, with a trade (for Tony Romo?), free agency or yet another draft pick as possible options to add reinforcements.
Taylor has had what can kindly be called an up-and-down 2016 season, but one of his most productive games (297 passing yards and three touchdowns) came against the Jets way back in Week 2. With a lot of proven talent around him, Taylor could really thrive with a relocation elsewhere in the AFC East. The potential revenge factor that would come with playing the Bills twice a year also can't be dismissed.
More from FanSided
This article originally appeared on
---
---