49ers' Bowman suffers horrific knee injury on controversial play
BY foxsports • January 20, 2014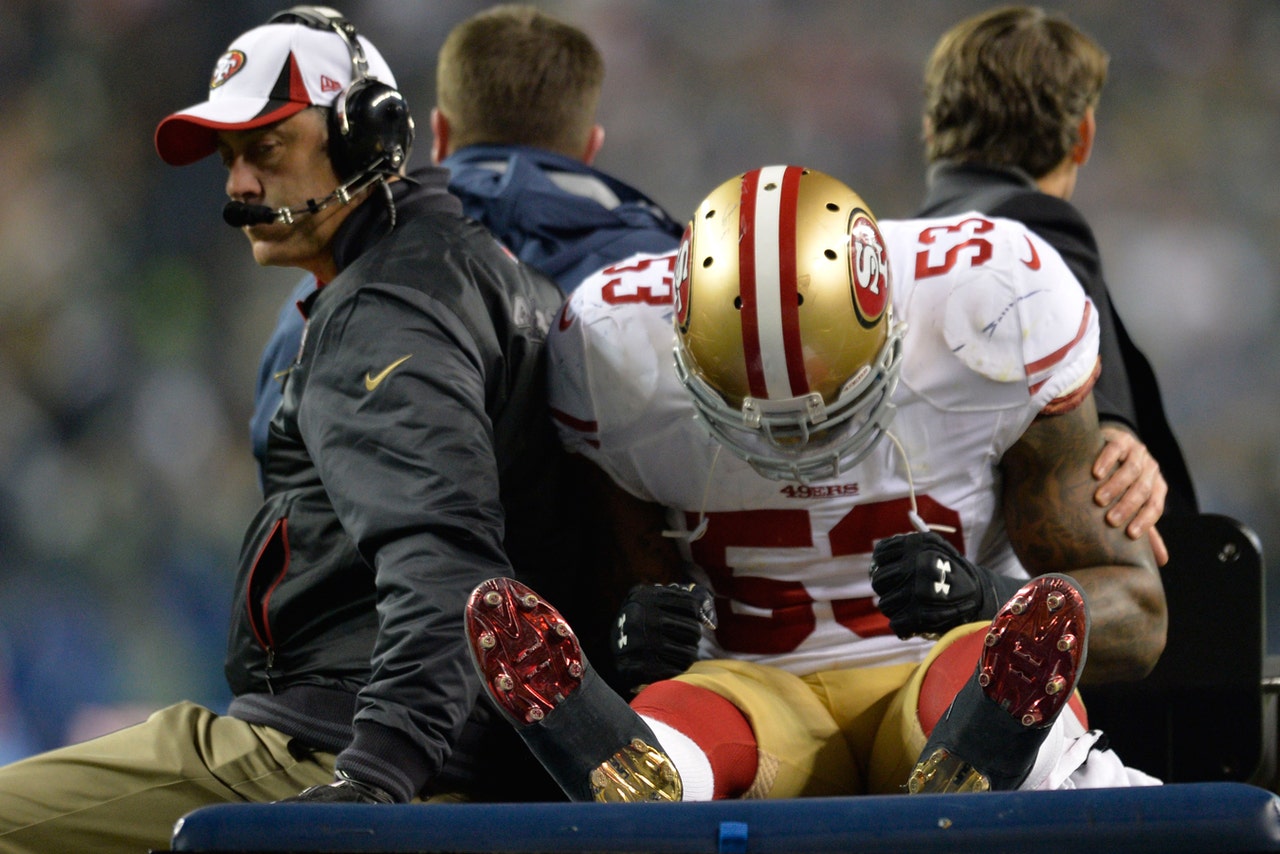 While the San Francisco 49ers turn their focus to putting Sunday's 23-17 loss in the NFC championship game behind them and looking ahead to next season, one of their best players will do so having to also overcome a potentially devastating knee injury.
Linebacker NaVorro Bowman appeared to make a game-changing play in the fourth quarter against the Seahawks, stripping Seattle receiver Jermaine Kearse of the ball deep in 49ers territory, with Seattle holding a 20-17 lead and less than 9 minutes to play. After Kearse caught the ball on a third-and-goal play from the 10, Bowman stripped him of the ball and went down to the ground with the ball.
But officials ruled that the Seahawks recovered the fumble, and told 49ers coach Jim Harbaugh he could not review the play because it was ruled a fumble on the field, and recovery cannot be challenged — a ruling that FOX officiating guru Mike Pereira confirmed was the correct call.
But as numerous replays were shown repeatedly for a national (and international) TV audience, it became clear that Bowman went down because Kearse fell into the LB's left knee and twisted it in a gruesome manner. After several minutes, Bowman was carted off the field. On the next play, the Seahawks again fumbled, this time running back Marshawn Lynch on a fourth-and-goal. The 49ers held, but the damage was done.
"I caught the ball, tried to protect myself and give the linebacker my back so I could protect the ball," Kearse told USA Today. "I felt my momentum going toward the end zone, so I tried to turn and someone hit me in my gut or in my stomach and that's the last thing I kind of remember."
After the game, the losers' locker room was a particularly somber place
Indeed, Harbaugh confirmed after the game to reporters in Seattle that Bowman suffered a torn ACL.
Shortly thereafter, Bowman's emotional teammates vowed the 25-year-old would return.
Patrick Willis vowed to aid @NBowman53 on his recovery. "I'll be with him every step of the way."

— San Francisco 49ers (@49ers) January 20, 2014
Willis on @NBowman53 injury: "The bond that we have is so much deeper than the game we play."

— San Francisco 49ers (@49ers) January 20, 2014
After the game, Kearse told USA Today:
As for the play, here was Harbaugh's explanation of what he was told when he asked if he could review the fumble, according to USA Today:
---
---