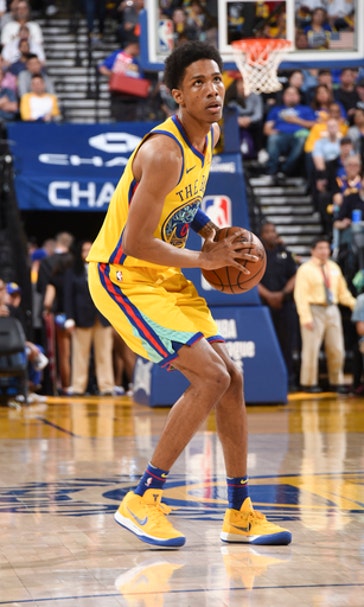 Warriors' McCaw injured in scary fall as team beats Kings
April 1, 2018
SACRAMENTO, Calif. (AP) In a silenced arena, two teams gathered together under the basket to pray for Patrick McCaw as Golden State's second-year guard was rushed away on a stretcher.
Basketball suddenly came second.
McCaw left late in the third quarter of the Warriors' 112-96 win over the Sacramento Kings on Saturday night after a scary landing following an undercut by Vince Carter that appeared unintentional.
For a night, the Warriors - already banged up and missing key faces such as Stephen Curry - weren't focused on their other injuries, seeding in the West or defending the NBA title.
''Basketball's cool but when it's something that affects everyday life it's tough to watch,'' Warriors forward Draymond Green said.
''Obviously everyone's worried. There's not really much we can do in that situation.''
McCaw was transported to UC Davis Medical Center for further evaluation, the team said.
He drove the baseline and went down with a thud with 41.8 seconds left in the quarter, hit in the lower body by Carter. McCaw lay still and in agony for about 10 minutes as the crowd quieted.
Carter, who was given a Flagrant-1 foul, knelt nearby as medical personnel from both teams along with Warriors coach Steve Kerr rushed out to the baseline beneath Golden State's basket.
''Vince felt awful and Pat was in extreme pain,'' Kerr said. ''Everybody felt bad. All we can do is just hope we get a positive response from the hospital.''
Players for both teams eventually came to the floor as McCaw was placed on a stretcher and wheeled away with his neck stabilized. McCaw, who appeared to be trying to dunk, did a scissor kick in the air over Carter's right shoulder before landing hard on his troublesome back.
Kerr swore and was visibly frustrated and hollered ''He knows better,'' referring to Carter, before going out to the court to check on McCaw. Carter, who approached the Golden State bench after the game to apologize, got close to McCaw and offered some words just before the stretcher was pulled away.
''He felt bad about the situation and whatever happened,'' Warriors center Zaza Pachulia said. ''You could tell from his reaction and the expression from his face. Class guy. Obviously it was a freak accident.''
Golden State star Kevin Durant had 27 points, 10 rebounds and five assists in his first full game back from a rib injury. Durant returned Thursday night against Milwaukee but got ejected just before halftime for using vulgarities.
Klay Thompson played Saturday following an eight-game absence with a broken right thumb and contributed 25 points on 10-for-19 shooting as the defending champions snapped a rare three-game losing streak.
Everything appeared peaceful outside Golden 1 Center, where police on horses and officers in riot gear surrounded the arena hours before tipoff. Protesters have joined hands at recent games following the shooting death by police of unarmed black man Stephon Clark on March 18.
Earlier Saturday, former Kings star and Sacramento native Matt Barnes organized a rally and pledged to create a scholarship fund for the children of black men killed by police.
Kerr found himself on the defensive before the game for not attending the rally after he pledged his organization's support to Clark's family and the community.
''I'm coaching the Warriors tonight and we're kind of busy today,'' Kerr said before adding, ''I think you guys know our team, we're very socially aware and active and we've got a lot of players who do a lot of good in the community and who care about what's going on. And we all care about what's happening here and we're very compassionate first and foremost to the Clark family but also to the community. We support the protests. Everybody in our organization wants to see a change and wants to see justice.''
De'Aaron Fox had 15 points and eight assists and reserve Buddy Hield scored 19 in the Kings' fourth straight loss.
After taking an elbow, Golden State's Shaun Livingston grabbed a driving Skal Labissiere with 4:40 left in the second quarter and tempers flared. Officials went to replay review and Livingston received a Flagrant 1.
TIP-INS
Warriors: F Omri Casspi missed playing against his former team, sitting out a seventh straight game with a sprained right ankle. ... Golden State won both meetings in Sacramento but lost twice to the Kings at home. ... The Warriors haven't lost four straight since Feb. 26-March 2, 2013.
Kings: Sacramento was trying to become the first Western Conference team since 2014-15 to beat Golden State three times in the same season. ... Sacramento signed F Nigel Hayes.
ANOTHER MARK
Golden State won 55 games for the fourth straight season, the 15th time it has happened in NBA history and first since the Spurs did so five consecutive times from 2012-2017.
WELTS TO HALL OF FAME
Warriors chief operating officer Rick Welts was named to the Naismith Memorial Basketball Hall of Fame, part of a 13-person class that also includes player development consultant and former MVP Steve Nash.
UP NEXT
Warriors: Host Phoenix on Sunday night, their second-to-last time playing on consecutive nights. The Warriors have beaten the Suns 13 straight times, 12 in a row at home.
Kings: At the Lakers on Sunday to open a stretch of four road games before ending the season at home against Houston.
---
More NBA basketball: https://apnews.com/tag/NBAbasketball
---
---