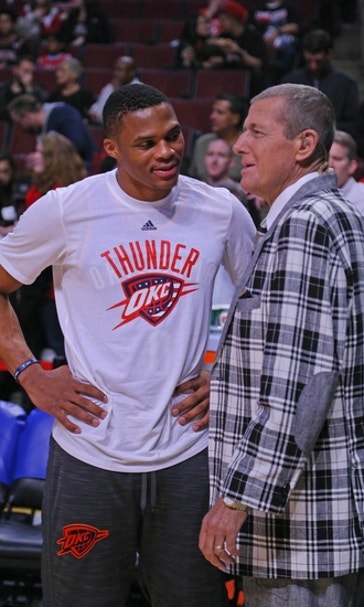 Views from OKC: Rest in Peace to a Legend
BY Fansided and Tony Heim/FanSided via Thunderous Intentions • December 16, 2016
Apr 30, 2016; San Antonio, TX, USA; TNT broadcaster Craig Sager waves to the fans during game one of the second round of the NBA Playoffs at AT&T Center. Credit: Soobum Im-USA TODAY Sports
Welcome to Views from OKC, Thunderous Intentions' daily roundup of the best OKC Thunder news across the web.
New to Views from OKC? Glad to have you here, and I hope you'll make this a daily destination. Well, let's get started!
Rest in peace Craig Sager
There's only one sports personality who my non-watching sports family would point out to me: Craig Sager. The best part about Sager? When going through the photos in our database, he has a smile on his face in every picture-even in the ones he has no clue he's being photographed. He may be gone, but his impact will never be forgotten. Rest in Peace Craig Sager.
Domantas Sabonis in a top-five rookie rankings
"In two seasons at Gonzaga, Domantas Sabonis was an energetic big man who used feel and positioning to score efficiently from the paint. Now in the NBA, Sabonis is a bundle of energy but his offense migrated from the interior to the perimeter. It's a significant, somewhat unexpected change, and it's actually working."
Want your voice heard? Join the Thunderous Intentions team!
Domas isn't putting up big statistics this season, so he's not getting much credit outside of Oklahoma City. Sabonis' career will be much more than a "floor spacer," but that is the role he is forced to play with this team. The fact that he's shot more threes in 26 games in the NBA than in his entire college career is testament to his quick learning curve. Watch out once his usage rate starts increasing over the next few seasons.
More from Thunderous Intentions
New CBA increases chance of keeping Russ
"With the proposed designated veteran rule, the Thunder may be able to offer him that number even earlier. ESPN's Zach Lowe says the first-year salary of a designated player can be up to 35 percent of the cap, or the equivalent of what a 10-year max player would receive in Year 1 of a contract."
The Thunder have been screwed by the CBA over the years. James Harden was traded because of a fear that they couldn't resign him; a new CBA increased salary caps significantly. Now this new "designated rule" is in response to KD leaving the Thunder and joining the super-team in Golden State. My only fear with this is the Thunder could be paying 35% of their cap to a 34-year old with diminished athleticism. I hate to be THAT guy, but that may not be the smartest move for OKC…
---
---