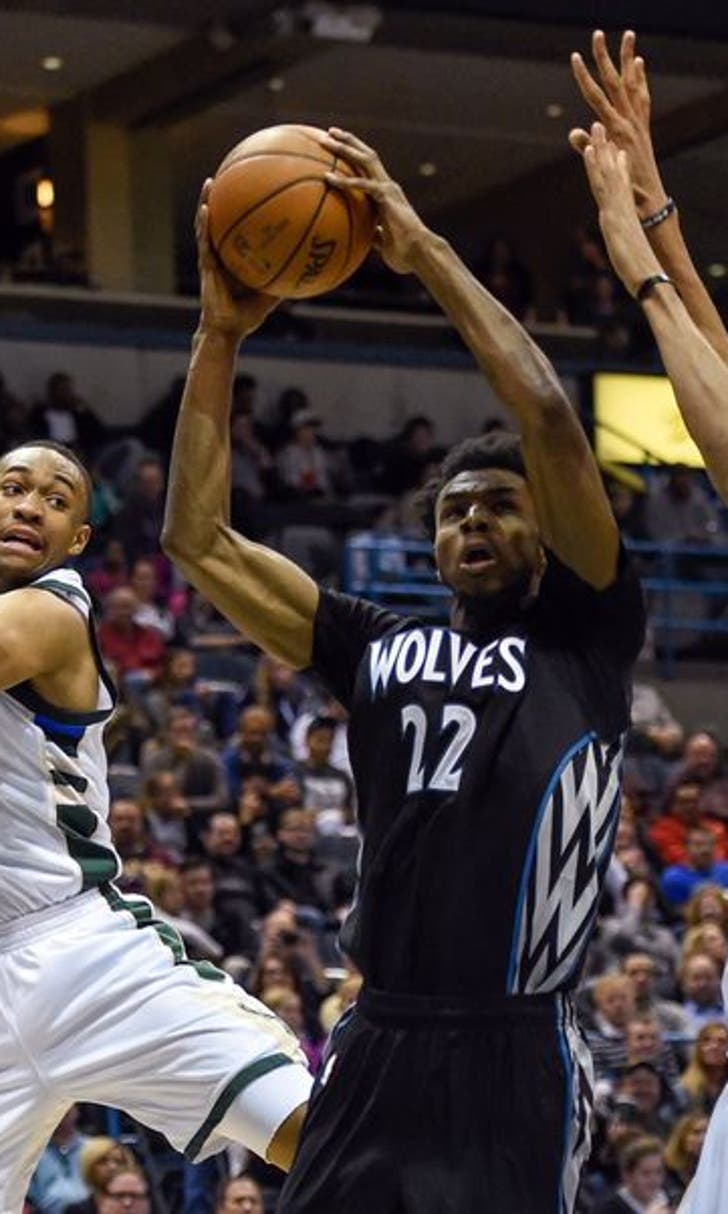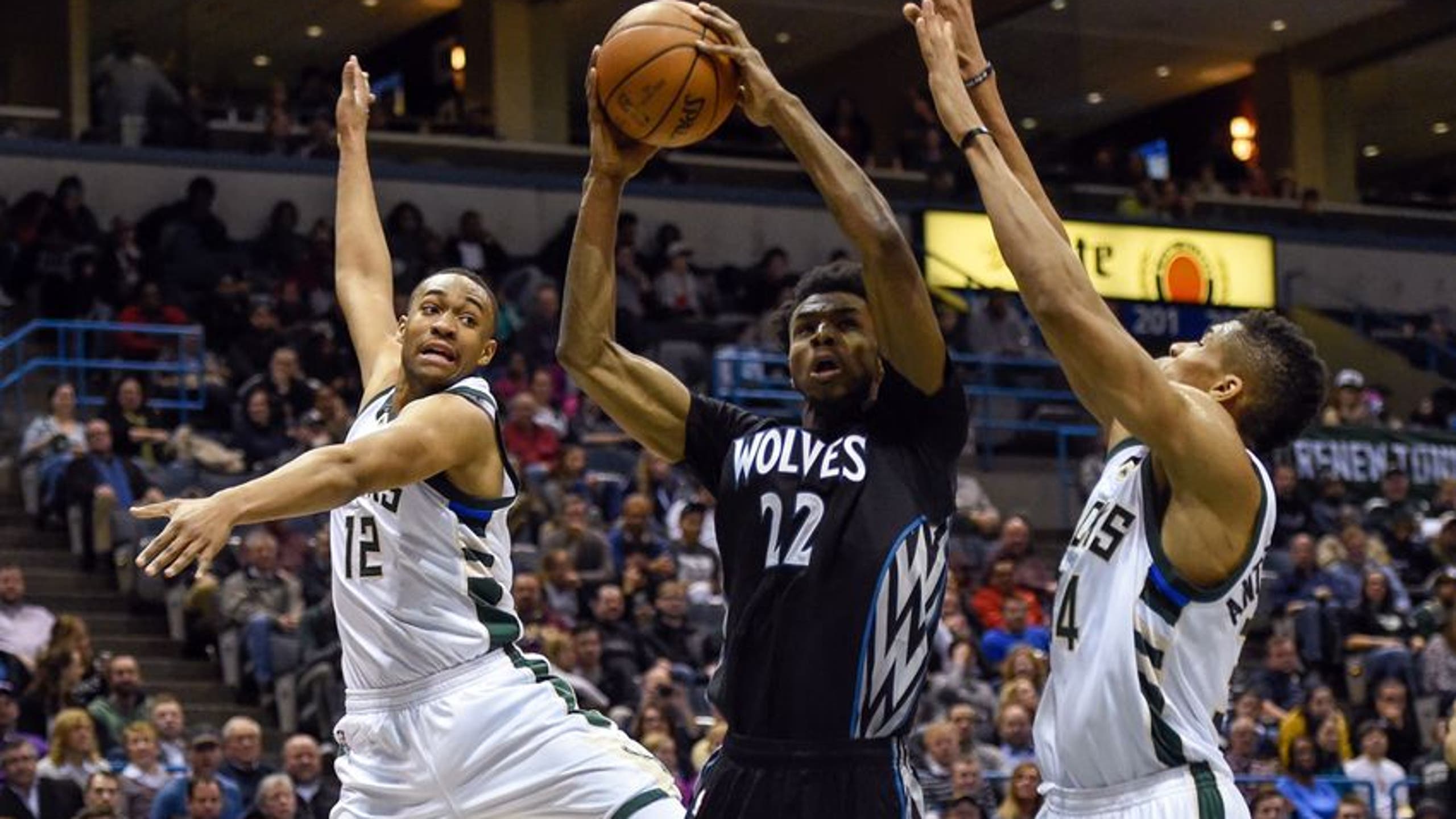 Timberwolves vs Bucks: Match-up of two young teams
BY Fansided and Alex Swendig/FanSided via Dunking with Wolves • December 30, 2016
Benny Sieu-USA TODAY Sports
The Timberwolves and the Bucks go up against each other on Friday in an exhibition of young, athletic talent.
The Bucks are a very similar team to the Timberwolves. Both teams have a very young, athletic roster. The Bucks, however, have been having a much better season than the Wolves.
Giannis Antetokounmpo has received a lot of buzz this season, including highlights and even MVP talk. Jabari Parker has also been playing well for the Bucks. Sure, they may have had an easier schedule than the Wolves, but their record stands at 15-15.
The Timberwolves are sitting at 10-22 in a disappointing season thus far. In the last game for the Wolves, a 105-103 loss to the Jazz, Karl Anthony-Towns had his first career triple-double, making him the youngest player in Timberwolves history complete the feat. While the game against the Jazz ended in a loss, the team played pretty well and hopefully they gained some confidence out of it.
Fan favorite Matthew Dellavedova, has not been having a very good season after signing in free agency. Despite this, I think he's a great fit for the Bucks. He's a good defender and is aware of everything happening on the floor a dangerous guy to be leading Giannis and Jabari.
The Timberwolves are not far out of the playoffs. The season might not being going well, but it isn't over. The Wolves defense needs to pick it up and offensive consistency needs to happen for them to acquire more wins. Hopefully, we see some of that in this game and the Wolves can get a win.
Mar 4, 2016; Milwaukee, WI, USA; Minnesota Timberwolves guard Ricky Rubio (9) gets a pass away from Milwaukee Bucks guard O.J. Mayo (3) in the second quarter at BMO Harris Bradley Center. Mandatory Credit: Benny Sieu-USA TODAY Sports
Minnesota Timberwolves Preview
Record: 10-22 (5-11 home, 5-11 road)
Starting Lineup
PG – Ricky Rubio (7.4 PPG, 7.2 APG, 4.3 RPG)
SG – Zach LaVine (21.0 PPG, 3.1 APG, 3.0 RPG)
SF – Andrew Wiggins (21.8 PPG, 4.2 RPG, 2.3 APG)
PF – Gorgui Dieng (10.5 PPG, 7.9 RPG, 1.3 BPG)
C – Karl Anthony-Towns (22.0 PPG, 11.3 RPG, 1.4 BPG)
Key Reserves
In the last win for Timberwolves, the bench did their part. The Wolves beat the Hawks 104-90 and the bench had a total of 23 points, which, for the Wolves, is a big deal. Shabazz Muhammad had 12 points and Nemanja Bjelica had eight points.
Games like this Wolves' win show how good they can be. Unfortunately, this usually isn't the case. Shabazz only averages 6.9 points per game and is shooting 27.8 percent from three. Bjelica only gets 5.9 points per game and shoots 39.3 percent from the field.
Kris Dunn is playing 17 minutes and only scoring 4.2 points per game. The bench seems to be a reoccurring topic before every game. Put simply, the bench needs to show up and be as consistent as possible when they relieve the starters.
Mar 4, 2016; Milwaukee, WI, USA; Minnesota Timberwolves guard Ricky Rubio (9) puts pressure on Milwaukee Bucks forward Giannis Antetokounmpo (34) in the first quarter at BMO Harris Bradley Center. Mandatory Credit: Benny Sieu-USA TODAY Sports
Milwaukee Bucks Preview
Record: 15-15 (10-7 home, 5-8 road)
Starting Lineup
PG – Matthew Delavedova (7.8 PPG, 5.6 APG, 2.4 RPG)
SG – Tony Snell (8.8 PPG, 4.1 RPG, 1.3 APG)
SF – Giannis Antetokounmpo (23.4 PPG, 9.0 RPG, 5.9 APG)
PF – Jabari Parker (20.3 PPG, 5.8 RPG, 2.4 APG)
C – John Henson (7.4 PPG, 5.5 RPG, 1.5 BPG)
Key Reserves
The Milwaukee Bucks have an interesting group of reserves. Their bench receives significant minutes compared to the Wolves' bench.
Greg Monroe is a big piece of the Bucks' bench. He plays 19 minutes with 9.7 points per game. Michael Beasley scores 8.2 points per game for the Bucks shooting 50.6 percent from the field.
Malcolm Brogdon, the rookie shooting guard, has been scoring 7.9 points per game while shooting 43. 8 percent from deep. On top of these numbers, he's had a few highlight dunks including a poster over LeBron James.
Milwaukee's bench has some big weapons and guys that can spark an offense. The Wolves cannot get comfortable when the Bucks reserves on the floor.
Oct 23, 2015; Minneapolis, MN, USA; Milwaukee Bucks forward Giannis Antetokounmpo (34) dunks in the third quarter against the Minnesota Timberwolves at Target Center. The Minnesota Timberwolves beat the Milwaukee Bucks 112-108. Mandatory Credit: Brad Rempel-USA TODAY Sports
Three Things to Watch
1. How the Wolves defend Giannis. The biggest worry for the Wolves in this game is going to be the Greek Freak. How they plan on guarding Antetokounmpo is going to be key in a Wolves win.
Giannis is long, quick, and virtually unstoppable on the floor. If the Wolves can slow him down, cause him to pass less and take low percentage shots, then they'll have a chance of winning.
2. Gorgui Dieng's performance. In Wednesday's game against the Nuggets, Dieng scored 20 points, with eight rebounds and making 9 of his 11 shots. For much of this season, he hasn't been a scoring threat. Most of the scoring for the Wolves has been done by Towns, Wiggins, and LaVine.
How this performance on Wednesday translates over to this game against the Bucks could mean a great deal. The scoring load can, at least partially, be lifted from Wiggins and LaVine and they can take more high percentage shots when Dieng scores well.
3. Poor three-point shooting. The Bucks and the Timberwolves are among the teams that shoot hardly any threes compared to the rest of the league. The Bucks rank 27th in the league in threes made, while the Timberwolves rank 26th. Both teams have a fairly average three-point percentage; they just don't shoot them very often.
Dec 28, 2016; Denver, CO, USA; Minnesota Timberwolves head coach Tom Thibodeau during the second half against the Denver Nuggets at Pepsi Center. The Nuggets won 105-103. Mandatory Credit: Chris Humphreys-USA TODAY Sports
Game Prediction
The Bucks are a good team; don't sleep on them. They've beaten some good teams this season and are sitting in the playoff picture in the Eastern Conference.
The Timberwolves look good going into this one overall. The Wolves have a little more talent than the Bucks, but hopefully they can finish. Timberwolves fans can't handle any more leads blown in the second half.
The Wolves will win this game by a final score of 106-102.
More from Dunking with Wolves
This article originally appeared on
---
---