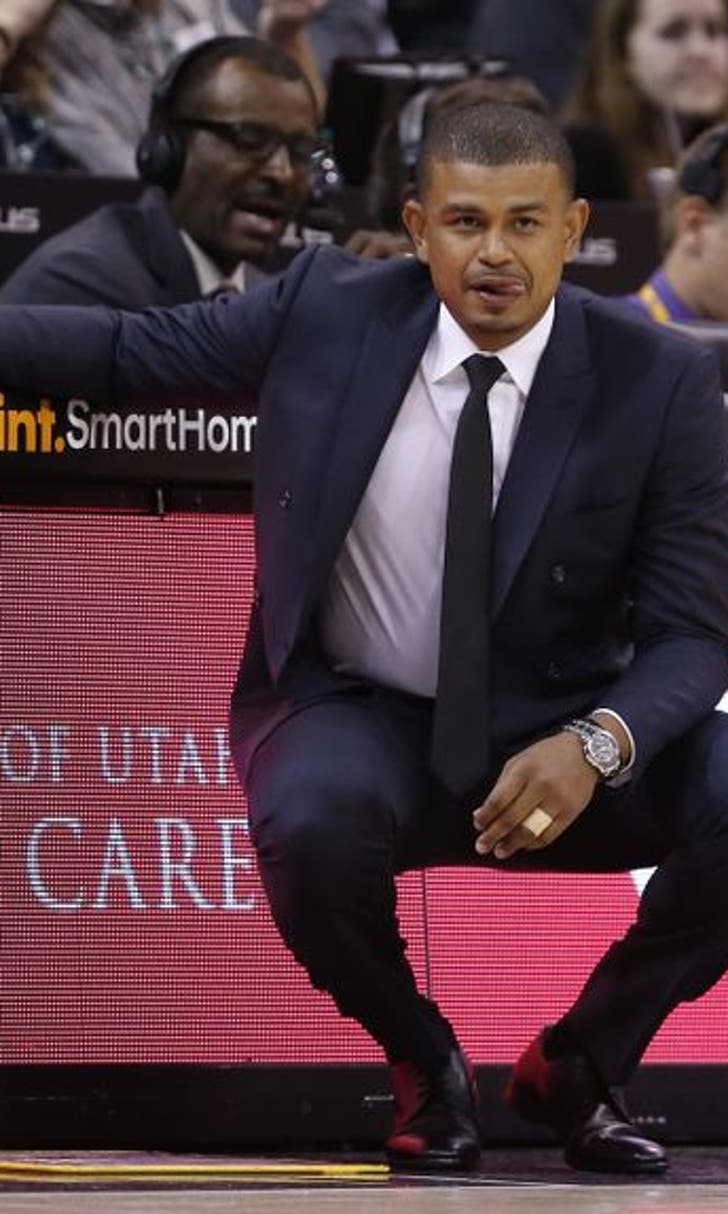 New York Knicks: Earl Watson Praises Carmelo Anthony
BY Fansided and Maxwell Ogden/FanSided via Daily Knicks • December 14, 2016
Carmelo Anthony struggled against the Phoenix Suns, but head coach Earl Watson still had incredibly high praise for the New York Knicks star.
---
Carmelo Anthony is coming off of one of the worst two-game shooting stretches of his NBA career. Between the games against the Los Angeles Lakers and Phoenix Suns, Anthony has shot a combined 7-of-31 from the field and 0-of-6 from 3-point range.
For as poorly as he's shot the ball, Anthony is still commanding the respect and fear that a scorer of his caliber deserves.
It's worth noting that Anthony went off for 33 points in the outing prior to this two-game stretch. Unfortunately, he shot just 3-of-15 from the field during the Knicks' 113-111 overtime loss to the Suns.
Following what was easily Anthony's most difficult outing of the 2016-17 NBA regular season, Suns head coach Earl Watson gave him extraordinary praise.
Whether or not he's truly the best, it's a widespread belief around the NBA that he ranks amongst the league's elite 1-on-1 players.
Through 25 appearances in 2016-17, Anthony is averaging 22.0 points and 1.9 3-point field goals made per game. He's doing so on a slash line of .421/.327/.865, with his field goal and 3-point field goal percentages sitting well below his career percentages.
In what lends credence to Watson's belief and statement, however, Anthony is No. 3 in the NBA in points via isolation possessions per game.
Anthony's 5.3 points via isolation possessions per game rank behind just Harrison Barnes at 5.6 and James Harden at 5.4. Anthony is also No. 3 in the Association in field goal attempts in isolation per game.
Anthony is shooting 41.5 percent from the field on said possessions, which is the fourth-best mark of the players in the Top 5 in isolation points per game.
Beyond the numbers, Anthony has the uncanny ability to take on a defensive player and beat them in a seemingly infinite number of ways. He can shoot from midrange and beyond the arc, go to the post, drive baseline, cut back to the middle, finish above the rim, and has a ridiculous turnaround.
Regardless of where you rank Anthony amongst the best isolation scorers in the NBA, it's clear that he's one of the league's elite in that regard.
A scoring title and a ranking of No. 29 on the all-time scoring list supports that belief.
More from Daily Knicks
This article originally appeared on
---
---