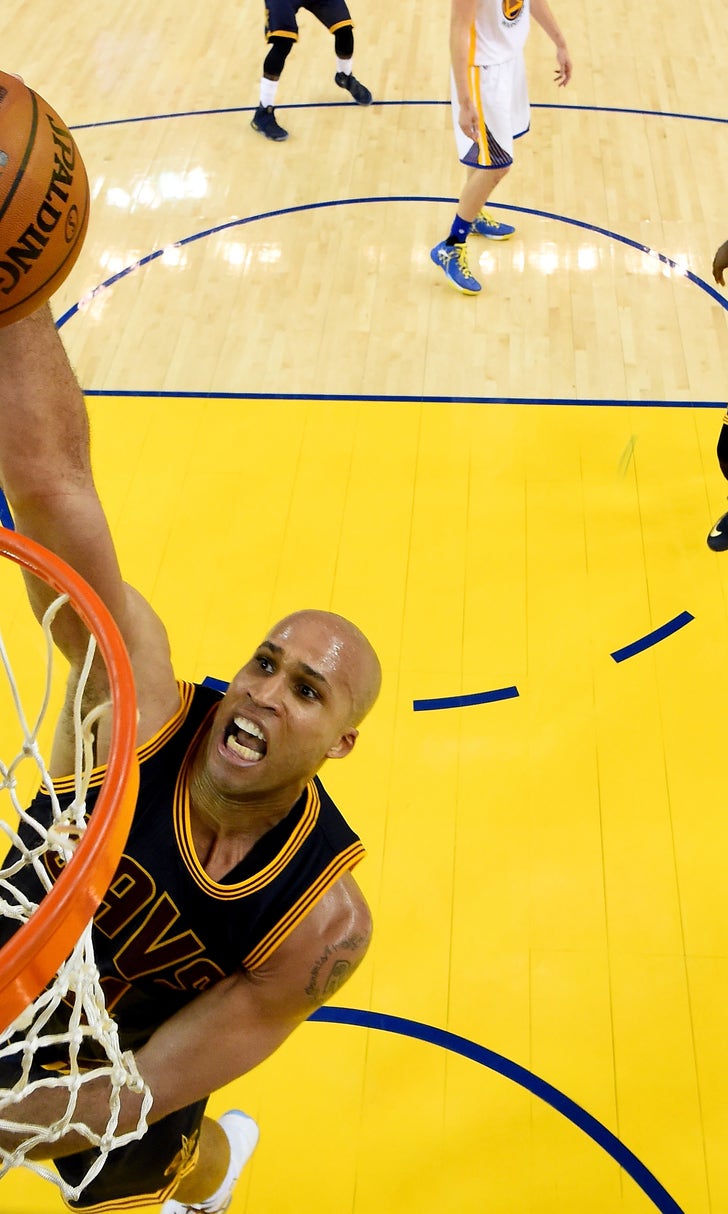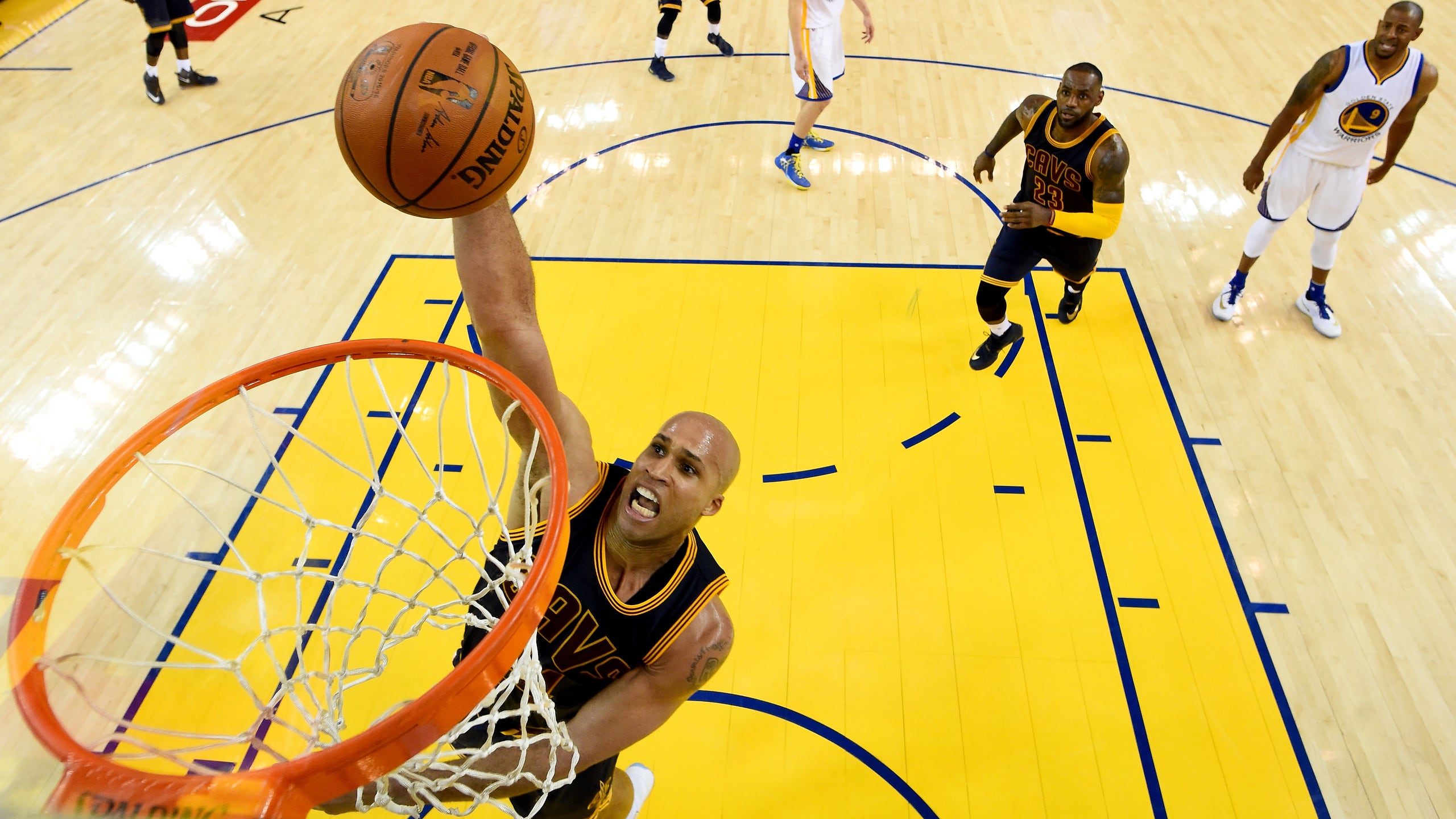 NBA Power Rankings: Cleveland Cavaliers ruin Christmas
BY Fansided and Brandon Jefferson/Fansided • December 28, 2016
Christmas has come and gone in about a blink of an eye — or about the same amount of time it takes for Richard Jefferson to get a taunting technical. While many fans were unwrapping the latest gizmos and gadgets that Santa Claus delivered, the NBA gave us five games to whet our appetite for the rest of the season.
In the marquee game, a rematch of the last two NBA Finals, the Cleveland Cavaliers were able to fight back from a late 14-point deficit to upend the Golden State Warriors at home. The final possessions had some questionable calls and non-calls (shouts to the Last 2 Minute Report), but the matchup lived up to the hype and then some.
Elsewhere, we saw the Boston Celtics and New York Knicks go down to the wire, the San Antonio Spurs handle the Chicago Bulls with ease, a 30-point and 15-assist performance from Russell Westbrook carried the Oklahoma City Thunder to a double-digit win over the Minnesota Timberwolves, and to cap it off the Los Angeles Lakers played the role of the Grinch and snatched away a victory from a Los Angeles Clippers team that was playing without Chris Paul and Blake Griffin. With the new year fast approaching, let's take a look at where the 30 NBA teams stand heading into 2017.
30. Brooklyn Nets (8-22)
There really isn't much to say here. Kenny Atkinson has seemingly had enough of coaching to win every game as the young players are starting to get more and more run for this team, which is probably best for their future.
29. Philadelphia 76ers (7-23)
TRUST. THE. PROCESS.
28. Dallas Mavericks (9-22)
Even though the Dallas Mavericks might not have the worse record in the league, some of their cheap shots against the Houston Rockets last night were pretty low. Dallas will continue to hang around the bottom of these rankings for the remainder of the year. The only questions for this team are how many games Dirk Nowitzki will play and who will they trade Andrew Bogut for at the deadline.
27. Phoenix Suns (9-22)
The Phoenix Suns are well on their way to garnering another high lottery pick and if they keep playing this way they'll waltz right back into the top of the lottery. This is a team that will likely move some of their veterans at the deadline to get the full feel on just exactly what they have in their young pieces.
26. Minnesota Timberwolves (10-21)
Year one under Tom Thibodeau isn't going as expected for the young Minnesota Timberwolves. Zach LaVine and Karl-Anthony Towns have looked the part on the offensive end, but the main problem for this team has been adjusting to the strict "ICE!" principles of Thibs defensive schemes.
25. Miami Heat (10-22)
Just like the rest of us, the Miami Heat watched in awe as Russell Westbrook torched them for his 15th triple-double of the season. Hassan Whiteside and his max contract got thoroughly roughed up by Steven Adams. The lottery will be here soon enough South Beach residents.
24. New Orleans Pelicans (12-21)
Anthony Davis can only do so much for your team. The Pelicans have been much better, but they still can't tally up consecutive wins as of yet. The Alvin Gentry era hasn't gone as planned and if it keeps on the downward trajectory it won't last much longer.
23. Los Angeles Lakers (12-23)
Even with their Christmas Day win, the Los Angeles Lakers have gone 2-13 in the entire month of December. Their hot start is way off in the rearview mirror and Luke Walton's coach of the year hopes are even further back down the road than that.
22. Orlando Magic (15-18)
The fact that this team still has the hope of making the playoffs is comical. If their GM has smartened up from the summer they can make a move or two and actually field a team that makes sense.
21. Portland Trail Blazers (13-20)
The Portland Trail Blazers bet on themselves this summer and so far that bet has yet to pay off. Damian Lillard and CJ McCollum have been great again, but they haven't consistently gotten help from the rest of their roster.
20. Washingon Wizards (14-16)
John Wall needs to be freed. Let the Washington Wizards become Bradley Beal's team and let us all watch him beautifully stroke the ball from the perimeter 20-25 times a night –though he probably won't make more than 11 of those 25 shots.
19. Denver Nuggets (13-18)
WILL THE REAL NIKOLA JOKIC PLEASE STAND UP?! The second-year player is back to looking like the guy we all analytically fell in love with a year ago. Some of his passes are just down right artistic. This team will definitely be connected to many rumors in February as they are loaded with tradable pieces.
18. Detroit Pistons (15-18)
The Detroit Pistons stopped hating each other long enough to push the Golden State Warriors to the brink. However, things could blow up just as quickly in this team's face. Finding the right balance between shot creation and playmaking will go a long way for Reggie Jackson.
17. Chicago Bulls (15-16)
The Rajon Rondo signing is already a failure for the Chicago Bulls. The hope is that they'll be able to unload him on some poor sap by the trade deadline. Meanwhile, the Marquette connection between Dwyane Wade and Jimmy Butler is powering this team to a potential playoff run.
16. Sacramento Kings (14-17)
This new power rankings format means no more guaranteed creative DeMarcus Cousins' reaction images unless the Sacramento Kings find a way to make it into the top-15. However, Cousins' 55-point ejection rescinded game against the Portland Trail Blazers might just be the most Boogie thing that Boogie has ever done in the NBA.
And now let's get to teams 15-1.
Brian Spurlock-USA TODAY Sports
Indiana Pacers
15-17
Last week: 0-2Last rank: 18th
Paul George might think that the NBA sees his team as the "little brother" of the league, but they still have problems with inconsistency to work out before they hit the big stage. The Indiana Pacers have been swinging back and forth more than a pendulum over their first 32 games. They'll look good for a stretch and make you believe that the chemistry is coming together and then look like they've never played with each other before. George's play has been on the same type of up-and-down swing over the course of the season. During the Pacers current three-game losing streak, George has failed to score over 20 points in any of those contests. In order for Indiana to make the postseason they are going to need to get All-Star and possibly All-NBA level production from their superstar. They must improve and continue to find the right cohesion if they are going to get themselves into the playoffs. Indiana needs to be able to start stringing together wins and soon or they'll be toughing it out down the stretch in hopes of making noise in the postseason once again.Next: 14. Bucks
MILWAUKEE, WI – APRIL 05: Giannis Antetokounmpo
Milwaukee Bucks
14-15
Last week: 1-2Last rank: 15th
I have been doubtful of the Milwaukee Bucks all season long, but their play against the Cleveland Cavaliers has started to turn my opinion around on them. Now, I know that it is easier for teams to play their best and hardest against the top competition, but the Bucks have really given the Cavs all that they can handle in their few matchups this season. Giannis Antetokounmpo is a lock for his first All-Star selection this season –PLEASE FANS (and now media too) VOTE HIM IN AS A STARTER!– and Jabari Parker is finally looking like the player we thought he would be coming out of Duke in 2015. Milwaukee still needs to find consistent 3-point shooting on the floor, which would open the floor even more for Antetokounmpo and Parker, and until they do this team will always have an elephant in the room when they face the creme de la creme of the NBA. Milwaukee has the workings of a team that could give one of the higher seeded teams a hard-fought test in a playoff series. With Antetokounmpo and Parker looking like they could only get better –if even one of them adds a 3-point shot to their repertoire then it'll be scary to see what they can do in the future.Next: 13. Hawks
Jason Getz-USA TODAY Sports
Atlanta Hawks
15-16
Last week: 1-2Last rank: 14th
After suffering through a seven-game losing streak from the end of November through early December, the Atlanta Hawks have evened things out of late. Of their last nine games they have won five of them, including two big wins over the Oklahoma City Thunder and Toronto Raptors. The talent is there for this team and while missing Dwight Howard every couple of games doesn't help their cause right now, it is the team's hope that in the long run it'll mean a healthier big man for the postseason. The addition of Howard has done more than enough to make up for the loss of Al Horford, but it's been the play of Dennis Schroeder and Kent Bazemore that really has been the pulse of this team this season. Bazemore has been up-and-down all season and if he's ever able to find a rhythm from outside (he's shooting 27.6 percent on 3-pointers this year) than Atlanta could easily vaunt themselves back into contention for home-court advantage. The Hawks are a team that can go on an extending winning streak at any time. Mike Budenholzer has this team well prepared and geared up for success. As long as this team stays true to who they are then they will be right in the thick of things in the Eastern Conference.Next: 12. Knicks
Adam Hunger-USA TODAY Sports
New York Knicks
16-14
Last week: 1-1Last rank: 13th
The New York Knicks made their Christmas day matchup against the Boston Celtics interesting for the Madison Square Garden faithful, but they were frustratingly unable to take home a win. It feels like that's been the story of their season so far. They get close enough to hang around with some of the best teams, but are unable to seal the deal at the end of games. The Joakim Noah signing might not be working out on the court the way Phil Jackson imagined this offseason –and Knicks fans you have three more years of Noah to look forward to– yet it's the play of offseason acquisitions Derrick Rose, Courtney Lee, Brandon Jennings, Mindaugas Kuzminskas, WIlly Hernangomez, and Justin Holiday that have made a big impact on how this team has looked in the last two years. Jackson and Los Angeles Lakers' president Jeanie Buss' announcement that they have separated might be a signal that Phil is here to stay in New York. Kristaps Porzingis also fully transforming into a unicorn hasn't hurt either. The Knicks have cemented themselves as playoff contenders this season and as long as they can avoid any injury issues than postseason basketball will be back in the mecca of basketball once again this year.Next: 11. Hornets
Jeremy Brevard-USA TODAY Sports
Charlotte Hornets
17-14
Last week: 1-1Last rank: 11th
The Charlotte Hornets are just fine with flying under the radar this season. Kemba Walker has revived Cardiac Kemba and is now making the Hornets into his professional version of his National Championship UCONN Huskies team. Walker is doing it all for Charlotte offensively and thanks to the work of Steve Clifford and the skill of players like Michael Kidd-Gilchrist and Nic Batum their defense is playing at an elite level. Michael Jordan's reputation as an owner is slowly taking a jolt upwards as the sustained success in Charlotte is wiping away some of the years of ineptitude in the nation's capital. Since I still have yet to do my due diligence and watch multiple Hornets games, I decided to recklessly project what changes the Hornets could make to improve their team and make them a true threat. During my thinking one name flashed to the forefront: Andrew Bogut. I'm not sure what assets they'll need to ship to the Dallas Mavericks (first round picks? Jeremy Lamb? Cody Zeller?), but if they are able to get a rim protector like Bogut to man the middle of Clifford's suffocating defense they could be a real hassle to score on going forward. I think now's the time for Jordan and Rich Cho (who should probably get more credit for this turnaround than the GOAT) to make a move that helps them be more than just a playoff team both now and for the future.Next: 10. Celtics
Brian Spurlock-USA TODAY Sports
Boston Celtics
19-13
Last week: 3-1Last rank: 9th
When fully healthy, the Boston Celtics have a 12-4 record. Only the Golden State Warriors (.843), San Antonio Spurs (.806), and Cleveland Cavaliers (.766) have better winning percentages on the season. As long as injuries don't start popping up again then the Celtics could reasonably challenge the Toronto Raptors for the second seed in the Eastern Conference at season's end. Isaiah Thomas is still finding new and creative ways to knife his way into the lane and score around the rim. Al Horford has been about as good as advertised since signing with Boston over the summer. However, as mentioned with the Charlotte Hornets on the previous slide, the time feels ripe for the Celtics to make some trades and sure up this roster for the long run. It seems like some of the lust in wearing off of their tradeable assets and if they hold on to them any longer they might not be able to get fair value in return for the the young players and draft picks that they have hoarded over recent years. Blake Griffin suffering another mid-Winter injury might be enough to soften Doc Rivers' stance on moving one of his core four players as early as this February. If not Griffin then maybe they can pry away a better rotation player than Marcus Smart from some faltering team or a franchise looking to make a change in an attempt to save their own necks.Next: 9. Thunder
Derick E. Hingle-USA TODAY Sports
Oklahoma City Thunder
20-12
Last week: 4-0Last rank: 10th
In just one year, the Oklahoma City Thunder have gone from feeling like the unluckiest team in the NBA (James Harden trade, consecutive injuries to Russell Westbrook, Serge Ibaka, and Kevin Durant, Durant leaving due to a random cap spike) to the luckiest one. Westbrook was able to earn additional money by signing an extension with the Thunder this offseason, then the new Collective Bargaining Agreement allows them to extend Westbrook again AND give him $200 million, finally an injury to Victor Oladipo has allowed them to go deeper in their rotation and allow players like Joffrey Lauvergne and Alex Abrines to shine off the bench. Much like the force in the Star Wars franchise, the Thunder's luck has balanced itself once again and Westbrook is riding the coattails of the change in luck to an unprecedented MVP-caliber run this season. Through 32 games he has notched 15 triple-doubles –the most triple-doubles recorded in a single season is 41 by Oscar Robertson (during the season he averaged a triple-double). If he keeps up at this rate he would finish the year with about 38, which would be good for second most all-time. Meanwhile, he's currently averaging a triple-double on the year (league-leading 31.7 PPG, 10.9 APG, and 10.4 RPG) and has shown no signs of slowing down. If Westbrook can get the necessary help from the likes of Oladipo, Steven Adams, and Enes Kanter this team will end the season very close to hitting the 50-win mark.Next: 8. Jazz
Kyle Terada-USA TODAY Sports
Utah Jazz
19-13
Last week: 1-3Last rank: 8th
Just like the Boston Celtics, the Utah Jazz have been hurt more by injuries this year than by anything their opponents have done. They began the year very deep at guard, but are now without Alec Burks (out since late September following knee and ankle surgeries), George Hill (out since December 1st with a left toe sprain), and Dante Exum (out since December 21st with patella tendinitis in his right knee). Those three players being down leaves them with Shelvin Mack, Raul Neto, Joe Ingles, Rodney Hood and Gordon Hayward as their guard options. Hood and Hayward are more than capable of playing heavy guard minutes, but the other three names leave the team less than enthused. What works in the Jazz's favor is that they play at the slowest pace in the entire NBA and the fact that they have Rudy Gobert. Playing slow means less taxing minutes on a smaller rotation and having Gobert means that they'll always be able to defend the rim regardless of who's on the court with him. This team has done well to hang around just high enough in the standings that once their roster returns to full strength they'll have a shot to move their way up in the playoff picture.Next: 7. Grizzlies
Derick E. Hingle-USA TODAY Sports
Memphis Grizzlies
20-14
Last week: 2-2Last rank: 6th
It's about three weeks later and I still don't know how to describe what exactly is going on with the Memphis Grizzlies this year. They have been hit by all types of injuries and mostly to their top players, but have been able to do more than just stay afloat. Last night, they were without Mike Conley again, but they would drop another game against the Boston Celtics. David Fizdale has now snatched the coach of the year award away from Luke Walton and is showing no signs of ever giving it back. The first-year head coach has made the proper tweaks and adjustments with this roster in order to make them a team capable of hanging with anyone –this includes 21-point win over the Golden State Warriors WITHOUT Conley and Chandler Parsons. Parsons, after missing 16 consecutive games, has played in the team's last three games and nine out of the team's 34 games so far. Marc Gasol, 3-point superstar, is here to stay and I for one am completely on board with this. Gasol's injury-plagued season a year ago saw him get put on the backburner in terms of best big men in the NBA, but he is earning all of his brownie points back this year. Lastly, for all of you folks oohing and aweing over what Richard Jefferson did to Kevin Durant and Klay Thompson on Christmas, I suggest you go check out what Vince Carter has been doing for the Grizzlies this year at the ripe old age of 39 (he turns 40 on January 26).Next: 6. Clippers
Kim Klement-USA TODAY Sports
Los Angeles Clippers
22-11
Last week: 2-3Last rank: 5th
In what may be their final year together, the Los Angeles Clippers core four players are seemingly falling apart one final own. Blake Griffin is out. Chris Paul and JJ Redick are day-to-day. DeAndre Jordan was involved in a minor car crash yesterday, but is reportedly okay. While the Clippers have been able to remain competent with one of Paul or Griffin sidelined they have been pretty putrid when both players have missed time. As much as Basketball Twitter would love to see Austin Rivers play 30-plus minutes a game, it is likely to drive head coach Doc Rivers insane in the very near future. If Paul isn't out for too many games these worries of mine become non-valid, but depth has never been a key ingredient in any Doc Rivers' led team. Like we saw in the postseason last year the Clippers just aren't the same team without Paul and Griffin out there. It may be time for Rivers to look into cashing in on one the Paul/Griffin/Jordan trio's trade value, but if all anyone wants to offer is cents on the dollar then the best move for this team might be to just play it out as is. It will be interesting going forward to see if any pressure of the impending free agency of Paul and Griffin will force Rivers hand into making a move.Next: 5. Rockets
Troy Taormina-USA TODAY Sports
Houston Rockets
23-9
Last week: 2-1Last rank: 4th
James Harden is leading the league in assists (11.9 APG) and has the no defense Mike D'antoni coached Rockets cruising towards home court advantage in the playoffs. With that being said allow me to impart this knowledge upon your heads. JAMES HARDEN FOR MVP. JAMES HARDEN FOR MVP. JAMES HARDEN FOR MVP. JAMES HARDEN FOR MVP. JAMES HARDEN FOR MVP. JAMES HARDEN FOR MVP. JAMES HARDEN FOR MVP. JAMES HARDEN FOR MVP. JAMES HARDEN FOR MVP. JAMES HARDEN FOR MVP. JAMES HARDEN FOR MVP. JAMES HARDEN FOR MVP. JAMES HARDEN FOR MVP. JAMES HARDEN FOR MVP. JAMES HARDEN FOR MVP. JAMES HARDEN FOR MVP. JAMES HARDEN FOR MVP. JAMES HARDEN FOR MVP. JAMES HARDEN FOR MVP. JAMES HARDEN FOR MVP. JAMES HARDEN FOR MVP. JAMES HARDEN FOR MVP. JAMES HARDEN FOR MVP. JAMES HARDEN FOR MVP. JAMES HARDEN FOR MVP. JAMES HARDEN FOR MVP. JAMES HARDEN FOR MVP. JAMES HARDEN FOR MVP. JAMES HARDEN FOR MVP. JAMES HARDEN FOR MVP. JAMES HARDEN FOR MVP. JAMES HARDEN FOR MVP. JAMES HARDEN FOR MVP. JAMES HARDEN FOR MVP. JAMES HARDEN FOR MVP. JAMES HARDEN FOR MVP. JAMES HARDEN FOR MVP. JAMES HARDEN FOR MVP. JAMES HARDEN FOR MVP. JAMES HARDEN FOR MVP. JAMES HARDEN FOR MVP. JAMES HARDEN FOR MVP. JAMES HARDEN FOR MVP. JAMES HARDEN FOR MVP. JAMES HARDEN FOR MVP.Next: 4. Raptors
Jeff Swinger-USA TODAY Sports
Toronto Raptors
22-8
Last week: 2-0Last rank: 7th
I don't know if it was American foolery or bias, but I have to admit that I have had the Toronto Raptors ranked pretty low in the last few iterations of my power rankings. Maybe it was the Cleveland Cavaliers Christmas victory over the Golden State Warriors, or Chris Paul and Blake Griffin dropping like flies for the Los Angeles Clippers, but I have finally opened my eyes to the wonderfulness that is the Kyle Lowry-DeMar DeRozan bromance. I want them to make a Bad Boys style movie about them. I want them to remake Step Brothers. I want the to be the only people allowed to use Instagram's new live story feature. Just give me more Lowry and DeRozan until I can't take it anymore, which of course will be never. DeRozan has kept up his nothing short of incredible mid-range shooting and Lowry is finding his shot at just the right time. While their team might be a move or two away from really challenging any of the three teams ranked ahead of them, they will definitely finish the year with one of the five best records in the entire league. As long as Lowry and DeRozan are around, "We The North", Jurassic Park, and Drake courtside antics will be part of the NBA fan vocabulary for the remainder of the season.Next: 3. Spurs
Brad Rempel-USA TODAY Sports
San Antonio Spurs
25-6
Last week: 2-1Last rank: 2nd
Rinse. Wash. Repeat. That's the way things seem to be going for the San Antonio Spurs over multiple decades. Rinse, equals find a generational type talent (David Robinson, Tim Duncan, Kawhi Leonard). Wash equals find castoffs from other teams and turn them into rotation pieces (Danny Green, Patty Mills, Dewayne Dedmon). Repeat, equals winning. The Spurs have found a way to repeat the simple act of just winning games. The sentiment of Tim Duncan's jersey retirement overshadowed just how well this team has been playing of late. In their last 11 games they've only lost two games (road games against the Chicago Bulls and Los Angeles Clippers). They avenged their loss to the Bulls on Christmas Day by walking away with a 19-point win. Leonard and LaMarcus Aldridge are in full control of this team now and Mills might even be more crucial to this team than Tony Parker at this point. This new Aldridge, Leonard, Mills golden trio probably isn't enough to get them another NBA championship, but it's good enough to keep them at the top of the tier right below the Golden State Warriors and the Cleveland Cavaliers. You never know what could happen when Gregg Popovich is manning the sidelines for your team and many a men have made the mistake of doubting the Spurs before so proceed with caution when digging this team's grave.Next: 2. Warriors
Justin Ford-USA TODAY Sports
Golden State Warriors
27-5
Last week: 3-1Last rank: 1st
If anyone deserves to go on a DeMarcus Cousins style rant about being wronged by officials and opponents, it's Draymond Green. The best part is that it is more likely than not that we will eventually get said rant out of Green in the near future. During the Christmas day game against the Cleveland Cavaliers, the referees seemed to be on a witch hunt to find ways to call fouls against the loud-mouth big man. However, whether or not officials hate Green, isn't going to take away from the fact that, as Klay Thompson said, the Warriors gave the Cavaliers a gift on Christmas. After battling back and forth for most of the game, Golden State was able to build a 14-point lead with under six minutes to play. The Warriors must've thought they had the game well in hand at that point as the rest of the game consisted of turnovers, careless passes and unenergized defensive efforts. Kevin Durant might've gotten fouled on that final play, but it still doesn't excuse the fact that with one timeout remaining the team was unable to get off a shot on their last possession. A lot of the talk following the game has been about Steph Curry and how he's adjusting to life with Kevin Durant. While, many have said that Curry has been most affected in terms of shots and production, I think this is getting overblown because of one bad performance in the season's most watched game. Curry is still shooting 40 percent from three (ridiculous) and scoring in the mid-20s on average. With a trio of shooters as deadly as Thompson, Durant, and Curry there are going to be nights when one of them don't need to score as much as we've grown accustomed to them doing in the past.Next: 1. Cavaliers
Kyle Terada-USA TODAY Sports
Cleveland Cavaliers
23-7
Last week: 3-1Last rank: 3rd
Kyrie Irving is a Jedi knight and no one will convince me otherwise. Kyrie Irving is steadily moving up the list of "guy I want to have the ball on the final play" list. His game winner in Game 7 of the 2016 NBA Finals is still the biggest shot of his career, but it had to cut deep at the Golden State Warriors to once again lose a game on an Irving jumper. With J.R. Smith sidelined with a broken hand the Cavaliers have turned to DeAndre Liggins and his length and aggressive defense on Steph Curry were huge keys to their Christmas win. Kevin Love is finally looking comfortable with this team. His improved play has allowed him to remain on the floor when the Warriors go small and if he keeps that up we'll be in for a hell of a NBA Finals once again. LeBron James random rest is approaching soon and if I were a betting man I would think that he might venture elsewhere besides Ohio or Florida for his break. James has always been forthcoming in his praise of Kobe Bryant and with the Black Mamba likely still waking up 5 AM to workout I think we see James head off to California for some one-on-one time with Bryant as part of his break this year. Though the win in the Finals rematch is a huge boost for this team they need to be careful to avoid complacency as the Toronto Raptors only sit one game behind them in the Eastern Conference standings.
More from FanSided
This article originally appeared on
---
---