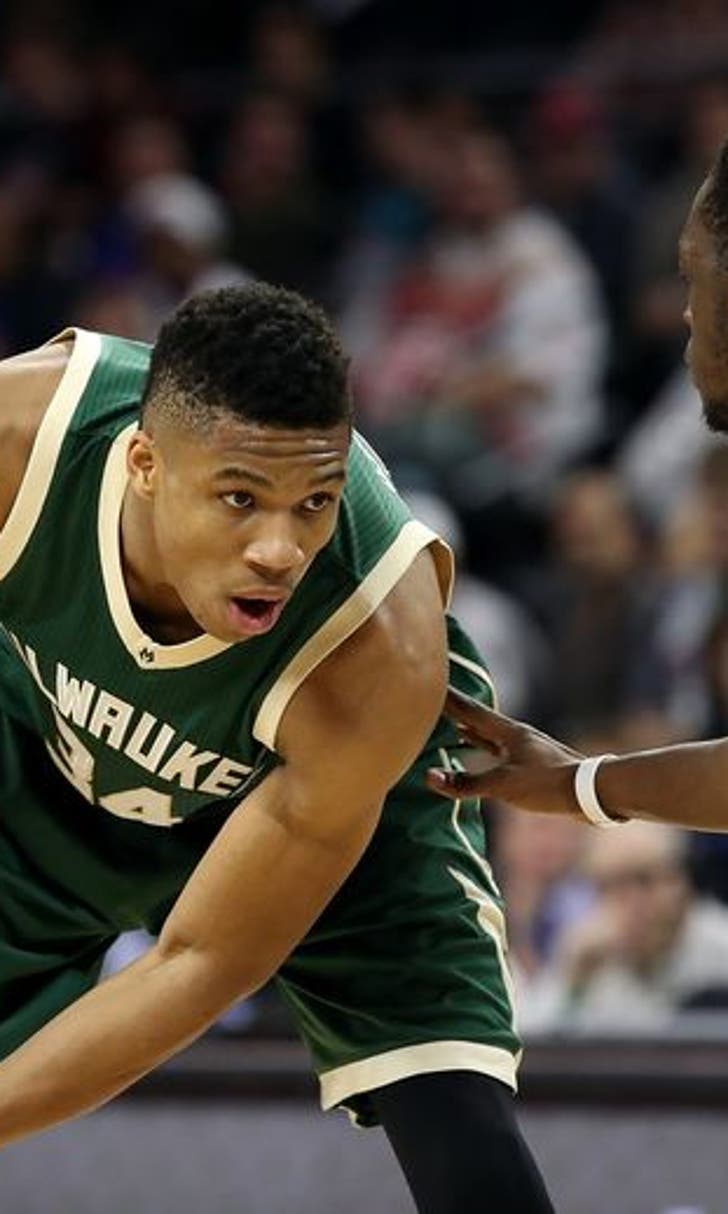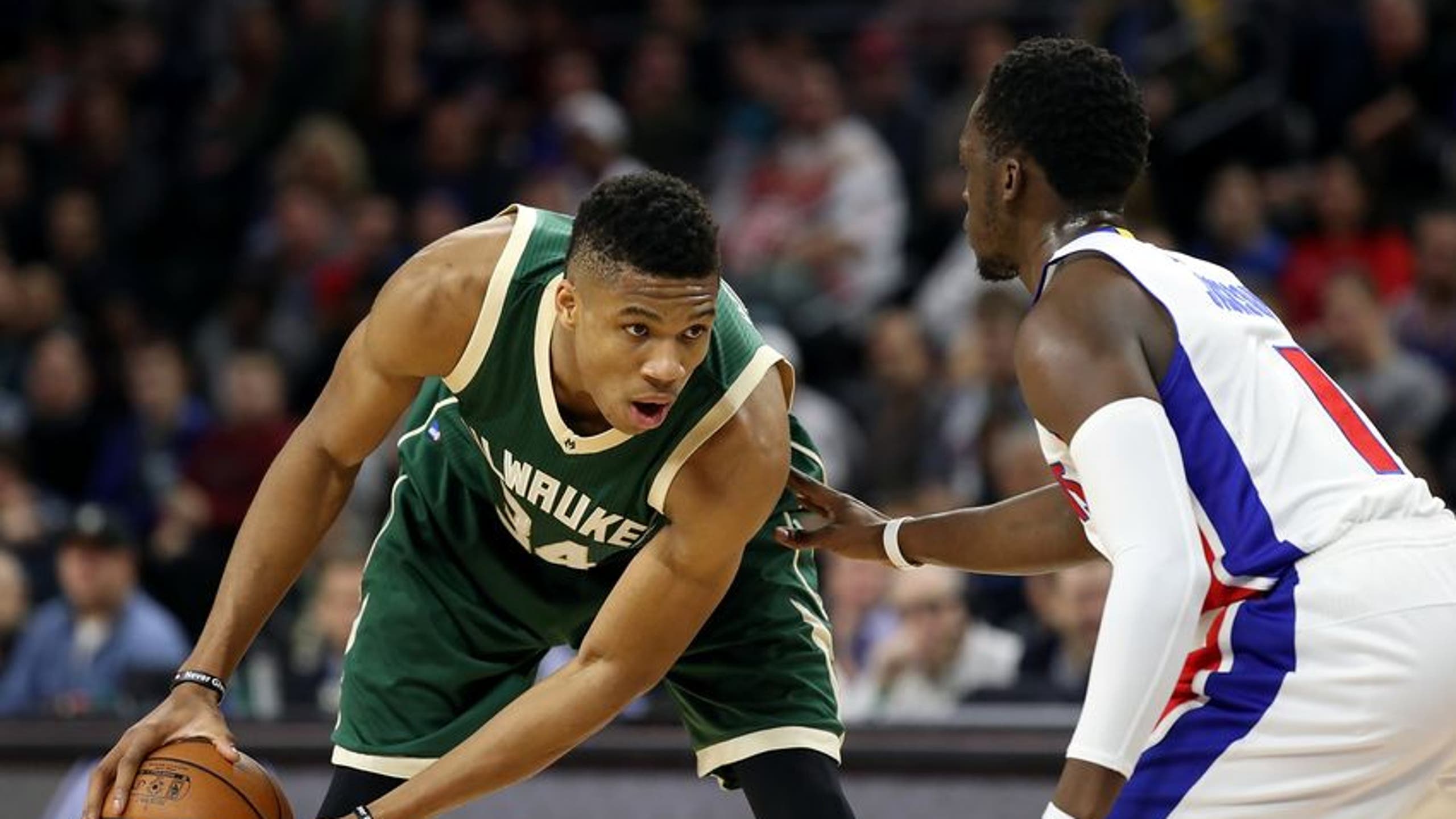 Milwaukee Bucks: Takeaways From Win Over Detroit Pistons
BY Fansided and Adam McGee/FanSided via Behind the Buck Pass • December 29, 2016
Mandatory Credit: Leon Halip-USA TODAY Sports
The Milwaukee Bucks came away from their final regular season visit to the Palace of Auburn Hills with a dominant win on Wednesday.
After a disappointing loss to the Washington Wizards on Monday disrupted the Milwaukee Bucks' chances of building up any real momentum, they looked to bounce back against the Detroit Pistons on Wednesday.
Outside of a win against a LeBron James-less Cavaliers, the Pistons have struggled of late, and the increasingly confident Bucks showed little hesitation in taking advantage.
On a night that saw the Bucks dictate play with crisp and accurate ball movement, Detroit had no real answer as the Bucks kicked on.
While Giannis Antetokounmpo impressed with a good performance in line with all of the recent headlines surrounding him, it was Jabari Parker who swung the initiative Milwaukee's way on this occasion.
Parker came within close range of his career-high in scoring, while achieving his career-high in terms of assists, and generally conducting Milwaukee's offensive output.
On a night where Parker, Antetokounmpo and many of Milwaukee's supporting cast were on-song, a Bucks win never really looked in doubt.
So with that, let's take a deeper look at who and what stood out for the Bucks in an impressive win.
Mandatory Credit: Tim Fuller-USA TODAY Sports
Major Cat landing on his feet
In comfortably the most complete performance of Jabari Parker's NBA career to date, we got a glimpse of a tantalizing and once unthinkable prospect. Not only is Parker coming into his own as a scorer, but he could give the Bucks a second do-it-all forward in forming a tandem that is becoming the envy of the rest of the NBA.
Having had a rare recent struggle with only 14 points against the Wizards on Monday, Parker bounced back with an impressive 31 points in this outing. These points continued a couple of emerging trends for the Chicago native, as he continued to look exceedingly comfortable in overpowering even the biggest opponents to get to the rim and also knocked down triples with ease.
Parker is in the best shape he has been for his career up until this point, and there seems to be very few players of his size able to match his strength. A 4-7 three-point shooting night only added to Parker's 38.4 percent success rate from deep on the season, and acts as a further testament alongside his physical conditioning of just how hard he must have worked in the summer.
The highlights for Parker on this occasion unusually reside outside of his 31 points too. Jabari notched a career-high seven assists, looking remarkably comfortable in a playmaking capacity on the night.
The assists came in a varied fashion too. He played cornerback to intercept an errant pass, before striding down the floor to team up with his buddy Giannis Antetokounmpo in transition.
He was also unafraid of making the simple pass to the open man, on this occasion setting Antetokounmpo up for an easy three.
With nine rebounds to add to his overall tally too, it's fair to say that Parker was just locked in across the floor on Wednesday night. Almost as further proof of that, it seems fitting to finish off with the lesser spotted great defensive play from Jabari Parker.
Of course, the effort needs to become more consistent, but here is an example of Parker hedging so he can offer help or play for a steal as the action dictates. He does this while remaining aware of his man and closing out with high energy when needed. This forced Tobias Harris to kick it back out to his point guard to reset, and with only 10 seconds left on the shot clock, it led to an empty possession.
More of all of this, please, Jabari.
Mandatory Credit: Raj Mehta-USA TODAY Sports
Delly goes free
Matthew Dellavedova has been the source of a lot of criticism from Bucks fans of late, particularly as Malcolm Brogdon has continued to look ever more assured as the primary backup option. It doesn't seem unfair to describe a lot of that feeling as misguided though.
In the early stages of the season, Dellavedova has been asked to do something very different from the role he was brought in to fill. Having proved himself to be a solid shooter in his time in Cleveland working alongside LeBron James, the expectation was that the Aussie would be given similar responsibilities with Giannis Antetokounmpo acting as the point forward proxy.
In reality, Point Giannis has been little more than a myth for much of this season, though. As much as Giannis has still managed to create for teammates, rack up assists and drive the team to impressive performances, he hasn't really been the primary initiator on offense. In short, what the Bucks seemed so happy with post All-Star break last year hasn't been what they've run in the early part of the season.
Instead, Dellavedova has shouldered the load of much of the point guard play. He's done so relatively well too. He's averaging a career-high in assists per-game and per-36, while not accompanying it with any kind of inordinate spike in turnovers. If anything has suffered as a result, it's been his shooting.
That was clear as Delly got slated for a 1-9 shooting performance from the field and a couple of very costly free throw misses in Monday's loss to the Wizards, when in actuality he had a remarkable 11 assists to only a single turnover in that game too.
So, when in the following game there's an obvious switch to Giannis starting offensive sets with greater frequency, and even Jabari chipping in, it wasn't particularly surprising to see Dellavedova score 11 points on efficient shooting while making both of his three-point attempts.
Delly can create, but his game as a whole is likely best utilized with more of a balance between his on and off ball duties. That's what we saw against the Pistons, and as such, we saw a much improved Dellavedova.
Mandatory Credit: Steve Mitchell-USA TODAY Sports
Red-hot shooting
Remember when the Bucks couldn't shoot? Well they're not quite the Golden State Warriors, but they can at least now get hot from time to time.
Wednesday night was the perfect example of that as the Bucks made 50 percent of their shots from distance, going 11-22 from behind the arc.
The fact that such an impressive shooting performance came in the continued absence of sharp-shooting free agent addition Mirza Teletovic (currently following the league's concussion protocol) would once have seemed absurd.
With Tony Snell following up a career shooting night from distance with another perfect 3-3 from deep, Dellavedova failing to miss on his two attempts also, and most importantly of all Jabari Parker looking red-hot from three-point range, the Bucks had a completely different look to them.
The three-point shot is now a part of the Bucks' arsenal, the question is how consistently they'll be able to draw upon it.
Mandatory Credit: Leon Halip-USA TODAY Sports
Creating with ease
The Bucks have been a good passing team all season long but Wednesday's 36 assists marked their best display of the season so far in that category.
What makes that all the more impressive is the fact that the Bucks' passing numbers didn't come padded by a gaudy playmaking display from just one individual. This was a team effort.
Four Bucks managed five assists or more, with Giannis and Malcolm Brogdon notching eight dimes, with seven for Parker and six for Greg Monroe. Even beyond that, someone like Michael Beasley who is famed for shooting rather than passing chipped in with three assists.
All the more impressive, the Bucks only turned the ball over seven times. If the Bucks can keep the ball moving and eliminate careless mistakes, there'll be plenty more wins like this.
We'll have to wait until Friday night to see the Bucks in action again, as they'll take on the Minnesota Timberwolves.
More from Behind the Buck Pass
This article originally appeared on
---
---