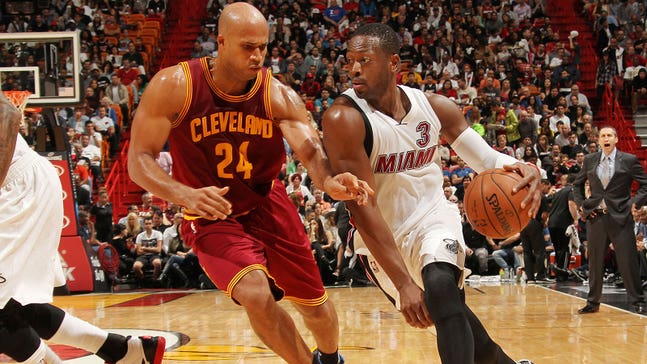 LeBron sits while Heat deal Cavaliers third straight loss
Published
Dec. 5, 2015 11:01 p.m. ET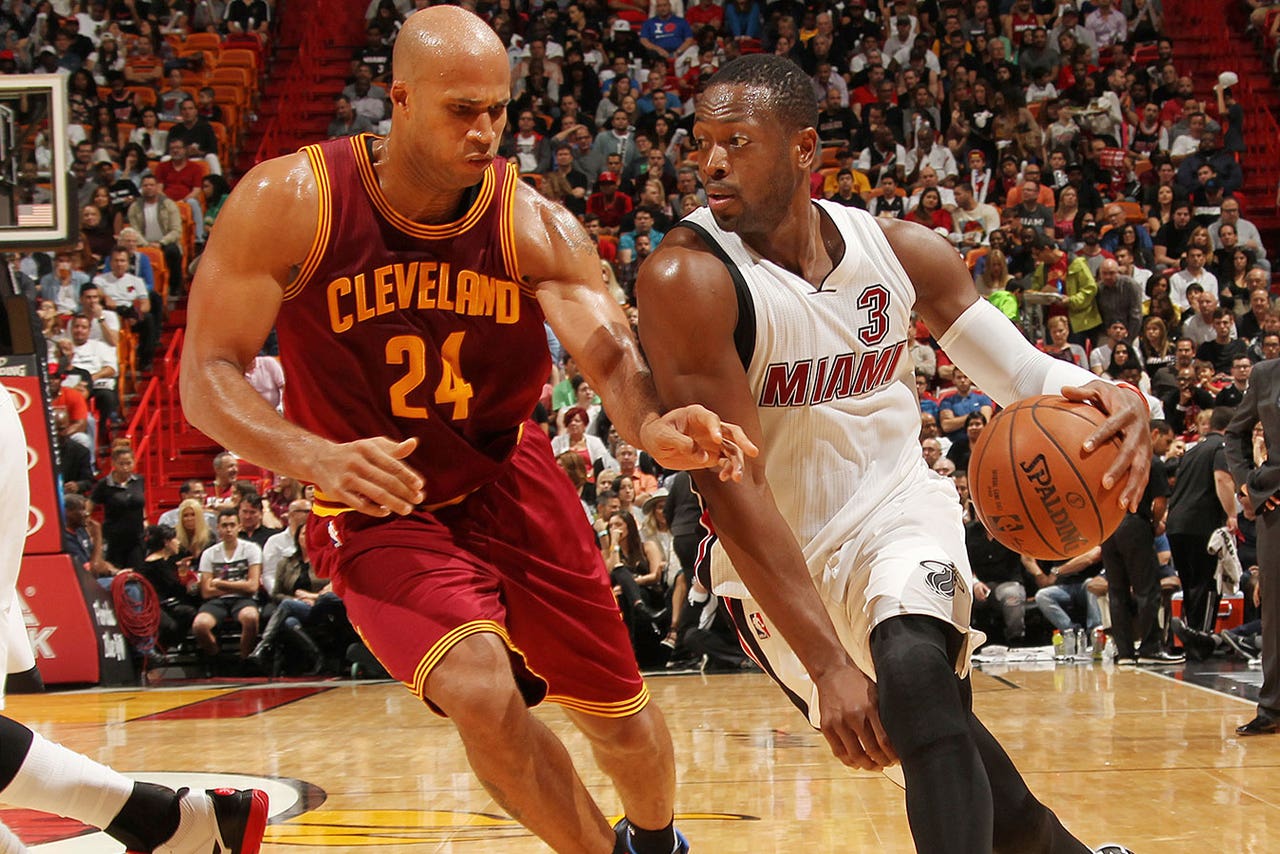 MIAMI — Dressed in a navy coat with a gold crest, a resting LeBron James sported a good look on the Cleveland bench.
On the court, the Miami Heat looked better.
Dwyane Wade scored 19 points and took the fourth quarter off, Tyler Johnson added 19 more and the Heat had little trouble on the way to beating the Cavaliers 99-84 on Saturday night, sending Cleveland to its third straight loss.
"It would have been great to play against LeBron," said Wade, who acknowledged disappointment that James got the night off to rest. "We'll see him next time."
Goran Dragic scored 17 points, Chris Bosh added 14 and Gerald Green had 12 for Miami, which actually passed Cleveland — still without Kyrie Irving, though presumably not for much longer — by percentage points in the Eastern Conference standings.
"A good professional win," Heat coach Erik Spoelstra said. "I liked our guys' approach."
And the Heat fans who revered James for four seasons during his Miami stint even did a little serenading in the fourth quarter, with chants of "LeBron is tired" echoing through the sold-out arena.
If James noticed, he didn't flinch from his seat on the sideline. But when Bosh drove the lane for a two-handed slam moments later, James looked up at the massive screens over center court for a replay.
"It's totally different," Cleveland's J.R. Smith said of playing without James. "He's like a coach on the floor on top of being the best player."
The Cavs lost in overtime at New Orleans on Friday night and weren't settled in their Miami hotel until about 5 a.m. Coach David Blatt insisted it was his decision to sit James after the four-time MVP — who talked about wanting to play all 82 games this season — logged 45 minutes in the New Orleans game.
"It was a situation I felt was not worth risking," Blatt said.
Richard Jefferson, who started in place of James, scored 16 for Cleveland. Smith added 12, while Jared Cunningham and Matthew Dellavedova each had 11 for the Cavaliers. Kevin Love finished with only five points, shooting 2 for 11.
Miami's lead was 16-12 when James joined the Cavs' bench midway through the first quarter, and the Heat immediately went on a 14-2 run. The Heat would eventually lead by as much as 27.
"From the first minute until the end, we played hard on defense and the offense is clicking a little better," Dragic said.
TIP-INS
Cavaliers: James never before missed a game with rest as the listed reason in November or December. ... It was the fourth time in the last two seasons that the Cavs were without James and Irving; all four have road games and probably not surprisingly, Cleveland is 0-4 in those contests. ... Smith tripped over teammate Timofey Mozgov's feet in the third quarter, forcing him briefly to the bench.
Heat: Miami set season highs for first-quarter (34) and first-half (60) scoring. ... Dragic's 15 first-half points represented another season high. ... Actor Adrien Brody, tennis star Caroline Wozniacki and designer Tommy Hilfiger were among those in the crowd. ... Miami struggled again from the line, shooting 18 for 29. ... Hassan Whiteside had five more blocks, raising his NBA-leading average to 4.56 per game.
GREEN RISES
Green is a former slam dunk champion, and provided a big-time reminder why in the first half. Moments after elevating over Mozgov for a defensive rebound, Green spotted up in the right corner and Dragic found him with a pass from the lane. Green drove past a closing-out Jefferson, and then took one dribble and soared by Mozgov and Dellavedova for the slam and a 53-37 Miami lead.
IMPERFECT 10
The loss was Cleveland's 10th straight in Miami, which includes the 7-0 record the Heat had against the Cavs when James played in South Florida. Starters on Jan. 25, 2010, when Cleveland last prevailed in Miami: James, J.J. Hickson, Shaquille O'Neal, Daniel Gibson and Anthony Parker for the Cavs; Wade, Quentin Richardson, Jermaine O'Neal, Michael Beasley and Rafer Alston for the Heat.
UP NEXT
Cavaliers: Host Portland on Tuesday.
Heat: Host Washington on Monday.
---
---