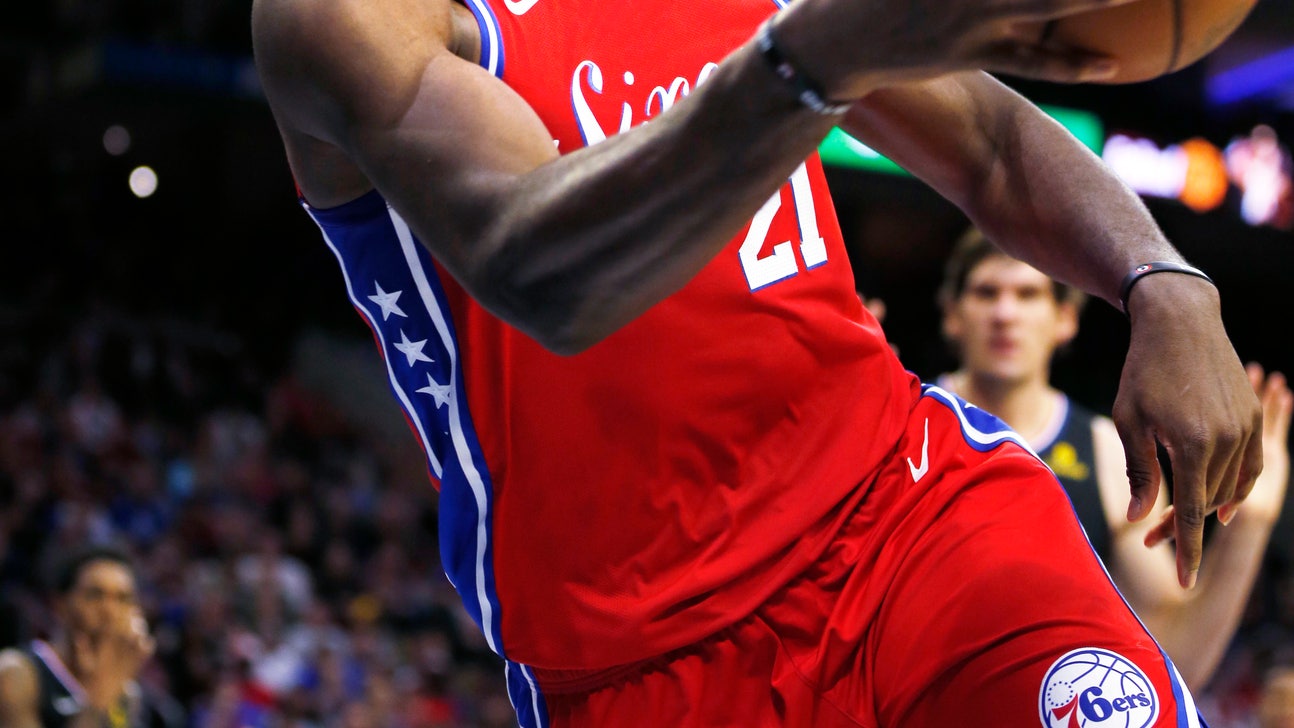 Joel Embiid has 41 points, 76ers beat Clippers 122-113
Updated
Mar. 4, 2020 4:13 p.m. ET
PHILADELPHIA (AP) — Joel Embiid had 41 points and 13 rebounds, helping the Philadelphia 76ers beat the Los Angeles Clippers 122-113 on Thursday night.
It was Embiid's sixth game already this season with at least 30 points and 10 rebounds.
Ben Simmons added 14 points and 11 assists, bouncing back nicely from one of his worst games as a pro. Markelle Fultz provided a spark late in the third quarter and finished with 12 points, nine rebounds and five assists while helping Philadelphia improve to 5-0 at home.
Lou Williams scored 26 points for the Clippers, and Danilo Gallinari had 25. Tobias Harris finished with 24 points.
BOSTON (AP) — Kyrie Irving scored 28 points, making six of Boston's franchise-record 24 3-pointers, and the Celtics beat Milwaukee, knocking off the last unbeaten team in the NBA.
Gordon Hayward added a season-high 18 points, Al Horford also had 18 and Marcus Morris 17 points.
Giannis Antetokounmpo returned to the lineup after missing one game while in the NBA's concussion protocol and led Milwaukee with 33 points and 11 rebounds.
ATLANTA (AP) — De'Aaron Fox set career highs with 31 points, 15 assists and 10 rebounds for his first career triple-double, and Sacramento beat Atlanta for its fifth straight victory.
Buddy Hield scored 27 points and Nemanja Bjelica had 19. The Kings' winning streak includes four straight against Eastern Conference teams, including the last three on the road.
Jeremy Lin scored 23 points for the Hawks. They have lost four straight.
CHARLOTTE, N.C. (AP) — Russell Westbrook had 29 points, 10 assists and eight rebounds and Oklahoma City overcame a 19-point third-quarter deficit to beat Charlotte.
Alex Abrines had 25 points on five 3-pointers to help the Thunder win their third straight.
Malik Monk and Kemba Walker each had 21 points for the Hornets. They were 11 of 41 from 3-point range.
NUGGETS 110, CAVALIERS 91
CLEVELAND (AP) — Juancho Hernangomez scored 23 points, Paul Millsap added 16 and Denver rolled past Cleveland Cavaliers 110-91 on Thursday night.
The Nuggets won their third straight to improve to 7-1. On Wednesday night in Chicago, they beat the Bulls 108-107 in overtime on Millsap's putback with 0.1 seconds left.
Jordan Clarkson led Cleveland with 17 points. The Cavaliers dropped to 1-7. They have split two games under "acting" coach Larry Drew.
TRAIL BLAZERS 132, PELICANS 119
PORTLAND, Ore. (AP) — Damian Lillard scored 26 points to help Portland beat New Orleans in the first meeting between the teams since the Pelicans swept the Trail Blazers in the first round of last season's playoffs.
Jusuf Nurkic added 20 points and nine rebounds for the Blazers, who made 18 3-pointers in their third straight win.
New Orleans dropped its fourth consecutive game. The Pelicans were the sixth seed last season when they upset the third-seeded Blazers in the playoffs.
Julius Randle scored 29 points, but Pelicans star Anthony Davis was sidelined by a right elbow sprain. Davis had returned from the injury Wednesday night against Golden State, when he collected 17 points, 12 rebounds and seven assists in a 131-121 loss to the Warriors.
---
---