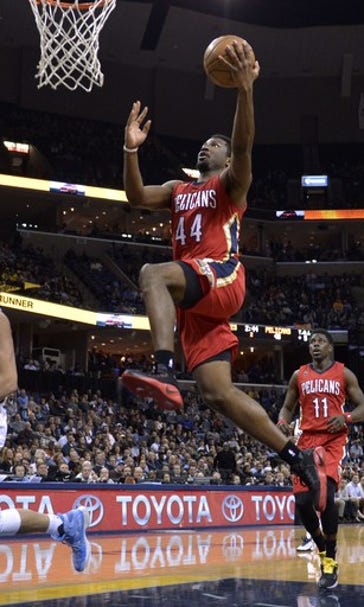 Hill's 23 points, 18 from Davis lead Pelicans past Grizzlies (Feb 15, 2017)
February 16, 2017

MEMPHIS, Tenn. (AP) Anthony Davis and the New Orleans Pelicans are headed into the All-Star break on a nice little run.
Solomon Hill scored a season-high 23 points and Davis added 18, including a key basket in the final minute that helped the Pelicans hold off the Memphis Grizzlies 95-91 on Wednesday night for their third victory in four games.
New Orleans built an 18-point lead and cruised through the first three quarters. But the Pelicans had to stem a fourth-quarter rally that pulled the Grizzlies to 92-91 on Vince Carter's 3-pointer with 48.5 seconds left.
Davis then connected on a 23-foot jumper, and the Pelicans hung on. Mike Conley's 3-point attempt with 4.8 seconds remaining was short, ending Memphis' final hope.
''You had to know going into the fourth, they were going to make a run at us,'' Pelicans coach Alvin Gentry said. ''It was just going to be a matter for us to sustain, hold them off and come up with a few plays down the stretch. And we did.''
Jrue Holiday had 19 points and seven assists for New Orleans, which snapped a seven-game losing streak to the Grizzlies. Alexis Ajinca added 12 points and a season-high 10 rebounds.
Conley led the Grizzlies with 17 points, and Zach Randolph had 16. Marc Gasol finished just short of a triple-double with 15 points, 12 rebounds and nine assists, but Memphis was limited to 37 percent shooting - including 6 of 33 from outside the arc.
''We let our lack of shot-making and mental errors and the (15) turnovers affect the way we played defense,'' Conley said. ''It was a tough night because we were uphill . trying to find our way back into the game.''
Memphis trailed by 18 in the third quarter and 16 entering the fourth. But the Grizzlies clicked off the first nine points of the final period and ran off a 22-7 spurt, trimming New Orleans' lead to 84-83 with just under four minutes remaining.
Consecutive baskets by the Pelicans - a 3-pointer from Hill and a 15-footer by Davis - provided a bit of a cushion.
Conley and Carter connected on 3s that left Memphis trailing 92-91 with 48 seconds to go.
''They got back in the game, but we held our composure and made some big-time plays,'' Davis said. ''So, it was good going into the All-Star break coming off the road 3-1.''
TIP-INS
Pelicans: New Orleans' previous win over Memphis was on March 3, 2015. .. Terrence Jones (right thumb sprain), Quincy Pondexter (left knee) and Dante Cunningham (personal reasons) were unavailable. ... Hill's previous high this season was 18 points against Milwaukee on Nov. 1. ... Ajinca also had three steals and two blocks.
Grizzlies: In the third quarter, Randolph passed Steve Nash for 81st on the career scoring list. Meanwhile, Carter's five points moved him ahead of Allen Iverson for 23rd on the all-time list. ... On a 3-pointer with 1:49 left, Conley passed Mike Miller for the most 3s in franchise history with 845.
NOT THIS TIME
The teams had gone to overtime the last three times they faced each other, including double overtime on Dec. 5. Memphis won all three of those games, including 110-108 on Dec. 5.
SLOW START RECOVERY
New Orleans missed seven of its first eight shots and trailed 12-3. The Pelicans hit 11 of their next 14 and took a lead they never relinquished.
UP NEXT
Pelicans: Host the All-Star Game and then return from the break Feb. 23 at home against Houston.
Grizzlies: At the Indiana Pacers on Feb. 24.
---
---