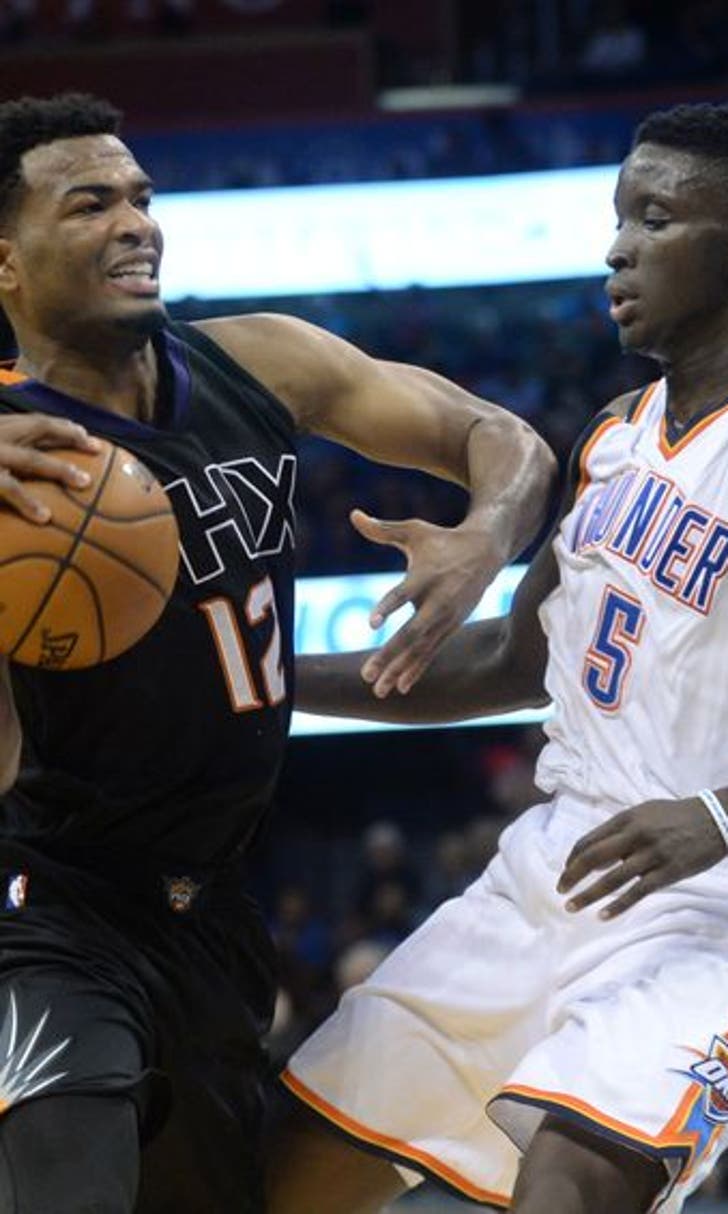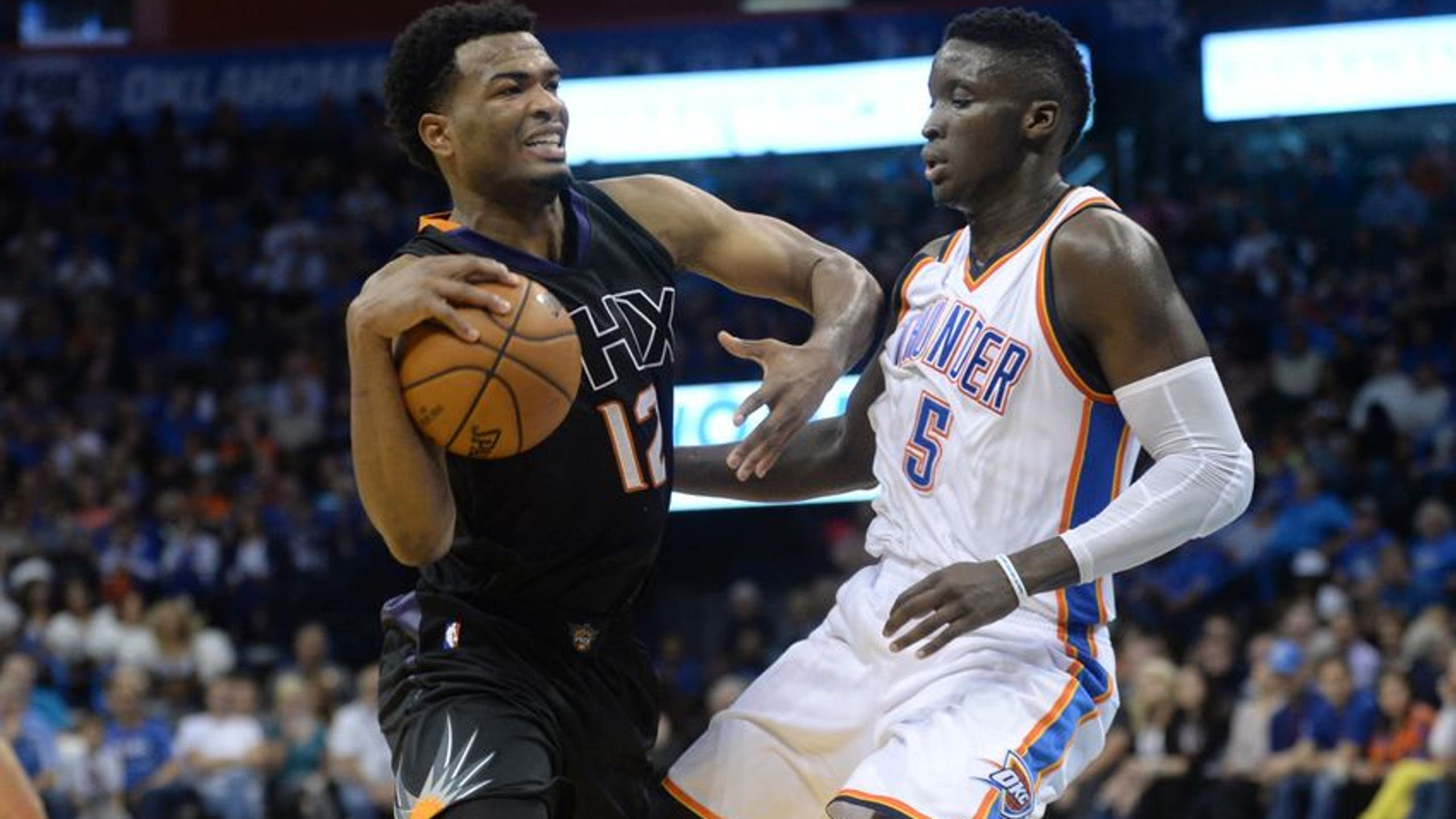 Game Day Preview: OKC Thunder attempt to stop the bleeding
BY Fansided and Tamberlyn Richardson/FanSided via Thunderous Intentions • December 17, 2016
OKC Thunder look to halt a 2 -game losing skid when they tip off versus the Phoenix Suns today. Game Day Preview breaks it down.
To say it's been a tough week for the OKC Thunder would be to put too fine a point on the squads current situation. The nasty fall taken by Victor Oladipo began the negative domino effect of the past 6 days.
Oladipo was fortunate the injury wasn't worse (sprained wrist), given how he landed.  Still, his inability to suit up has only served to  punctuate how essential he has become to the squad. To wit, while Russell Westbrook has  performed with other worldly precision,  Dipo has laid claim as OKC'S best 2-way player. Each additional minute this backcourt shares results in an  increasingly palpable chemistry. And, without him Westbrook is tasked with an added burden.
So much so, that Tuesday in Portland there were the first signs of  Westbrook fatigue.. Let's be clear, this too, was inevitable.  There is after all,  a reason no player has averaged a seasonal triple-double since the Big O.  Portland was able to concentrate entirely on Westbrook, and no other Thunder player was able to offset that attention.  If the Blazers capitalized on the Thunder's vulnerability a night later the Jazz ripped open the incision to expose OKC's guts.
Perhaps we should be thanking Oladipo for his brief sojourn as it may serve to expedite change.  Now GM Sam Presti and Head Coach Billy Donovan recognize adding play makers and shot creators needs to take precedence.  Furthermore, unless roster tweaks occur the Thunder must rely on defense to keep them in games.
Fortunately, relief may be coming sooner than later as Cameron Payne appears poised to return. Ideally Payne's presence will assuage Westbrook's load and offer partial resolution to what has become a stagnant offense, absent reserve unit, and waning defense.
In terms of the game today, the Suns offer a small respite, but can't afford to be taken lightly. Whereas the Thunder are in search of backcourt assistance, the Suns are chock full at the guard position. Ironically, this glut of guards on Phoenix offers Suns coach Earl Watson with almost too many choices. Conversely, the Suns issues stem from lack of developed depth up front.
Rotations:
Oklahoma City Thunder Starters:
Point Guard:  Russell Westbrook
Shooting Guard:  Victor Oladipo * see injury notes
Small Forward:  Andre Roberson
Power Forward: Domantas Sabonis
Center:  Steven Adams
 Oklahoma City Thunder Bench:
Point Guard: Semaj Christon
Shooting Guard: Alex Abrines,  Anthony Morrow,
Small Forward: Jerami Grant, Kyle Singler,
Power Forward: Nick Collison,  * Josh Huestis
Center: Enes Kanter,  Joffrey Lauvergne

Image reference: NBA.
Full stats available via nba.com/thunder
Phoenix Suns Starters:
Point Guard: Eric Bledsoe
Shooting Guard: Devin Booker
Small Forward: P.J. Tucker
Power Forward:Marquese Chriss
Center: Tyson Chandler

Phoenix Suns Bench:
Point Guard: Brandon Knight, Tyler Ulis
Shooting Guard: Leandro Barbosa,  John Jenkins
Small Forward: T.J. Warren, Jared Dudley, Derek Jones Jr.
Power Forward: Dragan Bender,  Alan Williams
Center:  Alex Len


Image reference: NBA.
Full stats available via nba.com/suns/
Walking Wounded:
OKC Thunder:
Victor Oladipo –  wrist
Cameron Payne – foot
Sure would be nice to get an early Christmas present, but the signs all point to that gift most likely not arriving until the actual holiday itself.
Want your voice heard? Join the Thunderous Intentions team!
Suns:
Alex Len – hip, did not play versus Spurs on Thursday, ruled day to day by Rotoworld and CBS says he'll be a game time decision
T. J. Warren – head – likewise for Warren, CBS calls Warren – game time decision
All injury reports via ESPN, rotoworld and CBS Sports
Game Specifics:
Recent History: OKC Thunder hold the all-time record 20-9 over Suns with an impressive 7-1 record in the past 8 games.
The Venue: Chesapeake Energy Arena, Oklahoma City, OK
The Tip: 5:00 PM EST (4:00 PM CT)
TV: FS Oklahoma HD
Radio: WWLS 98.1FM OKC / 930AM (ESP)
Keys to Win:
If you're a true Thunder fan you know Westbrook will be on a mission to make sure the Thunder
More from Thunderous Intentions
don't replicate the past two outings. Getting ousted by an average of 19.5 points leaves a bad taste in anyone's mouth, but for Westbrook he's likely been seething for 2 straight days. Either that, or personally applying ice to Oladipo's wrist.
Then again the last time these two clubs met Westbrook posted an impressive triple-double of 51 points, 13 rebounds, and 10 assists. Although it required overtime to decide a winner.
Despite a low offensive ranking (24th) and perimeter shooting (23rd rank) this Suns squad can heat up at any given moment.  Sophomore Devin Booker has super star potential  though he's cooled off slightly in December. Conversely Eric Bledsoe has scored 30 or more in 4 of his past 9 games and will be a handful to contain.  Aside from wanting Oladipo back for obvious reasons, the thought of this match-up offers salivating potential.
The rest of the Suns roster is chock full of youth, but peppered with vets like Chandler, Barbosa and Dudley who provide on and off court leadership.
There is a bit of a rivalry between these two  clubs. And although copious roster changes have occurred since some of those more ejection filled contests there are still enough members remaining who'll be ready to rekindle the fire.
Billy Donovan won't need a crystal ball to figure out the game plan. It's essential the Thunder bring energy from the tip along with defensive focus.  As far as the offense ball and player movement is key.
OKC need to take care of business today, especially since 7 of their next 10 games are on the road.
---
---