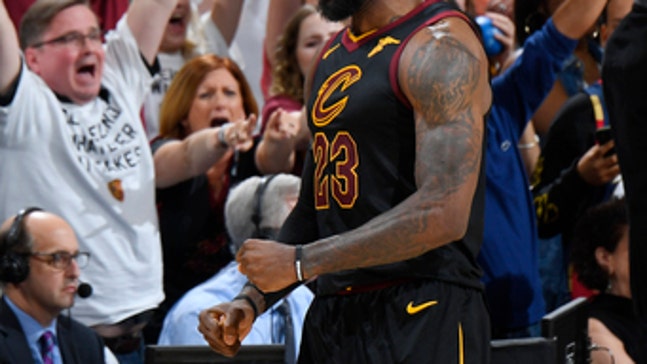 Boston bound: LeBron pushes Cavs to Game 7 vs. Celtics
Updated
Mar. 4, 2020 3:02 p.m. ET
CLEVELAND (AP) LeBron James chose Boston as the place he'll play next.
Game 7 is on. And any talk about James' future is on hold.
Delivering another performance for the ages, James scored 46 points and preserved his reign atop the Eastern Conference for at least one more game as the Cleveland Cavaliers shook off losing All-Star Kevin Love with a head injury and beat the Celtics 109-99 on Friday night to force a decisive climax to this back-and-forth series.
James, playing in perhaps his final game for the Cavs in Cleveland, added 11 rebounds and nine assists while playing all but two minutes - to avoid elimination and delay any decisions about where he'll continue his remarkable career next season.
''Greatness,'' Cavs coach Tyronn Lue said. ''Championship pedigree. Giving it his all. We needed that, especially when Kevin went down. We had to play `Bron as many minutes as he had to. He delivered. He was up for the challenge. He carried us home as usual.''
The king is not dead, and he still has a chance to make his eighth straight NBA Finals.
This series, in which home court has meant everything, will have a fitting conclusion Sunday at TD Garden, where the Celtics are 10-0 this postseason.
''It's a Game 7,'' James said. ''It's something that you wish you had when you're done playing, but more than that, it's just basketball for me. I know what I'm capable of doing, and I'm going to trust everything I put into it.''
George Hill added 20 points, and Jeff Green 14 for the Cavs, who lost Love in the first quarter after he banged heads with Boston rookie Jayson Tatum.
Terry Rozier paced the Celtics - now 1-6 on the road - with 28 points, and Jaylen Brown had 27.
The Celtics were still within seven in the final three minutes before James made consecutive 3-pointers, punctuating the second by pounding his chest with both fists and screaming along with 20,562 others.
''The love of the game,'' James said, explaining his reaction. ''It's a feeling you can't explain.''
Just for good measure, he added a three-point play and then was taken out of the game to a rousing ovation and chants of ''Cavs in 7!''
Boston's improbable run through the postseason without injured stars Kyrie Irving and Gordon Hayward will now take the Celtics back home, where they play with more intensity, togetherness and before fans hungry to see an 18th title banner raised to their arena's rafters.
''It's not going to be pretty,'' Celtics guard Marcus Smart said. ''We've got to come out ready to get our nose bloody and our mouth bloody. We've got to come out ready to fight. You've got to find a way, whatever it takes.''
Love went out with a head injury in the first quarter, forcing Lue to juggle his rotations and keep James on the floor longer than he wanted to. The three-time champion played the first 35 minutes without a break and then endured the final eight while nursing a right leg.
James didn't know until after the game that teammate Larry Nance Jr. had banged into him.
''I felt some pain throughout my entire right side of my ankle into my leg,'' he said. ''I was just hoping for the best, obviously, because I've seen so many different injuries, and watching basketball with that type of injury, someone fall into one's leg standing straight up. Luckily, I was able to finish the game.''
Hill, who came over in a deadline trade, has been awed by what James has done in this postseason.
''I've been in the league for some years and ran across him on the other side and really hated his guts,'' said Hill, who was on Indiana teams eliminated by James. ''But to have him on our side, it kind of lets me take a deep breath of fresh air. It's just something that you really can't explain what he's doing night in, night out. It's just something special.''
''I thought the best was when he always put us out. But to actually see it when he's on your team, I can't even put it into words.''
The real possibility that James was playing his last game in Cleveland hung over the game - and this city - in the hours leading to tip-off. Everyone had an opinion on what James will do next and that discussion filled the sports talk radio airwaves, bars and barber shops.
The 33-year-old has said several times since coming home in 2014 that he wants to retire with the Cavaliers, but fans are uneasy because he can opt out of his $35.6 million contract this summer and test free agency.
And, of course, he left in 2010.
James has said he'll sit down after the season ends to decide next move, and he's already being courted in Philadelphia, Los Angeles and New York where fans can only dream of him joining their rosters.
For now, he's only going to Boston.
NO LOVE
The game began ominously for the Cavs as Love was forced to leave following his violent collision with Tatum.
Love and Tatum were away from the ball and didn't see each other until it was too late. They banged heads and both immediately dropped to the floor with Love raising his left arm as if to signal he needed help.
As Love stayed down, the Cavs huddled around him. He was helped off and walked to the bench unsteadily before heading to the locker room for further treatment and evaluation.
His status for Game 7 is uncertain.
THE OTHER SIDE
Tatum stayed in following his nasty collision with Love. The rookie passed the concussion testing that he was given on the bench.
''I didn't see him coming, it was bad,'' Tatum said. ''I have a knot on the back of my head and he didn't return. I wish the best for Kevin Love because he's a great player and it's been a long season.''
PREGAME MEAL
Hill said he's played well after eating has tacos with barbacoa and guacamole before games.
''I'm for sure going to find a Chipotle in Boston, I'll tell you that,'' he said.
TIP-INS
Celtics: Own a 37-0 record when leading a series 2-0. ... Dropped to 1-4 in Game 6s over the last four postseasons. ... Coach Brad Stevens praised James for his consistency, and ability to exceed expectations. ''Nobody else has what he has on his shoulders playing the game,'' he said. ''I think that the way in which he's done that and all of the years now that he's made The Finals and gone deep into the playoffs, it's unbelievable.''
Cavaliers: Improved to 6-2 in elimination game since 2015. James has scored at least 40 in five of those wins. ... James' teams are 5-2 in Game 7s. ... This was the seventh 40-point game for James this postseason. Michael Jordan also had seven, one off Jerry West's record set in 1965. ... James passed Karl Malone (2,062) for sixth place on the career postseason rebounds list.
---
---