Damian Lillard
Damian Lillard
Blazers snap 6-game losing streak with 102-89 win over Kings (Dec 28, 2016)
Updated
Mar. 4, 2020 11:10 p.m. ET

PORTLAND, Ore. (AP) As CJ McCollum sees it, there's no time like the present for the Trail Blazers to snap out of their defensive funk.
McCollum scored 20 points and Portland snapped a six-game losing streak with a 102-89 victory over the Sacramento Kings on Wednesday night.
The win ended the Blazers' longest skid of the season and was the second straight game they have shown intensity on defense - something that has eluded them at times this season.
''The sense of urgency has risen. We understand where we're at in the season. We understand where we turned the corner at last year, about the same time. So if we want to get better, the time is now,'' McCollum said.
Meyers Leonard added 16 off the bench for the Blazers, playing without leading scorer Damian Lillard for the second straight game because of a sprained left ankle.
DeMarcus Cousins scored 28 points but the Kings had their four-game winning streak snapped.
''You could tell their game plan was to make everybody else have big games instead of myself,'' Cousins said. ''It was successful tonight. It worked.''
The Kings trailed by as many as 20 points in the second half. Matt Barnes' corner 3-pointer with 2 minutes to go pulled Sacramento within 98-87, before Cousins hit on a floater to get closer. Mason Plumlee answered with a dunk for Portland and the Kings couldn't catch up.
Plumlee finished with 12 points and 14 rebounds.
The teams last met on Dec. 20, a 126-121 Sacramento victory that was marked by drama - namely an ejection reversal - involving Cousins.
Cousins scored 55 points in the win. But with less than 2 minutes remaining, he was celebrating a foul call on his go-ahead basket and he appeared to spit his mouthpiece at the Blazers' bench.
Cousins was hit with a technical, his second, and headed off to the locker room. But moments later he was called back when the officiating crew reversed the call. He sank the free throw and later in a postgame TV interview called the whole drama ''ridiculous.''
That victory touched off the Kings' four-game winning streak.
Cousins hit the first basket Wednesday night, but Portland led by as many as 17 points in the first half, taking a 60-44 lead into the break. Allen Crabbe, who replaced Lillard in the starting lineup, led all players with 13 points.
Cousins, booed whenever he touched the ball, had three fouls at halftime.
McCollum hit a 3-pointer that pushed Portland's lead to 67-47. Cousins made a 3-pointer, his first of the game, pulling the Kings to 73-61, then made another that narrowed it to 77-69 early in the fourth quarter.
''I don't think we were aggressive enough,'' Cousins said. ''We know what type of team Portland is. They're a jump shooting team and they have a lot of motion, constant movement. When it came to switching we weren't aggressive enough.''
TIP-INS
Kings: Sacramento was without Rudy Gay because of a right hip flexor strain. Gay had played Monday in the 102-100 victory over the 76ers. ... Garrett Temple had 14 points off the bench.
Trail Blazers: Portland has won eight straight against the Kings at the Moda Center. ... It was just the ninth game Lillard has missed in his career.
ANSWERING KARL
Longtime NBA coach George Karl caused a bit of a stir in Portland with comments he made to New York Magazine about Lillard. ''I was watching the Portland Trail Blazers play, and I was trying to figure out what the hell is wrong with this team?'' Karl asked. ''My conclusion is that Damian Lillard is getting too much attention.'' Blazers coach Terry Stotts, asked to respond before the game, said: ''When it comes to my team and my players, he needs to stay in his own lane.''
PERSPECTIVE
''I don't want guys to get too down and get drained and start thinking negative because we lost one game,'' Cousins said. ''This is the NBA. We weren't going to go undefeated the rest of the season.''
UP NEXT
Kings: The Kings host the Memphis Grizzlies on Saturday.
Trail Blazers: The Trail Blazers visit the San Antonio Spurs on Friday night.
---
---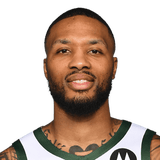 Get more from Damian Lillard
Follow your favorites to get information about games, news and more
---