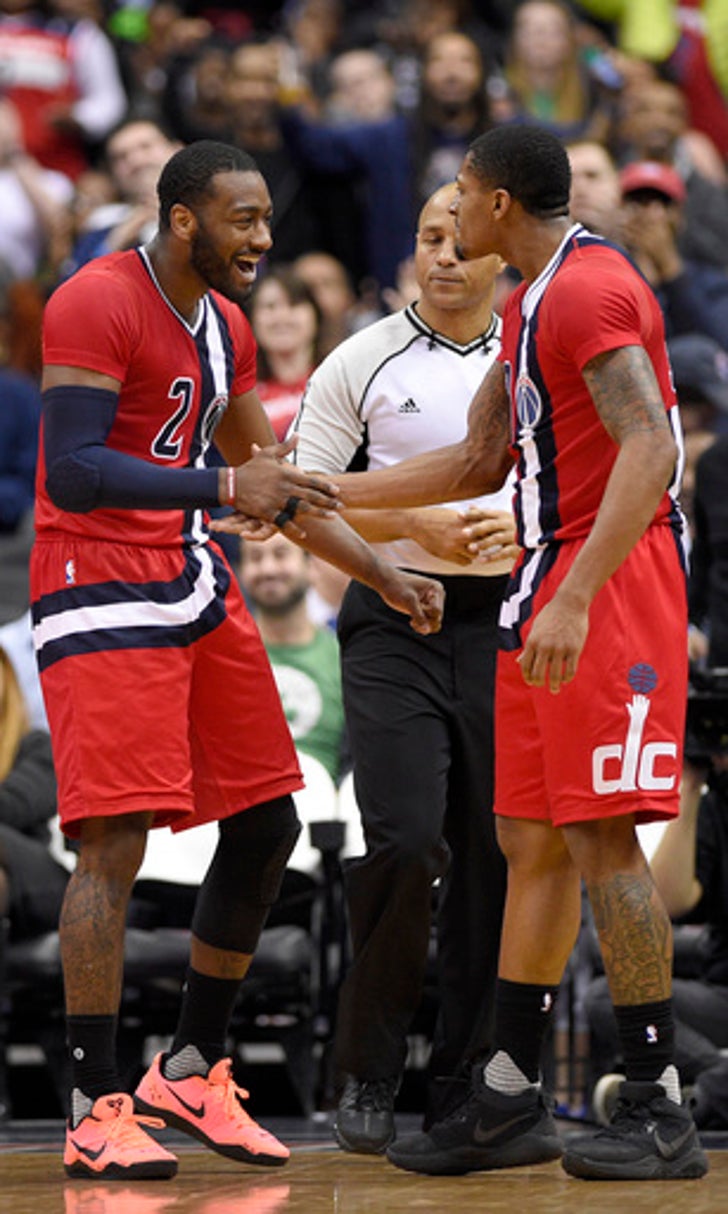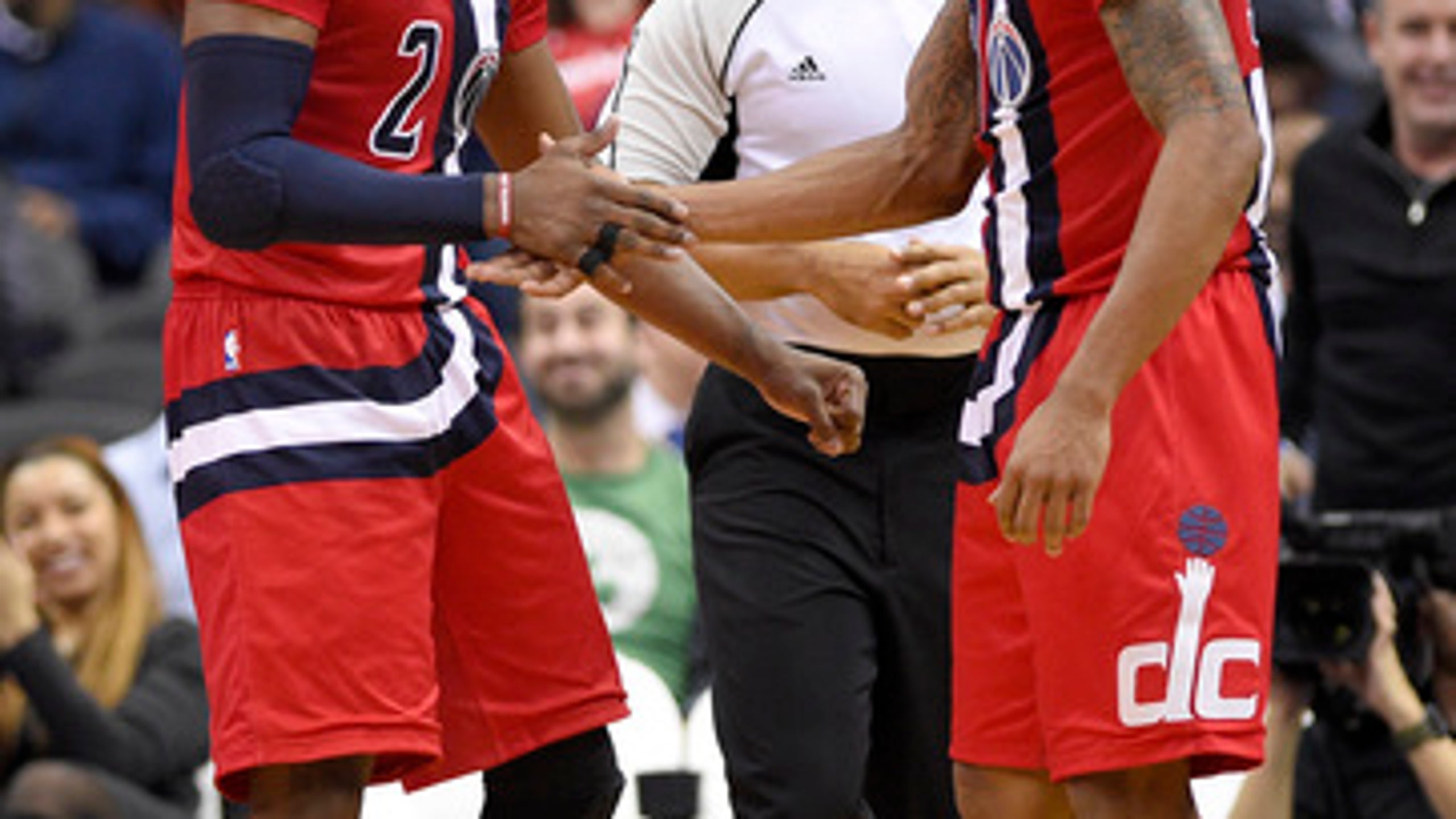 Beal, Wall lead Wizards to 123-108 victory over Celtics (Jan 24, 2017)
BY AP • January 24, 2017
WASHINGTON (AP) The Washington Wizards arrived dressed in black funeral wear for what they openly labeled a grudge match.
Bradley Beal made sure they won it.
Beal scored 13 of his 31 points in the fourth quarter, and the Wizards extended their home winning streak to 14 games with a 123-108 victory over the Boston Celtics on Tuesday night.
''I wanted to win, man. I wanted to win bad,'' Beal said. ''Especially to keep our home streak going. Especially after the last game we played them. We had a little chip on our shoulder.''
John Wall added 27 points, and Markieff Morris had 19 points and 11 rebounds as the Wizards exacted some revenge after complaining of dirty play in two previous meetings with the Celtics.
The second one, a 117-108 Celtics home win, featured five technical fouls and ended with Wall and Boston's Jae Crowder nearly setting off a brawl.
That prompted the Wizards to show up to Verizon Center on Tuesday wearing all-black, funeral-themed clothing.
Wall's apparel consisted of a designer T-shirt beneath a varsity-style jacket as he arrived.
Beal, who created the idea, arrived in an oversized black winter trenchcoat, complete with hood and matching scarf. He would later have his best offensive night since that game in Boston.
''We just wanted to have fun, man,'' he insisted afterward. ''That's all we were doing. Nothing personal. Of course it was a subliminal (message), but we were just having fun at the end of the day.''
Isaiah Thomas scored 25 points and had 13 assists, but shot 1 of 7 in the fourth quarter in Boston's third straight loss.
Al Horford added 22 points and Crowder had 17 for Celtics. Boston allowed the Wizards to shoot 57.8 percent from the floor, its worst field goal percentage defense of the season.
''They got whatever they wanted on their offensive end,'' said Crowder, who insisted the game took no extra significance for the Celtics.
''I don't think it's a rivalry,'' He added. ''They won the game tonight. Next question.''
The Wizards never trailed and controlled the game throughout.
After building their lead to 12 three times in the second half, they finally stretched it to 110-97 when Beal hit a driving bank shot, absorbed Marcus Smart's foul and converted a three-point play.
A few possessions later, Beal stole Crowder's pass to Thomas and converted a finger roll to make it 114-100. Wall's dunk and three-point play over Kelly Olynyk, complete with a biceps flex in the middle, made it 119-104.
''They seen everything that we said, and we seen what they said,'' Wall said. ''I think it was just a great team game. Nobody do anything dirty. Two teams competing (against) each other trying to get a win.''
TIP-INS
Celtics: Shot 2 of 12 (16.7 percent) from 3-point range in the first quarter. ... Thomas scored 20 or more points for the 28th consecutive game. ... C Tyler Zeller was available for the first time since a sinus infection sidelined him at the start of the new year. He did not play.
Wizards: Hold the league's longest active home winning streak and would tie their third-longest in franchise history with their next home win. ... Made their first six field goals to take an early 13-6 lead. .. Improved to 3-7 in the second game of back-to-back sets.
GET ME IN, COACH
Smart got into an argument with assistant coaches during the fourth quarter, and coach Brad Stevens said the dispute came because Smart wanted to return to play, but was on a minutes limit for the half.
''Of course I wanted to go back in, just like everyone else, to play it out and give it everything they have and leave it on the court,'' Smart said. ''We had different opinions.''
FASHION SENSE
Wizards forward Otto Porter may have gotten the best reviews for his all black suit, complete with matching black shirt, tie and shades.
Washington coach Scott Brooks appreciated the team-bonding aspects of the idea, even if he wasn't willing to join in.
''My daughter just texted me and she said, `Do not wear your black jeans, because you kind of look a little chunky in them,''' Brooks said. ''So I wore my blue jeans tonight.''
UP NEXT
Celtics: Complete their back-to-back set at home against Houston on Wednesday.
Wizards: Begin a two-game road swing at Atlanta on Friday.
---
---