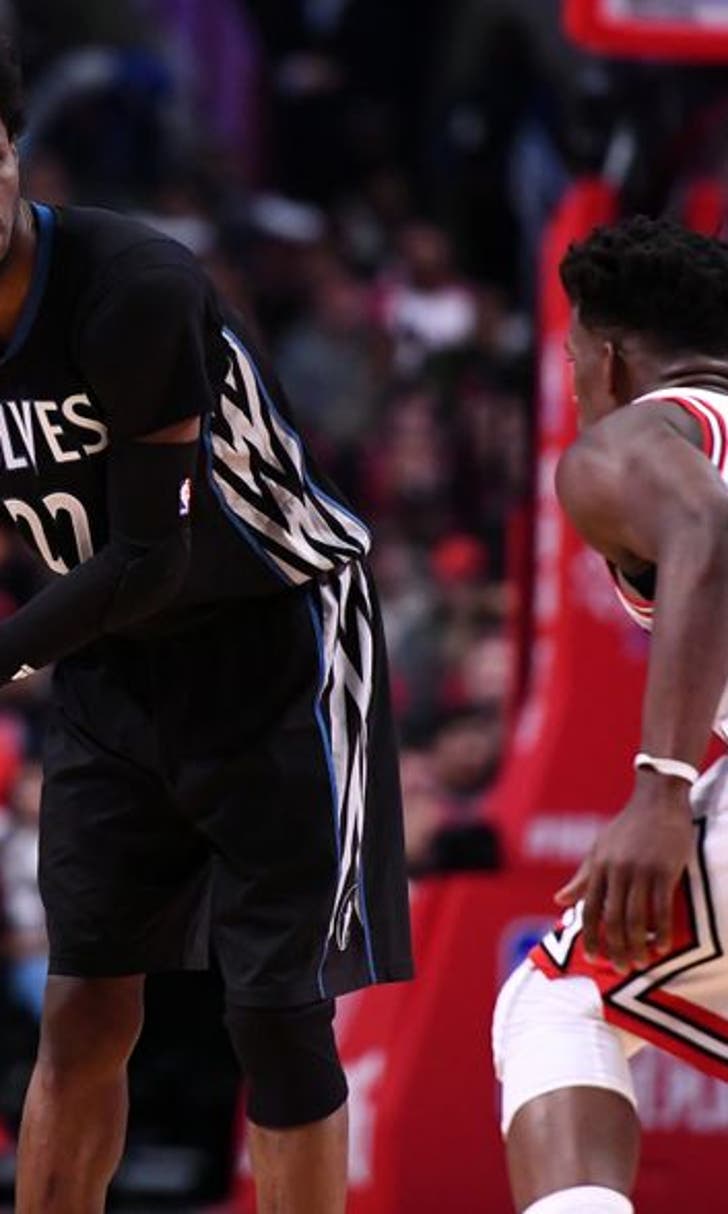 Andrew Wiggins Not A Bust, He Just Has Bad Habits
BY Fansided and Ti Windisch/FanSided via Hoops Habit • December 16, 2016
After being called a bust in late November, Andrew Wiggins has become a topic of much discussion around the NBA, despite his obvious talent.
Andrew Wiggins is in the midst of his best season as a pro. He's averaging 22.2 points, 4.2 rebounds and 2.3 assists per game while shooting 44.0 percent from the field and 38.9 percent from three-point territory.
Those are great numbers for any player, but they're especially positive coming from a 21-year-old in just his third NBA season. Still, those numbers did not prevent Wiggins from being called a bust by Dean Demakis over at his DeanOnDraft site.
Demakis later relented in a second post, admitting "bust" was an overstatement, although he maintained Wiggins is unlikely to become a star and named Aaron Gordon, Marcus Smart and Clint Capela as players with higher ceilings than Wiggins.
Much of the case made against Wiggins rests on advanced statistics, numbers that tend to speak highly of great players even early in their careers. Wiggins is compared to DeMar DeRozan and his usefulness is questioned.
There's no question that Wiggins is not a bust. He's a productive NBA player–that alone means he's more than a bust. Averaging 20 points per game certainly reinforces that.
The more interesting question, then, is if Wiggins can overcome his current flaws to become more useful and analytically pleasing.
timberwolves
Dunking with Wolves 1 dTimberwolves Rumors: Looking for front court help?
More headlines around FanSided:
2d - A Timberwolves Tradition: NBA Draft talk in December2d - How Timberwolves, Bulls are living after draft day trade that never happened2d - Chicago Bulls vs. Minnesota Timberwolves: 3 Takeaways2d - Timberwolves Wrap: Successful Thibodeau's return to Chicago2d - Chicago Bulls vs. Minnesota Timberwolves: Instant Analysis to Bulls' Loss in Thibodeau's ReturnMore News at Dunking with Wolves

There is certainly a comparison to be made between those two players. Wiggins, like DeRozan, takes a lot of long twos. Both players are athletic and quick and they don't add much beyond pure scoring.
DeRozan averages more rebounds and assists per 36 minutes than Wiggins, but when he was 21– like Wiggins is now–he actually averaged less of those two statistics than the young Canadian forward.
There are clear differences between DeRozan and Wiggins that need to be accounted for. The first is the most important one–Wiggins can shoot. He's currently making 38.9 percent of his threes, a career-best mark.
DeRozan has never made better than 33.8 percent of his threes in a season and his career average three-point percentage is barely better than 28. DeRozan has still found ways to score–even if they're not analytically beautiful–but the three-point shot is not in his arsenal.
DeRozan is shooting 28.6 percent from deep this season, right in line with his career average.
Right now, a full 25.6 percent of Wiggins' shots come from beyond 16 feet from the rim, but within the three-point arc.
These are the dreaded long twos that represent some of the least efficient shots in the NBA and the biggest commonality he has with DeRozan, who takes more than 30 percent of his shots from that range.
To be fair to Wiggins, sometimes the Minnesota Timberwolves' personnel leads to his bad shots. In the clip below, Wiggins pulls up over two Chicago Bulls defenders. The smart play there is typically to dish to the open man in the corner.
That man was Ricky Rubio, a 23.4 percent three-point shooter this season. Taking the long two there was actually the smarter decision, considering Wiggins makes 39.8 percent of his long twos.
Notice how Wiggins takes an extra few steps inside the arc here, even though he had the space to pull up from beyond it. Taking a three instead of that long two is a simple fix and it would result in a much better shot in terms of analytics.
More from Hoops Habit
Additional spacing on the Timberwolves would likely make Wiggins look better, although some of his inefficiencies could be ironed out through easy alterations. Wiggins has the physical tools to be an elite scorer–he just needs to be coached up.
James Harden, one of the best bulk scorers in the NBA, hardly ever takes long twos. Less than 6 percent of his total shots come from more than 16 feet from the rim but inside the arc this season.
If Wiggins adjusted his game to focus on more efficient shots, he could probably become an even more terrific scoring weapon. The Timberwolves would need to adjust as well, but these are possible changes that can be made.
Even if his rebounding and assist numbers don't take a huge leap, simply providing consistent, efficient scoring is a major asset. Andrew Wiggins is capable of providing that in spades, and he already is putting up good numbers in Minnesota.
A better shot diet could lead to even better numbers and quell the talk of Wiggins being a bust for a long, long time.
---
---