Blake Griffin
Blake Griffin
Ailing Clippers travel to face healthy Pelicans (Dec 28, 2016)
Published
Dec. 28, 2016 12:34 a.m. ET

NEW ORLEANS -- It's the warm-body theory: When star players are healthy and happy, a team's odds of winning go way up. When the studs are out, all bets are off.
The New Orleans Pelicans (12-21) are about as healthy as they have been in three seasons, and they figure to benefit from that good fortune Wednesday night when the short-handed Los Angeles Clippers limp into the Smoothie King Center.
Although the Clippers (22-11) won each of the first two games of the season series with New Orleans, they figure to be without their three leading scorers -- forward Blake Griffin and guards Chris Paul and J.J. Redick -- on Wednesday.
The Clippers expect Griffin to be sidelined until at least late January due to right knee surgery, and both Paul and Redick are listed as questionable for the Pelicans game because of sore hamstrings.
Los Angeles' dynamic trio averages 54.2 points, 15.8 rebounds and 15.3 assists per game. The Clippers also come in having lost three consecutive games to teams with losing records -- the Dallas Mavericks (90-88), Los Angeles Lakers (111-102) and Denver Nuggets (106-102), the latter game on Monday night.
"You just don't know with hamstrings," Clippers coach Doc Rivers said when asked for a timetable on the return of Paul and Redick. "The one thing you do know that I think we've learned over the years is that you have to be more cautious than if it was a sprained ankle."
The Clippers are 2-3 without Griffin, but when he missed time the past three seasons, they have been able to stay afloat. Since the 2013-14 season, the Clippers are 44-27 without Griffin. However, the injury to Paul could prove to be more significant to Los Angeles' fortunes. The Clippers are just 16-15 without Paul in the lineup over the past three years.
That is why the recent three-game skid has the Clippers a bit edgy. They still rank fourth in the Western Conference, but they don't want to use injuries as an excuse for a tumble in the standings.
"It's weird, because I haven't been on a losing team in a while now, probably eight or nine years, so even losing three in a row gives me the chills," said reserve guard Jamal Crawford, who was forced to play a season-high 35 minutes against Denver. "I don't ever want to go back to that. It's just three games, but it's a reminder that in this league, you have to bring it every single night."
Austin Rivers started at point guard Monday and played 42 minutes, but he was kicking himself for the Clippers blowing a six-point lead against Denver with five minutes left.
"I take everything personal," Austin Rivers said. "I was the point guard tonight and we should have won the game. ... We'll be fine. We'll still be a top-four seed in the playoffs and still be one of the best teams in the West. We're not going to continue to lose."
The Pelicans won three of their past four games and are 2-1 in the midst of a five-game homestand that coach Alvin Gentry said was critical to his team's attempt to rebound from an 0-8 start.
Gentry seemed to hit on an effective starting lineup in a 111-104 victory over the Mavericks on Monday night, sliding forward Anthony Davis over to center and going with a smaller lineup that helped with defensive pressure and perimeter shooting.
"I liked starting at the 5," said Davis, who scored 28 points and grabbed 16 rebounds in the Dallas victory, his fourth consecutive game of at least 28 points and 15 rebounds. "It allowed us to switch on everything and have a more versatile defense. If Coach needs me at the 5, I'll play wherever I need to."
The Pelicans are getting outstanding perimeter shooting from guard Langston Galloway, who made all five 3-pointers against Dallas. At home in the fourth quarter, Galloway is shooting 64.3 percent from deep, leading the NBA.
At full strength, the Clippers won 114-96 in New Orleans on Dec. 2, then topped the Pelicans 133-105 in Los Angeles on Dec. 10. The Clippers shot 46.8 percent in those games while holding the Pelicans to 43.7 percent shooting.
Griffin scored 27 points in the first game, and Paul set a Pelicans opponent franchise record by handing out 20 assists. Paul became the first player in NBA history to have 20 assists, score 20 points and commit no turnovers in a game.
---
---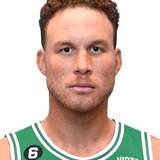 Get more from Blake Griffin
Follow your favorites to get information about games, news and more
---