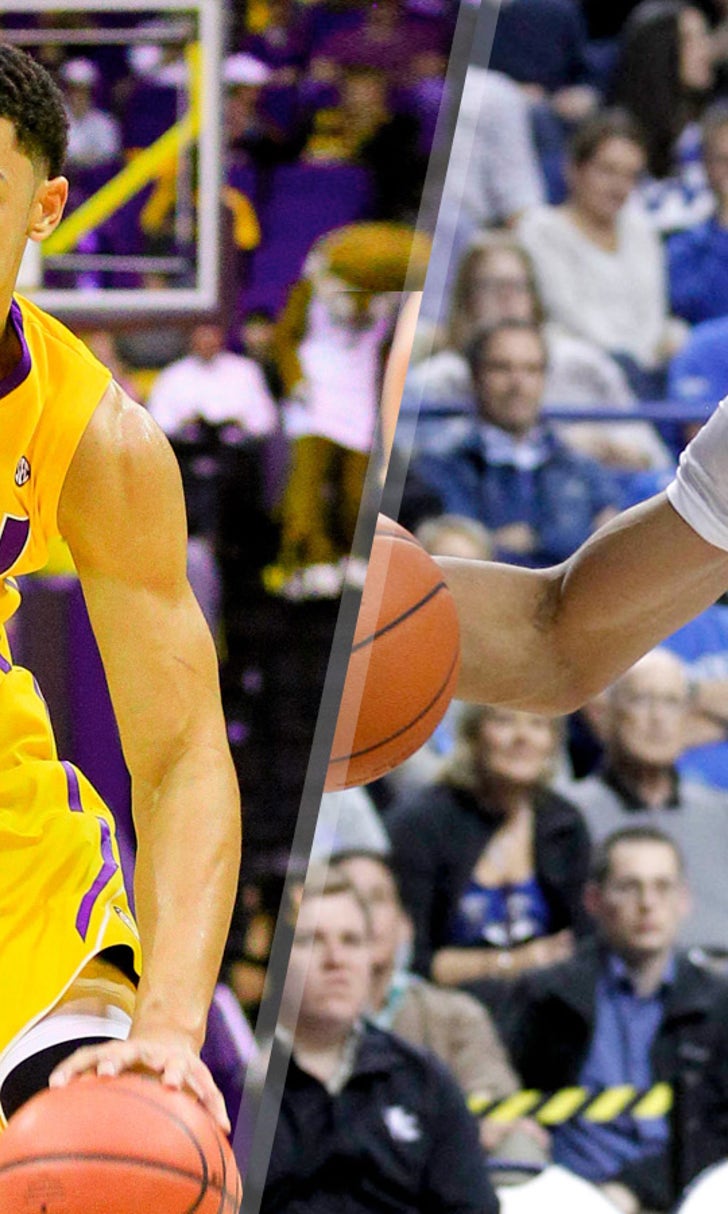 2016 NBA Mock Draft: It's never too early for a picks fix
BY Reid Forgrave • November 19, 2015
The college hoops season has begun, and the next group of one-and-done freshmen are off to the races to try to become the next No. 1 pick in the NBA Draft.
I hate looking at college hoops as an NBA developmental program. I would take March Madness over the NBA playoffs any day. But at the highest levels, the reality is that college ball is a pit stop on the way to NBA fame and riches.
You'll notice a few things in this, my first "FOX Mock" 2016 Mock Draft. One is that this is not based on team needs whatsoever. Guessing in November that the Philadelphia 76ers will have the No. 1 pick in June and therefore will need a point guard is folly. I'm just going to base this on how I'd rank these college players right now in terms of their NBA potential.
The other thing is you won't see any international players on this list. That will change in future mock drafts, but at this point I'm just going to concentrate on American college players. Jonathan Givony, the proprietor of DraftExpress.com and one of the most connected international talent evaluators, has five guys in his first round who are currently playing international ball, led by Dragan Bender, a Croatian 7-footer playing for an Israeli team now.
And by the way, if high school seniors were draft-eligible, I'd have a new No. 1 pick: Duke commit Harry Giles. And that's after he tore his ACL last month, his second such injury. That's how good I think that kid can be.
Here we go. Tell me my hits and my misses on Twitter @reidforgrave.
1. Ben Simmons, freshman forward, LSU. Plenty of others would take Kentucky's Skal Labissiere here because of that enormous upside. Give me Simmons any day of the week. It's an unfair comparison, but we've never seen a college player whose game so closely resembles that of LeBron James. Add a reliable 3-point shot and Simmons will become an All-Star. He makes everyone on his team better. Just so damn smooth, so in control of the game in every way.
2. Skal Labissiere, freshman forward/center, Kentucky. Can a player be both raw and polished as a freshman? That's Labissiere. He has refined moves in the post and an instinct for blocking shots, but coach John Calipari knows he'll need to work with Labissiere a lot before the June draft (as he did a year ago in toughening up Karl-Anthony Towns). Calipari told me before the season that Labissiere was currently "undraftable," which is just Cal being Cal, trying to motivate his elite player to work hard. There is so much untapped potential here, and we'll see it come out more with every game. Mark my word: At some point this year, you'll be talking about Labissiere playing poorly in a game, then you'll realize he had something like 17 points, 11 rebounds and four blocks.
3. Henry Ellenson, freshman forward, Marquette. A near seven-foot white guy who can rebound at an elite level, put the ball on the floor and shoot the three. Kevin Love? Yep, Ellenson's that type of talent. This is higher than any other mock draft puts him. That's because I see him as a grown-ass man in an 18-year-old's body, and that body will only mature with age. Ellenson will be the beast of the Big East this year.
4. Jamal Murray, freshman guard, Kentucky. Maybe the best pure scorer in this draft, Murray is an elite combo guard who blew up on the recruiting scene over the summer when he played for Canada in the Pan-Am Games. He'll lead Kentucky in both points scored as well as highlight-reel plays this season.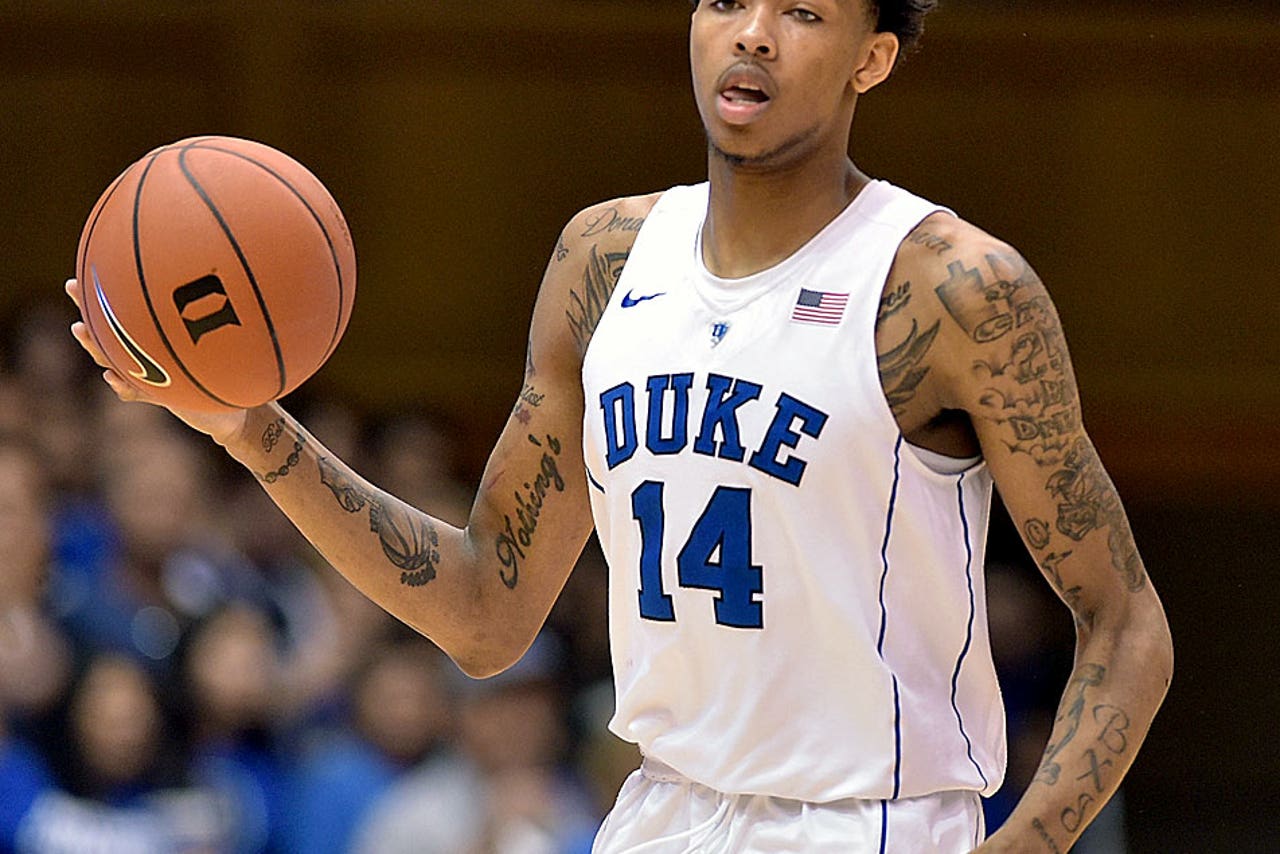 Brandon Ingram could move up this list as he grows into his 6-9 frame.

5. Brandon Ingram, freshman forward, Duke. Ingram is an unfinished product right now, since he's likely the skinniest player in this draft. But the finished product could look a lot like Kevin Durant. He's 6-foot-9 with enormous length, and he makes his living out on the perimeter. As we saw against Kentucky this week, Ingram will struggle at times against stronger teams this year. I don't expect him to become an immediate superstar in college -- but if he is, he could make a push for No. 1.
6. Kris Dunn, junior point guard, Providence. There's a lot of Rajon Rondo in Dunn's game. We would have been talking about him a lot more over the past several years if injuries hadn't delayed his stardom. But that's what he's become over the past year: a star. By season's end he'll be the rare 22-year-old with a shot at both national player of the year and high-lottery pick status. Aside from perimeter shooting that needs work, there's not a thing this kid can't do at an elite level on both ends of the floor.
7. Jaylen Brown, freshman forward, California. If fun were able to be quantified, Brown would rank near the top of that statistic in college hoops. He reminds me a bit of a slightly more athletic, bigger version of Kelly Oubre. His game needs refinement, but he's an athletic freak.
8. Cheick Diallo, freshman forward/center, Kansas. I really, really hope Diallo is granted eligibility by the NCAA. He's the only missing piece for a Kansas team that feels balanced and experienced enough to win it all. Diallo is a down-and-dirty shot-blocker, defender and rebounder who coaches praise for his non-stop motor. The Mali native came to the United States as a teen and has hired an attorney to convince the NCAA to clear him.
9. Jakob Poeltl, sophomore center, Utah. I was shocked Poeltl came back for a second year at Utah, because the Austrian seven-footer seemed primed to sneak into the lottery. Another year in the college ranks ought to only help him brush up his skills as an elite shot blocker. There's not too much to get excited about offensively, but he's the best defensive big man in this draft.
10. Justin Jackson, sophomore forward, North Carolina. This is higher than you'll see Jackson in most mock drafts, but that's because I see him taking a star turn this year for a deep UNC team. I expect Jackson to showcase his scoring touch from all over the floor and beat out his teammate, the currently injured senior Marcus Paige, to lead the team in scoring. He's still a string bean, but when the body fills out, he'll be even more exciting.
11.  Demetrius Jackson, junior guard, Notre Dame. Small but mighty. Jackson is only 6-foot-1 as a point guard, but he could be the most athletic player in the country. He is stepping into a starring role in South Bend after Jerian Grant left for the NBA. He's such a great passing point guard and so explosive around the rim that it can be easy to forget Jackson is great from deep, too, shooting above 40 percent his first two seasons.
12. Domantas Sabonis, sophomore forward/center, Gonzaga. The son of former NBA player Arvydas Sabonis, this kid can play. He's an excellent defender and a straight-up pit bull when it comes to getting rebounds. Few play harder.
13. Diamond Stone, freshman center, Maryland. He might end up getting overshadowed by teammates -- Melo Trimble, Jake Layman and even Robert Carter -- on his deep Maryland team, but Stone is the best NBA prospect of the bunch. He's a 7-footer who is strong, can rebound and manhandles people around the rim. He needs work offensively, which is why I think he'll be overshadowed this season, but he won't be overshadowed when Adam Silver starts calling names next June.
14. Troy Williams, junior forward, Indiana. Williams can be maddening at times, but only because he gets a bit out of control and tries to do too much. He's a long, lanky, freakish athlete who can jump, score in transition, shoot surprisingly well (46.2 percent on 3-pointers last season in limited attempts) and rebound. He'll make you pull your hair out one minute -- then get the highlight of the night the next.
Caris LeVert has a tempting combination of smarts and athleticism.

15. Caris LeVert, senior guard, Michigan. One of the most heartbreaking moments of last season came when LeVert broke his foot at the end of a home win against Northwestern. (Note on his toughness: He did the postgame interview with Big Ten Network before getting his foot checked out.) He's a 6-foot-7, rangy shooting guard with some point guard skills. He can pass and shoot, with a basketball IQ to be added to his obvious physical gifts.
16. Sviatoslav Mykailiuk, sophomore guard, Kansas. No, we haven't seen it yet. Yes, he's still among the youngest players in college basketball, even as a sophomore. But even as coach Bill Self hasn't quite given the uber-talented Ukrainian the keys to the car, the potential of this kid is off the charts. He projects as a straight-up scorer in the NBA, an excellent 3-point shooter. It's all projecting now, but the foundation is there.
17. Denzel Valentine, senior guard, Michigan State. After Valentine's amazing triple-double in a Champions Classic win against Kansas this week, why not? He was barely considered a top-100 recruit out of high school, and the way he's developed into one of Michigan State's all-time greats has been mind-boggling. Tom Izzo told me he sees Valentine as a poor man's version of Draymond Green. He has a high IQ, can guard multiple positions and has an absurd work ethic. His freshman year, he made 28.1 percent of his 3-pointers. His junior year, he shot 41.6 percent. That's all from working at it, Izzo said.
18. Nigel Hayes, junior forward, Wisconsin. There's more to Hayes than being such a great speller. There's more to him than holding the most joyful press conferences in history. And there's more to him than being the third wheel in the Frank Kaminsky-Sam Dekker Express. Hayes is only 6-foot-7, small for his position, but he's so strong, with such a nice shooting touch, with a mind for the game and an ability to defend multiple positions that he ought to be able to find a spot in the league. Another example of an overlooked recruit who blossomed under Bo Ryan.
19. Thomas Bryant, freshman center, Indiana. Bryant is a big, big boy, the missing piece for an Indiana team that was a big man shy of being really, really good a year ago. He still needs polish on the offensive end, but as a rebounder and a guy who gives his all, Bryant is already there.
20. Tyrone Wallace, senior guard, California. More of the attention will go to Cuonzo Martin's superfreshmen, but this team's success will rise or fall on Wallace's able shoulders. He's a smart point guard, the perfect player for the hyper-athletic talents around him in Berkeley. He needs to improve on his shooting, but simply for his 6-foot-6 size at the point guard position, NBA teams will bite on him.
21. Malik Pope, sophomore forward, San Diego State. The injury bug hit Pope throughout high school as well as during his freshman year. If it weren't for that, we'd be talking about this kid as a lottery pick. He's 6-foot-9 and lean with a nice shooting stroke. A fully healthy season could shoot him up draft boards. Another bout with the injury bug could see him disappear altogether.
22. Ivan Rabb, freshman center, California. Three Golden Bears in the first round? Damn, Cuonzo Martin is getting it done. To me, Rabb isn't a thrilling NBA prospect, or even a thrilling college player. He's a guy who will do the dirty work around the rim, blocking shots and grabbing rebounds and setting picks. He's getting stronger, too.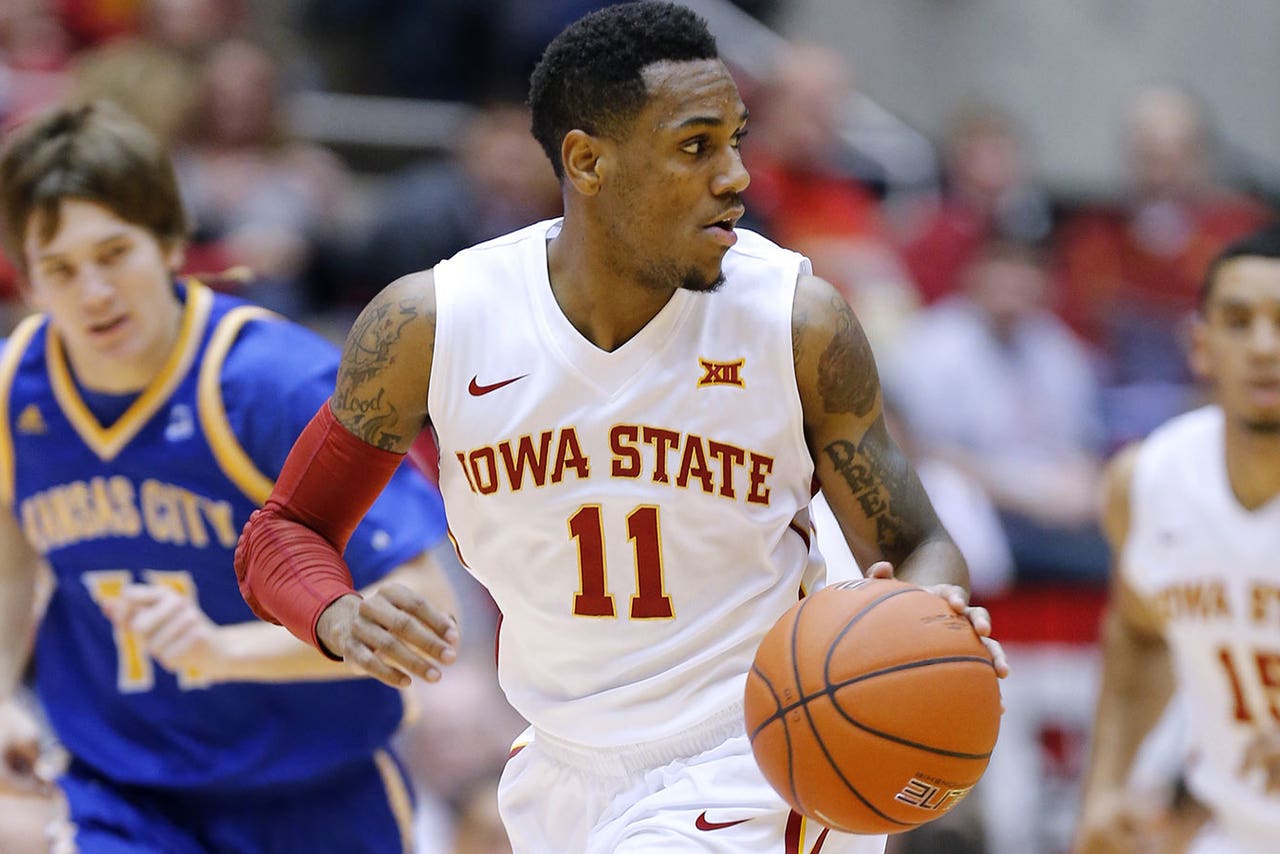 Monte Morris simply doesn't make many mistakes.

23. Monte Morris, junior guard, Iowa State. If you read my preseason predictions, you see how high I am on Iowa State's undersized, underrated point guard. After setting an NCAA record in assist-to-turnover ratio his freshman year, Morris ran away with the ultimate decision-making metric in college hoops again last year. Fred Hoiberg leaving for the NBA could be a blessing in disguise for Morris, as new head coach Steve Prohm mentored two future NBA point guards at Murray State (Isaiah Canaan and Cameron Payne). Morris, who put on muscle in the offseason, told me he plans to be more aggressive at getting to the rim this year, which will be key for NBA teams to take a chance on him this early in the draft.
24. Malik Newman, freshman guard, Mississippi State. This is lower than most people would put Newman – and yet I don't even feel comfortable having him this high. He's what I would call a chucker. Yes, Newman can score. He would have been a great fit in the NBA of a generation ago. But in an NBA that values efficiency over volume, I think Newman will end up as a disappointment unless he can make over his game.
25. Buddy Hield, senior guard, Oklahoma. Buddy Hield -- or "Buddy Love," as his teammates call him -- is the player I want Malik Newman to be. He's an elite scorer who is also a helluva teammate -- never a ball hog, always playing hard. His shooting accuracy -- only 35.9 percent on 3-pointers last year -- elies the fact that Hield seems to always make the biggest shots when a defender is in his place. The kid has stones.
26. Isaiah Briscoe, freshman guard, Kentucky. It won't surprise me if Briscoe ends up staying for a second year. That said, five-star recruits go to Kentucky because they want to be in the NBA sooner instead of later. Briscoe reminds me of a more polished, less strong version of Marcus Smart. I've never seen a high school player who draws fouls as well as Briscoe does when he's driving to the rim.
27. Damian Jones, junior center, Vanderbilt. Vanderbilt very well could upset Kentucky in the SEC this year, and much of that would be on the shoulders of the 7-footer Jones. He's got the body; he's got the athleticism. Yes, he's raw. And inconsistency is a problem. But when you look at Jones, you see the skeleton of a guy who belongs in the league.
28. Jalen Brunson, freshman guard, Villanova. Brunson may stick around Villanova for longer than one season, but it would not surprise me in the least to see him have an immediate and remarkable impact as a freshman. He's just such a smart, smart point guard, projecting confidence whenever the ball is in his hands, the consummate team leader. Brunson was the MVP of the FIBA U19 World Championships last summer, playing against elite international talent.
29. Jake Layman, senior forward, Maryland. Layman is back to his natural position as a small forward for a stacked Maryland team, which ought to only help his NBA potential. It'd be easy to write off Layman as just the tall, white guy who can shoot. He's so much more than that. He's a phenomenal athlete who can get to the rim and defend. He's full of energy, and a winner, too.
30. Melo Trimble, sophomore guard, Maryland. Trimble was a breakout freshman last season. Now he's surrounded by almost all the same players who got this team to a No. 4 seed in the NCAA tournament a year ago -- plus potential lottery pick Diamond Stone and two elite transfers in Robert Carter and Rasheed Sulaimon. Trimble was excellent in crunch time last season, when Maryland seemed unable to lose a close game. Despite being a little turnover-prone, Trimble is strong for a point guard, can really shoot and gets after it on defense.
---
---